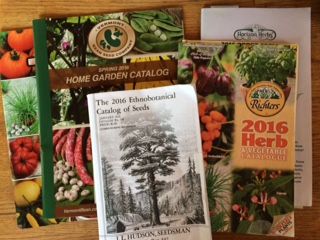 We were hit hard by last weekend's winter snowstorm–and are still dealing with mounds of snow–and getting cars in and out. Underneath all of that piled-up precipitation, the earth is burgeoning with life. Maple buds are pink and snow drop foliage is about two-to three-inches tall. Besides carrying in firewood, feeding the birds, trudging up and down the driveway and shoveling, there is not much to do outside.
So I am sitting here by the woodstove with my seed catalogs and laptop and dreaming of this year's garden, pouring over the huge variety of seeds and plants available. It is challenging to whittle down the choices. Presently, I am concentrating on the Herb of the Year for 2016, Capsicum. Although, I do grow some sweet peppers, my passion is for chile peppers, so I am going to share some that are on my list, as well as a few of the catalogs that I am ordering from.
My farming neighbor, Denise Sharp, placed her big seed order the first of the month and she sent me her catalog in case I wanted to order anything. So I chose from the ten or so cultivars of serranos and jalapenos, and also a poblano, 'New Mexico' and 'Fish' pepper. 
I saw a small sweet pepper posted on www.iherb.org chat group that caught my eye, so I went online to the Hudson Valley Seed Library to order 'Pippin's Golden Honey Pepper'. These folks have the most beautiful artwork on their seed packs done by different artists. I ordered a few kinds of seeds just for the artwork: 'Red Noodle Bean', 'Glorious Gleam Nasturtium' and 'Radiant Radish Blend'. The cool things about these packets are that they have an easy-to-peel-off sticker on the back and the package can be easily opened and spread open to view the artwork on the outside and the seed information on the inside and the sticker can be reapplied. Lovely and clever packaging. www.seedlibrary.org
I have been receiving, and ordering from, The Ethnobotanical Catalog of Seeds from J.L. Hudson, La Honda, California for decades. It is a no-frills black-and-white catalog, which sells seeds, a few books, gibberellic acid kits and a very few supplies for research. The seed listings are fascinating and impressive–they do not have a phone–and they only take checks. They do have a website https://jlhudsonseeds.net/. Besides a golden tithonia and a special Portuguese kale, I ordered a dozen unusual capsicums ranging from a 'Ghost' pepper to an orange jalapeno; 'Satan's Kiss'; a variegated chile from Alabama 'Bellingrath Gardens'; a paprika 'Feher Ozon'; and an heirloom from France 'Rouge de la Bresse'. An exciting find–two lesser known and rare species than the common five we grow most often, C. chacoense 'Tova' or 'Covincha' and C. rhomboideum grown from Mexico to Peru. I am jazzed about this order!
Of course, I had to order from the gorgeous Baker Creek Heirloom Seed Company catalog… it's hard not to want everything you see in there! https://www.rareseeds.com/store/ A few chile selections from there are: one of my all-time favorites 'Lemon Drop'; a 'Brazilian Starfish Hot Pepper'; a new one to me is 'Bisquinho Hot Pepper' which means "little beak" and is from Brazil; and a Baker Creek exclusive, 'Buena Mulata Hot Pepper' acquired in 1944 from African-American folk artist Horace Pippin. By purchasing some of these peppers, part of the cost goes to supporting the work of William Woys Weaver, a gardener and author whose work I have admired for many years.
A few other catalogs that I am getting chiles and other seeds from are Richters 2016 Herb & Vegetable Catalogue www.richters.com; Seed Savers Exchange https://exchange.seedsavers.org/index.aspx; and Native Seed Search https://shop.nativeseeds.org/. I will elaborate on the latter two in an upcoming bean blog.
What will I be doing with all of these chiles? I will plant some of each and share them with Denise at Sharp Farm, so they will be available to some local gardeners. And I will share seed with the gardeners at the Ozark Folk Center so that they can grow them for their Heritage Herb Garden to feature Capsicum, Herb of the Year 2016, as well as for their big event in the fall, the Herb Harvest Fall Festival, where we will be highlighting the countries of South America.
Y'all better start ordering your seeds now–the days are lengthening already!