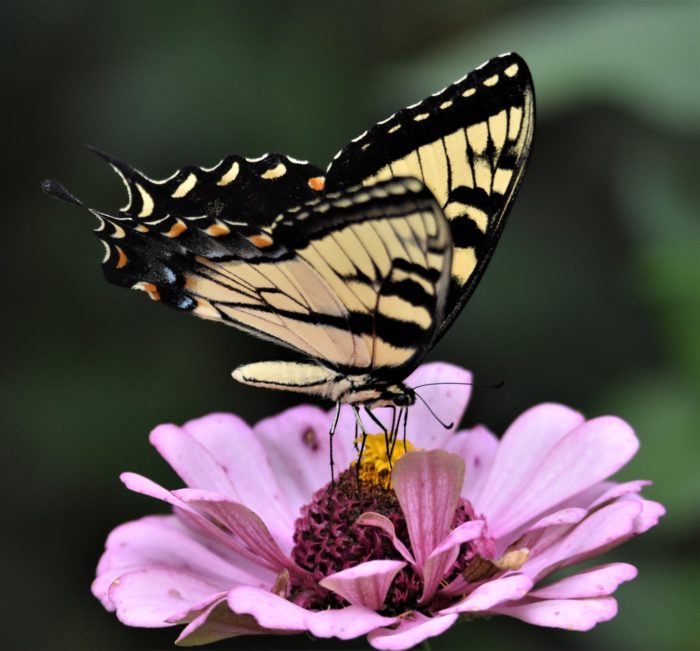 Sheryl McHugh from Blythewood, South Carolina, sent in these incredible shots of visitors to her garden.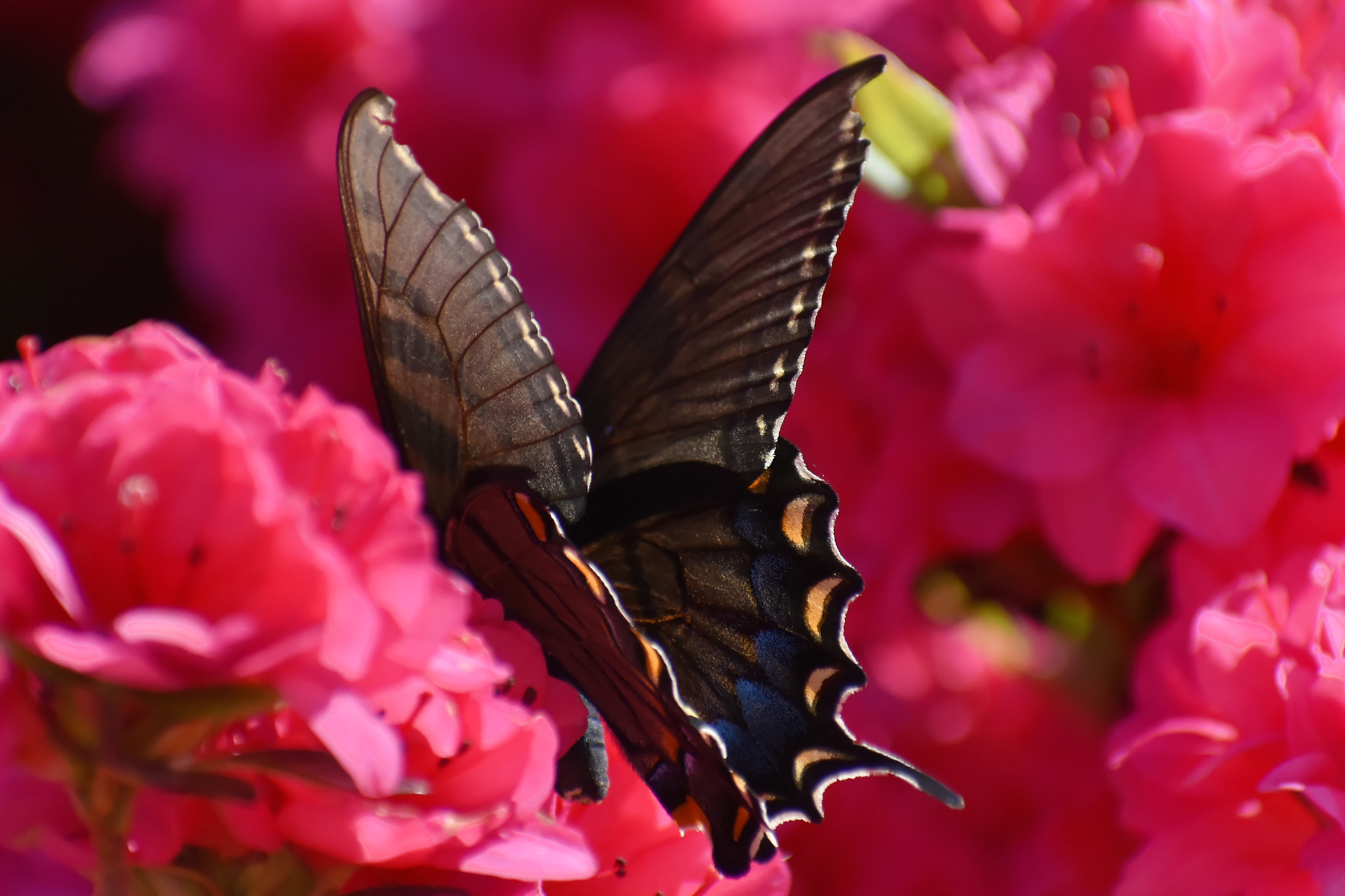 A black swallowtail butterfly feeds on nectar from an azalea blossom. Like many butterflies, the adults will feed on the nectar of a wide range of flowers, but the caterpillars have more specific needs, feeding on the leaves of members of the carrot family, including common herbs such as parsley and dill.
Male black swallowtails defend territories and will chase out any other males that enter their area, while the females enter the most desirable territories to mate with the local male. Weirdly, when I was reading up about this, it turns out the desirable territories—the ones the males fight over the most and that attract the most females—don't seem to have more food or anything, but rather "high relative elevation and topographic distinctness." So it seems like the females go for males who pick a spot with a nice view over ones with good food!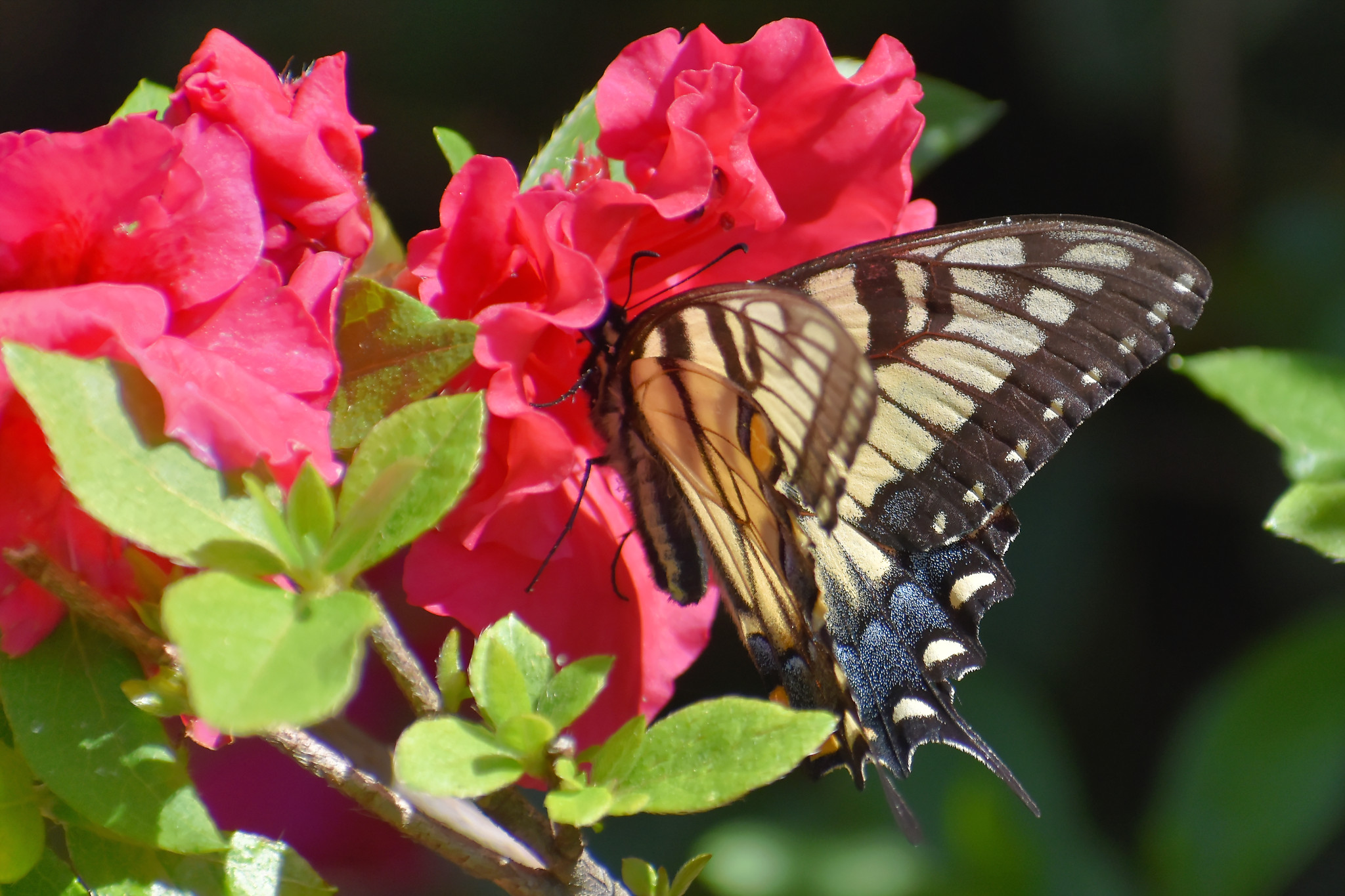 An eastern tiger swallowtail feeding on an azalea. Unlike the black swallowtails, this species lays eggs on members of the rose and magnolia families.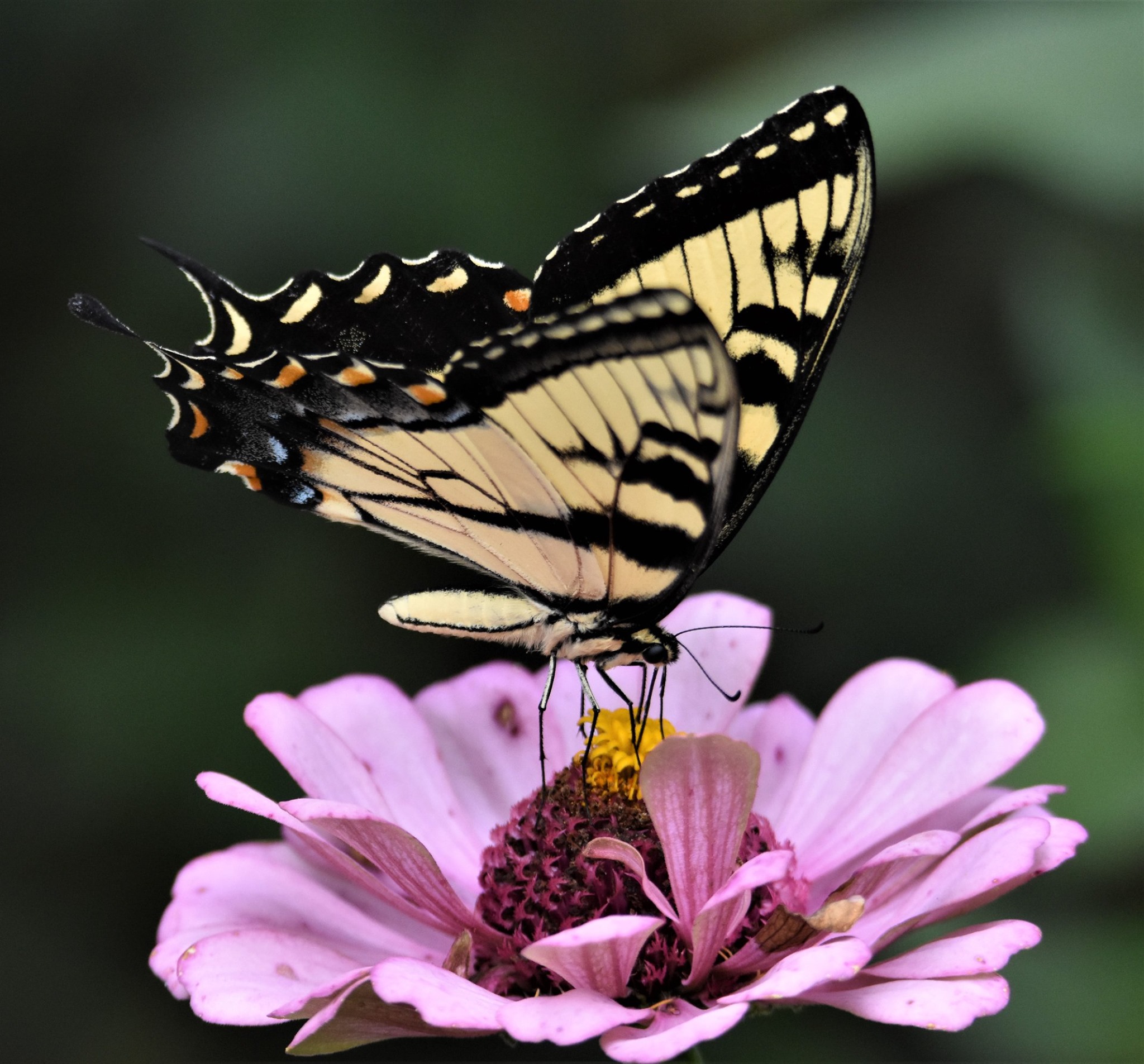 An incredibly beautiful eastern tiger swallowtail feeding on a zinnia (Zinnia elegans, annual) bloom. To attract butterflies to your garden, be sure to provide lots of nectar, host plants for their caterpillars, and avoid using any insecticides (even organic ones) that will harm them.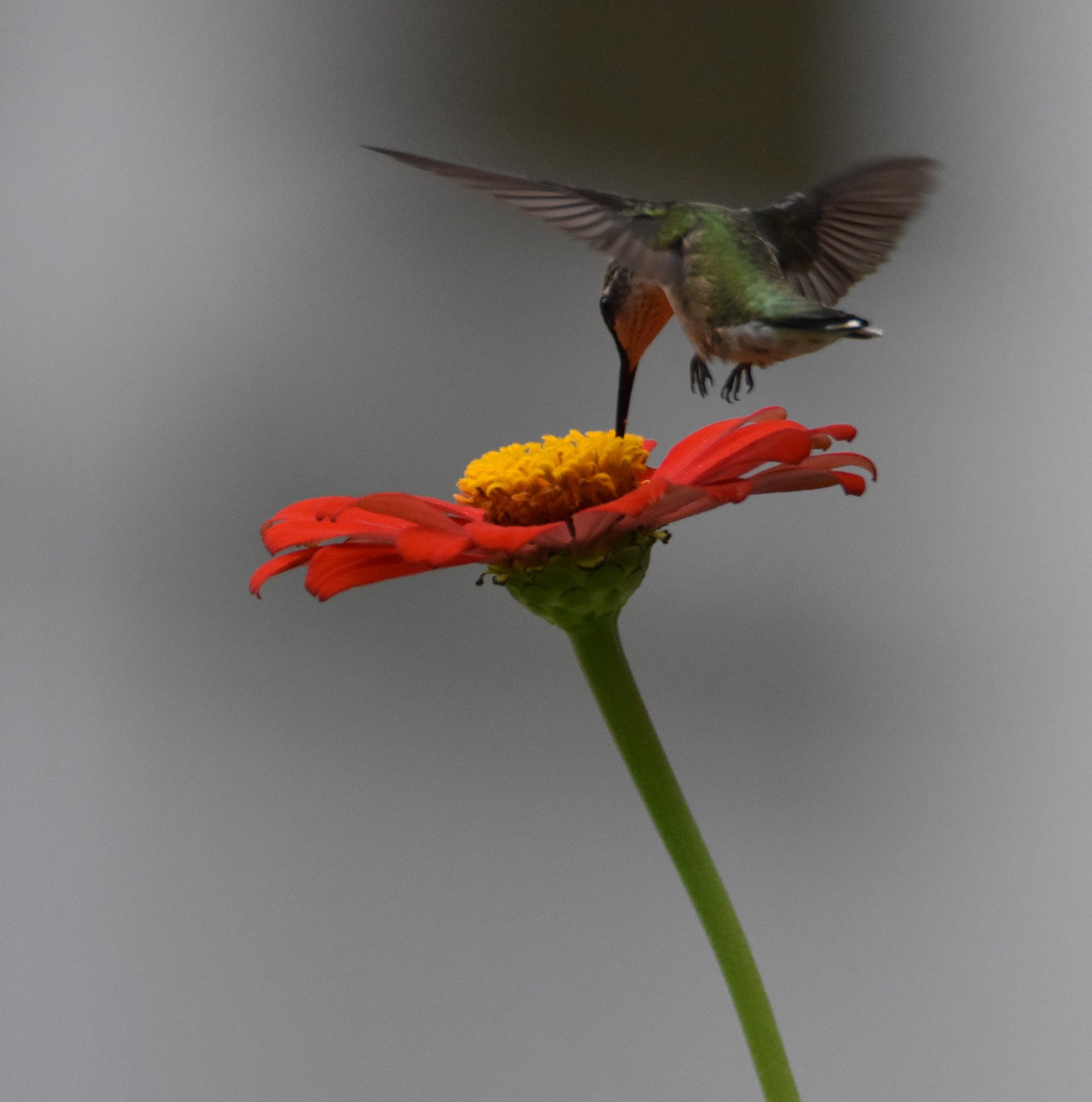 A hummingbird stopping by a zinnia for a little nectar. Avoiding insecticides in your garden is important for supporting hummingbirds as well, because though they do need nectar in their diet, they also eat a lot of insects; by some estimates, as much as 80% of their diet is insects and spiders.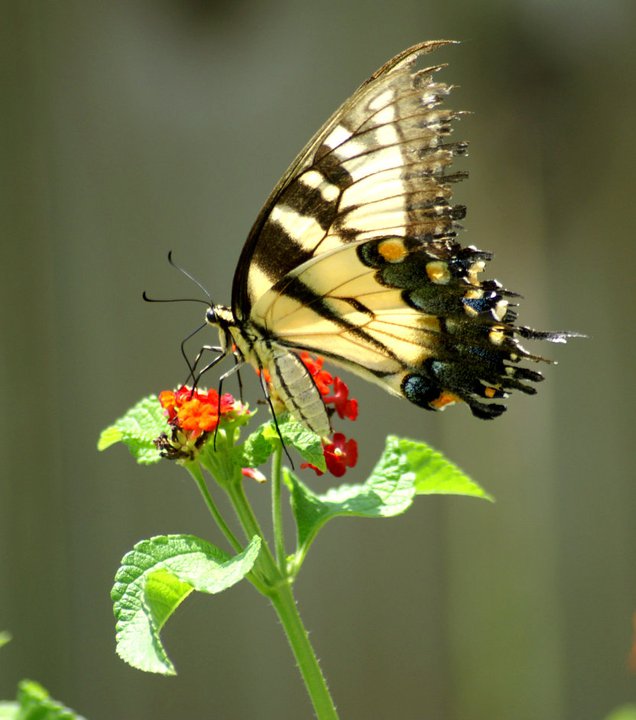 An eastern tiger swallowtail butterfly with torn ragged wings, at about the end of its life. The adult butterflies only live for one to two weeks.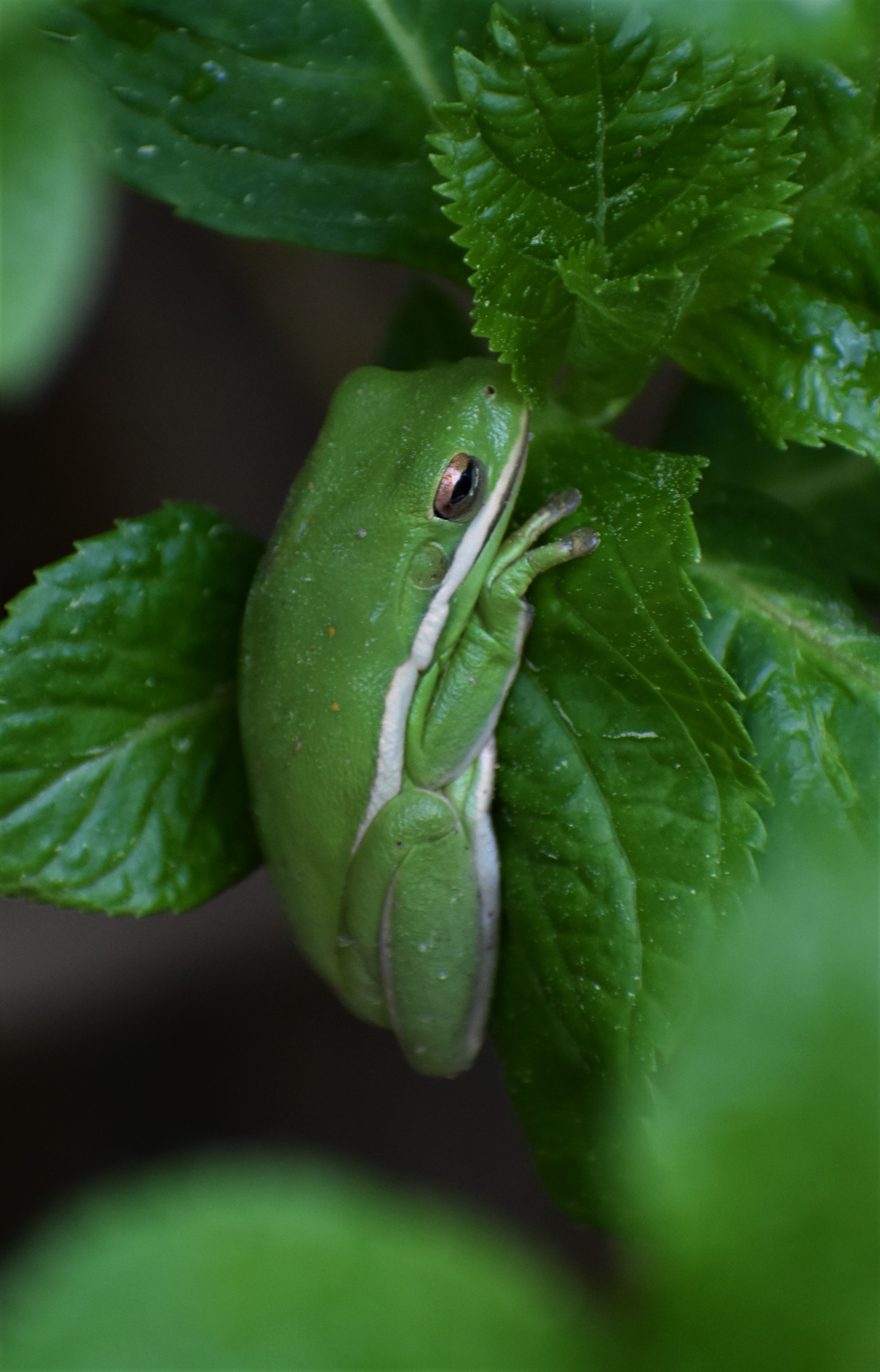 An American green tree frog hangs out, waiting for a snack. These frogs can change their color a little to better blend in with their background, which helps them avoid predators and allows them to sneak up on their next meal.
One last shot of a spectacular eastern tiger swallowtail butterfly.
Have a garden you'd like to share?
Have photos to share? We'd love to see your garden, a particular collection of plants you love, or a wonderful garden you had the chance to visit!
To submit, send 5-10 photos to [email protected] along with some information about the plants in the pictures and where you took the photos. We'd love to hear where you are located, how long you've been gardening, successes you are proud of, failures you learned from, hopes for the future, favorite plants, or funny stories from your garden.
If you want to send photos in separate emails to the GPOD email box that is just fine.
Have a mobile phone? Tag your photos on Facebook, Instagram or Twitter with #FineGardening!
You don't have to be a professional garden photographer – check out our garden photography tips!
Do you receive the GPOD by email yet? Sign up here.