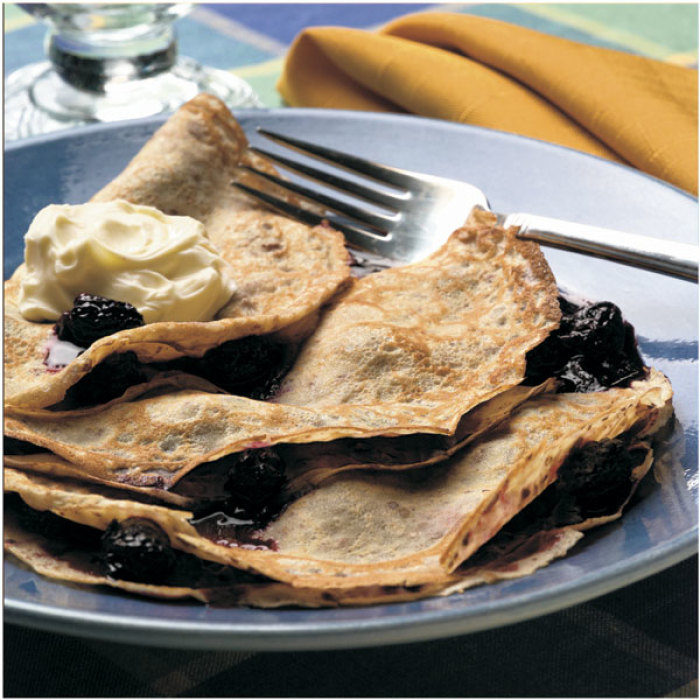 Ingredients:
1/4 cup water
1/4 cup sugar
2 cups blackberries
1/2 cup flour
Pinch of salt
Pinch of sugar
2 eggs
2 tsp. melted unsalted butter, plus additional for the pan
1 cup milk
4 Tbs. finely chopped, toasted pecans
1 cup mascarpone or whipped cream cheese
4 servings (makes 12 crêpes)
If you haven't made crêpes before, don't be intimidated—they're easy and quick.
Place the water and sugar in a small, heavy saucepan and cook over medium heat until the sugar is completely dissolved, about 2 minutes. Add the berries, reduce the heat, partially cover, and simmer for 5 minutes. Keep warm.
Mix the flour, salt, sugar, eggs, and 2 tsp. melted butter until smooth. Add the milk and stir to mix well. Stir in the pecans.
Melt a little butter in a small, non-stick or heavy skillet over medium heat. Spoon in about 3 Tbs. of the crêpe batter, tilt the pan to spread it evenly, and cook until golden brown, 2 to 3 minutes. Turn and brown the other side. Remove the crêpe to a plate and keep warm while you prepare the rest.
To assemble, place two to three crêpes on a warm serving plate. Spoon four or five berries and a little of the berry syrup over one half of each crepe, and fold the other half over the filling. Top each crêpe with a small dollop of mascarpone or cream cheese.
Note: To toast pecans, spread them whole on a shallow pan and bake in a 350°F oven until lightly browned, about 8 minutes. Check often because the amount of oil in the nuts will vary, and they could burn easily. The nuts will become crisp as they cool. You can also toast them in a skillet on top of the stove, tossing often.
Recipe by Jane Adams Finn
June 1999
from issue #21