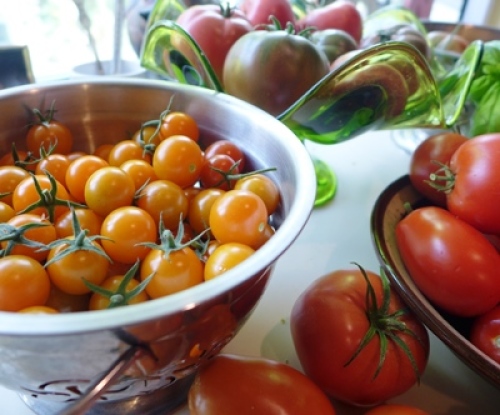 There may be a colander full of green tomatoes to use once the temperatures drop for fall, but I'm more concerned with the beautiful fruits that are still ripening on the vine. I don't want to let a single orange, black, red or pink jewel go to waste.
I'm spoiled after spending the last few months picking home-grown tomatoes and tossing them onto green salads or slicing and topping them with fresh basil leaves. Tomatoes in all colors, shapes and sizes have found their way into many meals from margherita pizzas to fresh pasta sauce; herby frittatas to those stuffed full of stuff.
Because I hate to let go of that fresh flavor, I take time to squirrel some away for winter. Here are four ways to savor summer tomatoes long after the season ends:
Roast 'em and freeze 'em. When tomatoes are extra plentiful it's difficult to keep up with them and some may get a little soft. Slice or chop tomatoes into even pieces, place in a baking dish or pan and drizzle with olive oil. Roast in a 375 degree oven for 30 minutes, turn and continue roasting until tomatoes are juicy and slightly browned. Freeze for a quick pasta sauce on chilly winter nights.
Pickle 'em. Small-sized or cherry tomatoes can be made into refrigerator pickles, just like cucumbers. Sort, wash and place whole cherry tomatoes in jars, add thinly sliced onion and cover with a mixture of ½ cup vinegar, 5 tablespoons water, 5 tablespoons sugar and ½ tsp salt. Cover and refrigerate. Use pickled tomatoes as a condiment or add to other vegetable dishes.
Candy 'em. Candied cherry tomatoes make a nice substitute for chutney to use with hearty stews or curry dishes. Use the same sweet syrup as making other candied fruit, like candied jalapeno peppers. Tomatoes can be kept in jars in the refrigerator or processed in a water bath. Check with your county's extension for processing times.
Bake 'em, Savory quick breads are another way to preserve fresh tomatoes (and other vegetables). There are many recipes to try, like a tomato-cheese quick bread adapted from Bernard Clayton's New Complete Book of Breads.
What are some of your favorite ways to preserve the taste of tomatoes?