1. My garden has a perennial border. I would like to incorporate some tropical plants into it. Which tropical plants do well in the ground versus in containers?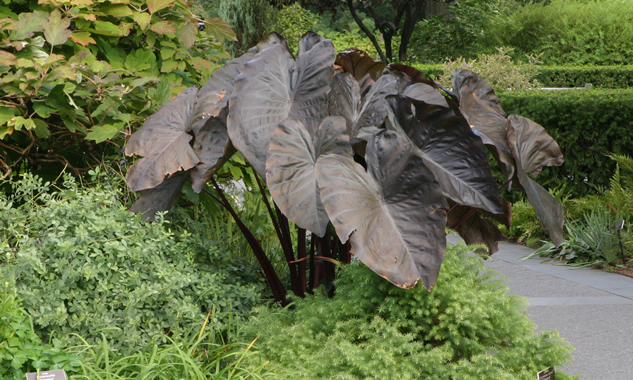 Cannas (Canna spp. and cvs., USDA Hardiness Zones 7–11), bananas (Musa spp. and cvs., Zones 8–11), and elephant's ears (Colocasia spp. and cvs., Zones 8–11) work great planted in a perennial border, adding a bold, tropical feel. They may even be winter hardy in your garden, depending on where you live and the cultivars you choose. Favorites include 'Bengal Tiger' and Tropicanna® cannas (Canna 'Bengal Tiger', Zones 7–11, and Canna indica 'Phasion', Zones 8–11); hardy Japanese banana (Musa basjoo, Zones 8–11); 'Siam Ruby' banana (Musa 'Siam Ruby', Zones 9–10); and 'Lime Zinger', 'Diamond Head', 'Black Magic', and 'Thailand Giant' elephant's ears (Colocasia esculenta cvs., Zones 8–11).
If you live where they will not survive outdoors, cannas, bananas, and elephant's ears are easy to overwinter. If you are not sure if they'll make it over winter, dig some up and leave some in the garden. Plants to be kept indoors should be potted and placed in a cool location where they can survive winter in a semidormant state.
If using the garage, basement, or crawl space, dig plants up and remove most of the soil and leaves. If the soil is wet, allow the root-ball to dry for a day before wrapping it in newspaper. Place the wrapped roots in a loose plastic bag, keeping the bag open at the top to allow the roots to breathe, thus preventing rot. Check on the plants a few times during winter, and remove any that are rotting; sprinkle the root-balls with a little water if the soil appears dry. Replant the tropicals in spring, and enjoy.
2. I love decorating with pumpkins and squash. What variety of pumpkins and winter squash do you recommend for decorative purposes?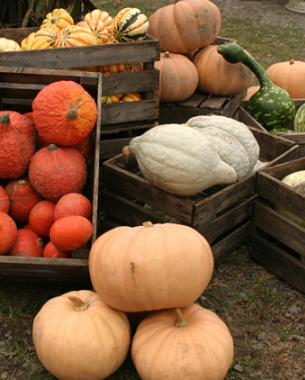 Choose varieties of each that have a hard thick rind or skin because these keep longer. Most winter squashes have this characteristic. Some favorites include 'Fairytale' pumpkin; delicate squash; cushaw squash; and all types of hubbard, butternut, and acorn squashes.
Pumpkin varieties with ribs tend to have a harder rind. If you're planning on carving a jack-o'-lantern, a smooth-skinned pumpkin carves best. Don't forget about gourds: As most gourds are green, they can add great contrast to your display. Gourds will dry over time and form a hard shell, which can be kept for years. In addition, once dried, they can be carved for a variety of uses.
Wash all pumpkins, gourds, and squashes in a 5 percent bleach solution to remove any soil and fungal spores, which can cause premature decay of the fruit. If you are using the fruit outdoors, placing them on straw or mulch will keep them from contacting the ground, thus prolonging their life.
3. I need a hedge of some sort between my neighbor's home and mine, but I really need it only in the summer. Could you recommend a hedge that would grow quickly in spring but could be chopped back in winter?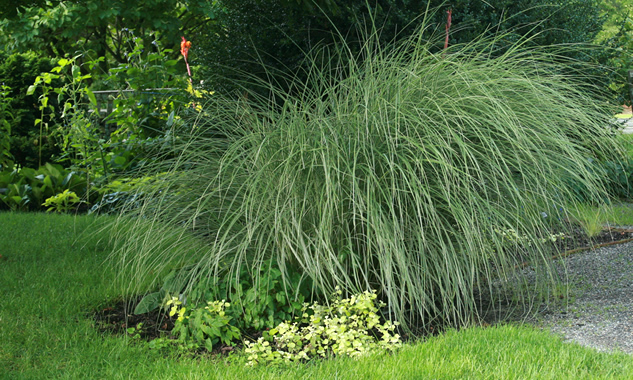 Cannas, hardy hibiscus (Hibiscus moscheutos and cvs., Zones 5–10), and 'Morning Light' miscanthus (Miscanthus sinensis 'Morning Light', Zones 4–9) are three dependable, sun-loving perennials that grow quickly each spring. All three are drought tolerant once established, but they will perform best in moist, average to rich, well-drained soil. Hardy hibiscus will even grow in troublesome wet sites once established. Miscanthus can perform well with almost no supplemental water.
Cannas will emerge quickly once the weather warms and will form a vertical delight of lush foliage in the garden. The height will depend on the cultivar you choose, the soil fertility, and the amount of water available. Choices such as 'Bengal Tiger' and Tropicanna® reach 5 to 7 feet tall with deep orange flowers held tall above the colorful foliage. The leaves of 'Bengal Tiger' are striped with green and yellow, while Tropicanna® are purple with dramatic stripes of green, yellow, pink, and red. If you are looking for a solid color, 'Australia'—with its deep burgundy (almost black) shiny leaves and red flowers—is a great choice.
Hardy hibiscus are hard to beat for their big, bold flowers and ability to bloom for months. Flowers can be up to 1 foot wide. Many have large colorful leaves, adding to the effect. Depending on the cultivar, plants can range from 3 to 8 feet tall and can be up to 3 feet wide once they've been in the garden a few years. A few favorites are 'Summer Storm', with 10-inch-wide pink flowers with a red eye held above dark purple leaves on a 7-foot-tall plant; 'Moy Grande', with 1-foot-wide vibrant pink flowers on soft green foliage reaching 5 feet tall; 'Peppermint Schnapps', with 8- to 10-inch-wide pink flowers with red to deep pink dashes on a green-foliaged 6-foot-tall plant; and 'Midnight Marvel', with 8-inch-wide deep scarlet red flowers on a 4-foot-tall and -wide plant with deep wine purple foliage.
For a simple, more formal look, 'Morning Light' miscanthus makes a great choice. This 5- to 6-foot-tall, clump-forming grass remains tight at the base, while the leaves arch out at the tips, giving it a fountainlike effect. The fine-textured leaves have a white stripe down each side, giving the plant an overall silvery look. In late summer, the clump produces copper-colored tassel-like inflorescences above the foliage, which turn into silvery white plumes as they age. Unlike many other miscanthus varieties, 'Morning Light' is not known to seed in the garden. The foliage ages to an attractive tan in late fall and persists through winter, adding another season of interest.
4. I love trying new and unexpected things in my garden. What plants do you feel are overused, and what would be some cool substitutions?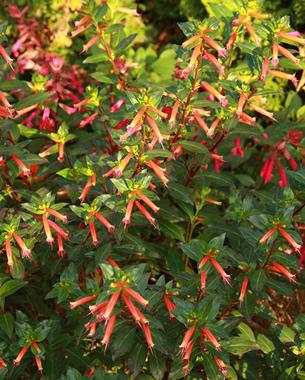 Annuals
Overused: Geraniums (Pelargonium spp. and cvs., Zones 8–11)
Underused: Cupheas (Cuphea spp. and cvs., Zones 9-11)
Cupheas come in many forms and flower types. Depending on the species, common names vary; they include bat face, tiny mice, candy corn, cigar plant, Mexican heather, and firecracker plant. Drought tolerant once established in the landscape, they all attract the evermore important bees to the garden. Favorites include 'David Verity', Vermillionaire™, and 'Strybing Sunset'.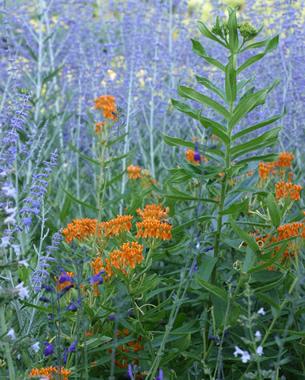 Perennials
Overused: Daylilies (Hemerocallis spp. and cvs., Zones 3–10), especially 'Stella de Oro'
Underused: Butterfly weeds (Asclepias spp. and cvs., Zones 3–11) are essential for the survival of monarch butterflies; 'Iron Butterfly' dwarf ironweed (Vernonia lettermannii 'Iron Butterfly', Zones 4–9) is also a favorite nectar plant for the butterflies.
Overused: Dwarf yaupon holly (Ilex vomitoria 'Nana', Zones 7–11), and 'Helleri' and 'Compacta' Japanese hollies (Ilex crenata 'Helleri' and 'Compacta', respectively, Zones 5–7)
Underused: Dwarf Japanese cedar (Cryptomeria japonica 'Globosa Nana', Zones 6–9) and 'Conoy' viburnum (Viburnum X burkwoodii 'Conoy', Zones 5–8) work in cool as well as warmer parts of the United States. If you live in a warm part of the country, 'Crimson Fire' loropetalum (Loropetalum chinense 'Crimson Fire', Zones 8–9) and Jubilation™ and Scentsation™ gardenias (Gardenia jasminoides 'Leeone' and 'Leetwo', respectively, Zones 14–15) are great choices.
Overused: Bradford pear (Pyrus calleryana cvs., Zones 5–8)
Underused: American fringe tree (Chionanthus virginicus, Zones 4–9); Chinese fringe tree (Chionanthus retusus, Zones 5–9); Persian ironwood (Parrotia persica, Zones 5–8); and redbuds (Cercis canadensis and cvs., Zones 4–9), such as 'Appalachian Red', 'Hearts of Gold', and 'Alley Cat'
There is no plant that can compare to the Bradford pear. But the small trees mentioned above are dependable in the landscape and have many positive attributes.
Do you have a question?
Each month on FGPlus we feature a different expert to field those tough gardening questions that even Google doesn't know how to answer. To submit your specific question, simply send an email to [email protected], and we'll select a handful to answer here for our FGPlus community. We look forward to your challenge!