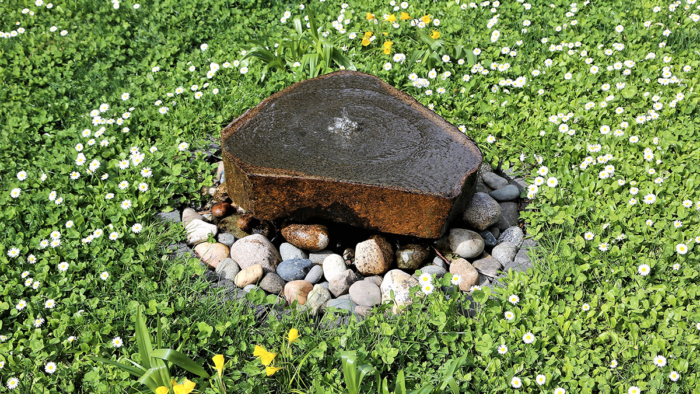 April in the Pacific Northwest is an energetic time in the garden. There is lots of exuberant growth, and the garden is full of promise. So many things are happening in early spring that it's often hard not to get distracted. Sometimes I try to complete one task in its entirety before starting the next to ensure that I keep the focus on the maintenance; other times I try to work from bed to bed. Whatever I do, the important thing is to keep working. Luckily the weather in April is starting to warm up and the sunny days are more frequent. There are often more breaks from the rain during the day and even longer breaks that last for a few days that make it a perfect time for getting all your gardening chores done. As a side note, the air is still quite crisp in the mornings and in the shadier parts of the garden, so bundle up before heading out! While there are many garden chores to tackle in April, here are just a few to get you started.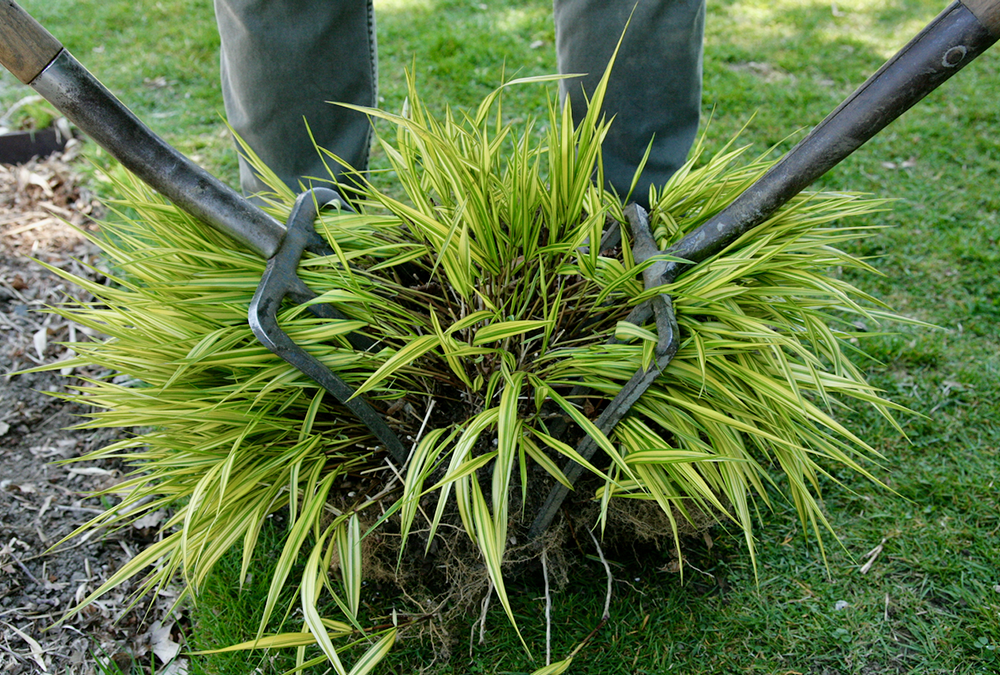 Lift and divide overgrown perennials. Now is a great time to lift and divide some of your summer-blooming perennials and ornamental grasses. Look for the telltale signs that your plants need division: hollow centers, circular or donut-shaped growth, and petering flowers. Plants that may exhibit these signs include Siberian iris (Iris sibirica, Zones 3–8) and hostas (Hosta spp. and cvs., Zones 3–9) as well as some warm weather grasses, such as feather reed grasses cultivars (Calamagrostis × acutiflora cvs., Zones 3–8). Once you lift them from the ground, cut the dead centers away and divide. You'll be left with many new and healthy plants that will look much better than they did before. This is a great way to increase your own garden stock or to have something to give to your gardening friends and family.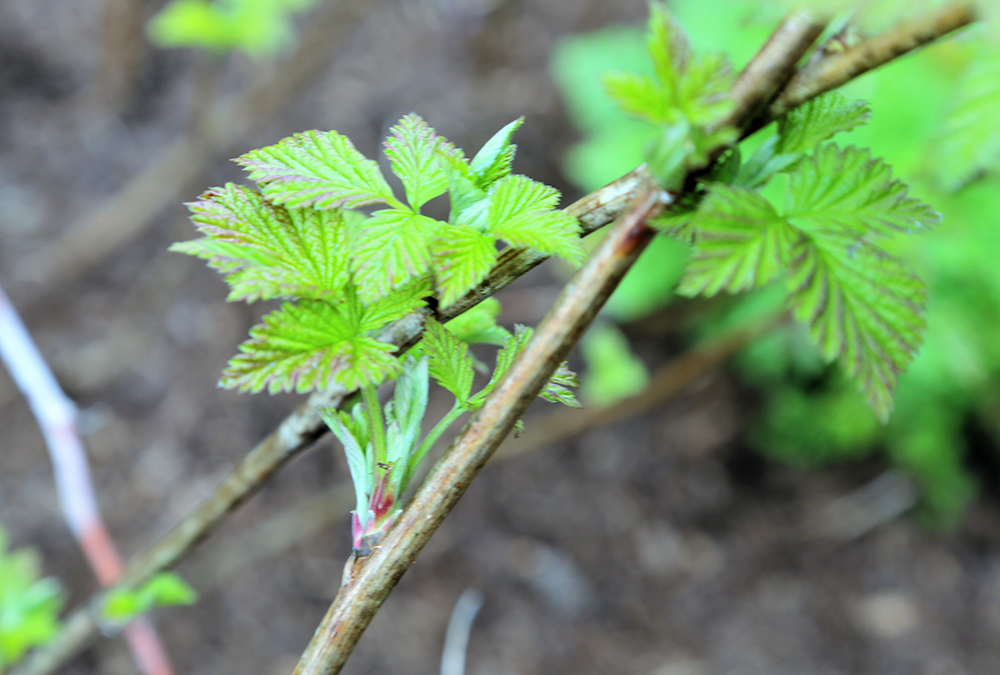 Clean up raspberries. If you're like me and enjoy growing your own raspberries (Rubus idaeus, Zones 4–8), now is a good time to get your fruiting canes ready to perform later in summer. In the beginning of April, go through your summer-fruiting raspberries and remove dead canes. If you have a larger bed or patch of raspberries, now is also a good time to tie them to one side and separate this year's fruiting canes from the new ones that will fruit next year. This simple method helps with your yearly cleanup. (Caution: This does not apply to fall-fruiting varieties. They are typically cut to the ground in late winter.) After the cleanup, I like to spread all-purpose fertilizer; check the package for the recommend application amount. I also add a 2-to-3-inch coat of compost to the beds to prepare them for lots of fruit. There are also a few container-grown varieties of raspberry available at local nurseries and garden centers. I haven't grown any of those myself, but they would be great for a gardener with limited space or a sunny patio. Rain Tree Nursery is a great local nursery that offers an interesting selection of hard-to-find varieties in person, through mail order, and online. I can't wait for summer; nothing beats the taste of a homegrown raspberry!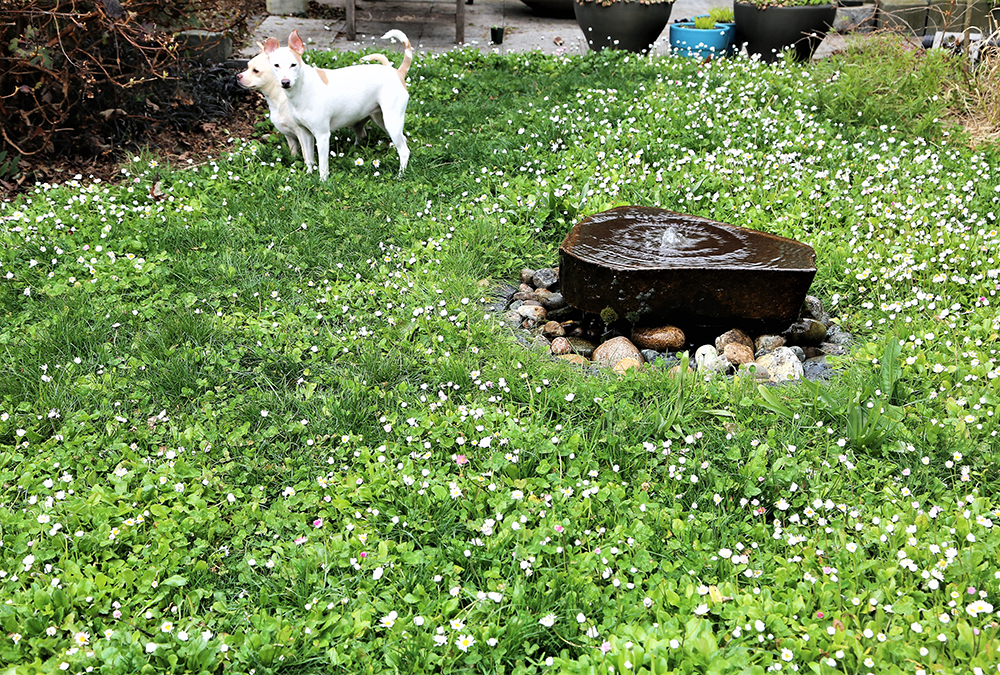 Consider a lawn made of more than just grass. Early spring is a wonderful time to prepare your lawn for success later in the season. I have a relatively small lawn, but I really enjoy the negative space it creates and how it offsets my perennial beds. My dogs love to run and roll around in it too! Every spring I take the time to manually aerate my tiny lawn; consult a professional if you have a larger lawn. I overseed the lawn with my favorite seed mix. I'm using a mix from a wonderful seed company in Portland, Oregon, called Pro Time Lawn Seed. They have every type of lawn seed mix imaginable, from traditional green grass to urban meadows and everything in between. I'm using their "Fleur de Blanche" mix, which incorporates white English daisies (Bellis perennis, Zones 4–8), white yarrow (Achillea millefolium, Zones 3–9), and white alyssum (Lobularia maritima, annual) to create the look of a shaggy meadow full of flowers. After overseeding my lawn, I then rake a generous amount of fine compost over it and water it in. This ensures that the lawn will not only look great but also perform well in the summer.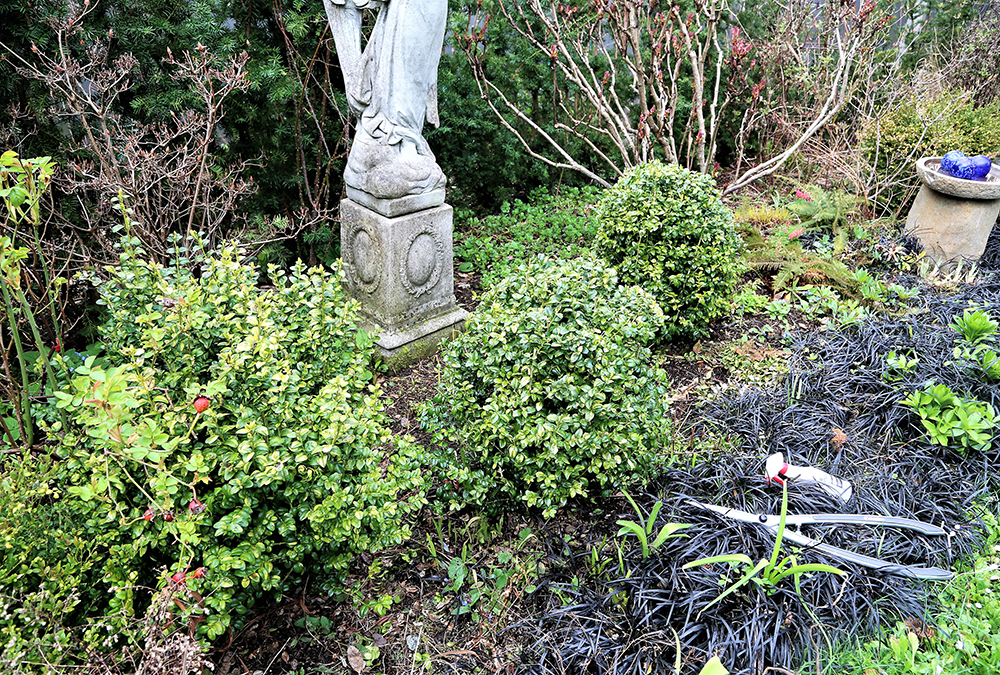 Prune boxwoods. Now that the chance of frost has gone away, it's a good time to trim up your boxwoods (Buxus spp. and cvs., Zones 4–9) before they start growing in earnest. Unfortunately, boxwood blight cases have started showing up in the Pacific Northwest, so take extra care and caution when doing your spring pruning. I like to put down a tarp to collect the clippings and to make cleanup easier. It's important to remove all the clippings from your garden beds to prevent and stop the spread of diseases. It's just as important to clean your tools. I keep a spray bottle of rubbing alcohol in my tool tub and clean my clippers or shears between plants. If you have established boxwoods, only a minimal clipping is required. Just make sure to apply some all-purpose fertilizer and mulch afterward. Make sure your boxwoods get adequate water in the coming year, but beware of overhead watering or super-saturated soils; these have been noted to encourage boxwood blight. For more information on the disease, here is a great resource from Oregon State University Extension: Beware of Boxwood Blight!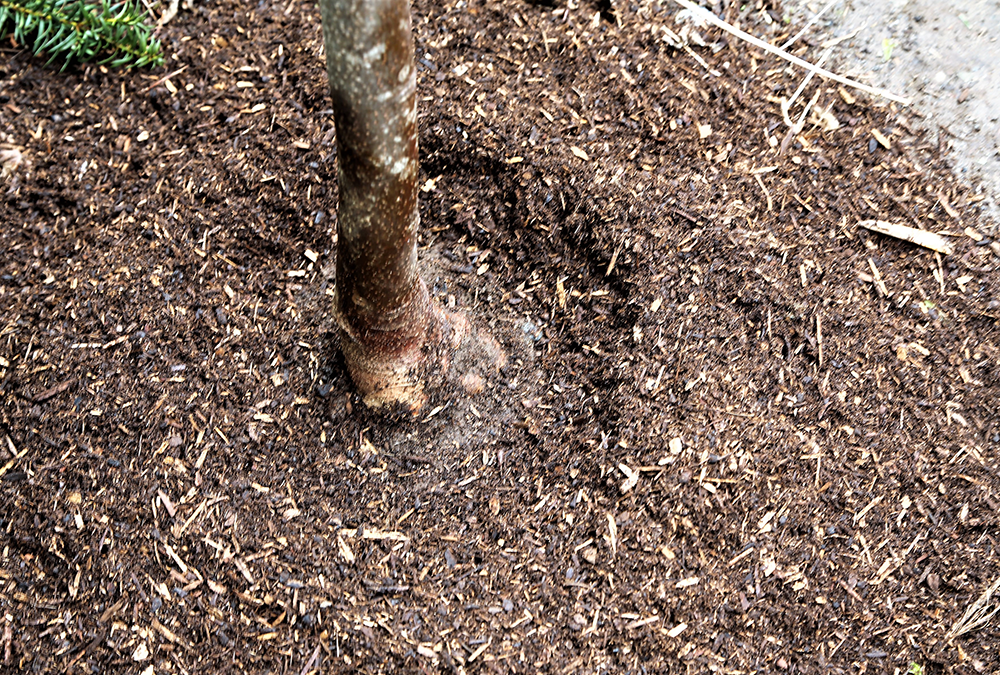 Check on trees and shrubs you planted in autumn. If you planted new trees and shrubs last fall, make sure they are settling in well and that the crowns are not too deep. See that trees are staked well for their first growing season. Add a fresh application of mulch to help retain moisture and to prevent weeds from establishing. Just remember to not bury crowns with mulch; they should not look like little volcanoes!
As always there are more gardening chores to take care of in April, but at least here's a start. All the best in your gardening endeavors this month!
—Jason Jorgensen is a landscape designer in Seattle.