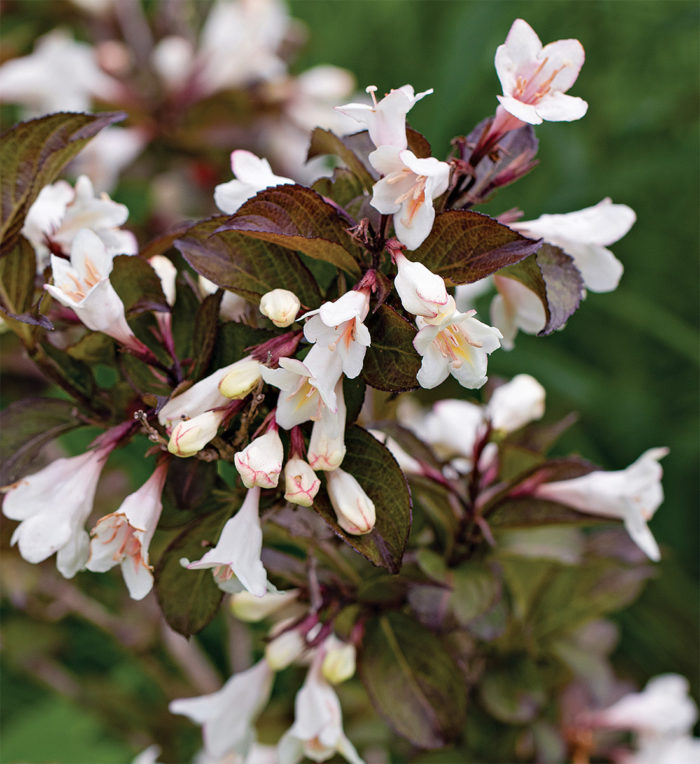 The end of fall is the time to plan for the future of our gardens. Thinking about spring gets us through the upcoming cold, dark days. One of my more exciting discoveries while planning during last year's downtime was Tuxedo™ weigela. I'm not a big fan of pink in the garden, and most weigelas have pink or red flowers. Tuxedo™ is an exception, with sassy black foliage backing beautiful white blossoms. It's a favorite new addition to my stock of rugged plants.
Small, blackish green leaves emerge in midspring. They gradually expand and lengthen while becoming extremely lush. The foliage maintains a dark purple-black hue, unlike the red-blacks that are often the norm with so-called black leaves. White flowers on short purple stems soon join the party, hanging out in groups like debutantes waiting to be asked to dance. Hummingbirds and butterflies also come to dip into the fragrant, creamy, tubular blooms.
Sturdy stems help this shrub maintain its place in the garden; it's the perfect size to add bulk, but not so big that it will take over. Tuxedo™ needs six or more hours of sun to maintain its dark and handsome leaves. Deer and rabbits are not included in its party, however, giving you yet another reason to love this plant. My plan is to add some other black-and-white plants with proven track records this year, such as 'Espresso' geranium (Geranium maculatum 'Espresso', Zones 3–8) and 'Cappuccino' astilbe (Astilbe arendsii 'Cappuccino', Zones 4–8), to get some color repetition throughout my beds and really rev things up.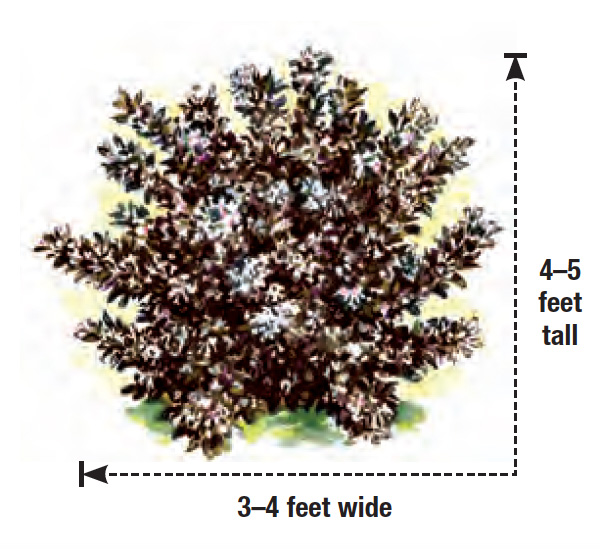 Tuxedo™ weigela
Weigela 'Velda'
Zones: 4–8
Conditions: Full sun to partial shade; well-drained soil
Native range: North China, Korea, and Japan
---
Susan Calhoun is the owner and principle designer at Plantswoman Design in Bainbridge Island, Washington.
Illustration: Elara Tanguy
Sources: