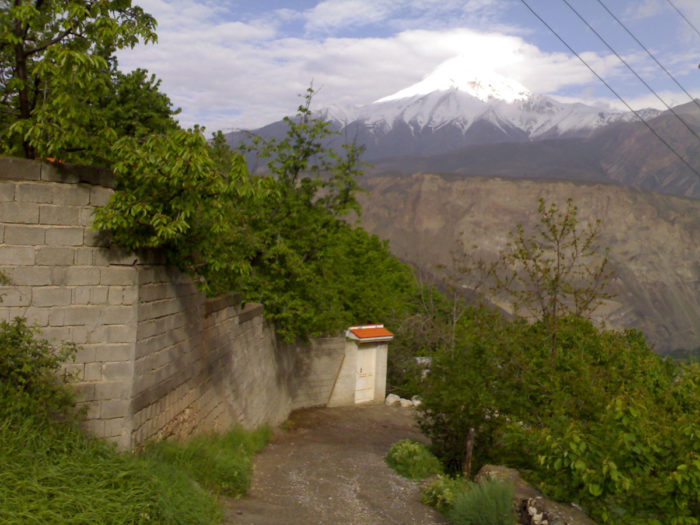 Let's travel to the other side of the globe today! Today's photos are from Ali Mollanazar in the Mazandaran Province of Iran.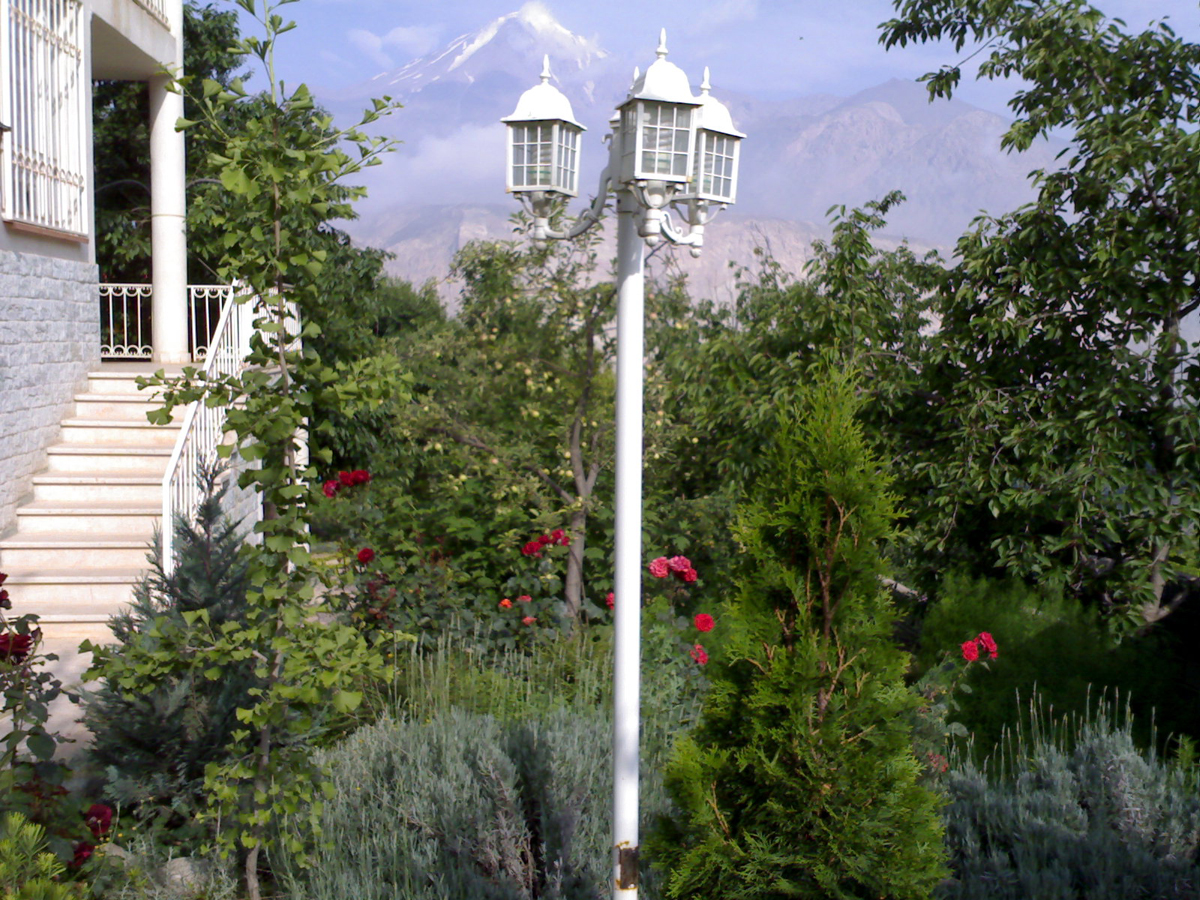 Ali says, "My God-given-gift, the little, yet beautiful 'alpine rock garden' is situated next to Marzamin- meaning Mamland-( مار زمین ) in Pardameh-ye Amiri- meaning Breezy District (پردمه امیری ) of Vana outskirts of Larijan county (Haraz road to Amol), the mountainous region just closely and happily overlooking the Damavand Top, the uniquely fascinating utmost peak of the Alborz mountain range rising circa 5,670 meters high from sea level, 75 km far from the Caspian Sea.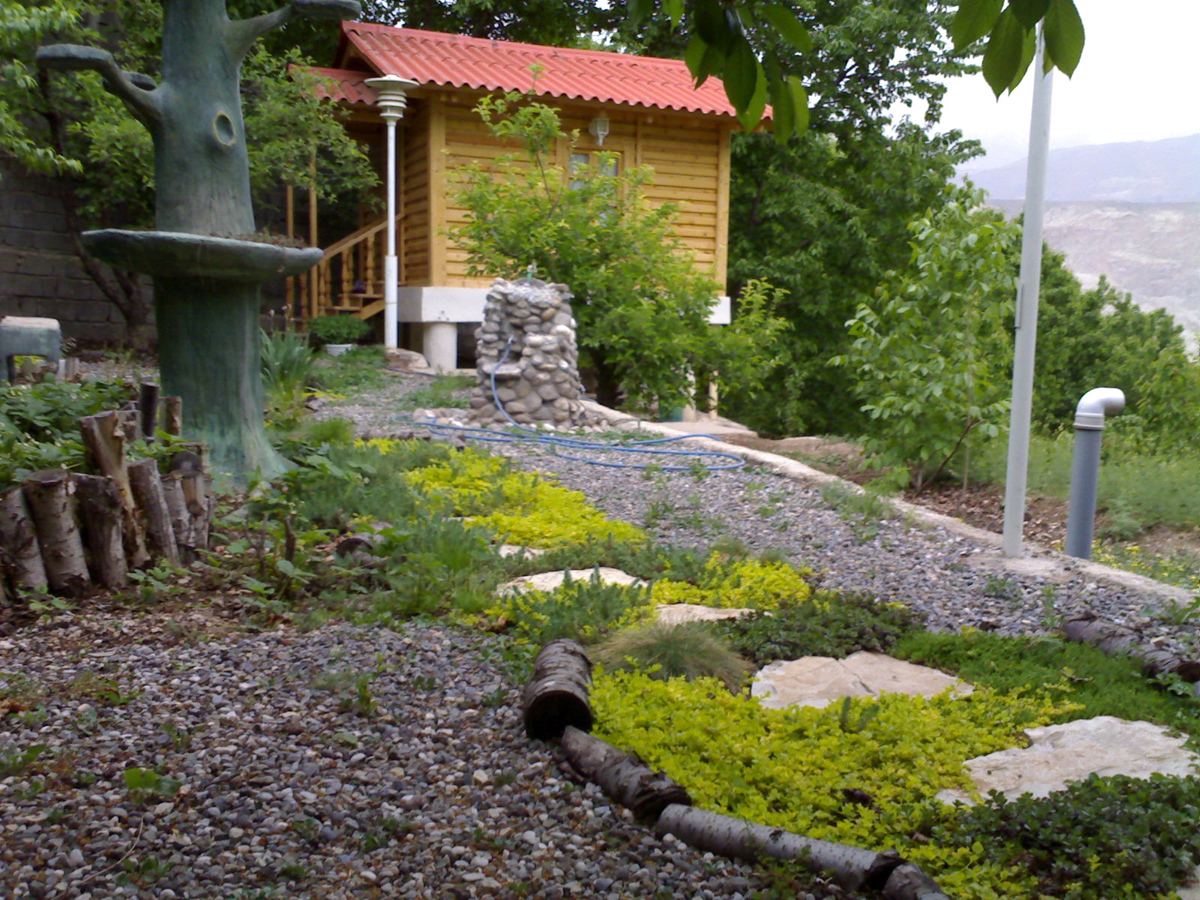 "It holds ample limestone, boulders, grits, chips, and pebbles. And being on the mountainsides, it has naturally provided all essential materials, facilities, and feasibilities for creating a reasonable 'alpine rock garden' with true special features like steep streams and water-worn rocky outcrops.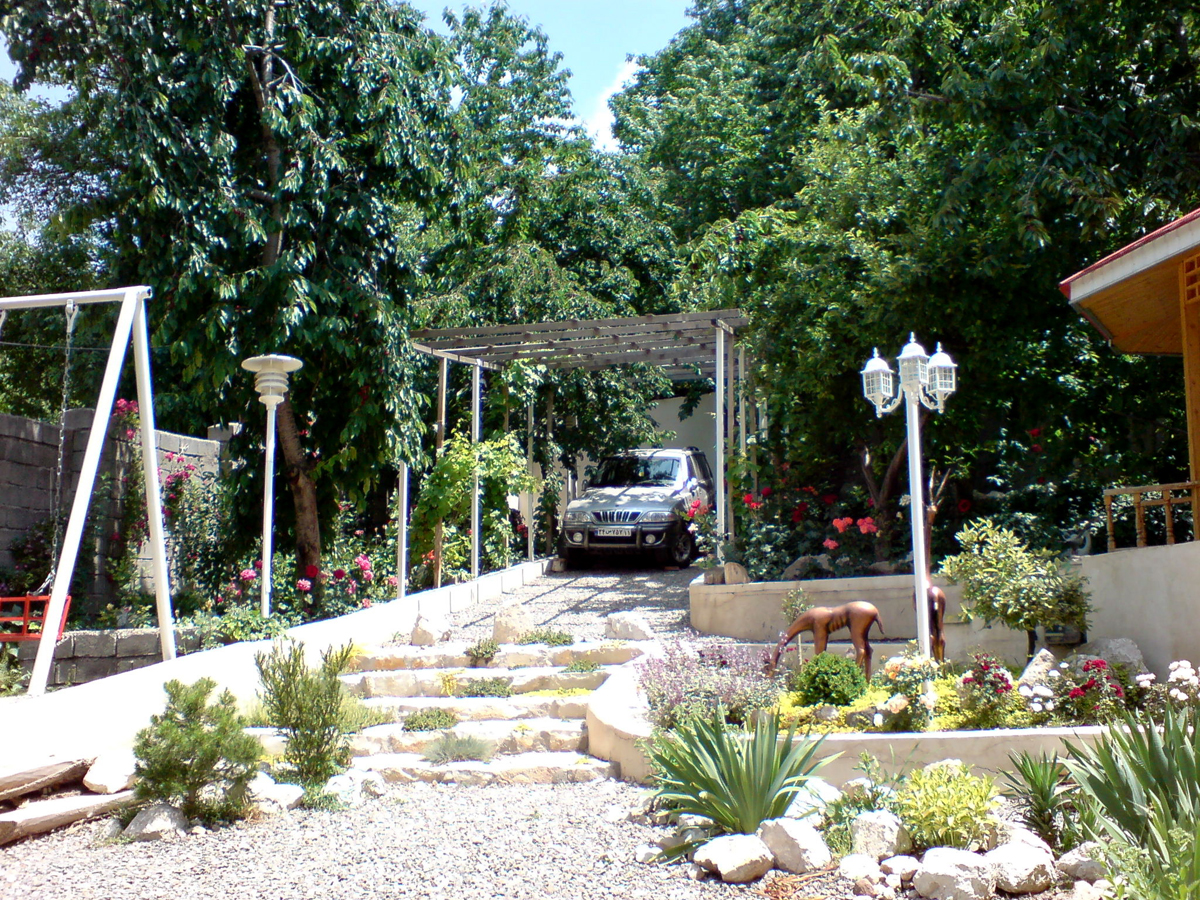 "It enjoys an alpine climate; 1,700 meters high from sea level, prevalently cool weather in summers, 10°C during nights – I don't dare to sleep outdoors on the terrace, though some local old men do really enjoy that cool air. Icy cold in winters, minus 30° C during nights, just a little rain in springs and falls, yet lots of heavy snows in winters. If you are hardy enough, you can stay and possibly watch some avalanche rushing towards you in cold seasons. Oh, my God! Do not linger in its pathway to take pictures! You'd better escape off the way and save your life!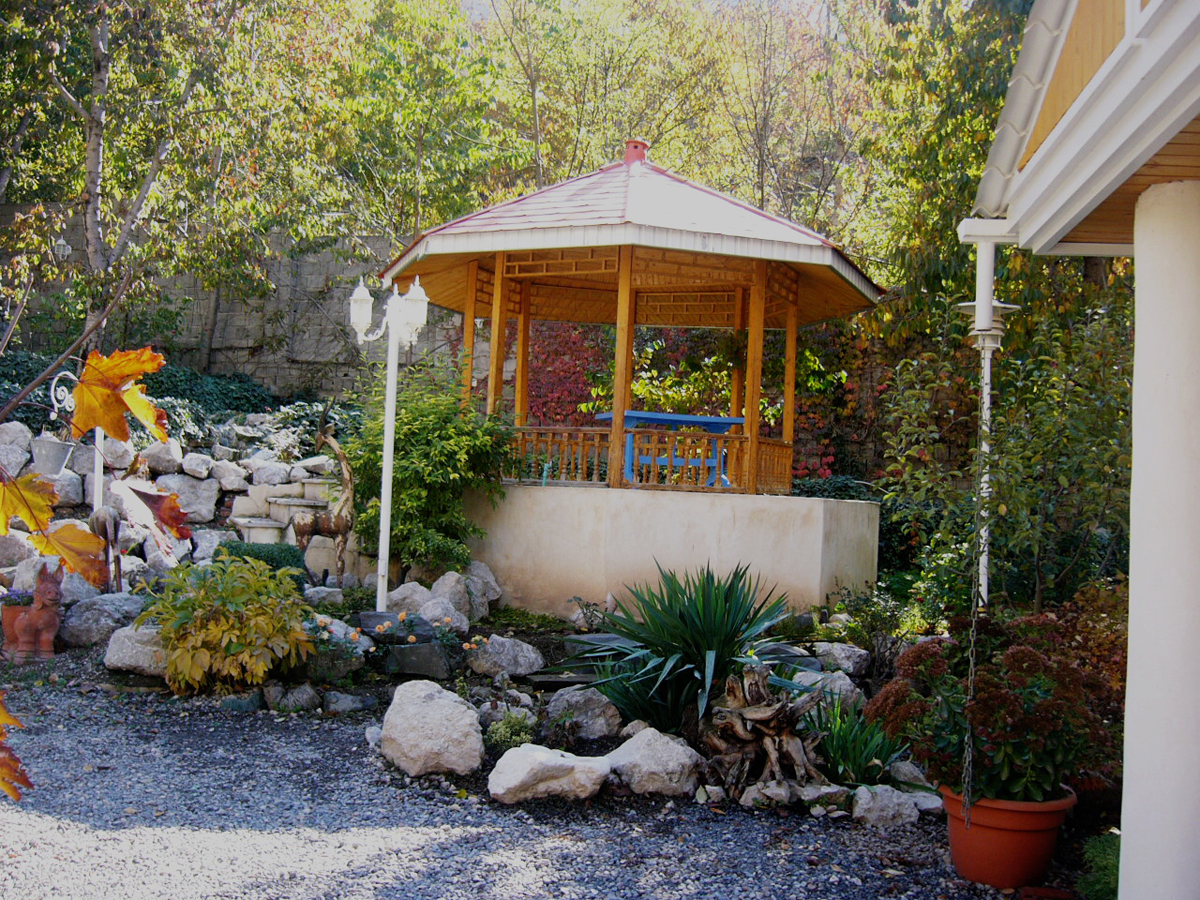 "The surface area of my hidden garden is about 2,000 sq. meters, which is big enough for me to allow my inner child to jump up and down and play naughty games until mammy (excuse me! Now, wife) calls; 'It is getting too late for the dinner, stop that playing!'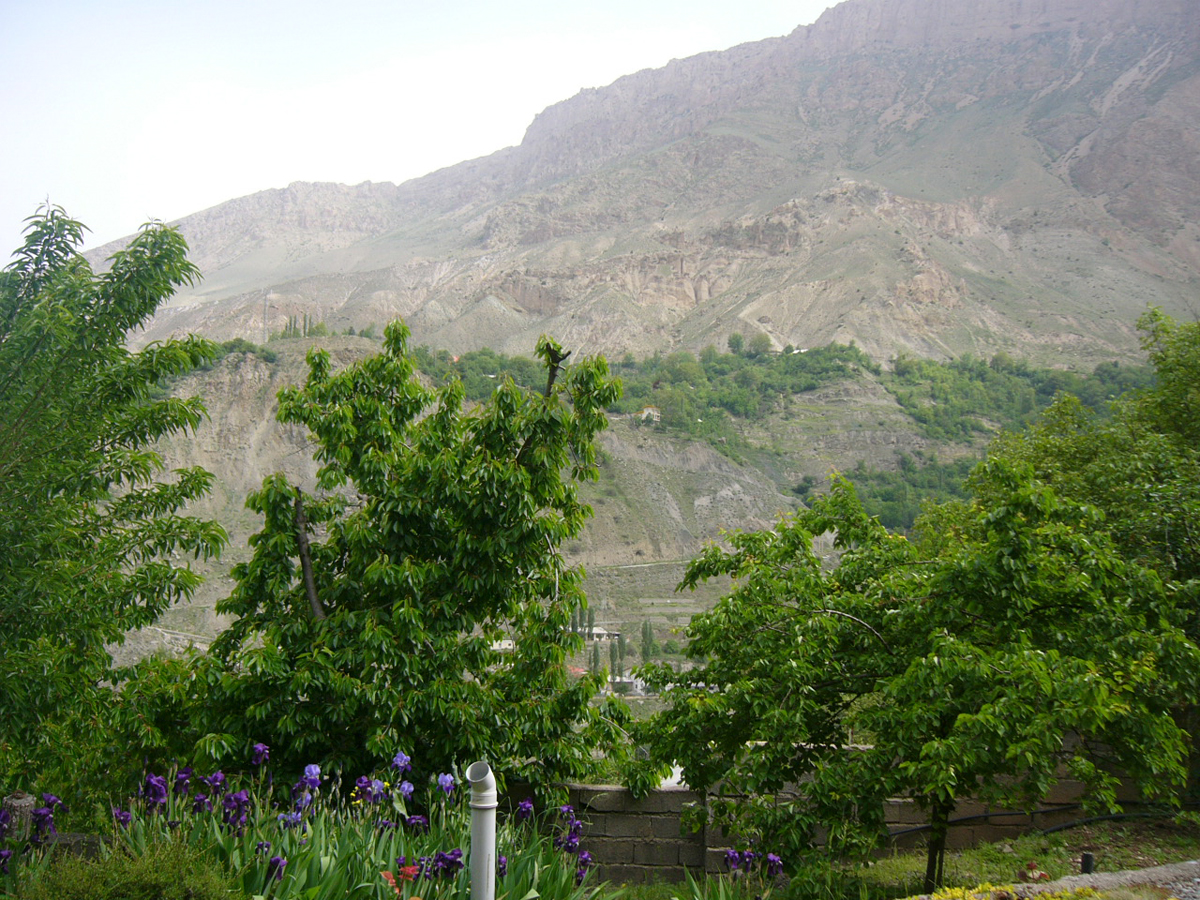 "Some of the main structures, decorations, and enhancements of this enclosed hidden garden include a milky white color duplex villa, just in the middle of the garden with an area about 220 sq. meters, which may somehow form the conspicuous focal point of the garden, especially with those two terraces, large & small, one on each deck. Just imagine sitting on your rocking-chair, moving to and fro, smoking the arresting Captain Black antiquity tobacco in your Swedish handy dark brown pipe, occasionally sipping at your Brazilian traditional hot cappuccino in a china cup, watching the blaze rising from the peak point aloft the dormant volcano mouth of Damavand Mount, breathing the naturally purified oxygen of the clear blue sky, hungrily awaiting the Persian national flavoring lunch of Chelo-kebab. Bon appetite! A captivating superior Paradise!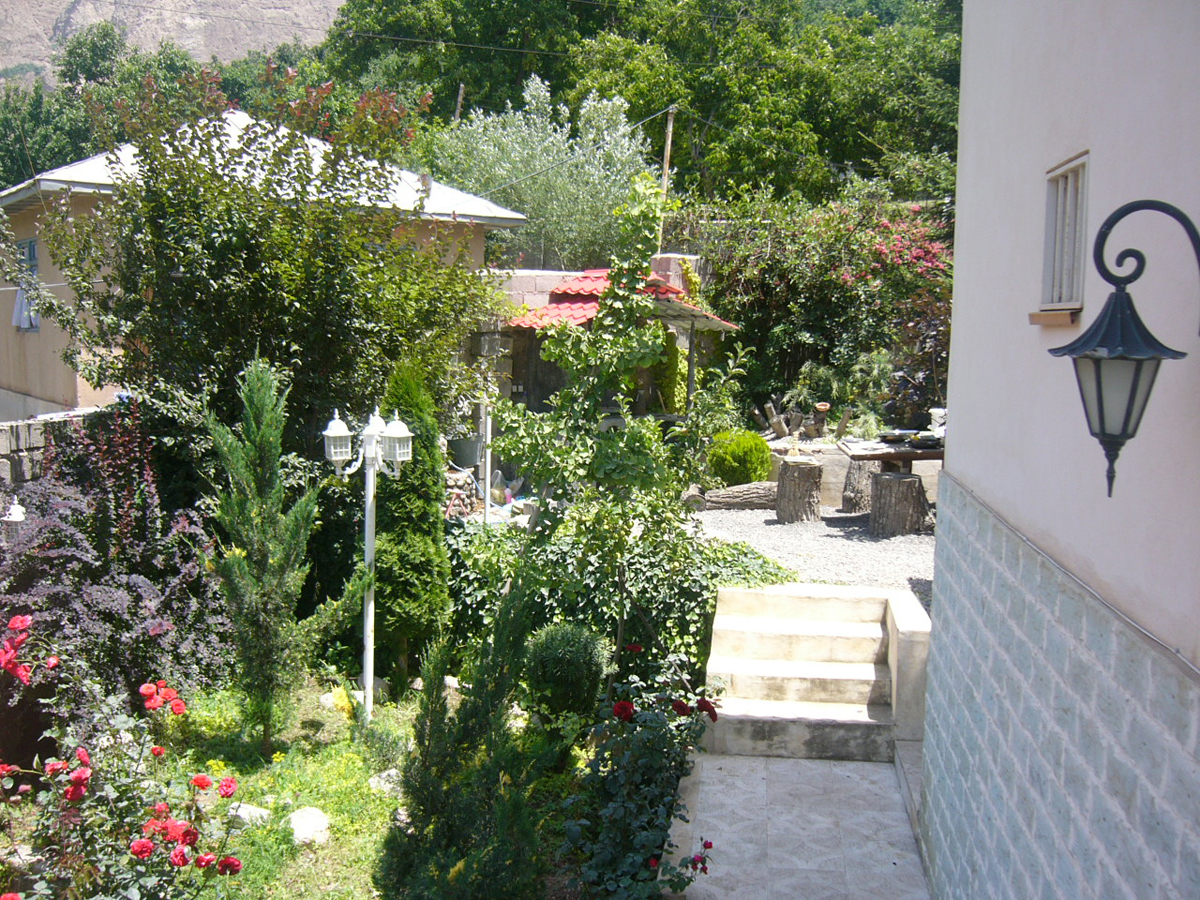 "In addition to the above, plants in my garden exploit the generous support for irrigation from a shallow water well, yet with abundant clear cold water during whole spring and summer, and partly in fall. The well proved to be very shallow indeed, because though having in mind to dig in about 15 meters, fortunately at the depth of 6~7 meters it crossed a natural fountain culvert through which rain and snow water is flowing downtrend into the Haraz River. Right then and there, we decided to halt digging any further.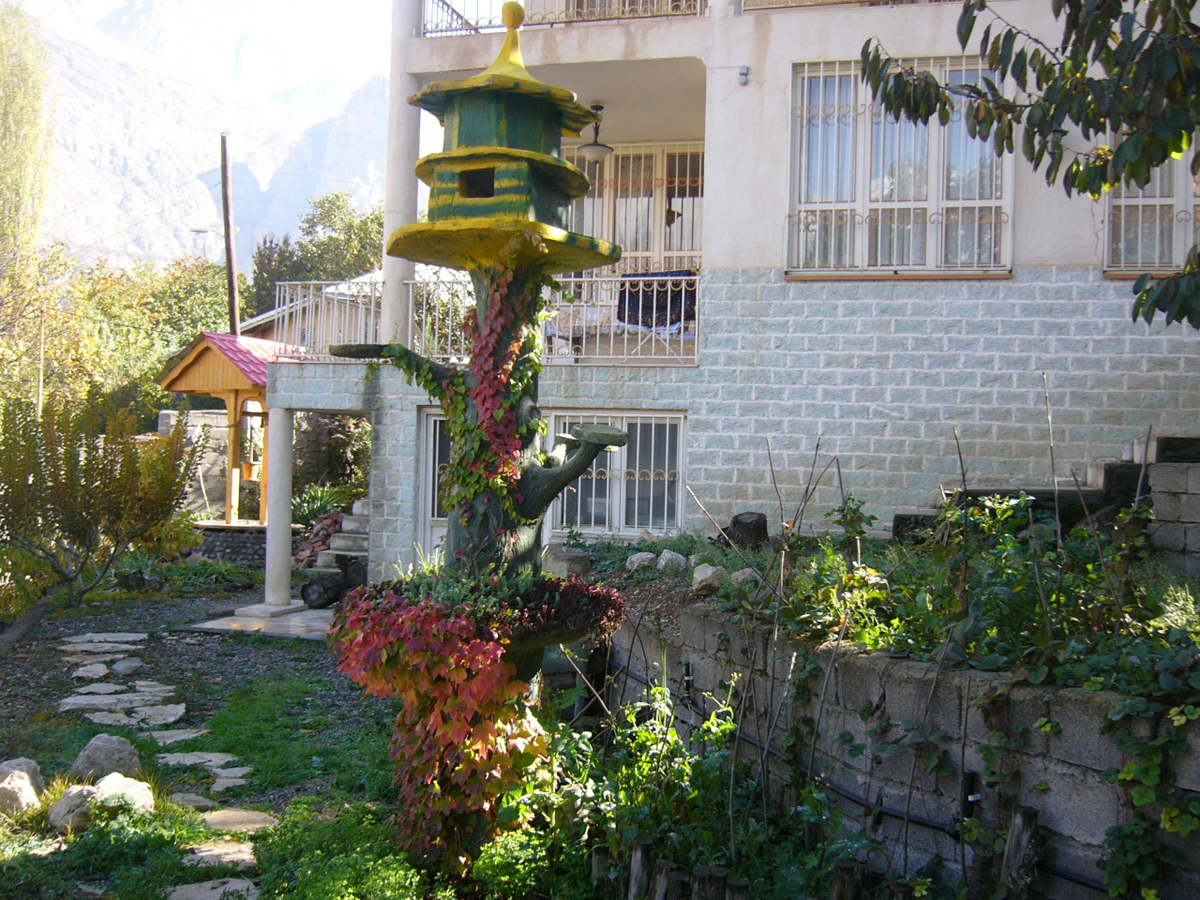 "This garden is constantly changing and altering from all walks or better to say it is always subtly evolving. I cannot estimate when it will become complete and finished. It looks like a mixed style garden, shady & sun-happy. I love it and feel it is worthy to spend part of my hard-earned cash on developing it ever more. I aim at keeping it as a natural rather than a botanical, or like Kew gardens.
"Although I myself have been very fond of flowers plants, fruits trees, planting, cloning, grafting, propagating, irrigating, landscaping, … and everything else related to gardening since childhood, I describe this as 'our' family garden because my dear, tidy, active, hospitable wife (Mrs. H.V.) has pushed me forward vigorously from the very starting point; procuring the required land, building the house, in addition to all the planting. Without her I would not have dared to undertake such overwhelming hardships aloft the mountain of no-easy-access. She is the think-tank which approves my ideas, and I must acknowledge my heartfelt gratitude to her here and now!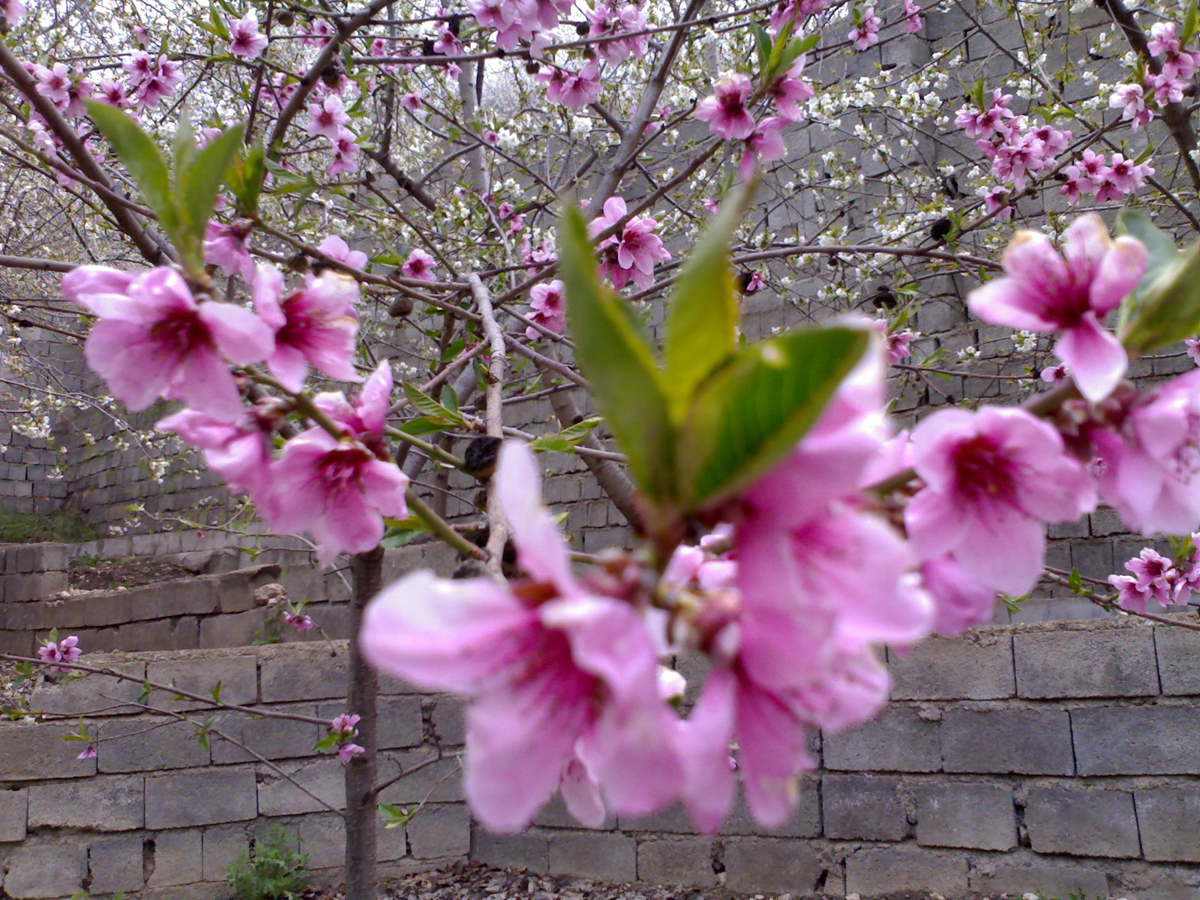 "Simply, pictures prove to be more communicative and expressive than words. Yet, I maintain that images suffer from some fatal deficiencies- being free of soul. No one will ignore or neglect the reality that notwithstanding how picturesque an image may be, it cannot depict any hints or traces of weather or temperature; how cool or warm it is, what smell or fragrance it carries, is it pure and clear, humid, or dry? It lacks the power to relay birds singing, bees buzzing… Gardens, with all the plants associated with them in the wider landscape, are living creatures. That is, they are born, they grow, mature, and then fatigue generally overcomes them, senility sets in and in turn there comes final full stop, or rather the virtual infinity. Instantly, new young species, full of fresh vigour and energy, carry on the responsibilities of life cycle…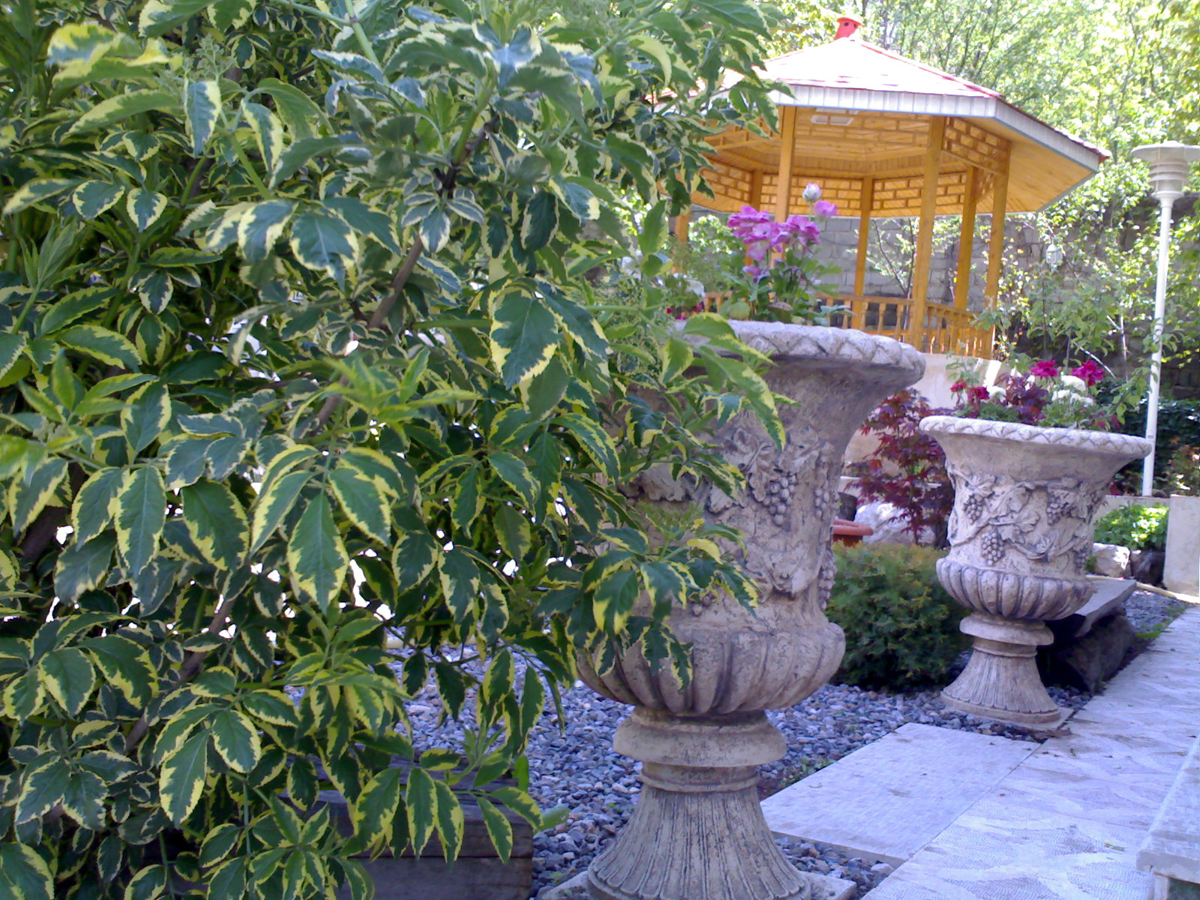 "You and I, reader, are still happily alive! It is our share of the God-given gift, the life cycle, and so it is our right to enjoy ourselves, making the most of our time! That is the reason I still have lots of clear ideas and vivid plans in mind to do tomorrow. There are precious objectives to be developed and completed. I am never in short of program for the future…and I have decided also that I will somehow reach a compromise with this so-called 'Parkinsons', to prevent it from taking hold of my life at any rate. Let it make me shake! That's its nature, its gift to me–it can do no more to me! Eventually, I will be the winner, in following my delightful share of this great life cycle!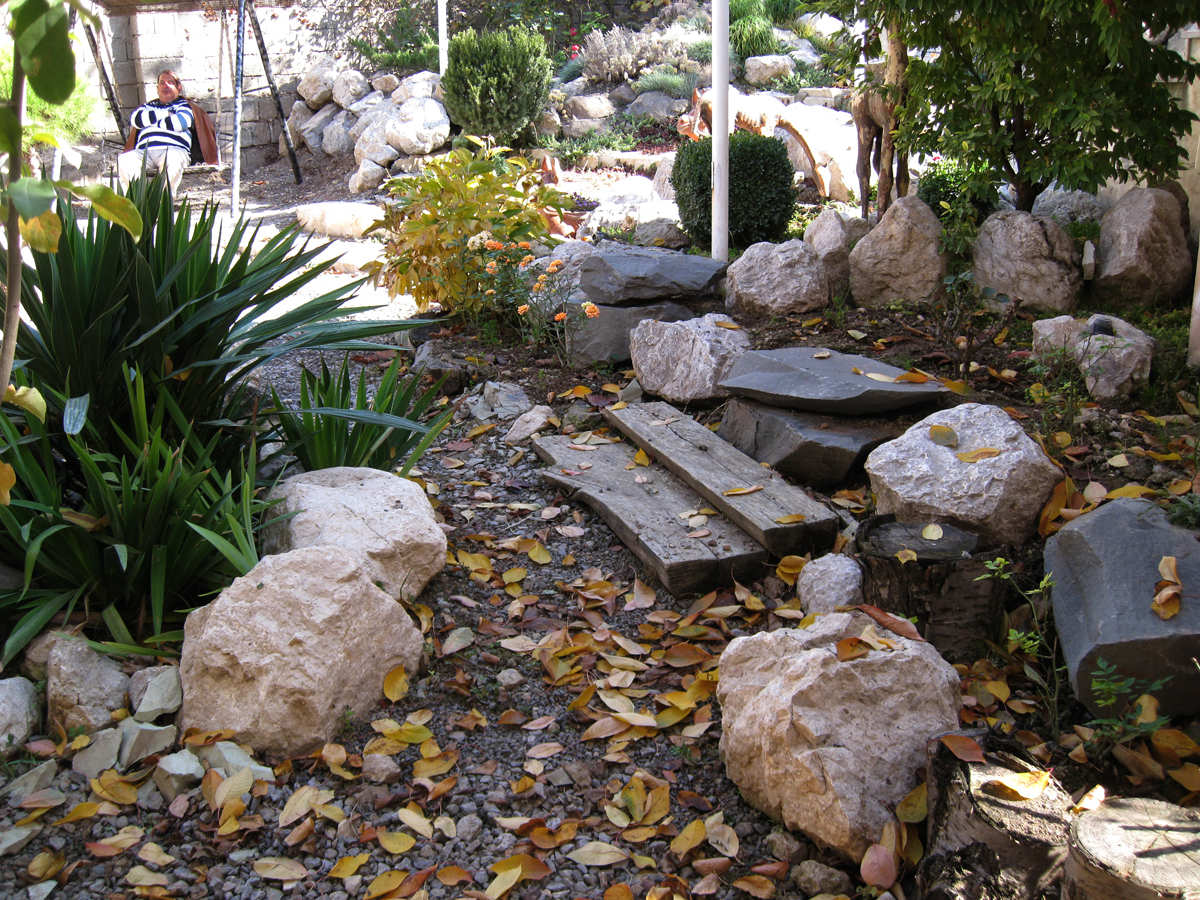 "I appreciate you for sparing your dear time by far. I humbly request you to present me with your instructive & directive comments which, by sure, will help me to develop my natural/mixed garden to look ever more appealing." Gorgeous, Ali! And your words are as beautiful as your garden. Thank you so much for sharing both with us!
*****Al has a website where you can read much more about the garden and see LOTS more photos. Check it out HERE!*****
***Hey everyone–we're heading into winter, when GPOD submission tend to be a bit scarce. If you still want to see a new and exciting garden every single weekday in your inbox, do your part and show us YOUR garden! You can email photos to either [email protected] or [email protected]. Be sure to tell me where you live and tell me a bit about yourself and your garden. And the more photos the better! Thanks!!***
Want us to feature YOUR garden in the Garden Photo of the Day? CLICK HERE!
Want to see every post ever published? CLICK HERE!
Want to search the GPOD by STATE? CLICK HERE!
**Check out the GPOD Pinterest page, where you can browse all the post in categories…fun! CLICK HERE!**