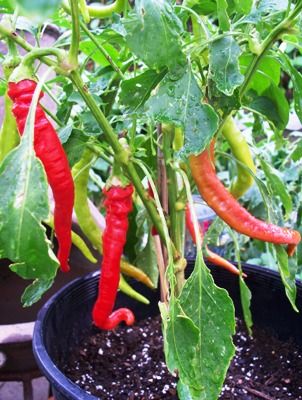 Until you've experienced the pleasure of growing sweet red peppers and then grinding the dried pods into fresh paprika, you won't know what you've been missing. One whiff of fresh paprika and you'll never want to buy grocery store paprika again.
While you're flipping through seed catalogs looking for the next new vegetable to add to your garden, be sure to keep an eye out for paprika (Capsicum annum) among all the other sweet pepper seeds. Buy at least one packet of seeds and start them indoors in early spring.
Seeds are the frugal way to go for budget-minded gardeners who also like to cook. Not only will you be able to choose the variety of pepper you want, but you'll be saving grocery money when it comes time to grind the dried peppers into paprika.
Growing is easy and fun
Last summer was my first year to grow paprika, and now I know I'll always make room in the garden for at least one plant. The pepper plants I grew were extremely productive and produced 5- to 6-inch-long curly peppers that ripened nicely on the plant.
There are many kinds of paprika varieties to choose from. You can choose from round, thick-walled peppers; short, fat peppers; or long, slender ones. Each offers its own sweet red pepper taste.
I started my pepper seeds indoors in March and planted them in patio containers in late May. The pots were placed in a sunny spot—just like the hot peppers in nearby containers.
The plants grew to about 24 inches tall, and each produced more than a dozen peppers that were fun to watch as they grew and curled in interesting ways. They turned from bright green to dark red in about 80 days.
Dry peppers before grinding
As each pepper turned red, it was picked, washed, and placed on a screen in the basement to dry. I let my little crop dry until they got crunchy before grinding. Then I let my spice mill do all of the work.
The grinding process released a warm, sweet pepper aroma so fragrant that I had to stop and take a deep breath to savor it. The orange-red powder is beautiful to behold.
Use in savory dishes
Most Americans are familiar with paprika in small dashes and used to doll up deviled eggs, but cuisine in other parts of the world use it as an important savory seasoning. Chicken paprikash and Hungarian goulash are two recipes that require hearty amounts of paprika. Indian, Moroccan, and Middle Eastern recipes often call for paprika as a main ingredient as well.
Paprika can be used to season meat and fish dishes, but it's also delicious added to rice, beans, eggs, cheese spreads, soups, stews, stuffing, barbeque sauce, and salad dressing, and to season fried or baked chicken.
Freshly ground paprika should be stored in a cool, dry place and will remain fresh for up to six months. But somehow I doubt it will last that long.