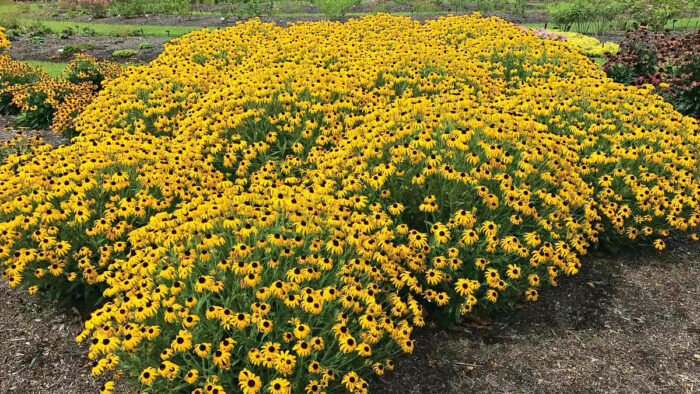 When I think of black-eyed Susans (Rudbeckia spp. and cvs., Zones 3–9), my mind conjures up images of the gold rush of the late 1800s, with covered wagons racing across the United States. When the prospectors reached the Great Plains, they must have been entranced upon seeing fields and meadows filled with these golden flowers.
Today we have struck gold again in a plant called 'American Gold Rush' black-eyed Susan. Like all black-eyed Susans, 'American Gold Rush' bursts into bloom in midsummer and finishes in fall, hitting its stride when many other plants are starting to pack it in. And 'American Gold Rush' has a few important qualities that set it apart from its cousins. At only 22 inches high, it is compact. Unlike most black-eyed Susans, whose blooms look like loose bouquets with space between the flowers, this one maintains a beautiful, upright, domelike habit. I like that the leaves are only 2 inches wide with a blue-green cast, because the smaller foliage doesn't overwhelm the outstanding flowers, ensuring that the plant looks showier both in and out
of bloom.
One of the problems with most black-eyed Susans is that by midsummer you may notice Septoria leaf spot on the foliage. It arrives in warm, wet, humid weather. Most gardeners just remove the foliage, but the plant may start to look bare. 'American Gold Rush' shows very little sign of this fungus and can be considered fairly resistant to it.
This native perennial is easy to grow. It tolerates hot, humid summers and, once established, can also tolerate drought. In rich and fertile soils it can flop and need staking, which is something I hate to do in very hot weather. The only other thing I suggest doing is to deadhead spent flowers for additional bloom. This neatens the plant as well. If after around three years the clump gets too big, simply divide it to maintain shape and robust growth.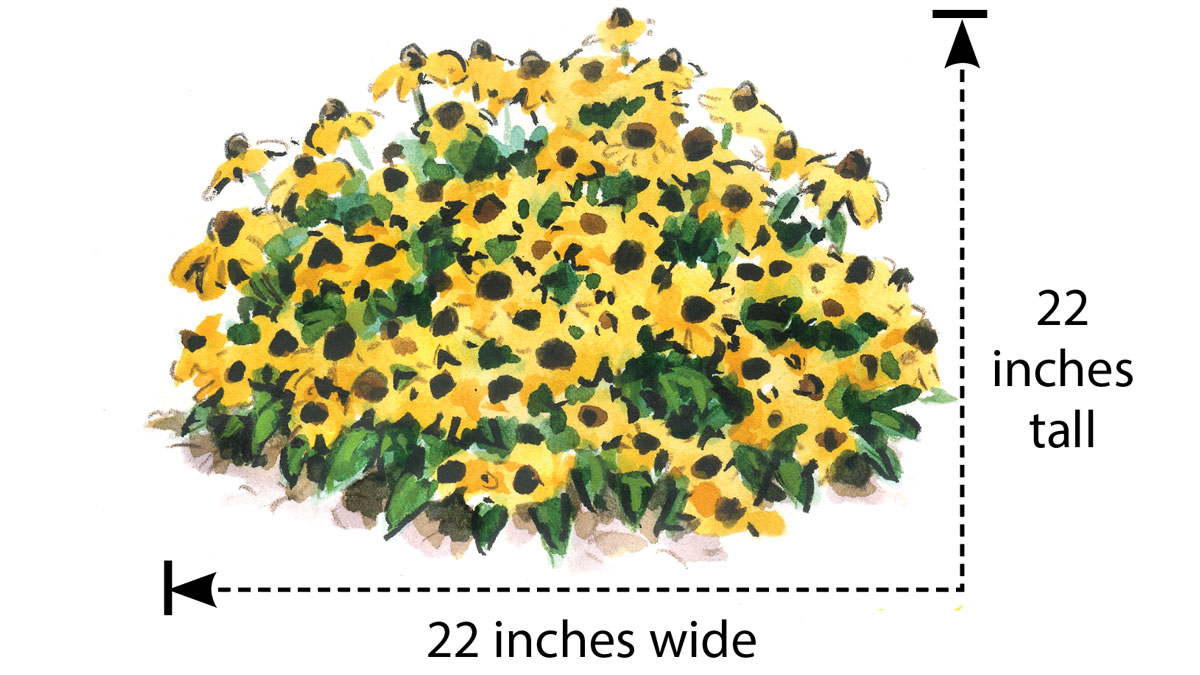 'American Gold Rush' black-eyed Susan
(Rudbeckia × 'American Gold Rush')
Zones: 4–9
Conditions: Full sun to partial shade; average, well-drained soil
Native Range: Hybrid of North American species
---
Stephanie Cohen has spent most of her life trialing, speaking about, and teaching all things plants. The author of several books, she lectures extensively around North America.