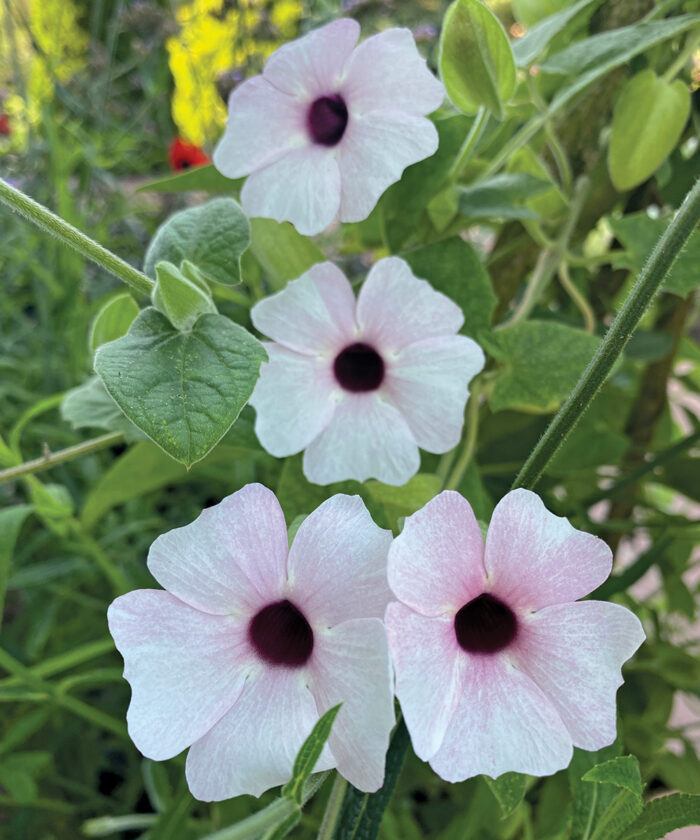 Annual flowering vines are indispensable in the summer garden, as they can address a multitude of landscape sins—including structural eyesores, gaping botanical holes, and color voids in hard-to-reach places. The cheery yellow and orange blooms of black-eyed Susan vine are a classic, fast-growing favorite, but selections from the Sunny Susy® series bring additional, charming color options to the table. The Sunny Susy® Pink Beauty (pictured) and Rose Sensation selections provide blooms in pale pink and rich rose, respectively, while Sunny Susy® Amber Stripes shines with magnificent pinwheel flowers that are dark red and edged in yellow. A pleasant alternative to aggressive morning glory vines (Ipomea tricolor and cvs., annual), black-eyed Susan vines do not self-sow as prolifically and have only been reported as overly rambunctious in the far-southern reaches of the southeastern United States and Hawaii. In addition to placing this climber near structures like fences and tuteurs in the garden, consider it for containers at entryways or on the patio, where it will look fantastic spilling over the side as well as running up bamboo staking or other decorative supports.
Sunny Susy® series black-eyed Susan vine
Thunbergia alata cvs.
Zones: Annual
Size: 5 to 8 feet long and 12 to 15 inches wide
Conditions: Full sun to partial shade; moist, well-drained, fertile soil
Native range: Tropical Africa
---
Source