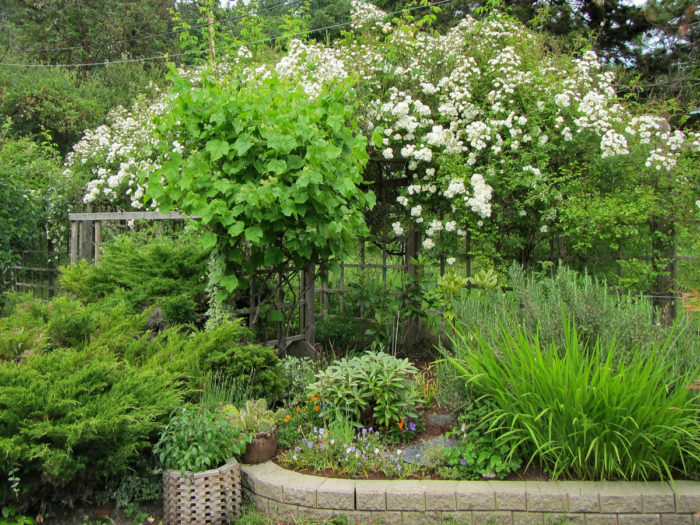 Remember visiting May Kald's garden on Vancouver Island in British Columbia last month? (Refresh your memory HERE and HERE.) Back then, we were dazzled by her collection of rhododendrons. Now she's back to dazzle us with her roses! It's like a completely different garden! 
May says, "Gardeners are always facing new challenges. As years passed and my garden grew, so did the numbers of rabbits and deer in the neighbourhood. My first solution was to put barriers around the more susceptible plants. The list of vulnerable plants needing protection kept increasing, in spite of my choosing "deer-resistant" varieties, until one day I realized that I was not looking at a garden, I was looking at a series of wire and mesh barriers.
"I tried using an electric fence around a newly-planted section. That seemed to work for the deer, certainly it zapped me often enough when I was not careful, but it was unsightly and was not feasible for most of the area I wanted to protect.  Next I tried a motion-activated water spray. Again, it was not the right solution as the area protected was small, it soaked not only the deer but anything else that moved, myself included, and was not useable on windy days at all. So in 2002 I started to build fences.
"Did I mention that this is a rocky, hilly acre? Digging holes for fence posts can be difficult to impossible (without blasting or drilling rock). Wherever it was possible, I put actual wooden fences, in other places I used deer netting or other physical barriers. I designed and built the fence panels myself, preferring an open airy look, a physical rather than a visual barrier. And loved the result. Both my eastside neighbour and I planted old-fashioned rambler roses along that section, which is stunning when they are in full bloom. The beauty of those first roses led to a period of rose frenzy for me.
"I learned about, purchased or propagated roses from friends' gardens until I had over a hundred roses, some in new beds, most tucked between other shrubs and perennials. Eventually, those areas of the garden looked fantastic during the first flush of rose bloom every May/June. And my fences kept the deer predation to a tolerable level.
"However, as my young trees and shrubs grew, they and my neighbours' trees created far more shade than most roses prefer. They also competed with the roses for water and nutrients. Unhappy roses become weak and diseased. Though some died, mostly I dug up and gave away those that could no longer thrive.
"At this point, I still have a lot of roses, but many have been replaced with rhododendrons, which I also love, as they preferred the increasing shadiness.  And so the garden evolves and matures. Hope you enjoy today's glimpses."
Beautiful, May! I can't wait to see what the next stage brings.
Want us to feature YOUR garden in the Garden Photo of the Day? CLICK HERE!
Want to see every post ever published? CLICK HERE!
Want to search the GPOD by STATE? CLICK HERE!
Check out the GPOD Pinterest page! CLICK HERE!