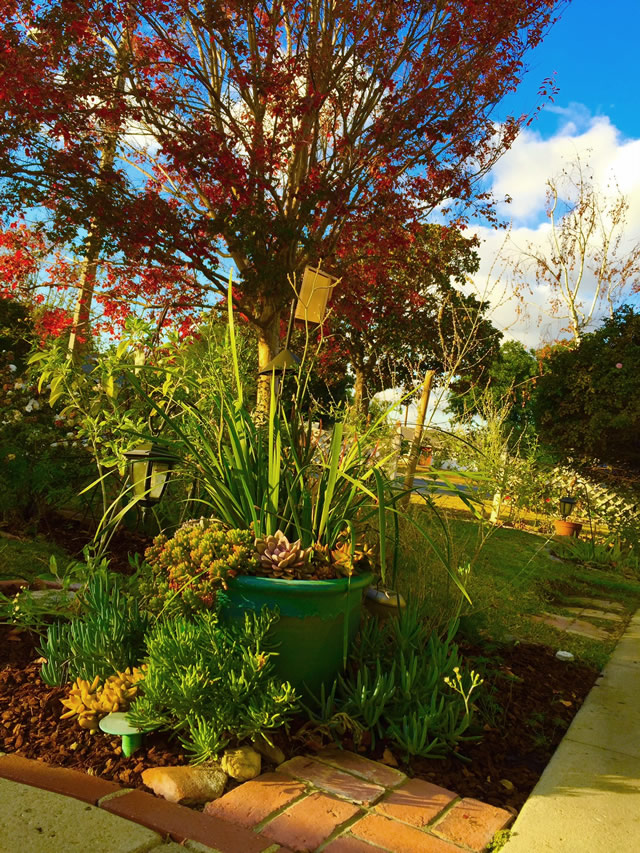 Liz Cordova's Anaheim Hills, California garden is a treasure!
"The Angels continue to tend my All Season garden. I started it some 27 yrs. ago. I used to garden on days off and weekends while working full time and 2 kids & found joy doing it. But after getting so sick (which now affects my eyes) I can only garden in minuscule dashes when conditions are right. Like right now it's raining in Anaheim Hills, CA, I put out my potted Japanese that are in the patio out in the rain. The flowers and foliage bring joy to me and friends who visit or ask for a bouquet to bring to their mom.
I divided the garden into rooms- English & antique roses in the perennial garden, a quiet Secret garden with exotic plants, Japanese Maples & ferns under the pergola which I use for an extension dining room when friends drop by, some orchids in the patio (living room extension through the French doors), I used to read in the secret garden now I just tarry awhile with dear friends who choose to sit beside me and through this painful journey. I've made several planters with groupings of same need plants, for friends without charging them. It's beautiful to see the joy in their eyes."
Have a garden you'd like to share? Please email 5-10 photos (and a brief story about your garden) to [email protected], or tag your photos on Instagram or Twitter with #FineGardening!
Whether you've never shared before or you've been featured multiple times, we want to see your garden! You don't have to be a professional garden photographer – check out our garden photography tips!
Do you receive the GPOD by email yet? Sign up here!