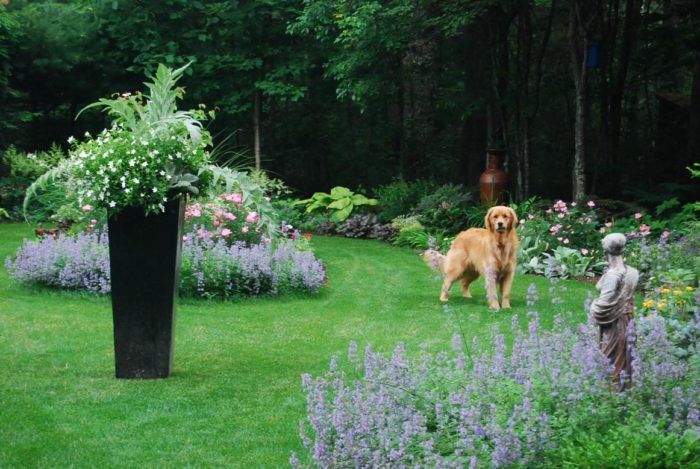 We finished off last week with Lynn Felici-Gallant's container creations, and we'll start this week with her dog, Hunter, in her garden. Hunter is Lynn's gardening companion, and has quite a story.
Lynn says, "In February 2010, my dog, Hunter, a four-year-old Golden Retriever, was diagnosed with a very aggressive bone cancer. He was given four to six months to live unless he had surgery and radiation. There was some evidence from blood tests that the cancer had spread. The surgery would remove half of his bottom jawbone, and would cost upwards of $5,000. There was no guarantee they could eradicate the cancer.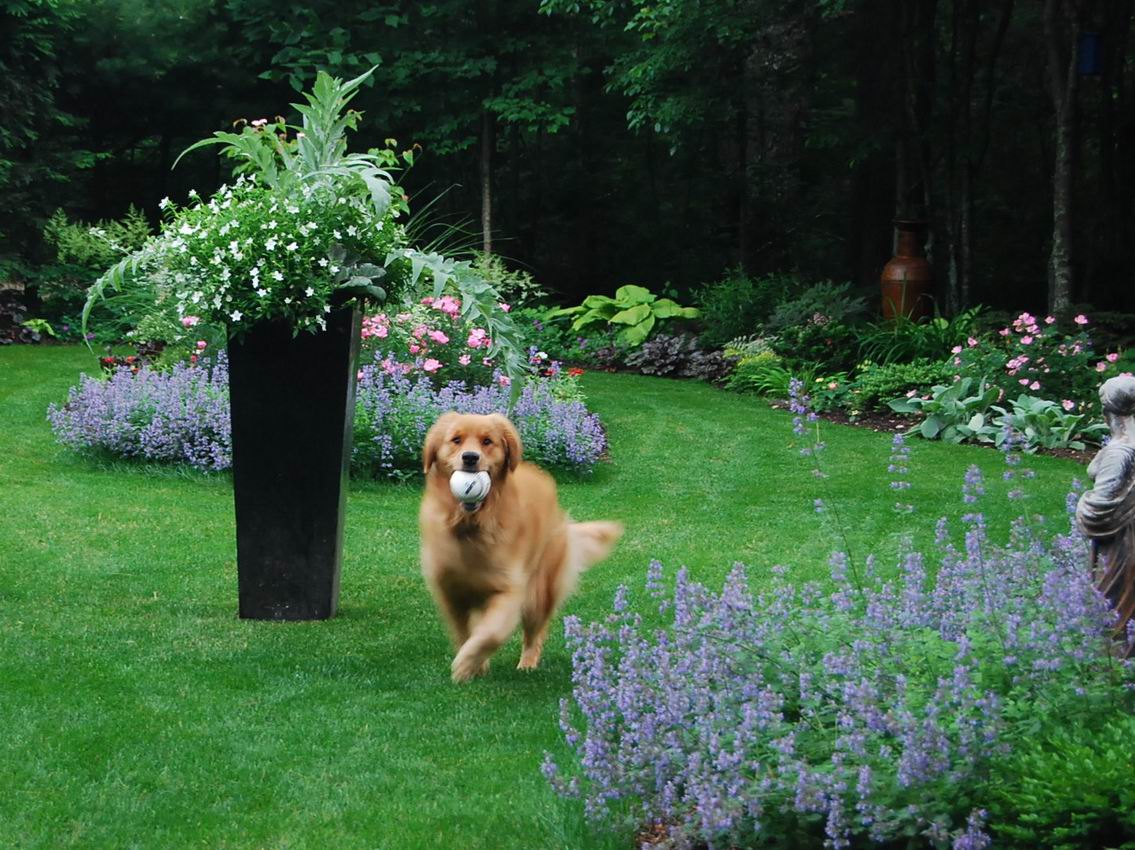 My husband and I labored over our options for hours, and ultimately decided against surgery, preferring instead to give Hunter the best quality of life we could for as long as he had. I posted the situation on Facebook, and one reply changed the course of Hunter's life—a friend suggested we see Dr. Hannah Wells, a holistic vet in the area. Hannah is student of Chinese herbal medicine. She read Hunter's biopsy, examined his records, and studied his "chi." She explained the theory of Chinese herbal medicine—that all foods are assigned a heat or cool index, and that treatment is prescribed according to the temperature of the ailment, the animal's temperature, and foods that are known to counter the condition (at least that is how I understand it).
Hannah asked if—in addition to a regiment of herbal remedies that would cool the heat of Hunter's tumor—we would cook for him. My husband agreed to do so, and Hunter was prescribed an all-organic, chemical-free diet that includes locally raised beef, and organic kale, mushrooms, barley, broccoli, red kidney beans, parsley, and chicken broth. I grow the kale, broccoli, and parsley amid ornamentals in my gardens, and did so last year in my client's containers and gardens, as well. My husband cooks a vat of "Hunter's stew" every two weeks.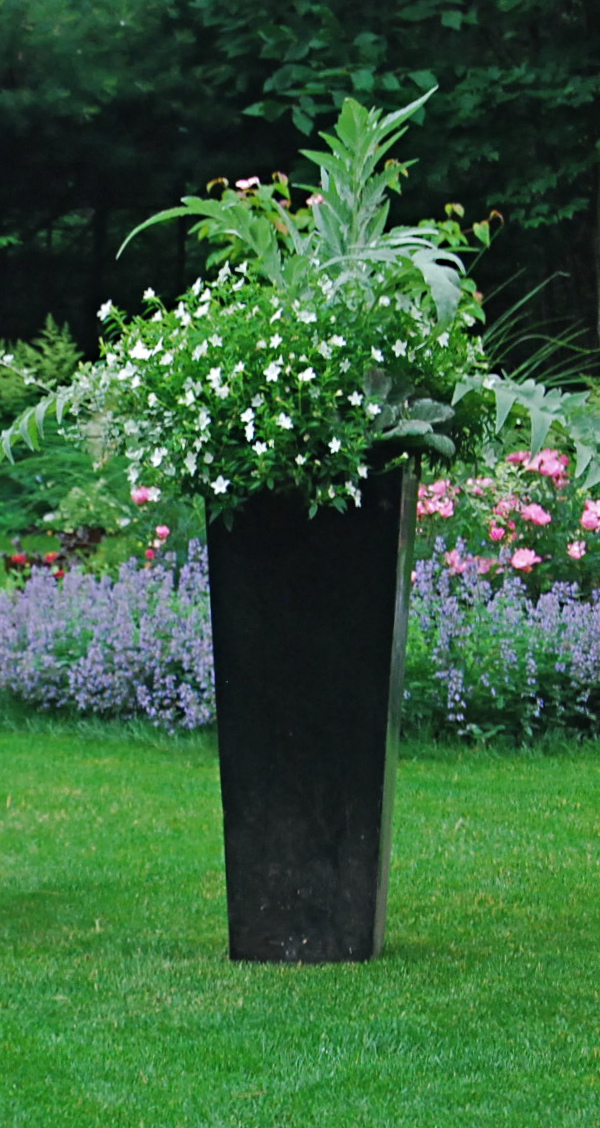 It has been sixteen months since Hunter was diagnosed with cancer, and his tumor has completely disappeared. He is at a perfect weight, and is very healthy (and spoiled). There is no evidence that he is sick in any way. We are convinced that his treatment is a testament to the power of alternative medicine, a healthful, chemical-free diet comprised primarily of organic vegetables, and a tremendous amount of love. The images of Hunter anticipating, and then running with the ball, were taken weeks after he was expected to pass on, and are proof in themselves that he isn't going anywhere for a long while. Plus, we have a new season of kale, parsley, and broccoli growing for him in the garden; if he left us, we'd have to start eating as well as he does."
Amazing, Lynn! The garden's pretty spiffy, too. BTW, that spectacular container is one that Lynn designed for FG's Fire & Ice Container Design Challenge a couple of years ago, but she chickened out on submitting it at the last minute. Boo! Check out the caption for the plant IDs.
Speaking of the Container Design Challenge, have you designed your container for this year's challenge? The theme is ACCESSORIZE! Check out all the details here.
The FG editors can often be found photographing a garden owner's pets when on photo shoots. We just can't resist! Tomorrow I'll post a few of our favorites. Feel free to send in yours!
As a matter of fact, I'd love to start featuring more of your garden photos, now that the gardening season is in full swing. Get out there with a camera, and send me some pics!
**Click directly on the photo to enlarge it in a pop-up window.**
Welcome to the Fine Gardening GARDEN PHOTO OF THE DAY blog! Every weekday we post a new photo of a great garden, a spectacular plant, a stunning plant combination, or any number of other subjects. Think of it as your morning jolt of green.
Sign up to get new posts delivered to your inbox each morning so you'll always remember to take a look, or subscribe to our RSS feed. We look forward to sharing our garden travels with you.
R E A D E R   P H O T O S: We love featuring your photos, too. If you think you have a photo that we should share on the Garden Photo of the day, email us. Send hi-res images if possible. We'll only respond if we plan to use your photo.