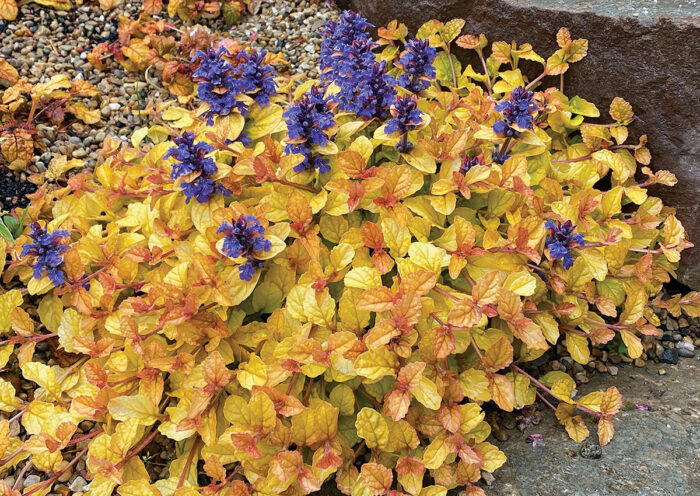 At the mention of ground covers, most gardeners immediately think of periwinkle (Vinca minor*, Zones 4–8), Japanese pachysandra (Pachysandra procumbens, Zones 5–9), or lilyturf (Liriope muscari and cvs., Zones 5–9). Ajuga (Ajuga reptans* and cvs., Zones 3–9) is generally not one of the contenders. Most gardeners I know either love it or hate it. The small, spoon-shaped leaves can spread vigorously by stems that creep barely above or just below the ground, forming a dense mat. It seems that gardeners who love it kill it with kindness, while those who ignore it have it gallop through their property unchecked.
About Ajuga
Believe it or not, there are over 40 species of ajuga, but only a few are generally sold in nurseries. Since the advent of cultivars such as 'Metallica Crispa', which has shiny bronze foliage, and 'Black Scallop', which has rounded, near-black leaves and more-violet flowers, ajuga has grown in popularity. It still is not one of the top ground covers, however.
Ajuga grows best in moist, shady spaces, but it likes some sun to give it additional color. (Full sun may scorch the older cultivars, however.) In spring and early summer it is covered in lovely, small, upright, bright blue flowers. Then it goes back to being just about the foliage. In many climates it stays semi-evergreen to evergreen. Another factor in its favor is that it is not hard to dig out and move around. I have done this several times with fairly regular success.
A New Ajuga Cultivar
Chris Hansen, who is known for his innovative series of hens and chicks (Sempervivum spp. and cvs., Zones 3–8) called Chick Charms®, has now turned to ajuga to give us a whole range of colors and sizes culled from this ground cover staple. Within the Feathered Friends™ series, you'll find some ajugas with large leaves and some with small leaves, but all of them come in a range of colors. The one I like most is 'Parrot Paradise'. It grows in shade to light sun. Throughout early to late spring it produces upright cobalt blue flowers that are super showy because the leaves are an exciting mix of yellow, orange, and red—all on one plant. After flowering, the older leaves turn to chartreuse and yellow. Winter foliage tends to be orange and stays semievergreen or evergreen depending on the climate. After fall cleanup you can still have lasting color in the garden. Imagine a ground cover that can give you year-round color! 'Parrot Paradise' also thrives in full sun with no burn on the foliage. That is a big advantage.
With all these attributes, I hope ajuga can now join the list of gardeners' favorite ground covers.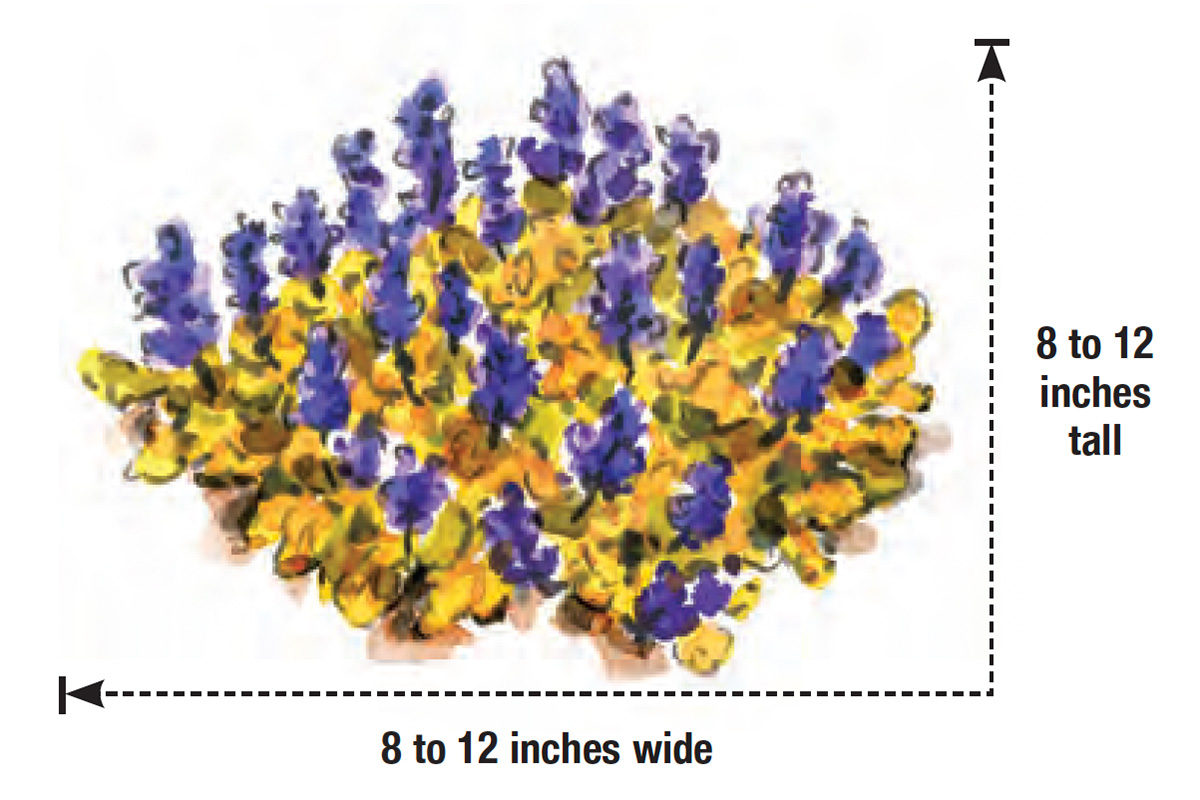 'Parrot Paradise' ajuga
Ajuga 'Parrot Paradise'
Zones: 4–8
Conditions: Full sun to partial shade; average soil
Native range: Hybrid
---
More:
---
Stephanie Cohen has spent most of her life trialing, speaking about, and teaching all things plants. The author of several books, she lectures extensively around North America.
Illustration: Elara Tanguy
*Invasive alert:
---
Periwinkle (Vinca minor)
This plant is considered invasive in AL, DE, GA, IN, KY, MD, NH, OR, PA, SC, TN, VA, WI, and WV.
Bugleweed (Ajuga reptans)
This plant is considered invasive in MD, OR, and WV.
Please visit invasiveplantatlas.org for more information.
Sources