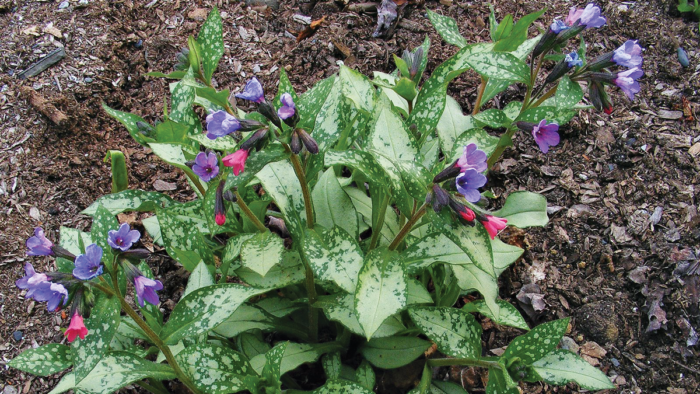 About 15 years ago, I had given up on growing pulmonarias (Pulmonaria spp. and cvs., Zones 3–8) in my Zone 7 garden. In 2005, I received a 2-inch pot of pulmonaria in the mail from the Garden Writers Association. I thought about tossing it but decided to give the little thing a chance, and so I planted it. The following year I could not believe my eyes. Not only had it lived, but it also had quadrupled in size and was covered with beautiful flowers. I dug around it, found the label, and became fast friends with 'Diana Clare'. I began to read up on pulmonarias and found out that 'Diana Clare' is a hybrid of P. longifolia (Zones 3–8). This species and its hybrids are both more heat tolerant and more resistant to powdery mildew than the cultivars more commonly sold at the time. I soon began seeking out P. longifolia cultivars and hybrids.
'Diana Clare' begins its yearly show in late winter and early spring with short stalks of dark violet flowers that age to cobalt blue. The flowers are followed by long, beautiful, deer-resistant strappy leaves that emerge with a spotted border and age to pure silver. It makes a sizeable clump and performs best when divided about every four or five years in fall.
In the South, pulmonarias perform best in dappled shade or with a few hours of morning sun, although deep shade can encourage powdery mildew. They are fairly drought tolerant but prefer organic, rich, moist, well-drained soil. Most grow best in Zones 3–7, but 'Diana Clare' will thrive even on the edge of Zone 8. Pulmonarias look good in groups or massed as a ground cover in a woodland or shade garden, and they make an effective edging plant.
Both the botanical name and the sometimes-used common name "lungwort" come from a belief among medieval herbalists that suggested the outward appearance of a plant determined its herbal virtues. Because pulmonaria's spotted leaves resemble a diseased lung, the plant was thought to be a cure for lung ailments. Thank goodness for modern medicine!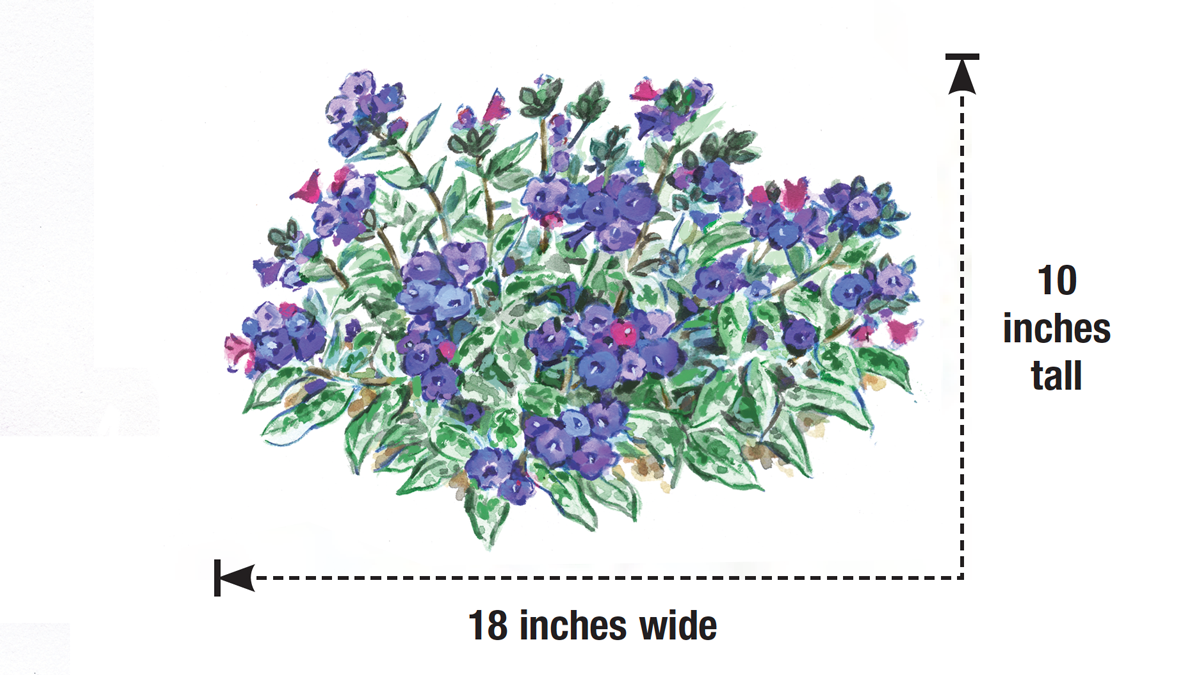 'Diana Clare' pulmonaria (Pulmonaria 'Diana Clare')
Zones: 3–8
Conditions: Partial shade; average to moist, well-drained soil
Native range: Garden origin
---
Jason Reeves is curator of the University of Tennessee Gardens in Jackson.
Sources
Bluestone Perennials, Madison, OH; 800-852-5243; bluestoneperennials.com
Plant Delights Nursery, Raleigh, NC; 919-772-4794; plantdelights.com