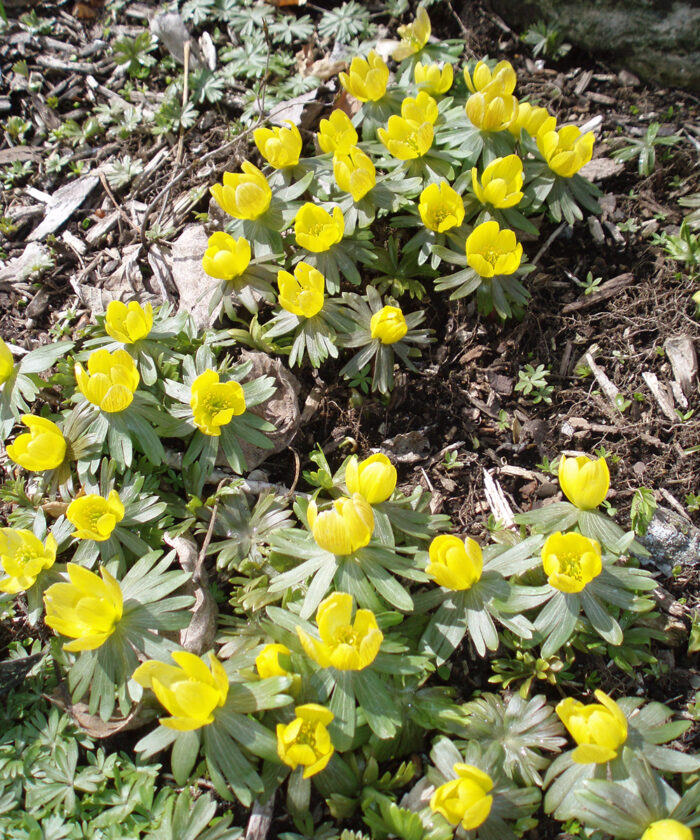 I remember my first experience seeing winter aconite (Eranthis hyemalis, Zones 3–7) in bloom at Fernwood Botanical Garden (Niles, Michigan) over 25 years ago. It was late March when I saw a haze of bright golden yellow appear in a half-acre woodland area defined by paths. The carpet of color, only about 4 inches in height, was as welcome as it was amazing. I came to learn that the fall-planted tubers of this member of the buttercup family (Ranunculaceae) had been planted many years prior and allowed to colonize that space for decades. Wow!
Over the years since, I've continued to rely on this early bloomer, which impressively emerges out of cold soil to present beautiful, cup-shaped, upward-facing, bright yellow flowers. The blooms last for a couple of weeks and are surrounded by three leaflike bracts that look like a collar around each blossom. Hyemalis means "winter flowering," which seems very appropriate. Native to Southern Europe and widely naturalized in that region, winter aconite precedes snowdrops (Galanthus spp. and cvs., Zones 3–9) and crocus (Crocus spp. and cvs., Zones 3–9) and seems to shrug off even the late winter snow.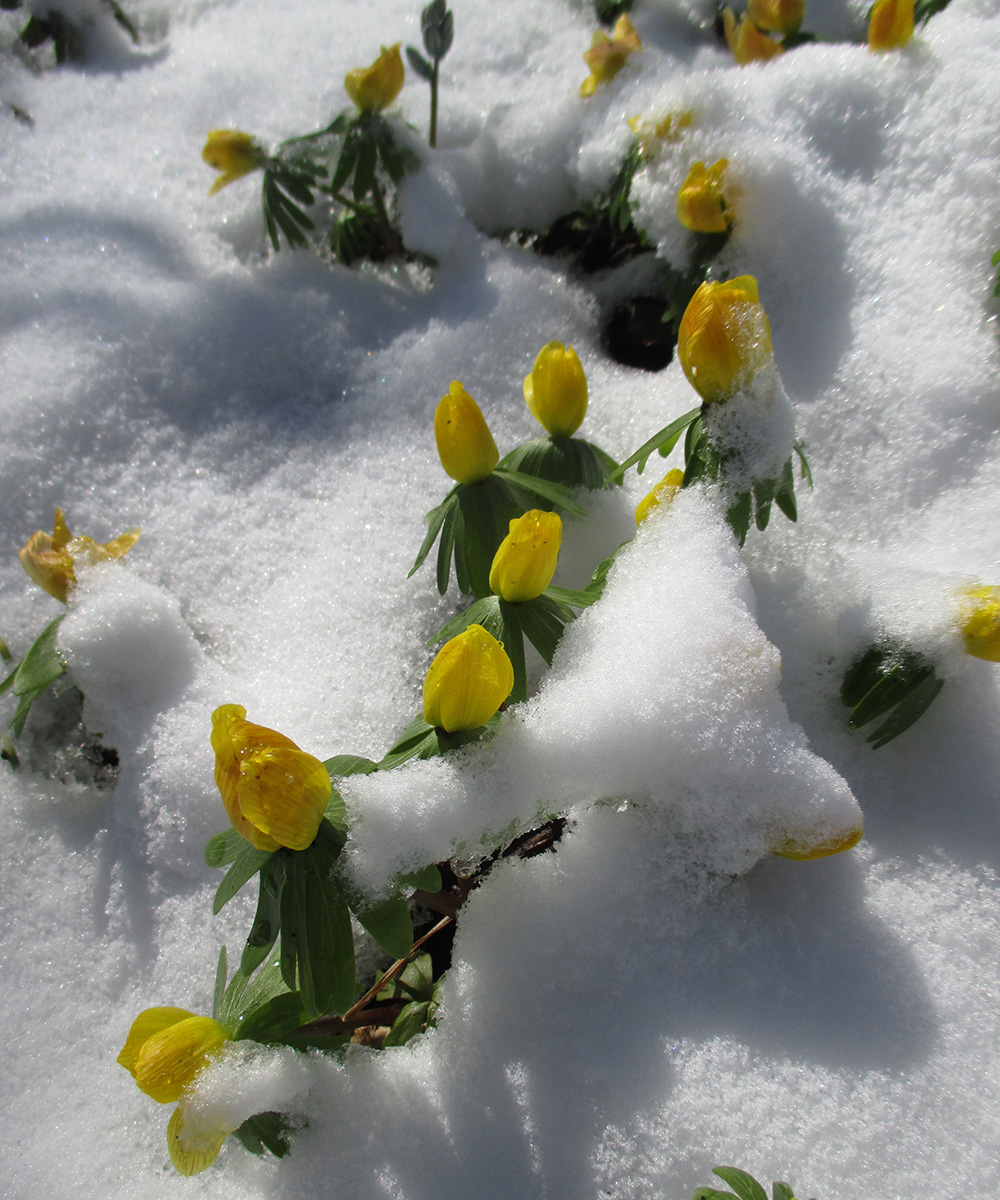 The dark black, rounded tubers have been described as strange, wizened, and irregularly shaped (all true). They should be planted 2 to 3 inches deep in fall, and they benefit from being soaked in water overnight prior to planting. Rich, well-drained soil with a pH close to neutral is best. Winter aconite prefers full to partial sun, and its early bloom time is perfect for garden situations. It has a deciduous canopy that still allows plenty of light to reach the ground prior to later leaf emergence.
Massing this bulb under trees is a valid approach; winter aconite has no problem growing under walnuts and has very few insect or disease problems. The entire plant is poisonous and left alone by deer, rabbits, and other wildlife.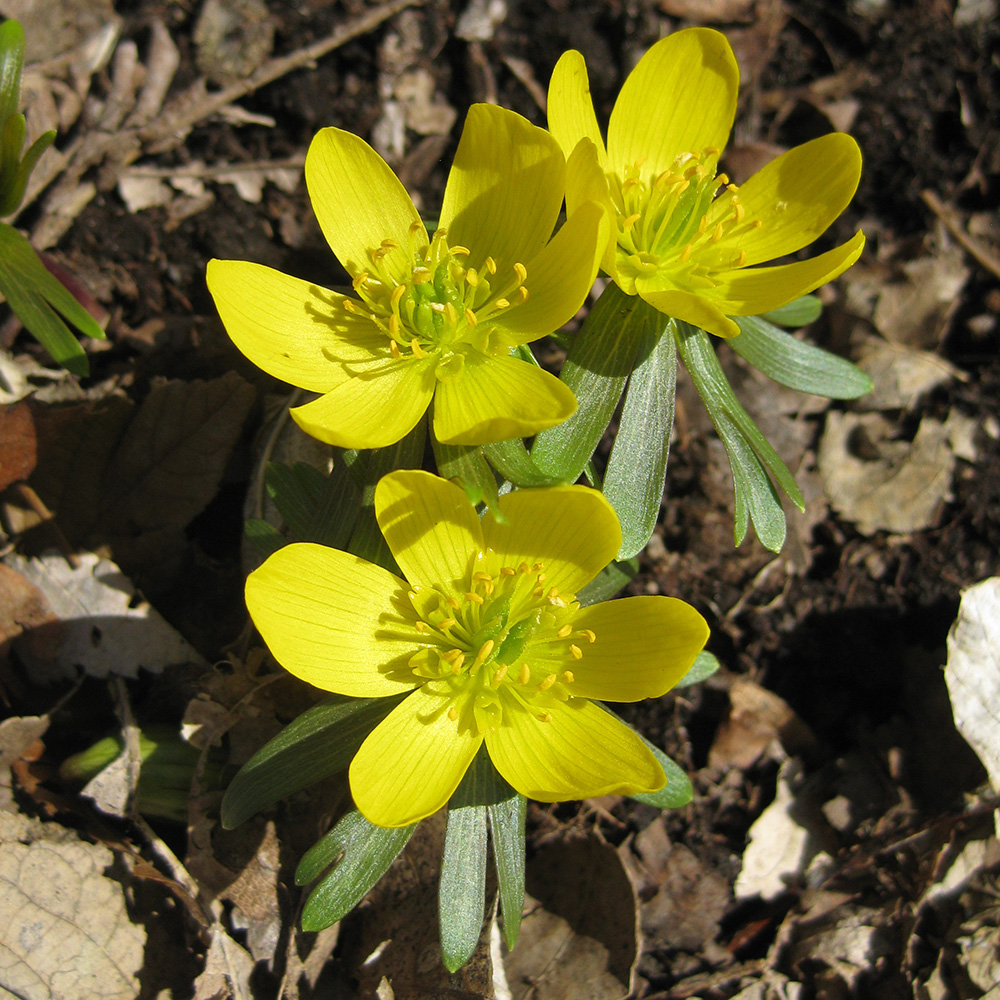 Winter aconite naturalizes by seed beautifully in open woodland areas. The seedlings take a couple of years to reach blooming age, but the carpeting effect, in time, is quite amazing. The foliage of this early bloomer goes dormant by May, and in those wooded situations, the plants simply fade away to await the next late winter as other neighboring plants are just hitting stride. To propagate this plant, divide, lift, and move clumps right after flowering, or collect seeds to sow that fall in select locations. Winter aconite is a real star with few rivals for color in the late winter garden.
—Mark Dwyer is the garden manager for the Edgerton Hospital Healing Garden in Edgerton, Wisconsin, and he operates Landscape Prescriptions by MD.