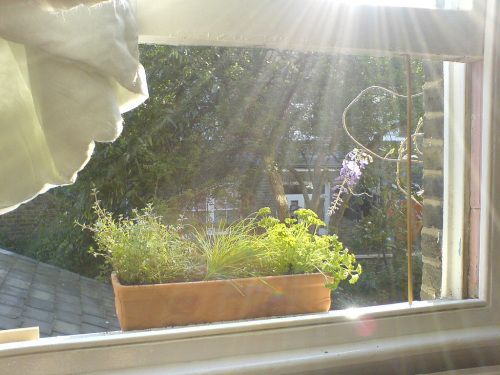 You may have noticed that window boxes are used worldwide for flowers and other ornamental plants. First of all they make a beautiful statement in their own right and almost always improve the curb appeal of a home.
But did you know that many vegetables grow just as well as flowers in window boxes? If you haven't tried using them as vegetable gardens before, then this year is as good as any to try it. I've been very happy with these pint-sized veggie gardens as long as I remember that they can require a little special attention on occasion. Before you plant check out the key points below.
1. The biggest concern when it comes to planting a window box vegetable garden is water. Because they don't hold a lot of soil, they tend to try out quickly. For some plants such as many herbs, this isn't necessarily a bad thing. For vegetables it can be disastrous.
I have one word for you: dripline. Once you run them into your window boxes, containers, raised beds, or acre garden — you will never turn back.
2. Use brackets that when they're secured, actually pushes the box out away from the house so that water won't become trapped between the window box and your house siding potentially damaging your home.
3. Window boxes can be made of traditional materials such as wood, iron, cement, or terra-cotta. However plastic window boxes are becoming increasingly popular because they retain moisture better and they're lighter. Lighter means cheaper and easier to secure than the others.
Which lasts the longest? It might be a toss-up if you're comparing wood to plastic. At first glance it may seem that the plastic containers will hold up longer, but if they're positioned in the blazing sun for a few years, this isn't always true. Plastic will become brittle, crack, and eventually end up in pieces.  The "life-long" award goes to window boxes made of cement. Wood scores another point for insulation.
5. Instead of securing outside window boxes so that they sit even with the window sill, adjust them to sit lower by a few inches. This will give upright plants room to spread without necessarily (depending on the vegetable) blocking the view from inside the house. Keeping the boxes lower is especially important if your windows open outward.
6. Be sure that the window box is by a window that you can get to easily for watering and general care.
7. Like all other containers, fill them with a light potting soil not a garden or topsoil.
8. If you add an organic, time-release fertilizer to the soil you'll be a step ahead of the game all season.
9. Window box plants are chosen the same way plants are chosen for any container: plant together vegetables that have the same watering requirements and the same desired amount of sun exposure.
Perfect Window Box Vegetables
These are vegetables that have proven to grow well for me in  window boxes. Of course I encourage you to branch out. (Did you see what I did there?)
lettuce
spinach
radish
carrots
chives
bush beans
Herbs for Window Boxes
I'm telling you that you can grow almost any herb your little heart desires in a window box.
oregano
basil
thyme
sage
parsley
dill
chamomile
marjoram
lavender