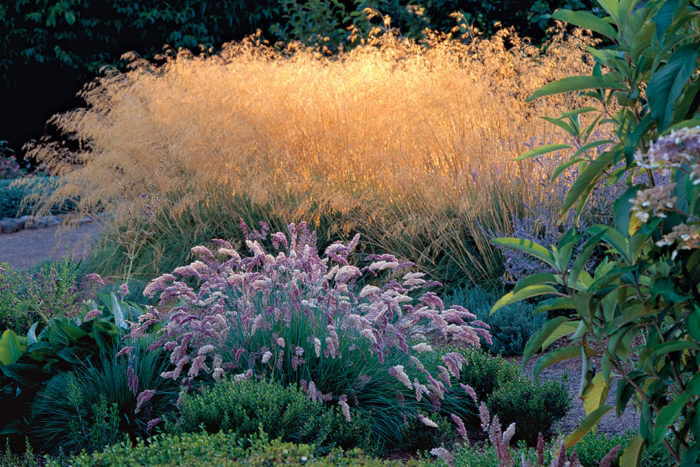 That you cannot open any architecture or gar­dening magazine without seeing ornamental or native grasses prominently featured is a testament to just how far these versatile plants have come. Just a handful of varieties were available when the perennial boom of the late 1980s and '90s exploded onto the American gardening scene. Now a dizzying array of grasses is available to gardeners throughout the country.
A number of reasons explain the increased popularity of ornamental grasses: low maintenance, adaptability, and good looks, to name just a few. But the range of grasses often recommended has inexplicably remained quite narrow. Many more options exist beyond mis­canthus (Miscanthus spp. and cvs., USDA Hardiness Zones 4–9), 'Karl Foerster' feather reed grass (Calamagrostis × acutiflora 'Karl Foerster', Zones 5–9), and blue fescue (Festuca glauca and cvs., Zones 4–8). Here is a list of grasses that deserve wider use in America's gardens. While some are new to the nursery trade, others either have been overlooked or were just plain hard to find in prices, sizes, and quantities that suited their use. Some may still require a bit of hunting to track them down, but the search will be worth it.
'Gold Band' pampas grass is the best of the family
Name: Cortaderia selloana 'Gold Band'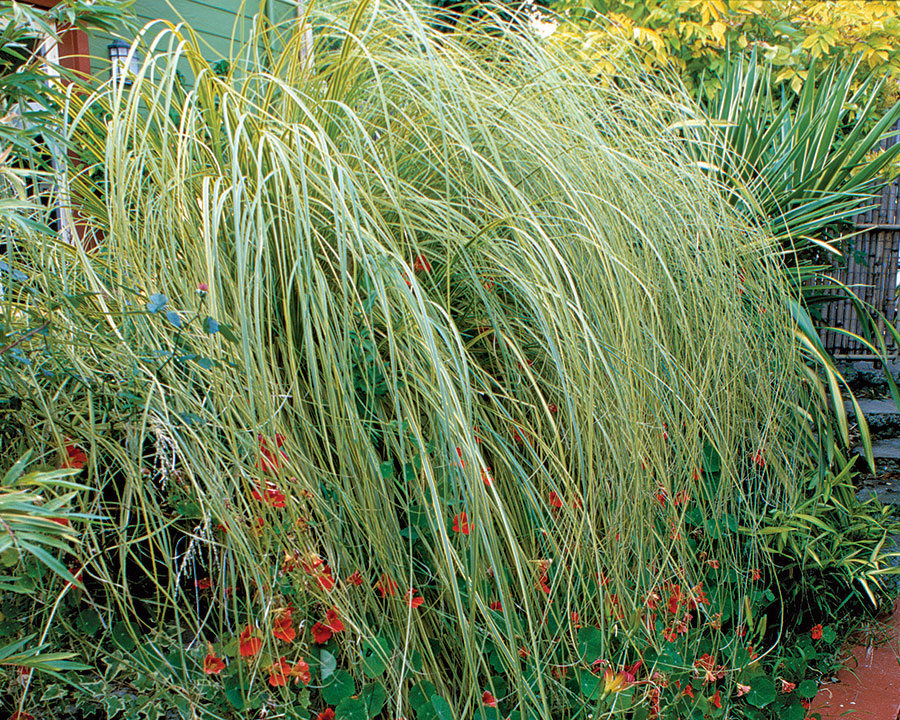 Zones: 7–11
Size: 7 feet tall and 5 feet wide
Conditions: Full sun; fertile, well-drained soil
This clumping, drought-tolerant grass is one of the best pampas grasses you could grow. It has the showy, late-summer plumes common to this group, but they grow straight up, not willy-nilly like many other varie­ties; they eventually stand 4 to 6 feet above the foliage. Even better news is that this cultivar does not set seed, so it is noninvasive. The foliage features distinct golden edges, which, for a grass, usually means that it loves shade or moisture. But 'Gold Band' tolerates heat and drought, making it great for large containers, and it can handle coastal conditions, too.
Autumn moor grass is a tidy workhorse
Name: Sesleria autumnalis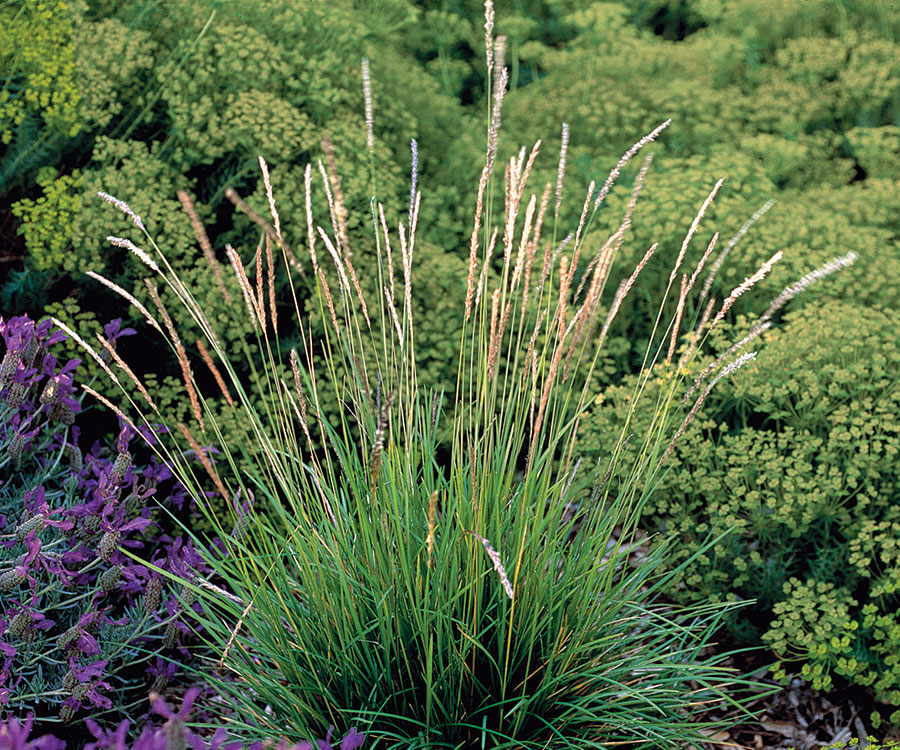 Zones: 5–8
Size: 12 to 16 inches tall and wide
Conditions: Full sun to light shade; tolerates a wide variety of soils
Whether used singularly or in masses, autumn moor grass can be put to almost any use in the garden. You cannot ask for a tidier ornamental grass than this, and I consider it one of the finest ground-cover grasses for meadows. Autumn moor grass features beautiful, bright yellow-green foliage, which sports attractive, neat flowers, emerging white in early autumn and fading to tan.
Atlas fescue makes a great ground cover
Name: Festuca mairei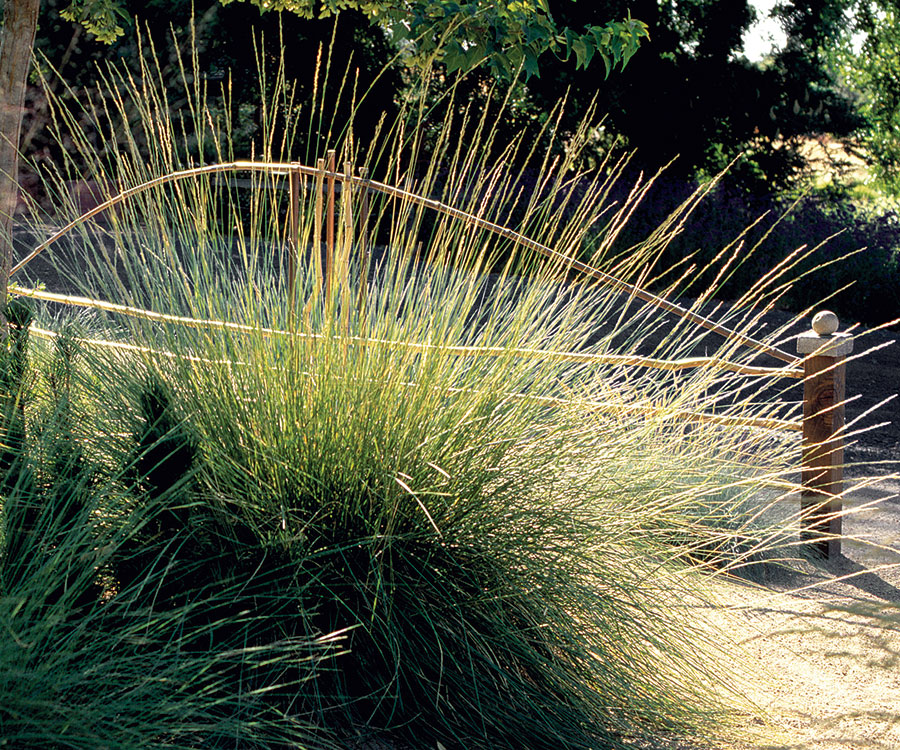 Zones: 4–10
Size: 2 to 3 feet tall and wide
Conditions: Full sun to light shade; tolerates a wide variety of soils
This sturdy ground cover is fast becoming one of the most dependable grasses for creating drought-tolerant meadows. Clumping evergreen foliage is a rich khaki green and grows in an arching clump. The flowers, while noticeable, are not showy. Atlas fescue is at its best in groups and grows in all but hot, humid, and low desert climates.
Vetiver has unique leaf tips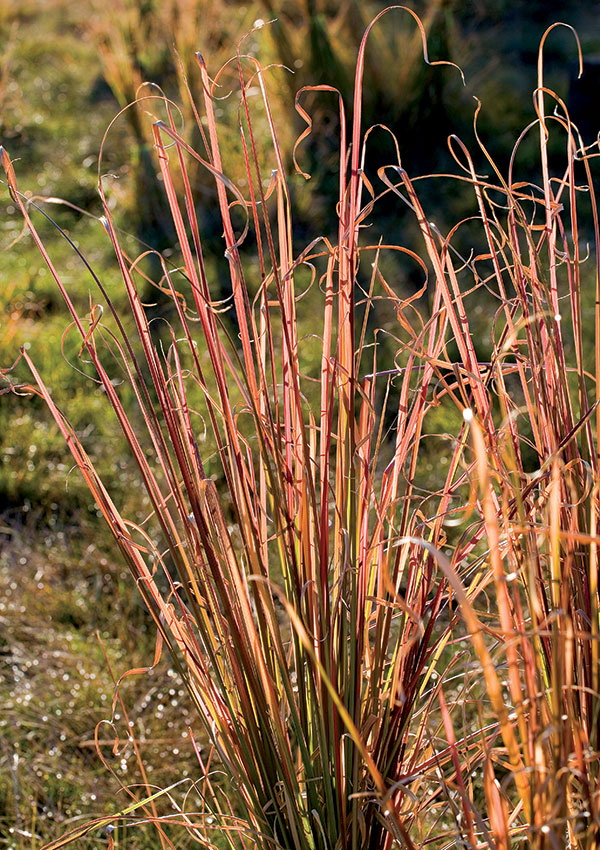 Name: Vetiver zizanioides (syn. Andropogon zizanioides)
Zones: 9–10
Size: 6 feet tall and 3 feet wide
Conditions: Full sun to light shade; tolerates a wide variety of soils
This beautiful ornamental has upright, glossy green foliage and interesting, animated leaf tips that resemble party favors. Evergreen to 25°F, these plants gain reddish purple hues in the fall and winter. Vetiver is so good for the desert, we used it to hide air conditioners at the Furnace Creek Inn in Death Valley. More gardeners may find it useful in containers or as a screen. Vetiver even takes damp soils and is used to prevent bank erosion in canals and bayous. Native to India, it is the source of vetiver oil, one of the oldest perfume bases known to man. It is estimated that this grass has been in cultivation in eastern cultures for thousands of years.
Boer love grass becomes a cloud in bloom
Name: Eragrostis chloromelas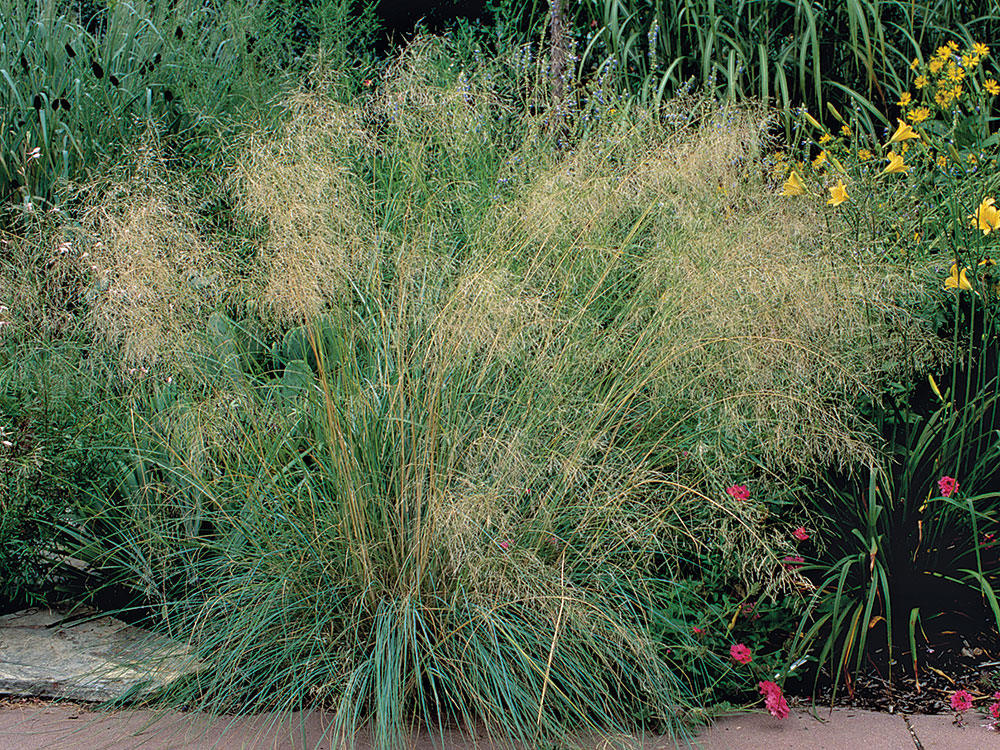 Zones: 7–10
Size: 2 feet tall and wide
Conditions: Full sun; tolerates a wide variety of soils
From late spring until fall, Boer love grass puts on a glorious display as inflorescences that emerge silver, dry to gold, and dance up to 2 feet above the fine-textured clump of foliage. The show won't last as long in more-humid climates, but this grass still earns its keep. It is often sold as E. elliotii, a different species that forms a smaller, tighter mound and is an excellent blue-foliaged grass for the hot, humid South.
Berkeley sedge even grows under trees
Name: Carex divulsa (syn. C. tumulicola)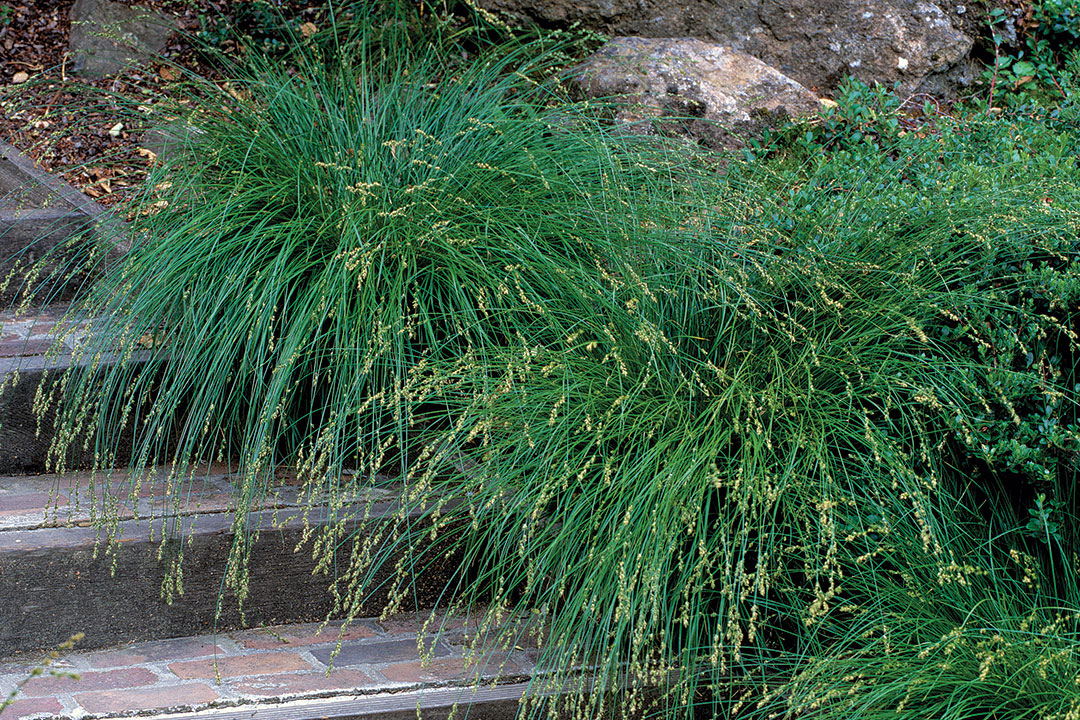 Zones: 4–9
Size: 1 to 2 feet tall and 2 feet wide
Conditions: Full sun to full shade; tolerates a wide variety of soils
This sedge is one of the most adaptable of the ground-cover grasses. I have seen its dark green, clumping foliage growing well in beach gardens in Malibu and in perennial gardens in Denver. Its ability to look the same in sun or shade makes it a valuable asset in plantings that go in and out of full sun. Berkeley sedge is a good solution for areas under stress where lawn grasses often fail. Because the flowers are not particularly noteworthy, I often interplant showy, flowering accents between masses of Berkeley sedge.
Ruby grass offers fluffy plumes
Name: Melinus nerviglumis (syn. Rhynchelytrum neriglume)
Zones: 8–11
Size: 12 to 18 inches tall and wide
Conditions: Full sun; tolerates a wide variety of soils
This clumping, blue-green foliaged grass has amethyst-pink flowers that create fluffy, 8- to 12-inch-long plumes throughout the summer. Eventually, the flowers mature to the color of root-beer foam. It's heat and drought tolerant, and it makes a fine annual in colder climates. Excellent drainage will help it thrive in humid summer climates. Not invasive from seed, ruby grass works great grown singly in pots or in groups.
Mexican feather grass is tougher than it looks
Name: Stipa tenuissima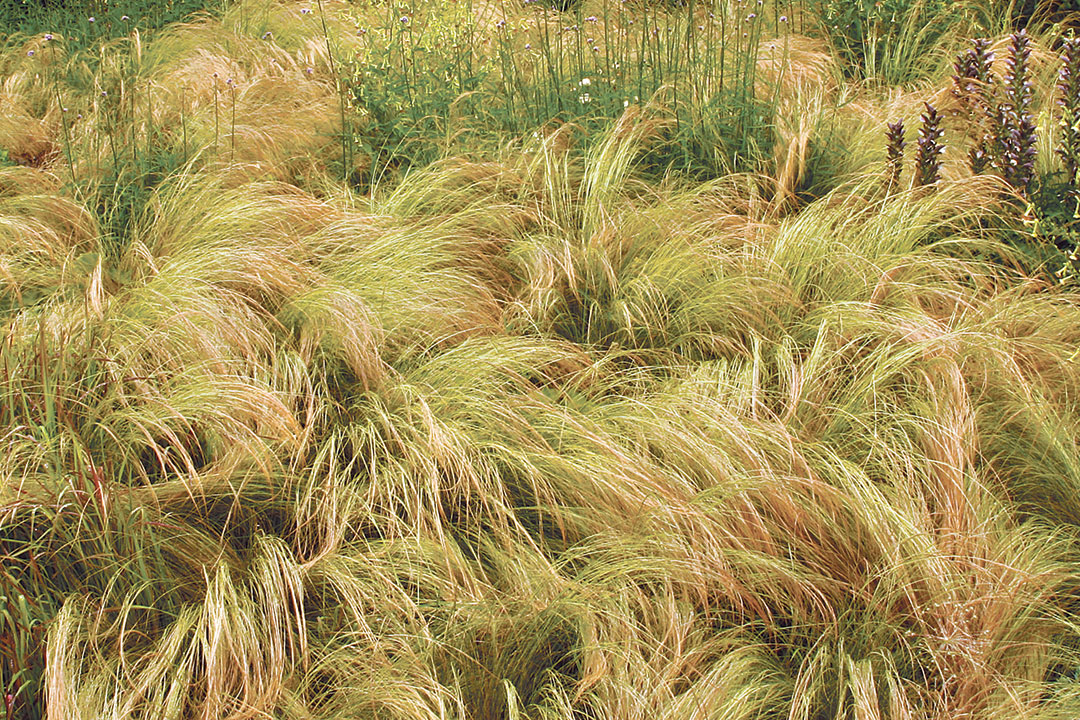 Zones: 7–11
Size: 18 to 24 inches tall and wide
Conditions: Full sun to partial shade; well-drained soil
This southwestern native starts out an amazing iridescent green as it pushes up in spring and then develops delicate yellow seed heads that sway with the slightest breeze. When it turns all-yellow, Mexican feather grass reveals its full glory, resembling a tuft of blonde hair. It tends to reseed, but I comb out the seed heads with a steel rake mainly because I don't like how they clump together. Mexican feather grass is tough, performing throughout the growing season in any climate but the hottest, most humid regions of the country, where it makes a great winter annual.
Wright's dropseed can stand by itself
Name: Sporobolus wrightii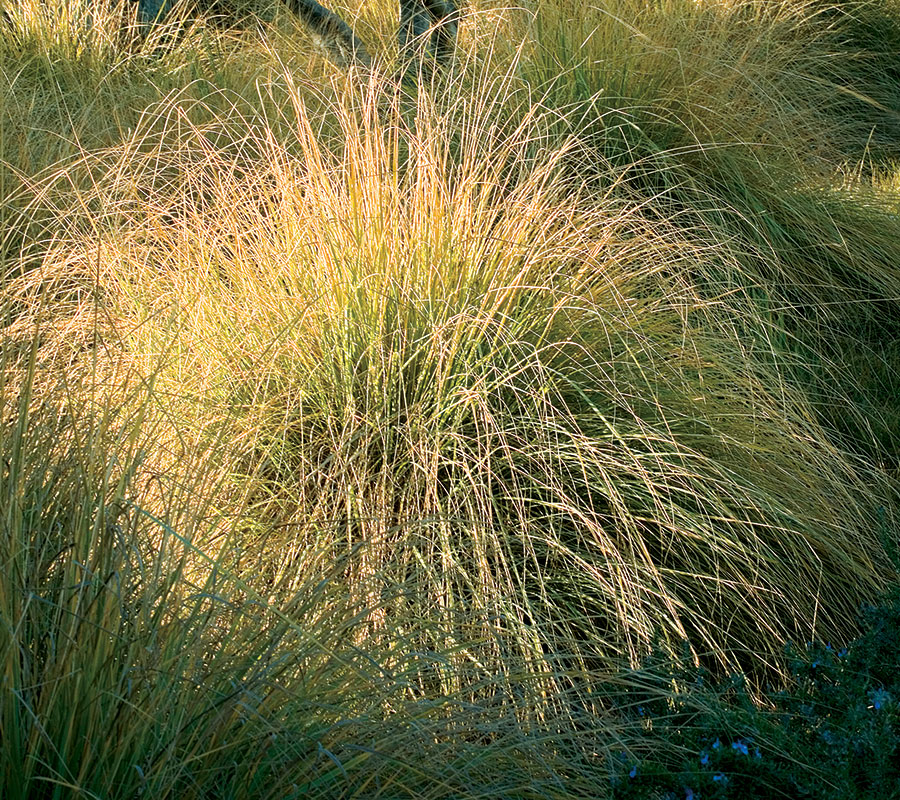 Zones: 5–9
Size: 8 to 10 feet tall and 6 feet wide
Conditions: Full sun to light shade; tolerates a wide variety of soils
Largely untried in northern states, Wright's dropseed is a great new grass that is becoming a substitute in southern gardens for unwieldy pampas grass (Cortaderia selloana, Zones 7–11). Heat and drought tolerant, its gray-green foliage sports airy clouds of flowers atop tall stems in summer. This grass is good as a single specimen or in a group as a showy backdrop.
---
John Greenlee is the owner of Greenlee Nursery in Chino, California, which specializes in ornamental grasses.
Photos, except where noted: Saxton Holt
Sources