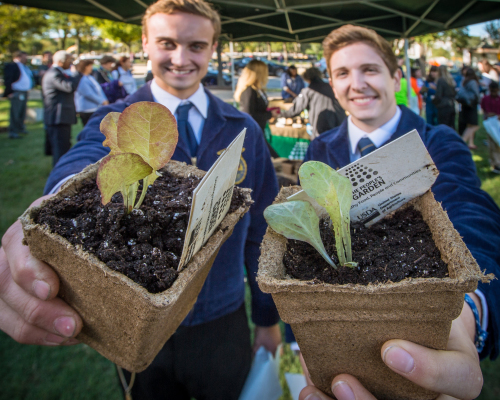 Considering that I'm a seed fanatic and start most of my plants this way, my post may surprise some people. However, I adore starts and it's not because I don't adore seeds. The fact is that sometimes I prefer to take advantage of the work that someone else has already provided.
Why You Might Love Vegetable Starts
"Starts" or seedlings are baby plants that have been planted from seeds and grown out by someone else. Also, they've often been acclimated to the outdoors and are ready to finish out their lives in your garden.
Plant starts can be found at your local nursery or garden center and come in 6-packs or in 4″ single plastic containers. They're not cheap when compared to seed packets, but they can be well worth it! Here's why:
1. It's your first garden. It's true that purchasing starts is limiting because there aren't as many varieties to choose from if you started from seed. But that's not always such a big deal.
As a new gardener, plant starts can give you the confidence to plant a vegetable garden in the first place because you're beginning with plants that are already well on their way.
2. It's not your first garden. You read that right. Savvy gardeners know all too well about the advantages of plant starts. They are more than willing to grab some to fill in here and there — even when they usually grow veggies from seed.
3. You want a leg up on the growing season. Maybe you didn't order your seeds fast enough or perhaps you just didn't get your seeds planted in time. You may have moved to a new home during the seed starting months and want to be sure that you have a garden this year. Whatever the reason — starts are the answer.
4. Instant gratification. You have precious little time to spare at the moment and you need to get that garden in! Or maybe you hate planting seeds. One thing is for sure, you can hit a nursery at 9:00 AM Saturday morning and have a visible vegetable garden planted and a Margarita on your hand by 7:00 that evening using starts.
5. Skip nail-biting steps. Germination, damping off disease, soil temps, light, over-watering, under-watering are all situations that stress gardeners out because they can easily set you back to square one. Skip that stuff.
6. Zone guarantee (almost). It's not a 100% guarantee, but as close as you can get. Your local nursery will offer vegetable plants that grow and thrive in your area. It also takes away most of the timing guess-work of each vegetable that plagues you when ordering through seed catalogs. 
7. Less plant loss. For all of the reasons above, you will keep more plants alive than you'll kill when you begin with small vegetable plants as opposed to seeds.
8. Less tools. When you let someone else do the baby-raising, you don't have to purchase trays, shelves, lights, special seed starting soil, space for tons of seedlings, etc. Assuming that your garden bed is ready — you purchase only the plants, period.
Shopping for Vegetable Starts
When you're out shopping for veggie starts, take a look at where they are situated in the garden center. Are they in the sun or under a shade cloth? If you are purchasing sun-loving vegetables and you find these plants in the nursery under shade cloth, that's a sign that you will have to harden them off before you plant them into the garden. However, ask an employee at the garden center to be sure.
Slide one of the plants out of the container and check out at the roots in the soil. You're looking for lots of good root growth and yet, not so much that the roots seem crowded or root bound.