Wouldn't it be great to have gardening friends who would grow all of those tempting new vegetable varieties you read about in catalogs, and tell you which were most worthy of precious garden space?
Think of the edibles judges at All-America Selections (AAS) as those friends. These professional horticulturists trial 25 to 30 new edible varieties a year, side by side with the best comparison varieties currently available. The evaluations are conducted at about 30 AAS trial grounds at universities, public gardens, commercial greenhouse operations, and seed companies throughout North America.
Edibles entries are judged for qualities important to the home gardener like flavor, productivity, vigor, and resistance to pests and diseases. To be named a winner, a fruit, vegetable, or herb must be a new cultivar possessing at least two improved characteristics compared with varieties currently on the market. To prevent bias, AAS judges do not learn the names of trial varieties or who introduced them until after each year's scores are tabulated by an independent accounting firm and the winners are announced.
We asked four AAS edibles judges to describe two interesting new varieties that stood out in recent AAS trials. Here's what they had to say.
Patty's Picks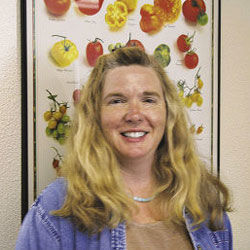 'Artwork' Broccoli produces sweet side shoots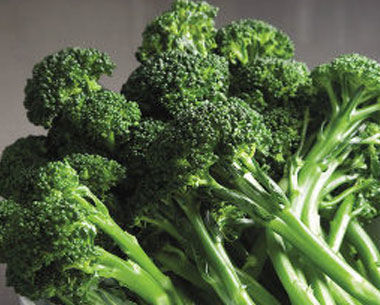 Days to maturity: 85 from seed, 55 from transplant
'Artwork' is a sprouting broccoli, which means that after the main crown is harvested, the plant performs an encore, producing loads of delicious side stems. It has good heat resistance in late spring, resisting bolting when temperatures start to rise. You could grow this broccoli variety easily in containers or raised beds. Its upright habit makes harvesting supereasy. It has an excellent, bold flavor; try it grilled with lemon juice and herbs.
'Pretty N Sweet' pepper is ornamental and tasty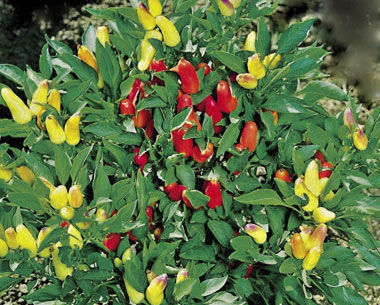 Days to maturity: 105 from seed, 60 from transplants
I love the idea of a sweet ornamental pepper. Many public gardens and landscapers do not display hot ornamental peppers for fear that a garden visitor could be injured sampling the fiery fruit. This multicolored minipepper is a tasty alternative, with fruit that is 100 percent sweet—it can even be pickled. There are so many fruits on these plants that the stems can break from the heavy yield.
Jessie's Picks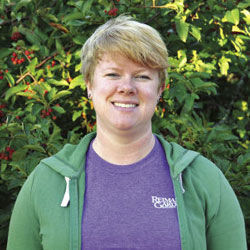 'Escamillo' Pepper gets high marks for flavor and productivity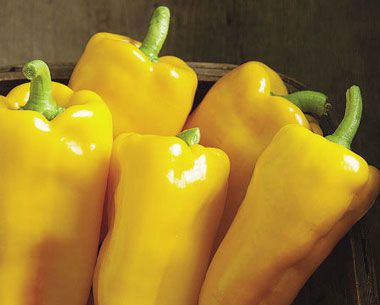 Days to maturity: 120 from seed, 77 from transplant
Peppers like the 'Corno di Toro' are making a huge comeback, and 'Escamillo,' a sweet golden version, will be a welcome addition to the family. Our plants grew only about 24 inches tall, but produced as many peppers as bigger plants on the market. I found germination to be good, especially with a little extra soil warmth (on a heat mat at work, and on the top of a running clothes dryer at home). The flavor of 'Escamillo' is unbelievably sweet. Fruits are held up off the ground, so you will lose very little to rot. This pepper can be fire-roasted or fried, but the majority of our harvest sampling was gobbled up raw.
'Dolce Fresca' basil stays tender throughout the summer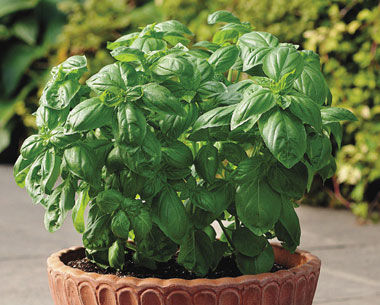 Days to maturity: 60 to 80 from seed, 20 to 28 from transplant'
Dolce Fresca' basil is beautiful, compact, and delicious. It is fast to germinate and easy to transplant. This basil holds its flavor well throughout the season and will still be delicious as the last of your tomatoes are ripening. It's a great replacement for sprawling cultivars that flower and turn woody by midsummer. 'Dolce Fresca' can be a culinary game-changer in just about every season, from microgreen stage to dried. I have spent two seasons with this tasty herb and loved being able to pluck a few leaves, then stroll over to the tomato trials for an impromptu bruschetta breakfast.
Angus's Picks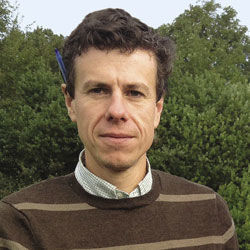 'Avalanche' beet is a sweet treat that won't stain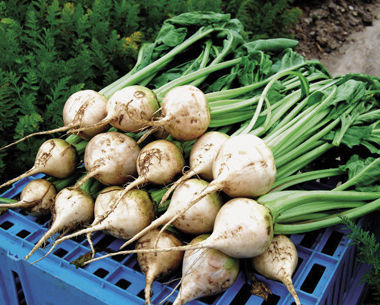 Days to maturity: 50 from seed
There have been white beets on the market before, but we found their germination to be only fair and crops were not uniform. 'Avalanche' is both uniform and easy to grow, maturing in just 50 days. Leaves are healthy and blemish-free, and the flavor of the roots is sweet and mild. This beet is an excellent choice for soups, stews, salads, and roasting; the roots won't stain the rest of your recipe red. Try planting seed at monthly intervals to keep the harvest coming over a longer season.
'Delizz' Strawberry produces berries from seed in the first season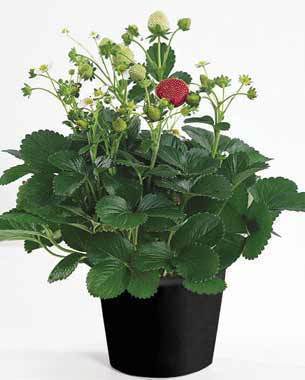 Days to maturity: 120 from seed, 60 from transplant
Growing your own strawberry plants from seed is a great way to avoid introducing the viruses and diseases that can hitchhike into your garden on transplants. 'Delizz' strawberry seedlings are much more vigorous than those of previously available varieties, which were mostly alpine types that were slow to start. To get a jump on the growing season, start 'Delizz' seeds early, around the same time that you would start onions, leeks, and peppers. Berries are abundant, with excellent flavor. Plants are perennial once established. This is an excellent variety for containers, though plants should be transplanted into the ground for overwintering in colder climates.
Rick's Picks
'Prizm' Kale is compact and productive
Days to maturity: 50 to 60 from seed, 35 to 45 from transplant
This F1 hybrid has an especially nice appearance, is very uniform across plants, and is more compact than most other kales. The smaller stature of these plants makes them suitable for containers or growing in the ground with close spacing. This is a plus for home gardeners with limited space. The leaves of 'Prizm' are dark green and very curly, with almost no stalk. They are quick to releaf after harvest, making this a productive crop over the course of the growing season.
'Super Moon' is a perfect pale pumpkin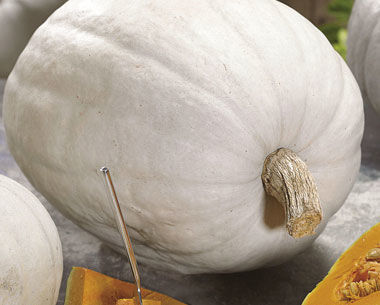 Days to maturity: 90 from seed
Someone recently asked me, "Why would anyone want a pumpkin that is not orange?" For starters, children too young for pumpkin carving can use markers, paint, or crayons to decorate the blemish-free skin of 'Super Moon'. This variety can yield fruits in the 40- to 50-pound range, and in our trial, fruits tended to be at the high end or above. The pale fruits are attractive and are certainly easy to find among the vigorous, leafy vines. The vines are not compact, so give this one plenty of space.
---
Carol Collins is the assistant editor.
Photos, except where noted: courtesy of all-america selections; courtesy of Patty Buskirk; courtesy of Jessie Liebenguth
Photos:Courtesy of Angus Mellish; Courtesy of Rick Snyder/Mississippi State University Extension
---
Sources
HPS Seed, Randolph, WI; (800) 322-7288; hpsseed.com
Park Seed, Hodges, SC; (800) 845-3369; parkseed.com
Totally Tomatoes, Randolph, WI; (800) 345-5977; totallytomato.com