Design Lessons from Portland's Yard, Garden & Patio Show
It's ironic. Just as I was leaving my parched town of Santa Barbara (less than an inch of rain since summer) for a round of talks at the Portland Yard, Garden and Patio Show, a series of much needed storms was racing to the rescue. I'd miss them, but I knew there'd be plenty of puddles to splash in when I got where I was going. So I hopped a plane and few hours later I raised my face to the heavens and waited for my glasses to fog up.

If you're eager to improve your design chops, there's no better place to go than a garden show, especially one in your own region. That's where you'll find talented designers and builders displaying a broad range of garden styles you can learn from, and then use as inspiration in your own yard. Even though I've been designing for as long as I can remember, I continue to pick up ideas each time I attend.
I was especially eager for the YG&P show, since this was the first time I was asked to judge. Though it isn't the biggest show in the country, the quality of the gardens was top notch. Honored to be teamed with fellow judges Lorene Edwards Forkner (editor of Pacific Horticulture Magazine) and Nita-Jo Rountree (Seattle-based designer and educator) I found the experience inspiring, educational and reaffirming.
Here are four fundamental garden rules that stuck in my brain. (Note: My good Nikon camera decided to make my life miserable, so please excuse the "softness" of my iPhone images.)
Rule #1: Every Garden Needs a Focal Point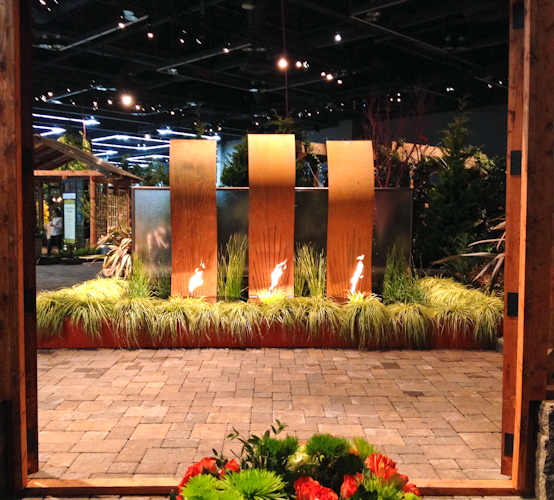 The highlight of Autumn Leaf Landscaping, LLC's garden – aptly titled "Abstract Reflections" – was the water feature designed by Matt Hammack. It stopped me in my tracks. Although there were many subtle and engaging elements in this garden, it was clear that the water feature was the conversation-starting focal point. It was placed opposite the central axis of a beckoning, high-ceiling, glass walled sitting room, visually framed by generous double doors. Three curvaceous, rusted metal panels were the stars of the show, reinforced by flames reflected in a black-bottom pool. Matt chose simple, vertical plants as supporting, rather than primary elements.
You can't go wrong with water as the center of attention. This perfectly proportioned cascade and pool – built by operations and production manager Tony Prunty of All Oregon Landscaping – drew visitors in from the Oregon Convention Center's floor. What I appreciated most was the artful, almost unconscious arrangement of stones, mimicking nature, yet scaled appropriately for the space.
Rule #2: Lead the Eye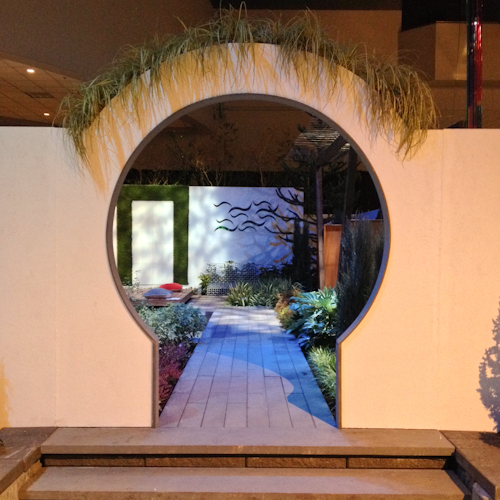 There's no better visual magnet to pique someone's curiosity than peeping through a keyhole. Treeline Designz's creative star, Iftikhar (Ifti) Ahmed, used a circular frame to invite show attendees into a garden dominated by square and rectangular forms. Use of this Eastern-influenced element set up an expectation of something exotic within; an expectation that was artistically fulfilled.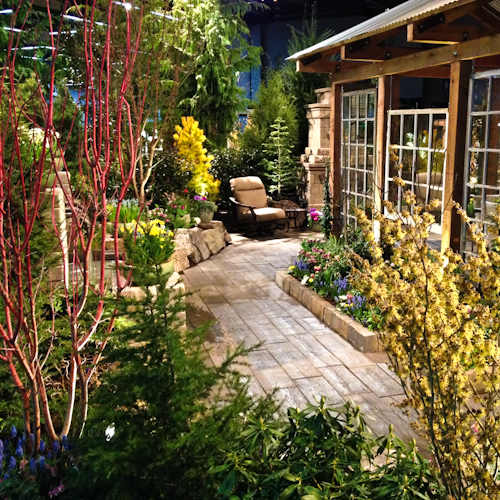 I don't want to short-sell the garden Dennis' 7 Dees Landscaping and Garden Centers created by calling it "the oldest trick in the book." But it's easy to see why a path that mysteriously disappears around a corner could be the design trick used to lure Adam and Eve into Garden of Eden. In this case, the placement of a beckoning object (chair and a glimpse of the fireplace), pulls you through the garden. Extra bonus points for the brilliantly golden conifer as a homing beacon.
I've got more ideas I picked up at the show to share. Read Part II