How-To
Avoid These Arborvitae Pruning Pitfalls
Find out when you shouldn't trim these common trees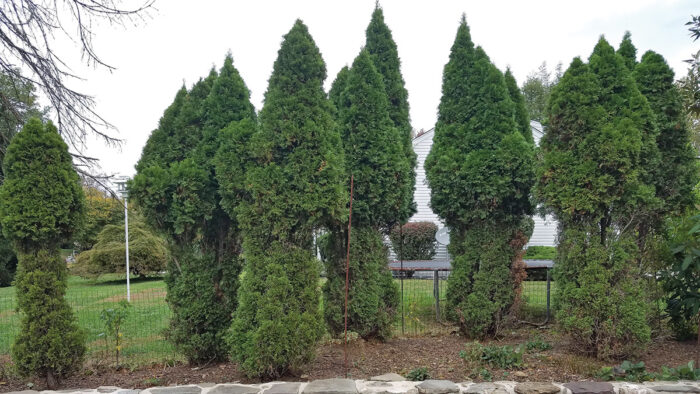 Arborvitaes (Thuja spp. and cvs., Zones 3–11) are a familiar staple in American gardens. Cultivars of Eastern arborvitae (T. occidentalis, Zones 3–7), Oriental arborvitae (T. orientalis, Zones 6–11), and giant Western arborvitae (T. plicata, Zones 5–8) abound in a range of sizes, shapes, and foliage colors.
We might want to do many things to help our arborvitaes stay trim and neat, but pruning has its limits. Here are a few common situations to be wary of. Learn how to prune arborvitae here.
Repairing deer damage is all about balance
If feeding pressure isn't too intense, you may be able to prune or shear the upper portions to balance the form. Follow up with measures to physically protect the plants from future browsing. If there is broad enough space around the arborvitaes, it may help to add a dense boundary planting of deer-resistant companion plants to intercept access and cover up the bare trunk.
Shearing to size is only a temporary fix
Arborvitaes are indeed sheared in some garden settings. Eastern arborvitae and giant Western arborvitae are more tolerant than Oriental arborvitae (which has more vertically oriented foliage sprays). After years of shearing, however, you can expect these plants to get wider, with a thin shell of foliage covering an expanding brown interior.
Reshaping the form can only be done for so long
Arborvitae's traits of not producing growth on old wood and its intolerance of heavy pruning limits pruning options for older specimens. Pruning won't stimulate growth when foliage has gone thin from overshading, and there's little chance to restore form on a specimen that has become lopsided due to overcrowding in a bed. When your pruning options hit a dead end, you've reached an opportunity to plant something new and better at that spot.
---
Christina Pfeiffer lectures widely on various pruning topics and is the co-author of Month-by-Month Gardening in the Pacific Northwest.
View Comments