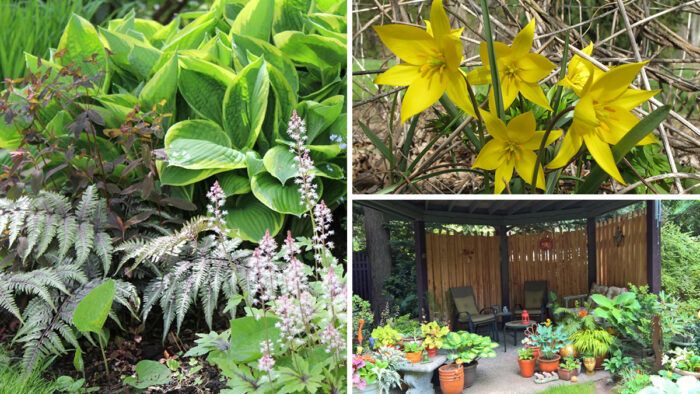 I love the chance from time to time to put together these collections of some of my favorite GPOD posts from the past. It is so fun looking through the old posts and rediscovering some of the really lovely and inspiring gardens that have been shared through the years. And what could be more fun than selecting some of the best posts featuring mid- to late-spring gardens? There is nothing better than that time period when the cold weather is really, officially gone but the heat of summer hasn't yet arrived and the garden is full of flowers and promise.
To me, nothing says midspring better than tulips. They are the epitome of this time of year, so I had to start this collection off with a beautiful post from Tammy Williams of Piedmont, South Dakota, who shared the over-the-top tulip displays of the Keukenhof Tulip Festival in the Netherlands. One of my favorite things about the GPOD is the chance to virtually travel to gardens all over the world from the comfort of home, and this is one pretty amazing trip!
The other type of plant that is quintessentially spring is ephemerals—those plants that come up in the spring, bloom, and then vanish into dormancy for the summer. Ephemerals are a mainstay of spring gardens, but there are many more than just the familiar daffodils and tulips. A post from Jim Murrain highlights some beautiful, lesser-known ephemerals for the spring garden.
Midspring can sometimes be a cacophony of colors, so I loved Kathy Schreur's different take. The images of her Sheldon, Iowa, garden focus on whites and greens, which creates a cool, calm, beautiful scene. Luana Carpenter's garden in Massillon, Ohio, displays the mid- to late-spring season perfectly as well. This garden is lush and full, with great drifts of plants from ferns to alliums to azaleas.
Heading to the Pacific Northwest, Linda Skylar's incredible garden is focused primarily on foliage, with incredible impact. Even more unusual, Eric Lucas in Oregon shared some staggeringly beautiful orchids that bloom in his spring garden, along with some tips on cultivating these unusual plants.
Finally, there is no way to talk about mid to late spring without mentioning peonies! We've had many great posts about peonies in the GPOD, but I particularly love one from Connie Prendergast, because she gardens in Zone 3 in Sedgewick, Alberta, Canada. That means her average winter low is between –30° and –40°F (–34° to –40°C). That's cold, but her garden is beautiful! It is a great reminder that no matter the climate you garden in, you can have a spring garden full of incredible blooms.
---