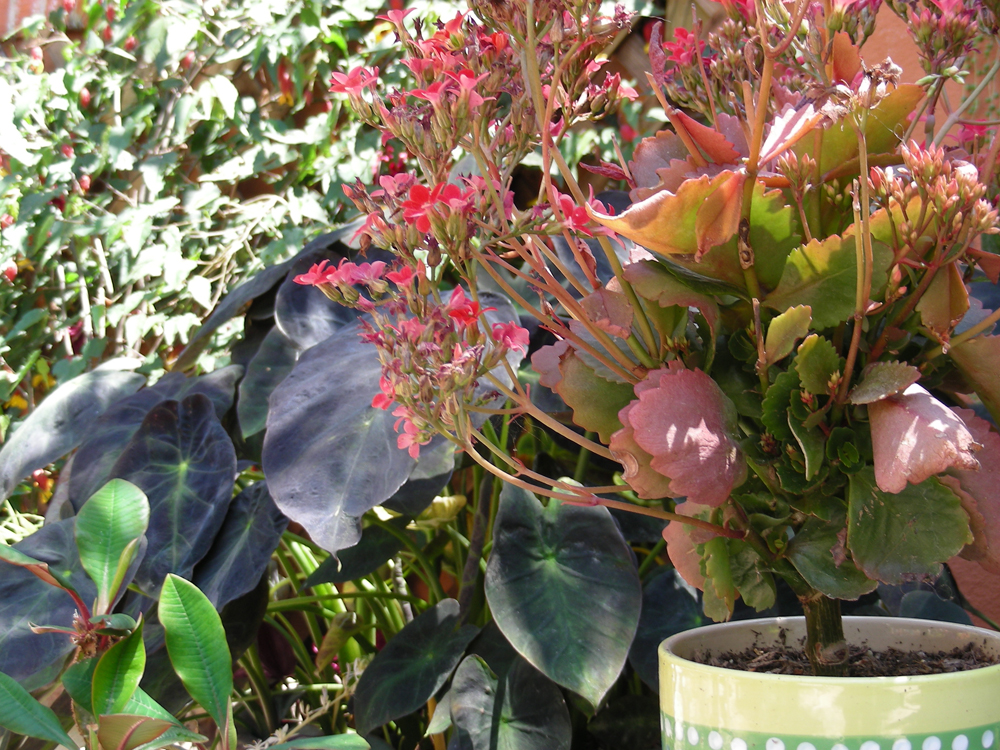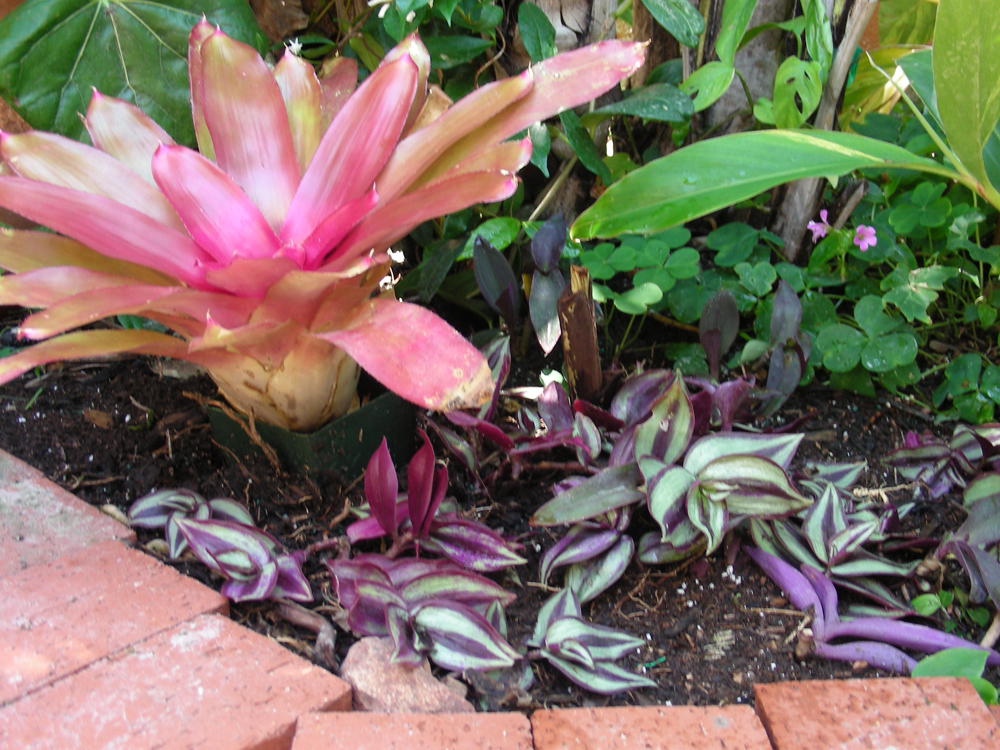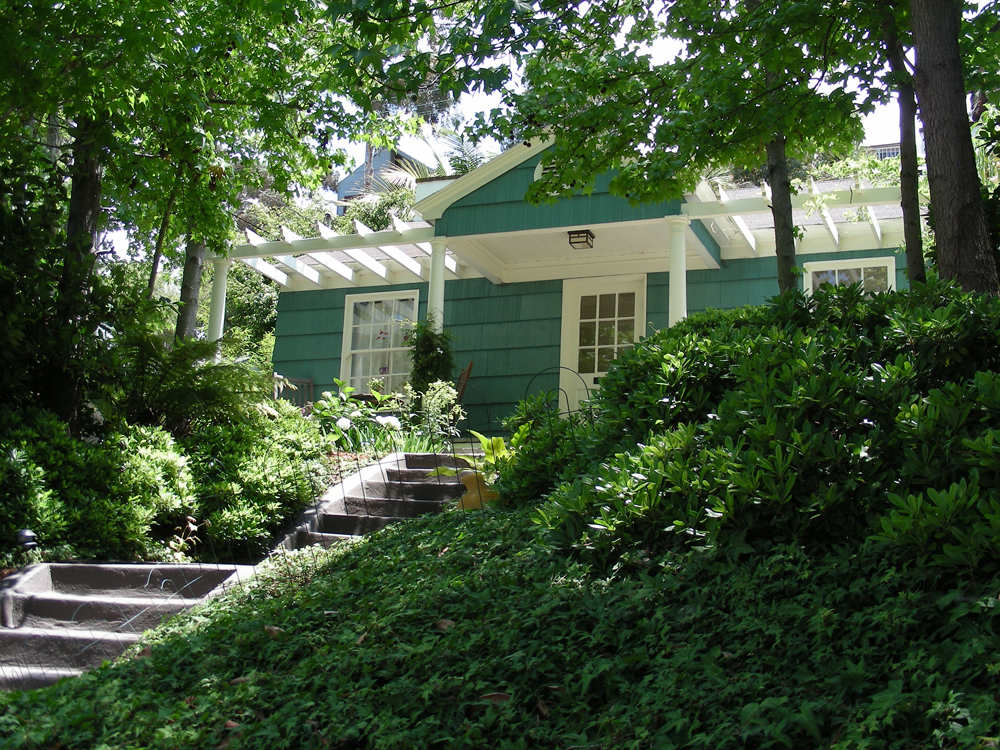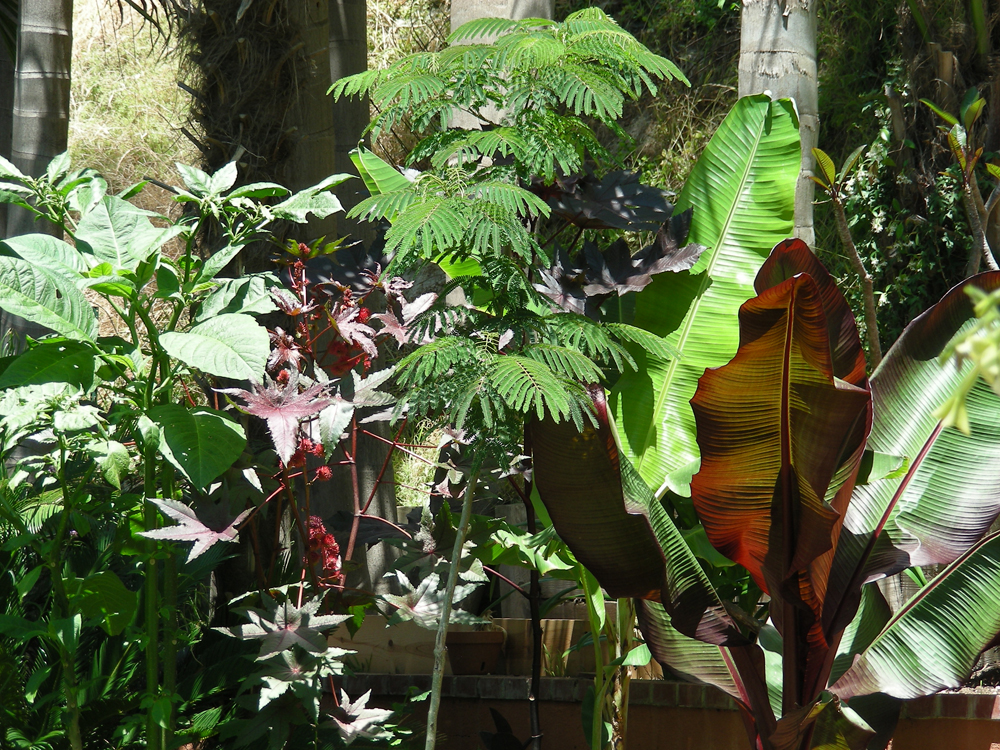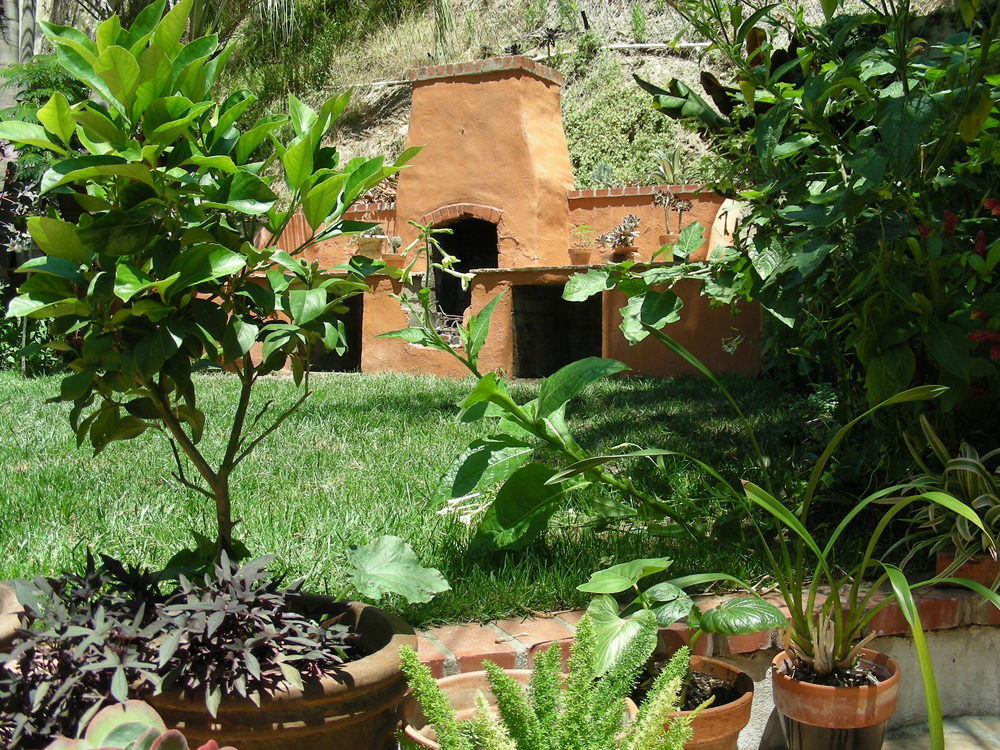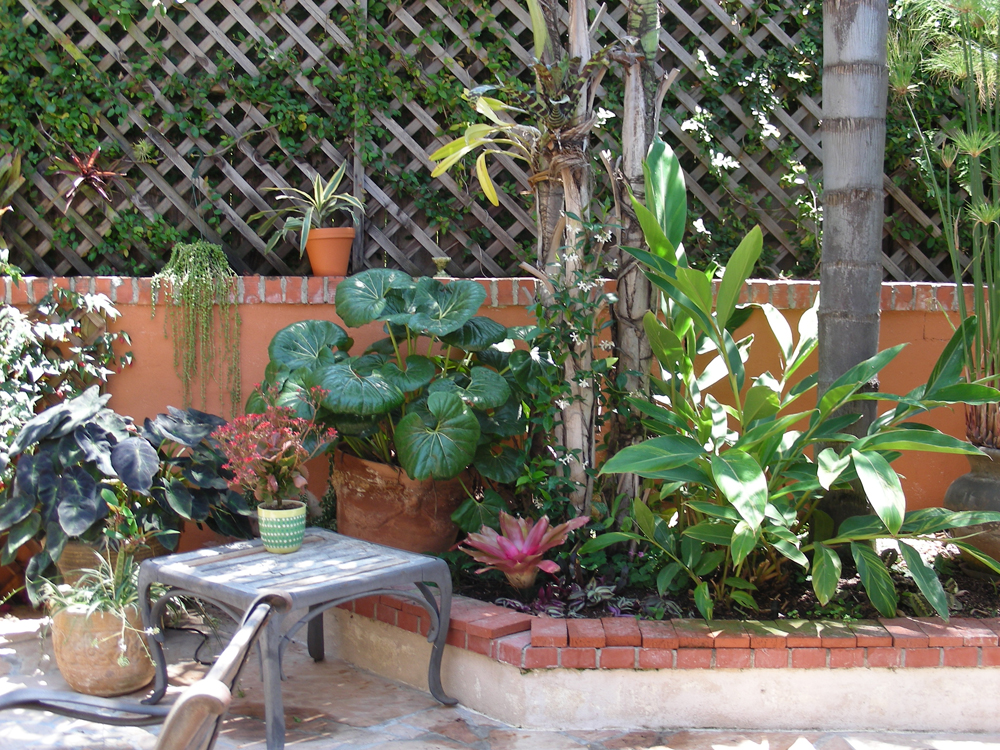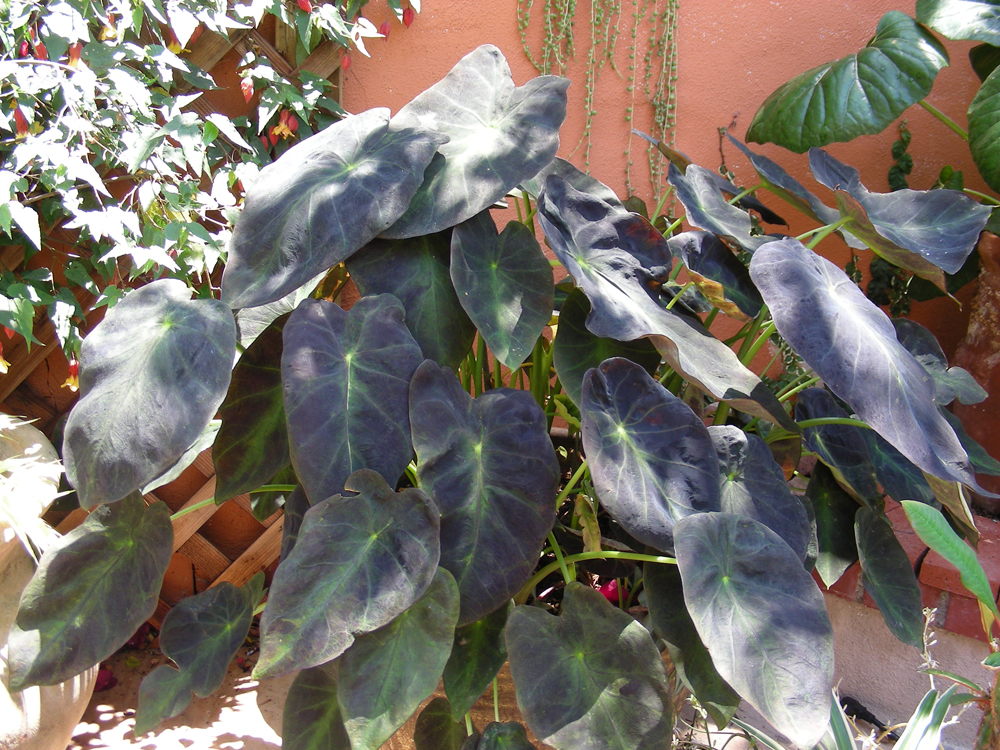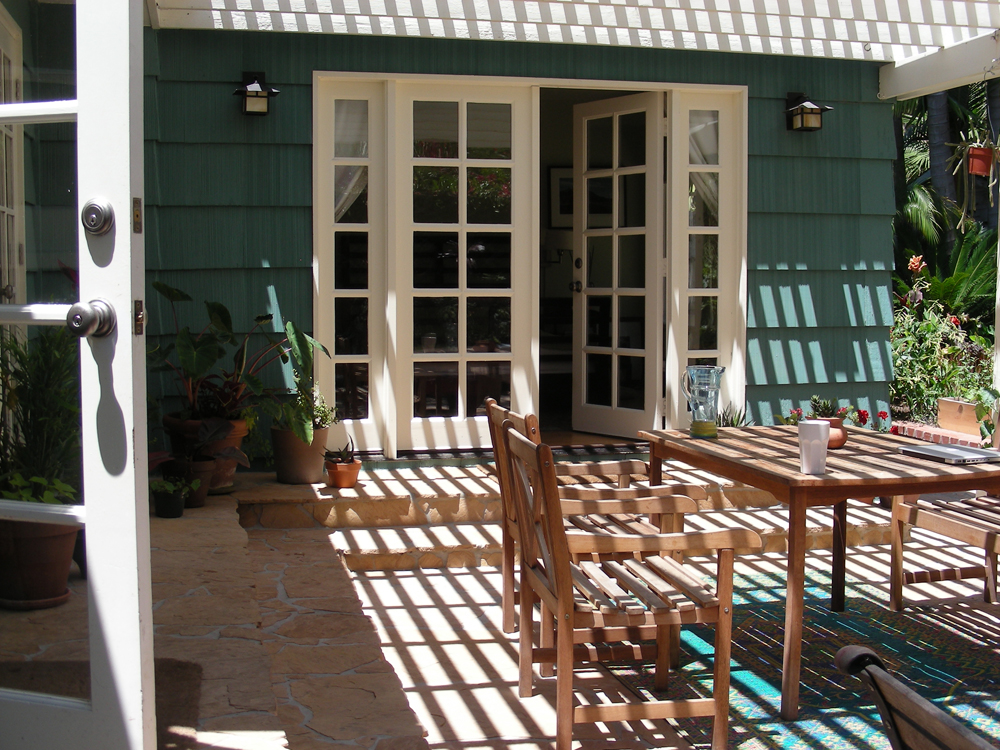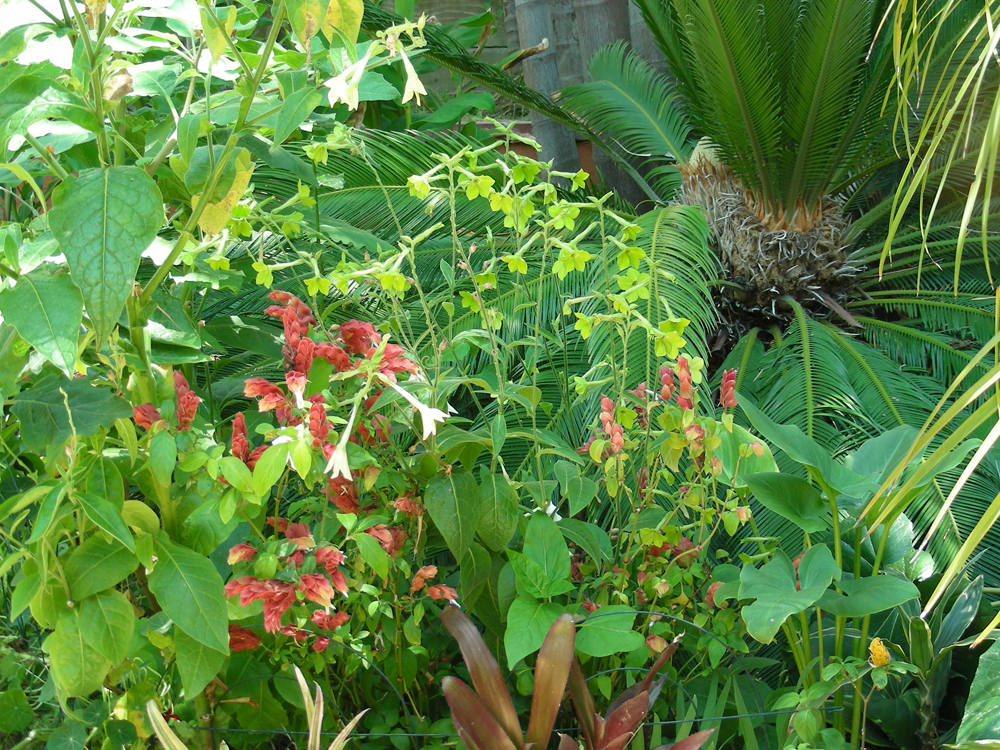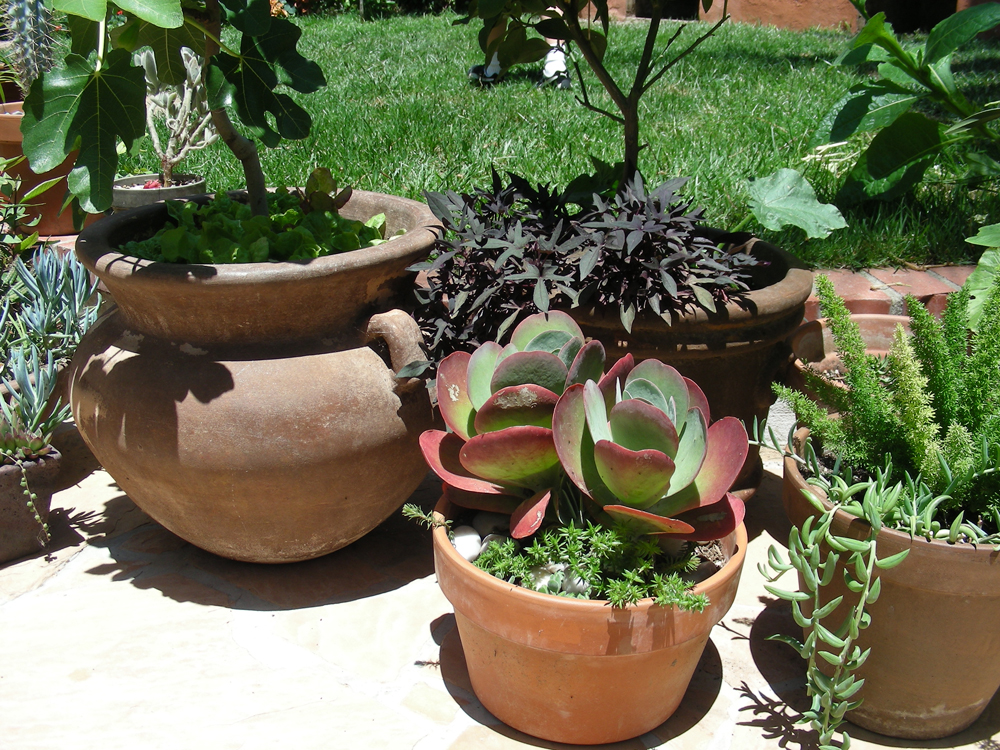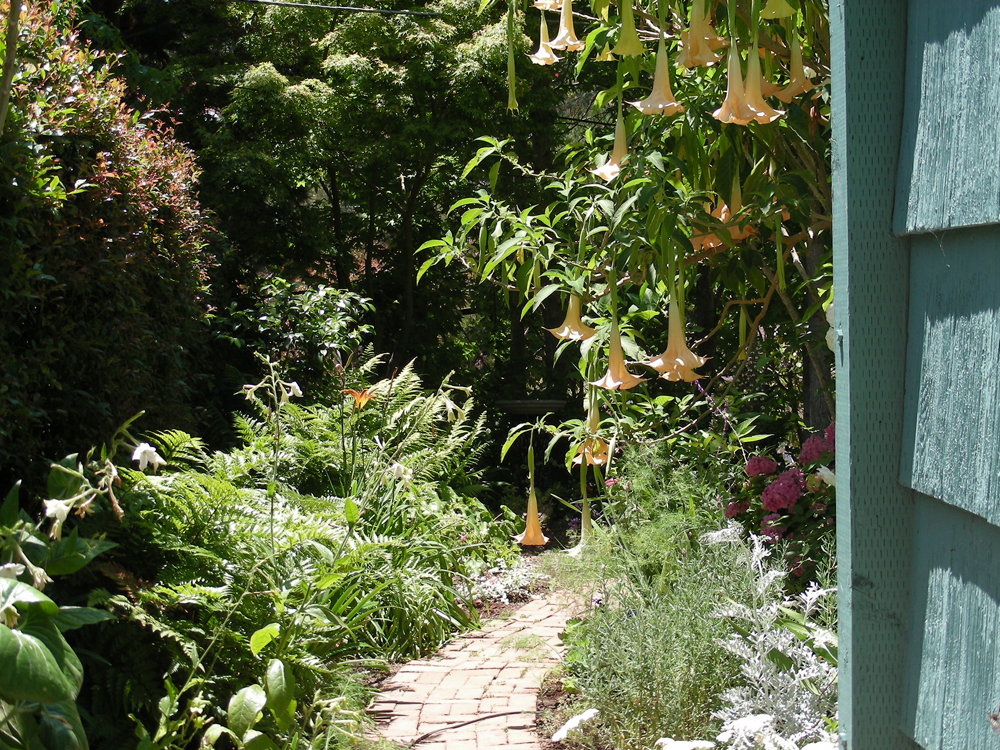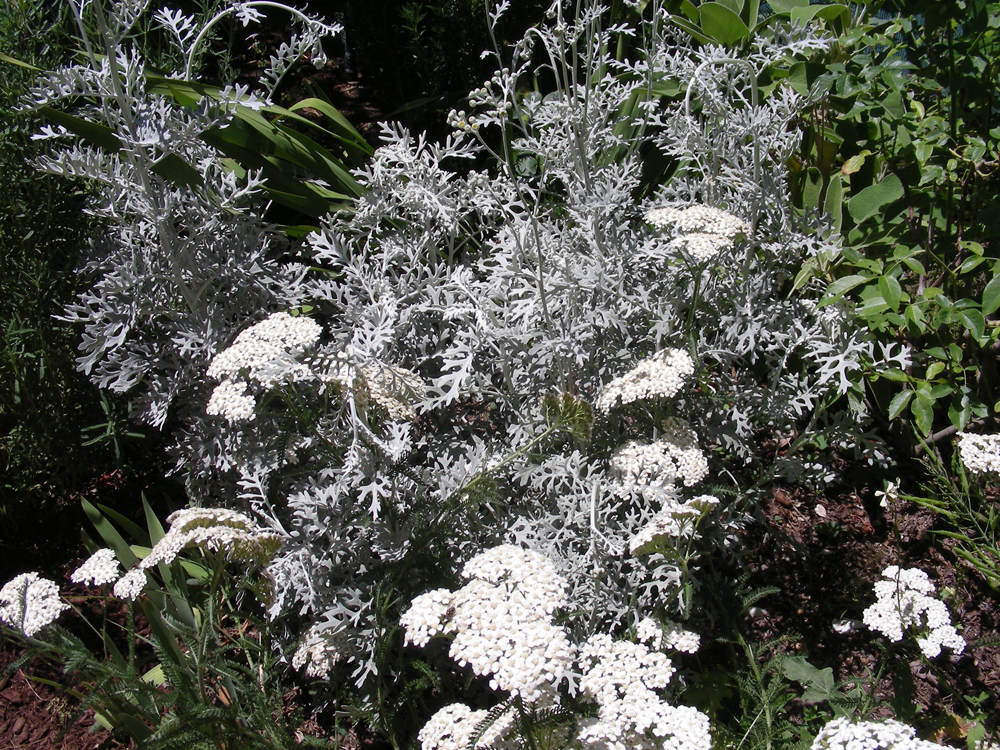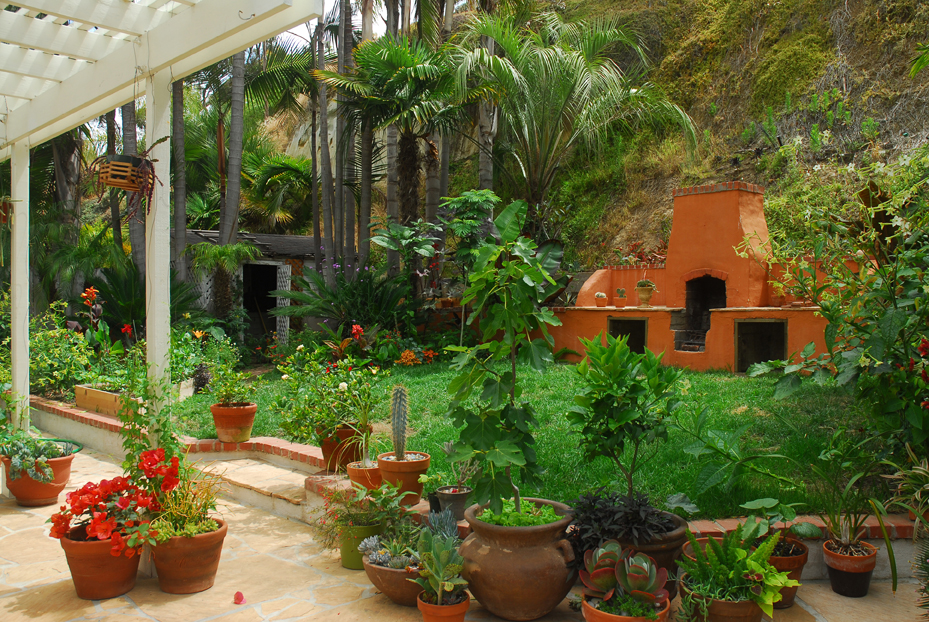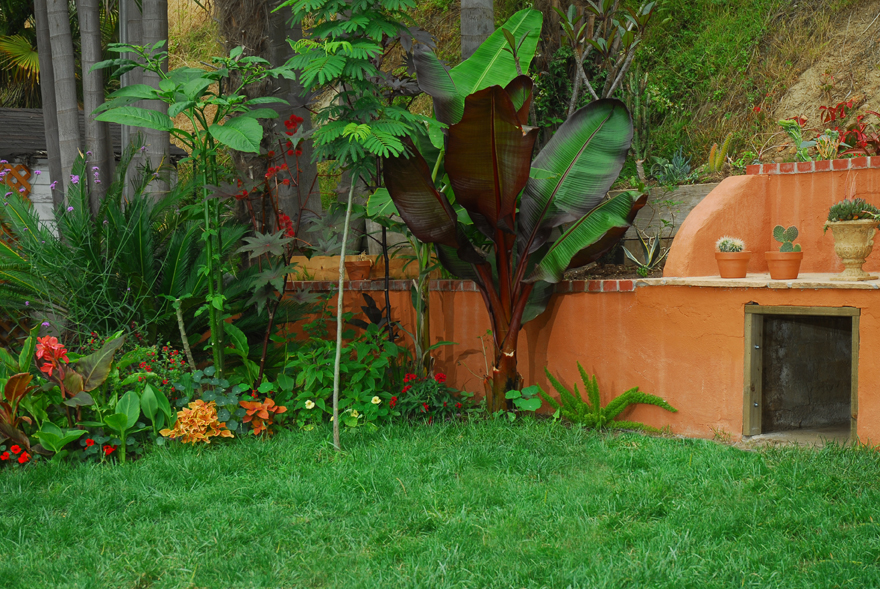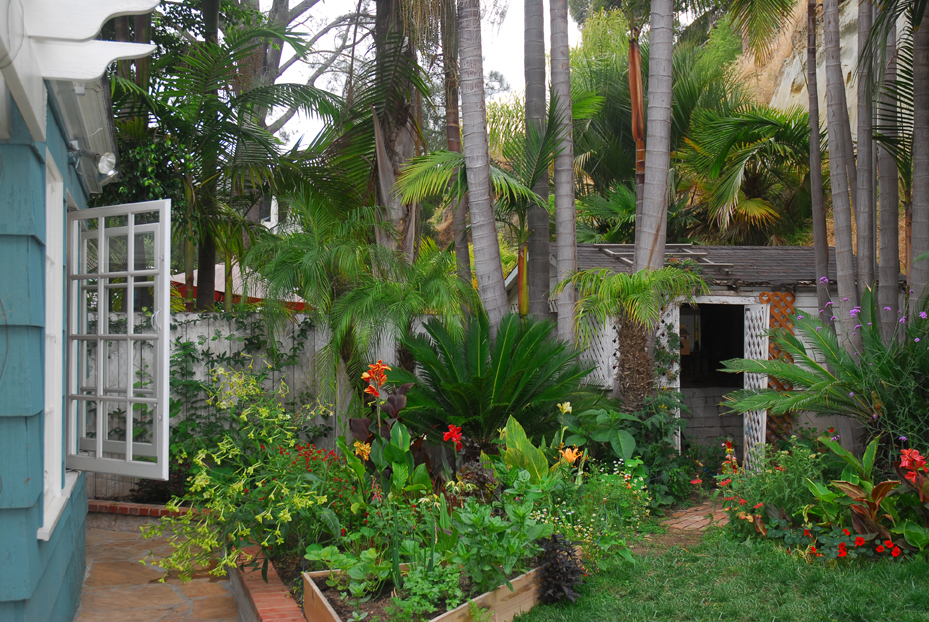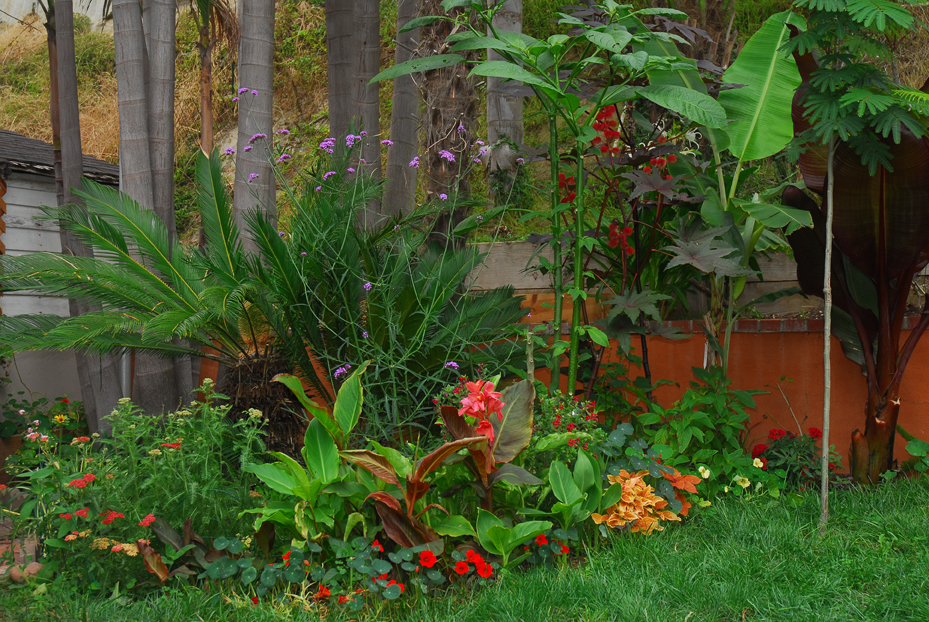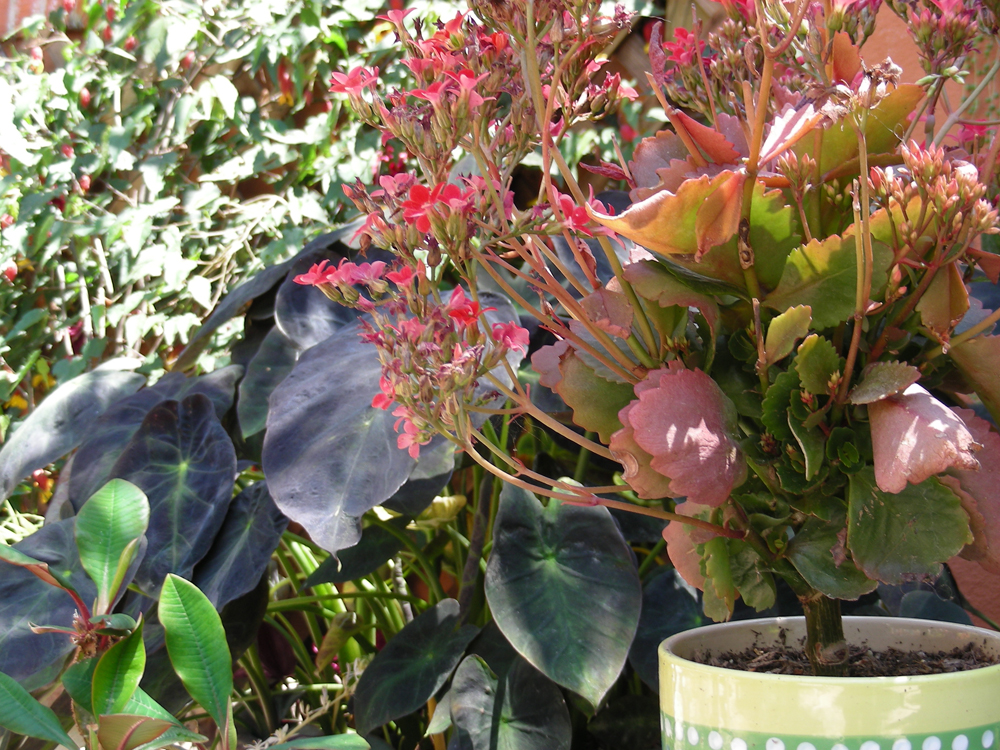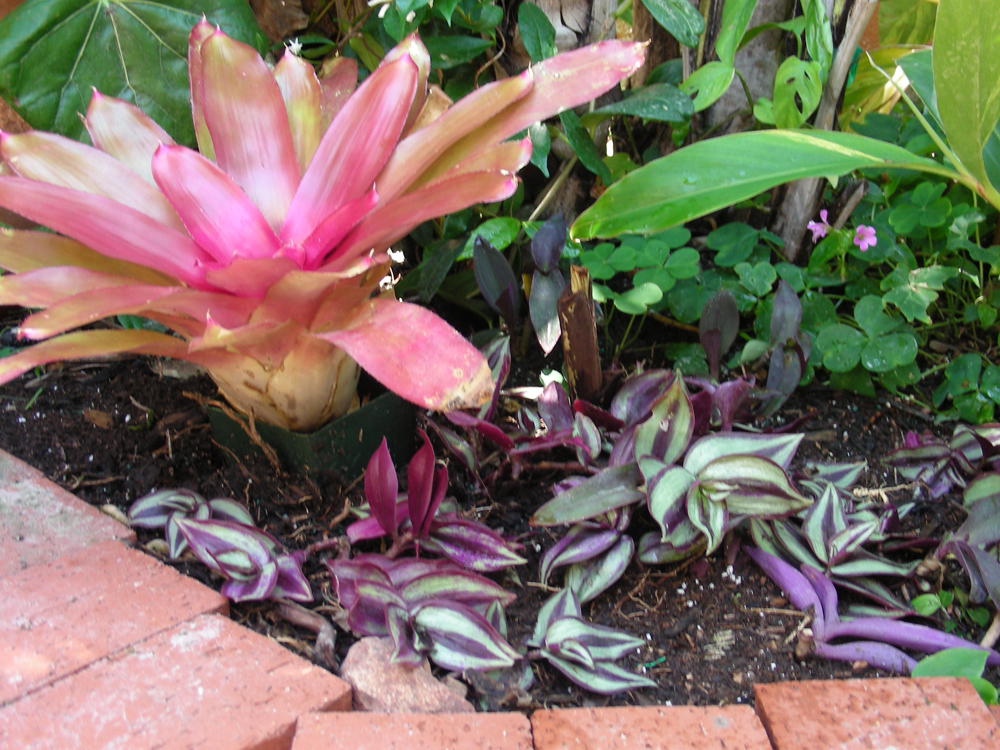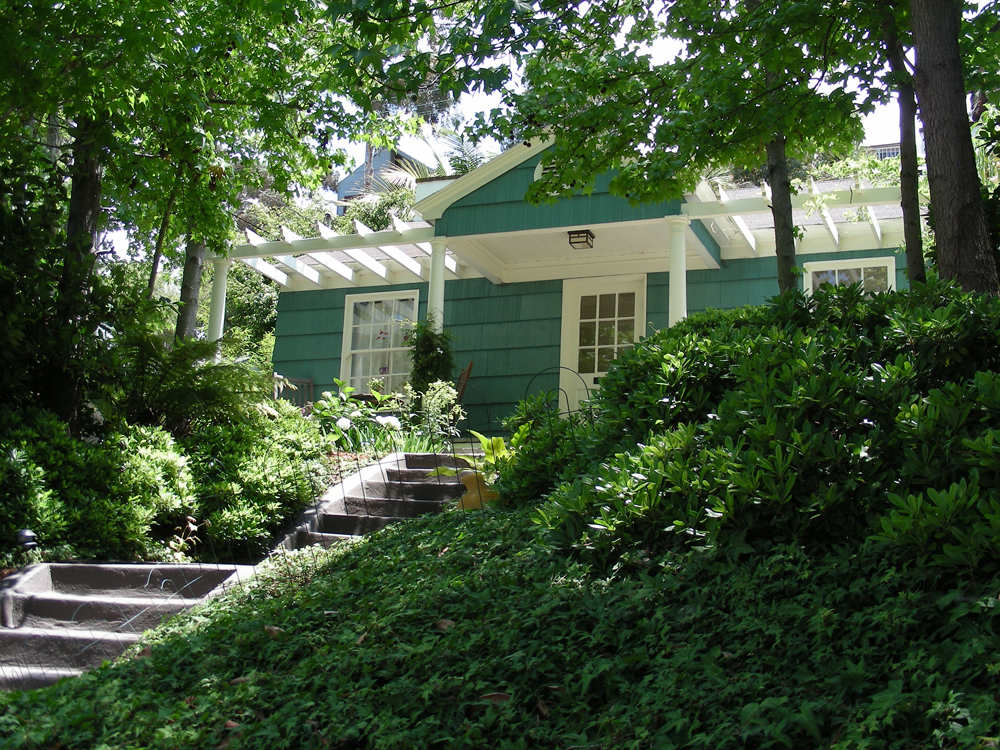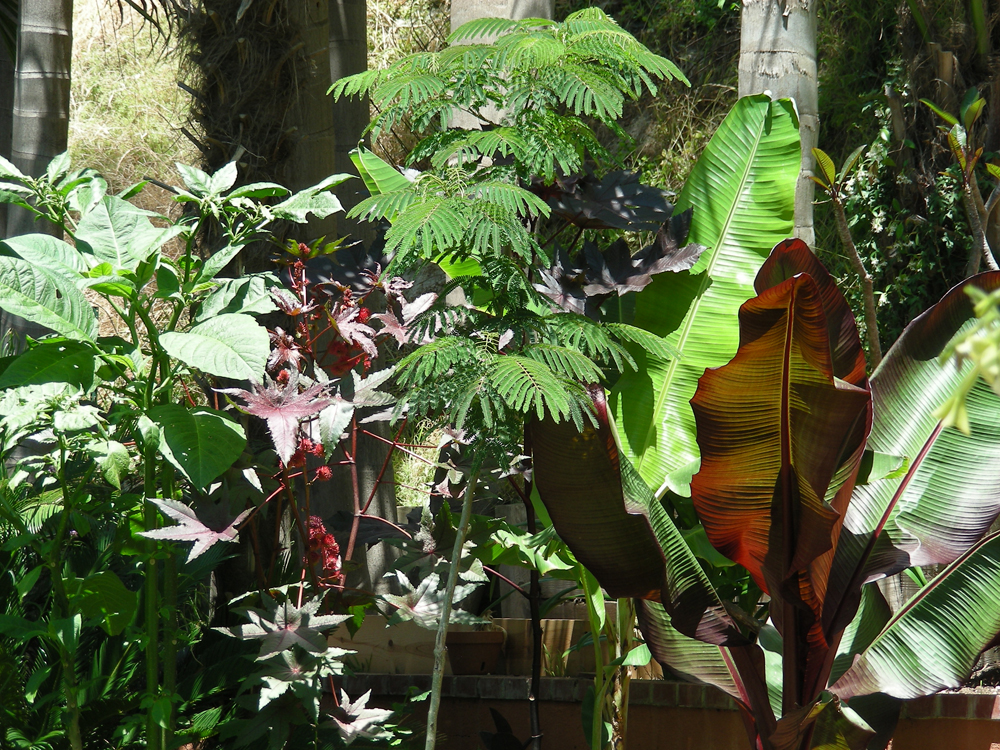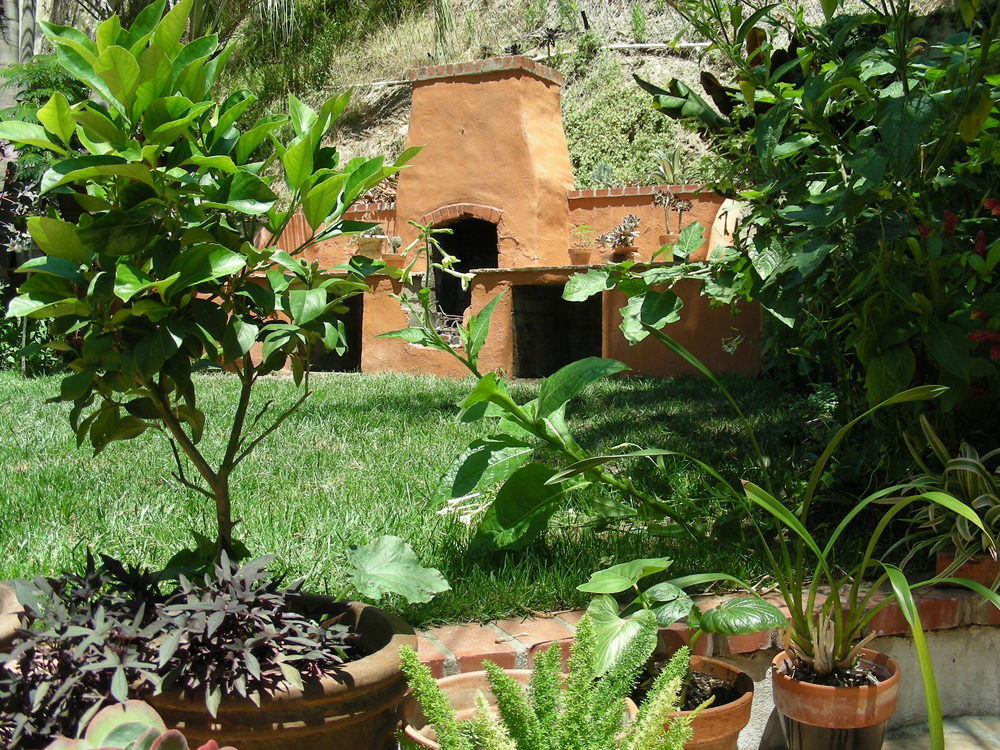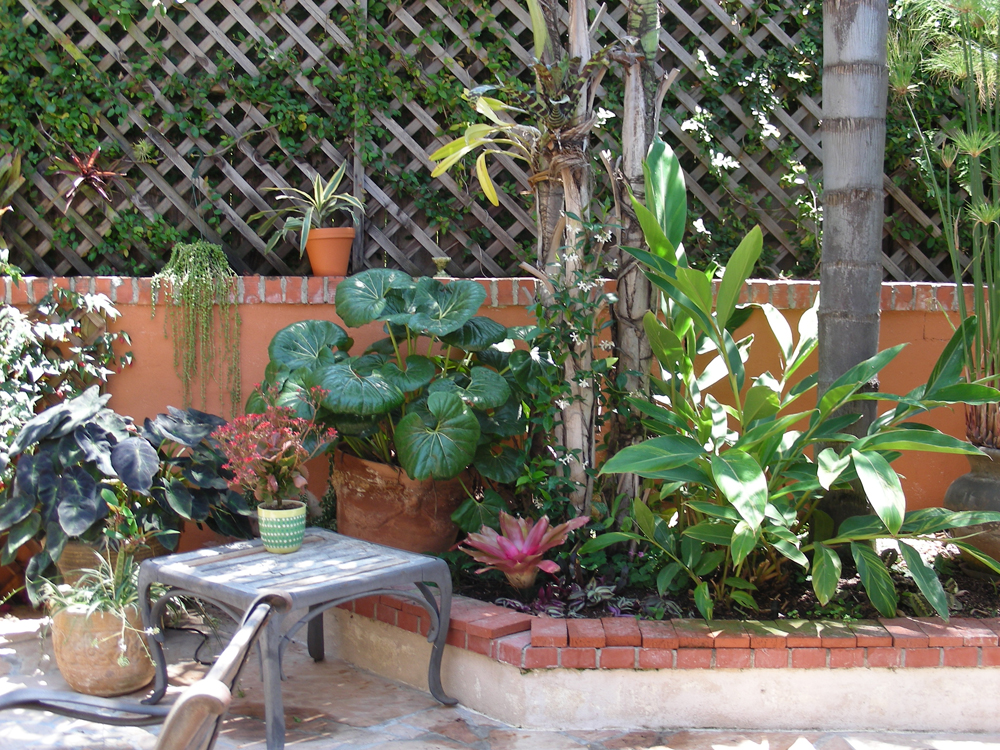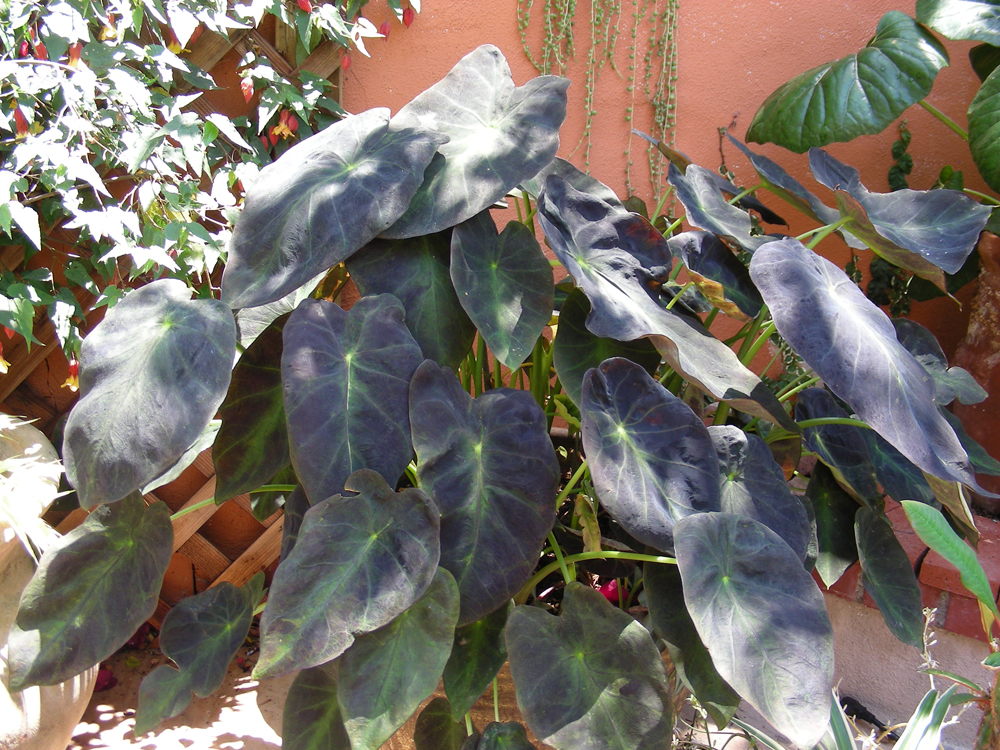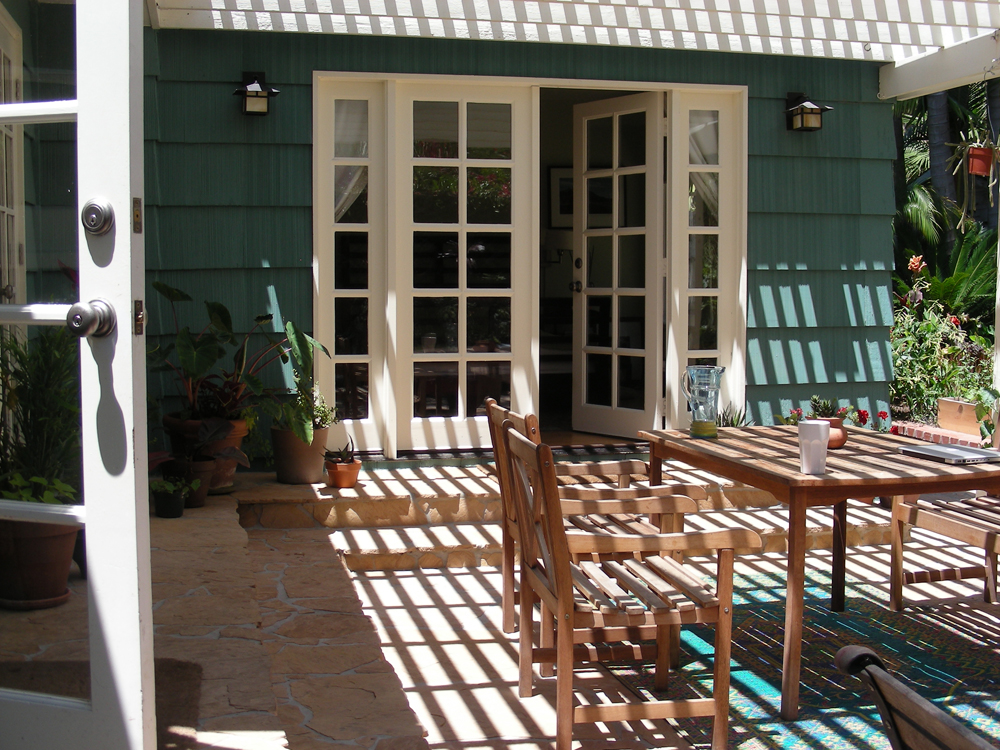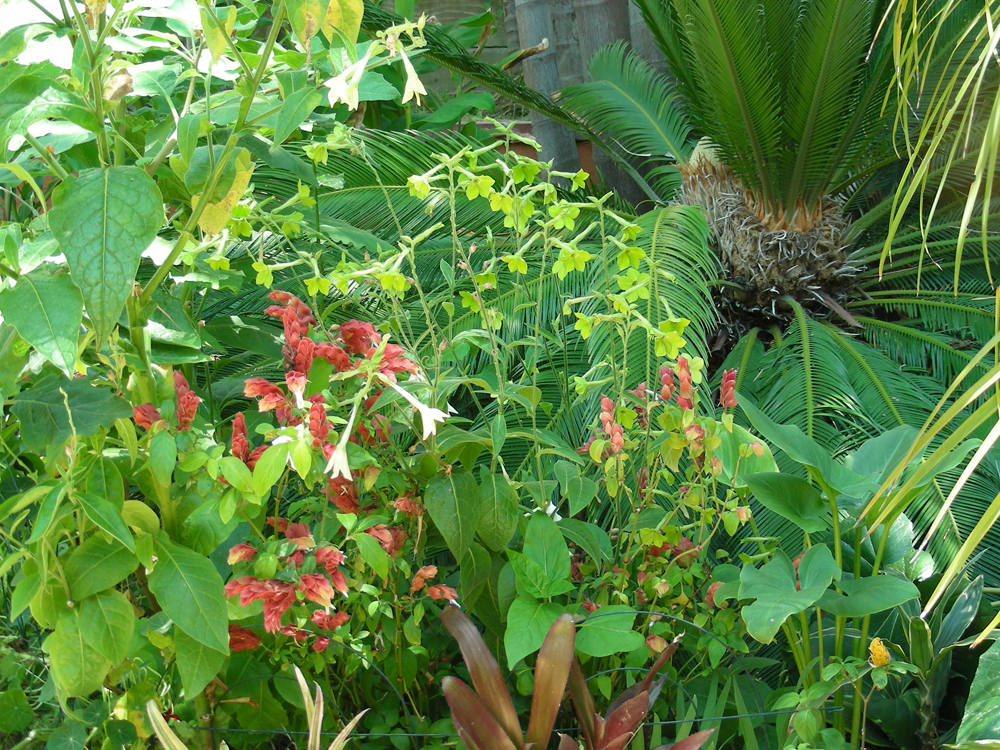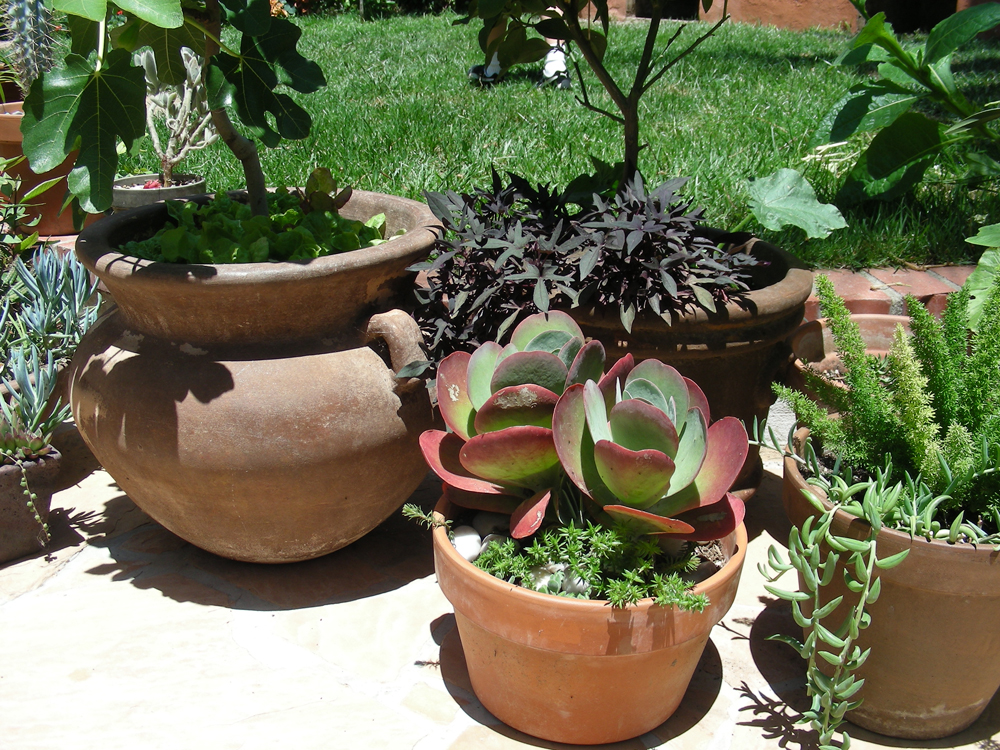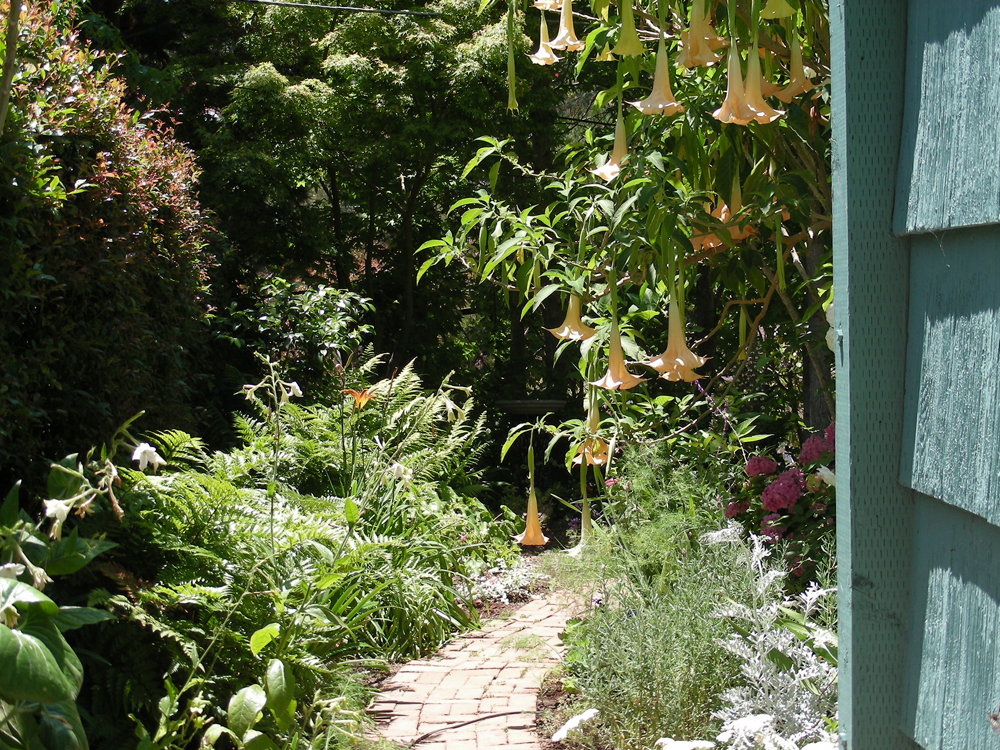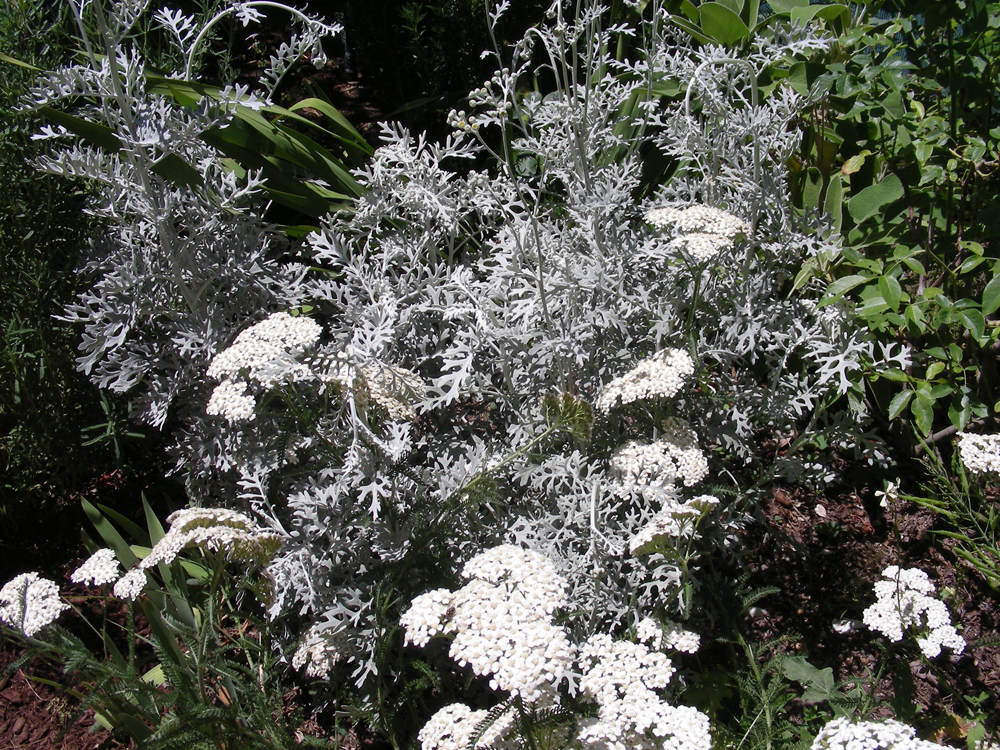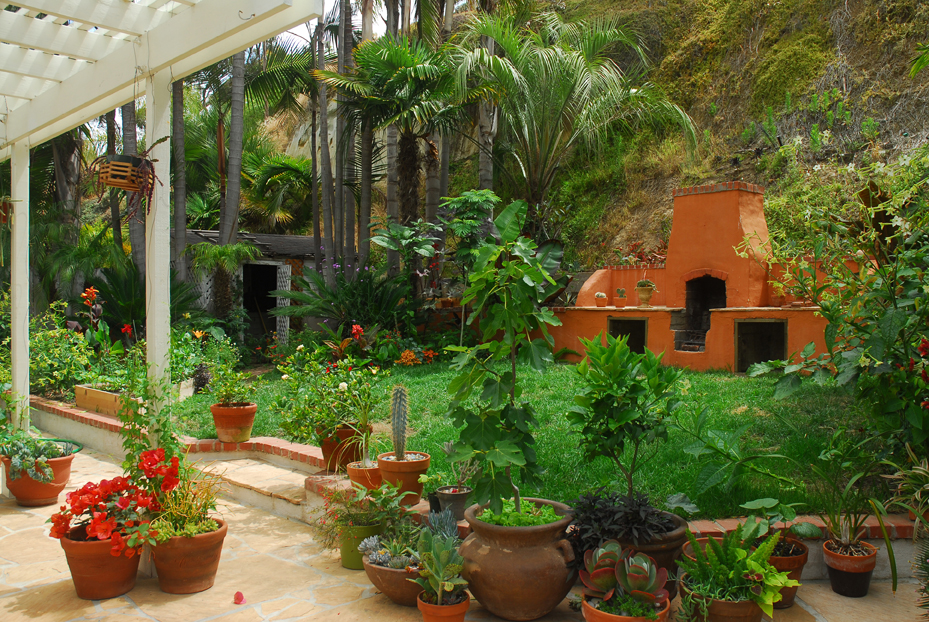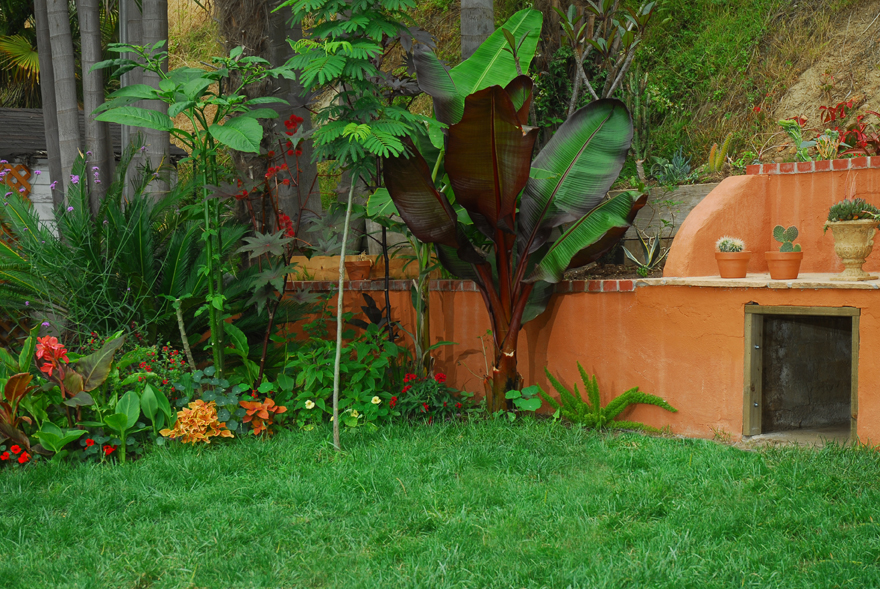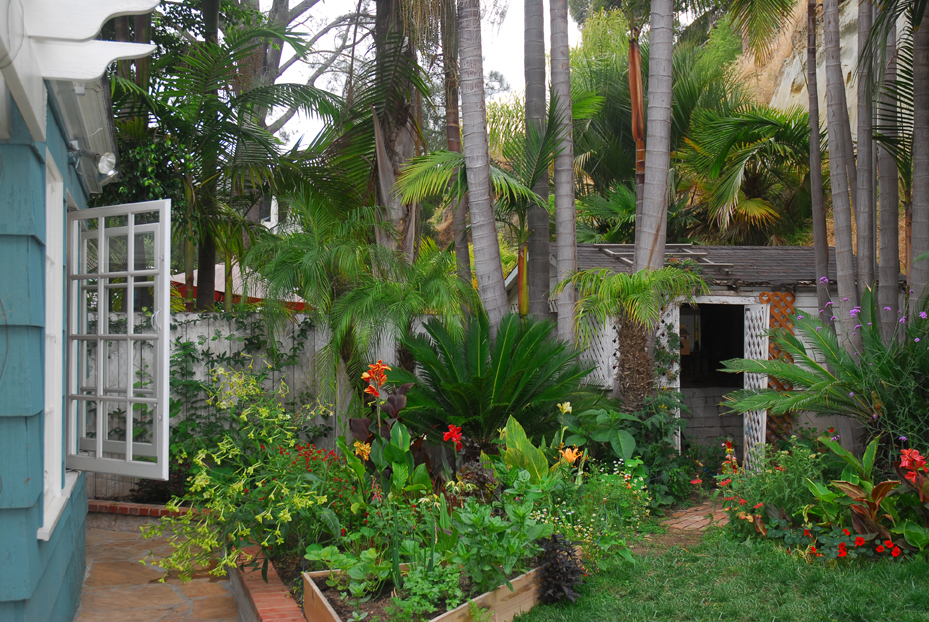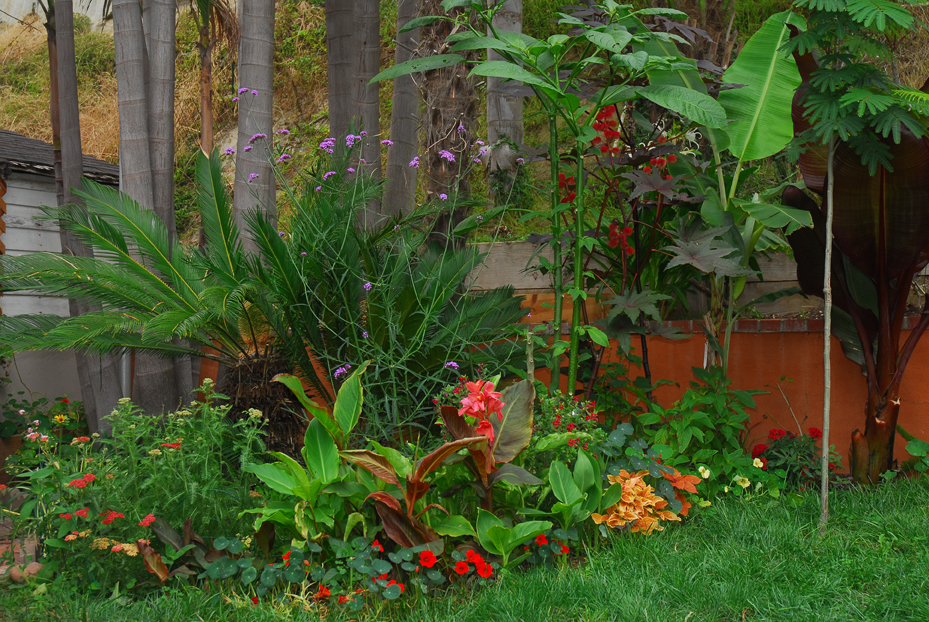 I love hearing about people who are so consumed by their passions that they jam on the brakes, hang a "u-ee", punch the gas and take off in a new direction. That's what San Diego garden enthusiast Roberta Correia is doing.
Roberta is an old friend who I'd never met; at least not until I visited San Diego last weekend. Lin, my spousal support unit, and I were there visiting family and celebrating our 23rd wedding anniversary. [Travel hint: if you're into brilliant Asian food, you MUST find Kafe Yen in the Pacific Beach neighborhood.]
The front of the Correia family's home sits at the top of a long stairway, peering through a grove of Sweetgum trees (Liquidambar styraciflua). Photo by Billy Goodnick.
Since I was going to be in San Diego with Lin, I arranged a visit to Roberta's garden. It's strange when you've seen so many pictures of a place and then visit in person.
Roberta greeted me as an old friend, handed me a tasty glass of home-brewed iced tea and showed me around. The garden was immediately familiar and the cheery light green walls and white trim of the house softly radiated through a grove of densely planted sweetgum trees (Liquidambar styraciflua). But it was the back yard that got my pulse going.
First, a bit of background.
I met Roberta a couple of years ago while we were praising each other's pics at Flickr.com, a photo-sharing website that lets users leave comments, pick faves, make "friends" and send e-mails. [See Roberta's flickr collection]
Roberta and I quickly formed a mutual admiration society. She had just bought a house on a steeply sloping lot and was slowly turning the ravaged fixer-upper into a tropical oasis. Her photos chronicled her garden's makeover.
Given San Diego's Mediterranean climate, you can't get much more tropical looking plants than maroon castor bean, ornamental banana, angel's trumpet and the fine textured young Albizia julibrissin. Photo by Billy Goodnick.
She and her hubby, Bruno—childhood sweethearts, I might add—are originally from Rio de Janeiro, which might explain the rear yard landscaping, overflowing with an eccentric collection of luscious, leafy plants. "I like leaves!" she enthused, as we toured the landscape, still a work in progress. "Flowers are nice, but I'm always attracted to foliage first."

I'm not sure which was more fun—seeing the garden or meeting her son. Thor (Roberta wanted a name with some power; I've nicknamed him GOT for God of Thunder) is a Legomaniac who eagerly showed off his totally coolio stick-figure animation program on his Mac laptop. He seemed stoked to meet me, having seen some of my Garden Wise Guys TV program on-line. I'm not sure what an 8-year old boy gets from a public TV show about sustainable landscaping, but hey, there's worse stuff on TV.
I could write a separate article about Roberta's adventurous garden undertaking, with its exotic plants: black elephant ear, Brazilian banana tree, zinfandel-colored castor bean, tapioca tree and Cenozoic-era cycad palms. But that blog will have to wait.
The fireplace doubles as a retaining wall and center of evening activities. Photo by Billy Goodnick.
The big news from my visit was that this professional economist, wife and mother had just enrolled in the horticulture program at Cuyamaca College, majoring in landscape design! That's what I mean about pursuing your passion.
"This change of career was forced by the current economic situation," Roberta confided. "If it weren't for the downturn, I wouldn't have dared leave a promising career and a job I loved in the building industry to follow my dream!"
Her enthusiasm was palpable, reminding me of my decision 35 years ago to hang up my drumsticks, pull the plug on concert tours and recording, and dive headlong into the world of plants.
Recently, Roberta was discussing her situation with another enthusiastic gardener, who told her, "Once you find a job you're passionate about, you never have to 'work' again"!
There's an enthusiastic "I can DO this" demeanor that pours from this dynamic woman and convinces me that she will soon be a force to be reckoned with. As we talked about all the ways she could connect with the landscape design profession, she was like a sponge, soaking up every idea. I could see mental bridges building as she used her economist's mindset to plan her exciting new career path.
I know there are a lot of you reading this who identify with Roberta Correia. You might be working at a job that provides a paycheck, but no fulfillment. Or perhaps you have been let go. I'm in no position to tell you to take the leap—everyone's tolerance of risk is different and you have to judge for yourself if Roberta's new path would be right for you.
But you won't know unless you try. Talk to people in the green world. Enroll in an adult education class. Soberly list the risks and benefits. And if you decide to dip your little toe in the big green pond, know that others have succeeded in following their dreams.
I'd love some feedback from readers who have taken the plunge, or those who are excited by the prospect of "going pro". That's what the comment section below is for.
I intend to keep up our connection and provide whatever advice and guidance I can for Roberta. The world needs impassioned, bright plant people like her.
This sweet little bed faces north along the side property line. With our without flowers, it provides variety and interest year round. The round leaf Ligularia is a survivor of the prior garden, nursed back to health by Roberta. Photo by Billy Goodnick.
Colocasia esculenta 'Black Magic' and Kalanchoe blossfeldiana create foliar contrast. Photo by Billy Goodnick.
The simple color scheme of the house makes a perfect foil for the complex foliage colors of the garden. It was a perfect place to sip an ice tea and view the garden. Photo by Billy Goodnick.
Nicotiana brings a splash of floral color rising beside the exotic brown-bract shrimp plant (Justicia brandegeana). The big leave of a sego palm (Cycas revoluta) brings a touch of the exotic to the background at the right of the frame. Photo by Billy Goodnick.
Roberta's "one-of-each-itis" is brought under control by using only terra cota pots. Front and center is one of my faves: Kalanchoe luciae, Paddle Plant. Photo by Billy Goodnick.

The narrow beds along the side of the house receive their due attention. This young angel's trumpet (Brugmansia species) fills the night air with a sweet fragrance that attracts nocturnal moths. Photo by Billy Goodnick.

Not every plant in the yard fits the tropical category. A simple combo of yarrow and dusty miller lend a more traditional feel. Photo by Billy Goodnick.