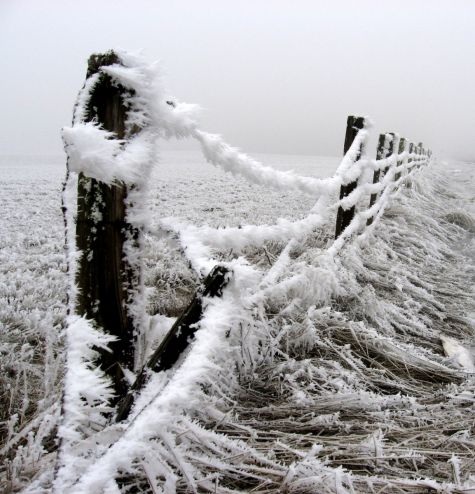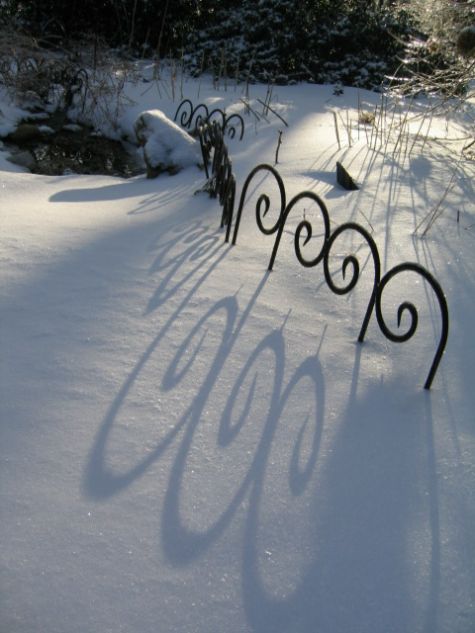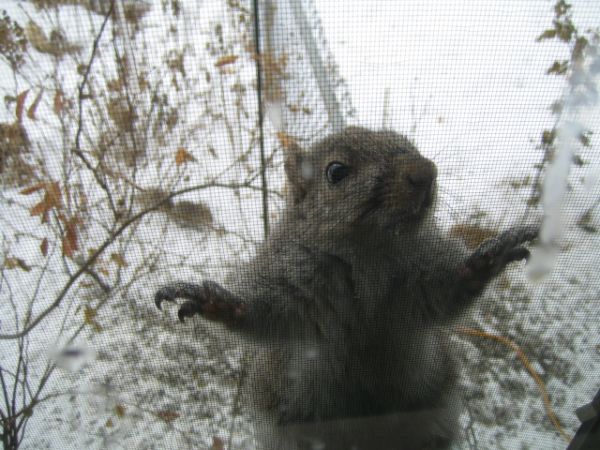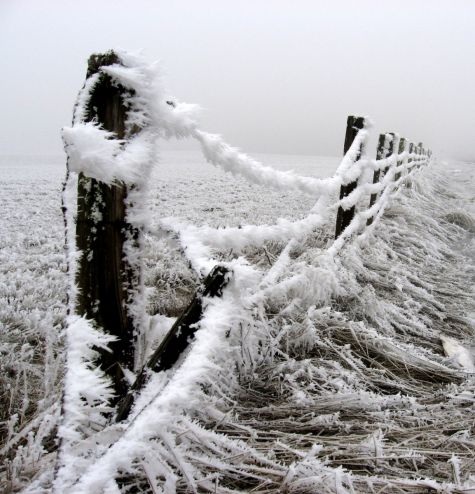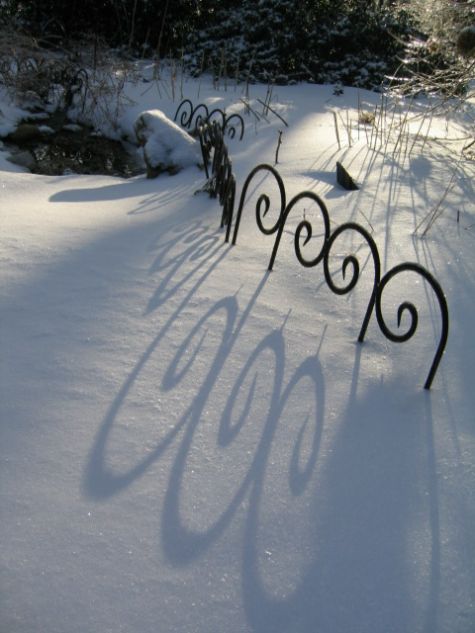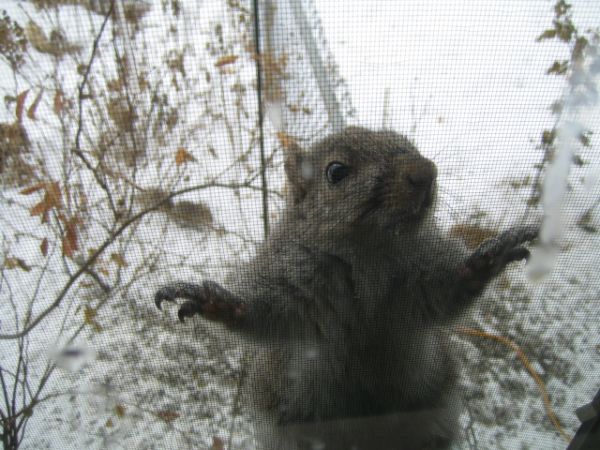 Picking the winners of our Winter Wonders Photo Challenge wasn't easy, but we finally narrowed it down the following three winners:
First Place:
Frosty fence by Chandra Allison (Luna_Gray)

Frost in Appleton, WA
"The fog has been freezing for the past week, drifting in the air like glitter and accumulating on every surface."
"Frosty Fence was taken in Appleton, Washington, a very small rural community near the Columbia River Gorge. I took it on January 20, 2009. Although the photo looks black and white, it's actually in color. After about two weeks of freezing fog, all the color was washed out of the land.
I don't have much experience gardening but I just recently moved from Portland, OR onto 5 acres here in Appleton. Although there isn't much of a garden yet, I'm looking forward to starting a large vegetable garden this year. I guess I could've taken a photo of the barren field behind my house where my future garden will grow, but I thought this fence behind it was much more interesting.
Growing up, my mom produced most of the fruits and vegetables our family ate so I'm hoping to follow in her footsteps.
I am entirely an amateur behind a camera – this is actually the first contest I've ever entered."
Second Place:
Winter's Artwork by Gail Dimaggio (Daffodilly)

"Gardens are as beautiful in winter as the rest of the year. These
pictures are from my gardens in Northwestern CT. The sunset is from
just up the street from my house."
"The picture was taken around 10:30 in the morning on Jan 9, 2009 on a bright, sunny, very cold morning in my Northwestern Connecticut garden. It is a border fence that I put up to keep my dog Murphy from coming into the border on his way to the "wild" side of the garden.
I have enjoyed gardening for more than 40 years since I was a child in New Jersey, helping my Dad in his vegetable garden and my Mom with her small perennial gardens. My childhood neighbor had beautiful gardens and was also my inspiration. She would often ask me to work for her in her rose gardens picking Japanese beetles and spreading mulch, and pruning lilac bushes after they bloomed. As a kid I always enjoyed that work a lot more than babysitting!
My flower gardens are very casual, of my own design, and I am an avid vegetable gardener."
Third Place:
Winter in the Hood by jackielee

"I'm wondering missus, if you have any of that suet with those nice dried cherries in it left?"
"This picture was taken from the sunroom we added to our house last spring. There wasn't anywhere else to see our winter gardens from inside the house, hence the new room. I took it on a -20* day in mid January. This was the perfect year to be inside looking out, as it's been colder than all get out. Bye bye global warming.
I've been gardening since I could walk, 55 years or so. I started with my great grandpa, Magnus Despen. He grew peonies, dahlias, the usual veggies and all kinds of other flowers. Our focus was the peonies and dahlias though. He even made me my own set of garden tools, along with a pint-sized snow shovel. He was no dummy when it came to getting yard help! What kid could resist their own sized tools? Not me.
Last summer my dad was cleaning his shed and found an adult-size hand cultivator grandpa made. I love to hold it. I'll bet the pearly gates have a peony border on either side of them. And that there's a tall soft spoken old Norwegian guy making sure they're fit for the heavens."
---
Our first place winner will receive a one-year subscription to Fine Gardening magazine, a Fine Gardening tote bag, a complete 2008 set of Fine Gardening special interest publications (Design Ideas, Great Plants, Great Gardens, Container Gardening and Outdoor Design & Living), and a complete set of the Fine Gardening How-To DVD-ROMs (Pruning, Propagation, Gardening Techniques 1, Gardening Techniques 2, and Gardening Techniques 3).
Our second and third place winners will receive a Fine Gardening subscription and a Fine Gardening tote bag. Thanks again to all who participated. Don't miss February's photo challenge, Pets in the Garden.
We also loved:

Ice Fence by AnnL

Shagbark hickory by jcihula

Snowy Miller by CRSmith

Sunrise and My Garden by Littleton

Blooming Winter by sakurasakura

Snow-capped Sedum by tgussie

Blue Spruce by DebHS

Neverending Garden by GibsoniaPA

Iced Berries by LPratt

Icescape by DOUBLE

Japanese Maple 'en glace' by Corralgirl
If you would like us to use your real name in your photo credit, please e-mail Kate at [email protected].