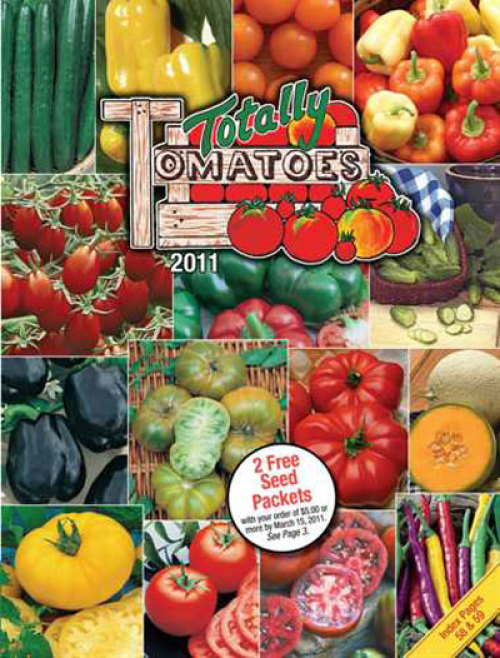 Year in and year out, the tomato is the American home gardener's favorite vegetable (it's a fruit, really). And if your spirit wasn't broken by crop failure due to late blight, you'll be looking for tomato seed this year with a real urgency. Enter Totally Tomatoes, a catalog that focuses on—you guessed it!—tomatoes.
I don't know much about the history of this company. I believe it used to be independently owned but is now affiliated with several other companies (Jung Seed, Vermont Bean, McClure & Zimmerman, R.H. Shumway's, Roots & Rhizomes, Seymour's Seeds, and HPS), all operating out of Randolph, Wisconsin. The Web site doesn't get into the details. I have ordered from Totally Tomatoes for several years. The orders have arrived promptly, and the seeds grow.

Bright colors are just the thing on a drab winter day, and the Totally Tomatoes catalog delivers page after page of tomatoes in all their glory: red, orange, yellow, green, and dark. You'll also find a large and colorful selection of sweet and hot peppers, and a smattering of other vegetable seeds.
Considering the sheer number of tomato varieties offered (nearly 300 by a quick count), the catalog descriptions are brief but to the point. Varieties are grouped in various ways: size, color, heirloom, and so on, so it's easy to browse. If you're looking for a specific variety, you can check the detailed index and see at a glance if it's there.
Totally Tomatoes offers two free seed packets (usually a tomato and a pepper) if you order by March 15, 2010 and spend more than $5. It's a promotional gesture, of course, but it is fun to grow something you probably wouldn't have. Seed packets are usually in the $2 to $3 range, so it's pretty easy to get the premium.