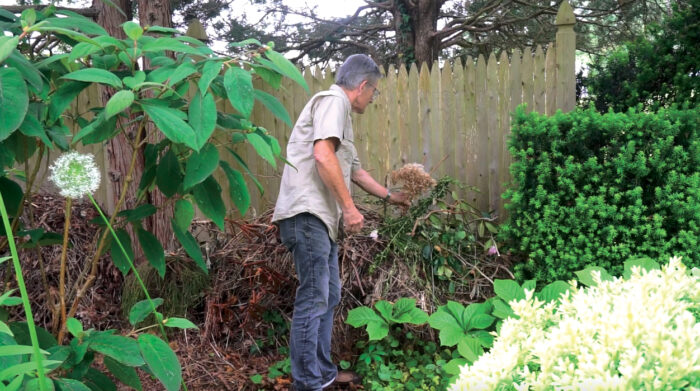 Winning Tip: Compost in place
My composting bins are at the rear of the property, and I found that dragging everything back to them became a tiresome bore. And the green waste products coming out of my garden are so copious that it would overwhelm my three bins. Why not find inconspicuous places around the garden to create smaller mounds of compost? I now have eight such places in my 1-acre garden. They are not always completely out of sight (but are mostly so). I have come not only to think of this method as smart gardening, but I now look upon these smaller piles as rather beautiful in their own right—a tapestry of rotting garden components, a memory of things recently past. I wonder sometimes if my garden visitors feel the same, or do they observe in silence such slovenly behavior? Maybe I should ask them, but I probably will not. We aging gardeners must find ways to lessen the load. My goal is to remove no green matter from the premises, composting all except large branches.
—Frederick Bland, Stony Creek, Connecticut 
Now where did I plant those seeds?
I love to tuck zinnias in my garden. When I have chosen a spot where I want them to be, I plant a few seeds in what I call "seed circles," which I cut from plastic lids. I hold them in place with pins cut from hangers, and they remind me of the location of the seeds for watering. I remove the seed circles before the seedlings get too large. They are then available for use the next year.
—Sharon Pryor, Scotch Plains, New Jersey
Care for these plants, but not those
When I go out of town, I put little American flags into the pots I want looked after. This makes it very easy for the person looking after the potted plants; the plants that I do not want touched should not get touched! You can find these flags at lots of places, and they cost only about a dollar each.
—Kathy Bolton, Atlanta
Weed the path without disturbing it
For my herbicide-averse customers, the downside of weeding between bricks, pavers, or stones in walkways and paths is that lots of soil or sand gets pulled out along with the weeds' roots. This destabilizes the walkway by removing the base material. Not only do you eventually have to re-lay the path, but the uneven stones or pavers create a fall hazard. Spraying horticultural vinegar damages plants growing alongside the walkway, while pouring boiling water requires either a big tank with a heater or many trips for more boiling water. If I have access to an electric outlet and a long extension cord, my solution is a clothes steamer that "cooks" the weeds without disturbing whatever material lies between and under the stones or pavers.
—Karen Jescavage-Bernard, Croton-on-Hudson, New York