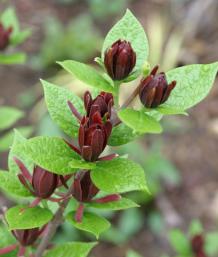 If you know the genus and species of this month's mystery plant, you could win a free year's subscription to Fine Gardening . Send your entry, along with your complete mailing address, by January 31, 2009 to [email protected] . The winner will be chosen at random from all correct entries.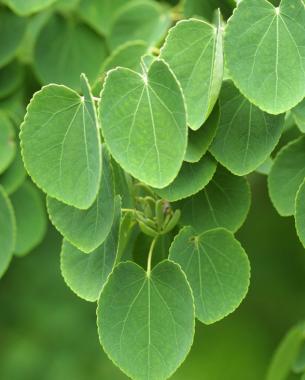 Last month's mystery plant was Cercidiphyllum japonicum , commonly known as the katsura tree. This striking deciduous tree, native to China and Japan, has rounded, heart-shaped leaves arranged in cascading layers that create a rounded mass of light green foliage with a pleasing overall texture. In fall the leaves turn vivid shades of yellow, orange, and red, and by some accounts smell like burnt sugar when falling. This tree will grow up to 60 feet tall and wide and prefers full sun or partial shade; moist, fertile, well-drained, neutral to acidic soil; and shelter from cold winds in winter. It is hardy in USDA Hardiness Zones 4 to 8 and needs minimal pruning in late winter or early spring. Anjum Tareen of Everett, Washington , was chosen at random from all correct entries to receive a free one-year subscription to Fine Gardening . Congratulations, Anjum!
What eLetter subscribers have to say about Cercidiphyllum japonicum:
"Wonderful tree, and oh the fragrance in the early fall as the leaves turn!"
-Carol Foster Hall, Rockville, Maryland
"Katsuras are one of my favorite trees!"
-Sylva Jurasin, Aberdeen, Washington
"I have this planted next to the driveway and I am encouraging it to grow up and become a shade tree. It replaces a Norway maple that I lost to sunscald. The maple's only virtue was that it shaded the driveway like a big umbrella. Otherwise, I am glad to be rid of it. The katsura tree has very nice fall color and a pretty pyramidal shape. Coincidentally, I have last month's plant, Amsonia hubrichtii, planted next to it and they colored up together and looked wonderful. The katsura really does smell sweet when the leaves turn. The scent lasts for quite a while, too."
-Lucy Goszkowski, Annapolis, Maryland
"I had read that its foliage smells like cotton candy as it turns orange in the fall, so one autumn day, as I entered the woody plant gardens on a visit to the Biltmore estate, I knew immediately what to look for when that amusement park scent hit my nose. I ran until I saw it, glowing and gorgeous. I stuffed handfulls of the leaves in my pockets to sniff as I toured the rest of the grounds."
-Carol Reese, Jackson Tennessee
"It has a wonderful fragrance in the fall as the leaves are turning."
-Lynn S. Pennett, Downingtown, Pennsylvania
"A great tree!"
-Kirk Himelick, West Chester, Pennsylvania
"They are so graceful and beautiful when they mature. There is an allee of them at Regis College that is just gorgeous!"
-Kath Holland, North Easton, Massachusetts
"Katsura is a lovely, graceful tree in either its standard form or the weeping variety, with especially nice fall color. I've planted a few of them through the years. Underused in my opinion."
-Anonymous
Contest Rules
The winner will be chosen at random from all correct entries. The correct answer and winner will be announced on the following eLetter's contest page. In the event there is no correct response, no prize will be awarded. The Taunton Press is not responsible for system breakdowns or lost emails.
This contest is open to legal residents of the 50 United States or the District of Columbia who are 18 years of age or older. Employees, officers, and directors of The Taunton Press, its subsidiaries, affiliated companies, dealers, advertising and promotion agencies, their respective employees, officers, directors and agents, and those associated with the development, distribution or implementation of this Contest, their immediate families (including parents, in-laws, siblings, children or spouse, regardless of where they live) and members of the same household, whether related or not, are not eligible to participate. VOID WHERE PROHIBITED. Winners agree to allow The Taunton Press to use their name in conjunction with this contest and subsequent promotion.
Prize: The winner will receive a free year of Fine Gardening magazine. If the winner is a current subscriber, a year will be added to his/her subscription term. The prize is non-transferable, and no cash substitutions will be made. The total value of this prize is $29.95. All taxes are the responsibility of the prize winner.