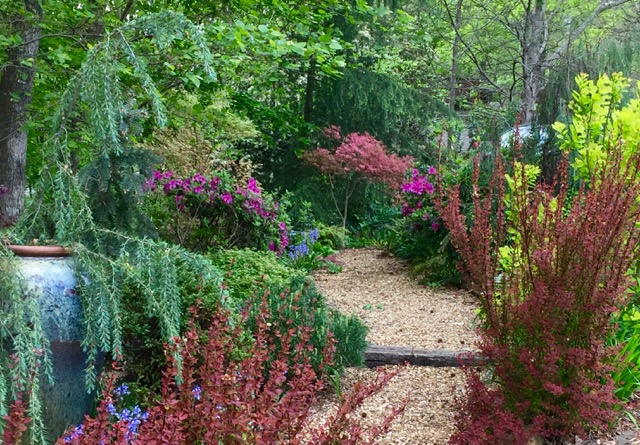 Jay "Juxtaposition" Sifford shared some fresh photos of his Charolotte garden.
"I took these photos of my garden in Charlotte, North Carolina, on April 7. The foliage color and texture, along with the form of the plants make me want to celebrate nature exuberantly in a way that flowers alone cannot do. My garden is primarily a collector's garden, which can be tricky at best, as beautiful specimen plants can easily look like cans of green beans lined up on a grocery store shelf. I've found that the key to making a garden like this work is by thoughtfully employing the concept of juxtaposition. I kid with my clients and gardening friends that Juxtaposition is my middle name. To me, juxtaposition is comprised of four components: size, shape, color and texture. Closely matching all four of these is too "matchy matchy" and reads and boring and contrived. Matching none of these looks like someone went to a big box store sales rack and loaded up a mini-van. But matching two and varying the others creates diverse interest with enough continuity to hold the composition together. At least this is what I've endeavored to do in my own garden, which is part therapy, part experiment, part composition and total escape."
Have a garden you'd like to share? Please email 5-10 photos and a brief story about your garden to [email protected]. Please include where you are located!
Have a mobile phone? Tag your photos on Instagram or Twitter with #FineGardening!
You don't have to be a professional garden photographer – check out our garden photography tips!
Do you receive the GPOD by email yet? Sign up here!