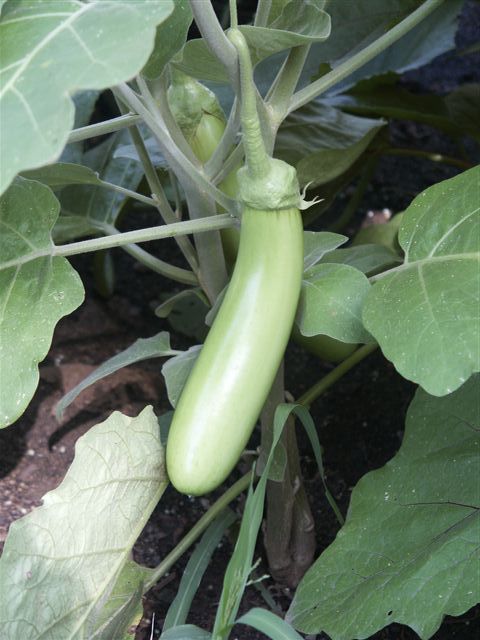 I like eggplant because it is peasant food. It is the simple kind of food that can be prepared in many ways and is so good to eat when just harvested from the garden. Although Solanum melonga is believed to have originated in Asia, it is used in cuisines throughout the world. The Mid-East has its famous Babaghanoush, while the Orient offers us its sweet and sour eggplant, pickled eggplant salads, and stir-fried eggplant. I think of eggplant with the foods of the Mediterranean such as olive oil, olives, tomatoes, garlic, and herbs. Dishes like Ratatouille from the French, and of course Italian recipes of Caponata and Melanzane di Parmigniana are perfect combinations of eggplant with these ingredients. Recently, in Greece I had eggplant baked, rolled with cheese, in salad, in spreads and dips–and they were all simply scrumptious–there is nothing like garden-fresh produce at its peak!
Nowadays, eggplants come in a rainbow of colors from the familiar dark purple, to lavender, purple and white striped, white, to green-striped, orange red, and even rose. The shapes vary from the large globe or pear-shape, to elongated, slender and narrow, and round about the size of a tennis ball. The season for eggplant is from midsummer to early fall. Choose eggplants that are shiny and firm and they should be sweet tasting and mild in flavor. Eggplants are best used within a day or two of harvest. They are best stored at 50° F. For longer storage they can be stored in the crisper drawer of the refrigerator and definitely should be used within 5 to 7 days.
It is not necessary to peel eggplant unless you plan to puree it or make soup. Eggplants can be baked, braised, breaded, fried, grilled, roasted, and sautéed. Since eggplants absorb a lot of oil when they cook, I tend to bake, grill, and roast them, which are methods that use the least amount of oil. Covering them with batter or breading them also reduces the fat absorption.
The large purple eggplants can be cut into thick slices for grilling or baking and used for casseroles and gratins. Roasted, they yield a soft flesh that is good for soups, dips, and spreads. The egg-shaped white, striped and lavender varieties which have a milder tasting flesh and are slightly sweeter in taste are paler in color when used in soups and dips. The long slender Asian and Italian varieties are wonderful sautéed and used in stir-fries. I prefer the round, Turkish red-orange variety and the green-striped when marinated and grilled or baked and tossed in a salad with a vinaigrette.
Try the recipe for Greek-Style Eggplant Spread.