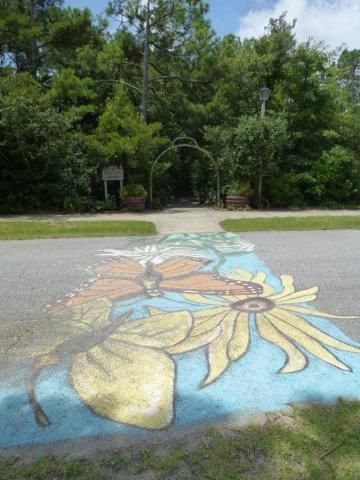 Whether we are home working in our gardens or driving down the road on vacation, garden bounty abounds. Enjoy the abundance and celebrate the flavors of summer. We are eating from the garden daily, enjoying summer berries, melons and stone fruits from the farmers' markets and roadside stands… and when there is time, preserving the harvest.
Just back from family vacation in the Outer Banks. I love the beach and the way plants adapt to surviving in the hot weather and dry sand. My favorite plants there are the sea oats (Uniola paniculata), smooth cordgrass (Spartina alterniflora) and beach grasses, which actually hold the dunes in place, the pennywort and the bright-colored blanket flower (Gaillardia pulchella). The sea and sound life are fascinating–we saw porpoise, turtles, snakes, skate, gulls, egrets, herons, geese, ducks, kingfishers, and the amazing pelicans–and horsehoe, blue, fiddler and ghost crabs.
On my way home, I stopped by the Outer Banks Arboretum and Teaching Garden in Kill Devil Hills, NC. It was a Sunday morning and I was the only human there so I had it all to myself. Though fairly new and small in size compared to some of the huge arboretums, it was educational and I saw and learned about plants. There is a native plant garden with the aforementioned favorite plants and more; there is a display garden with herbs and groundcovers, a butterfly garden and then an old section, which is full of conifers and decidious trees and all sorts of interesting understory shrubs and vines.
When I entered the arboretum full of old, shade trees, the temperature seemed to drop 10 degrees and the air was moist; it was quiet, cool and otherwordly. There were absolutely gorgeous, old live oaks and longleaf pines adorned with Spanish moss, palmettos, bayberry, azaleas, rhododendrons, and hydrangeas. Best of all, I got to photograph a red bay (Persea borbonia) in real life instead of looking at in a book. If you are visiting the OBX, stop in and take a look… it isn't big… however it is worth a walkabout. https://dare.ces.ncsu.edu/outer-banks-arboretum-and-teaching-garden/
On the way home, I stopped for Currituck Sound peaches and North Carolina just-picked tomatoes, corn and cantaloupes. With my own garden squash, garlic, onions, beans, okra, and herbs, we have been eatin' real good! First tomato sandwiches of the season–mmm-mmm good. Peach and blueberry smoothies for breakfast, tomato sandwich for lunch and garden veggies with fresh herbs for supper–what more could a body want?
Home after just a week vacay, the garden has grown in leaps and bounds (the weeds also) and is lush and green and nearly jungle-like. Harvested garlic before leaving and the onions upon return. Be sure to clean off the soil from your allium bulbs; cut the stems off–especially if they are moist or moldy; and put them in a shady place with good air circulation to cure the skins. Allium skins need to be dried before storing, so they don't mold. I let them sit for about two weeks before storing them in net bags in my cold room.
I will be doing two more herb/work-related road trips this summer, one in July and the other in August. Next week, I get to drive from Maryland to Tennessee–down through the Blue Ridge and the Appalachian Mountains to the Smokies–where I will be attending and presenting at the International Herb Association Conference in a little town called Townsend, where the hotel windows open and overlook mountains and trees. It is a gathering of herbies, who make a living from herbs–be it shops, farms, nurseries, teaching, writing, etc. check it out at www.iherb.org. We will have field trips and an array of speakers, auction, and Otto Richter Memorial Awards Dinner, and mostly fun, getting together with like-minded people.
Last yet not least, is the 26th Women's Herbal Conference, which is my favorite annual gathering. I will be teaching three classes there this year: Elder, Herb of the Year 2013; The Creative Herbal Home with co-author Tina Marie Wilcox; and Hot, Hot, Hot: The Capsicums. It is at Camp Wicosuta in Hebron, NH, August 23 to 25th and it is a wonderful event with 500 women camping and staying in cabins and amazing classes. www.womensherbalconference. 
In between, these exciting events, I will be in the garden–weeding, watering, harvesting, cooking, taking photos, writing about it all and perhaps laying in the hammock, occasionally. Keep cool and drink lots of water! Be sure to fill the birdbath and leave fresh water out for your pets everyday.