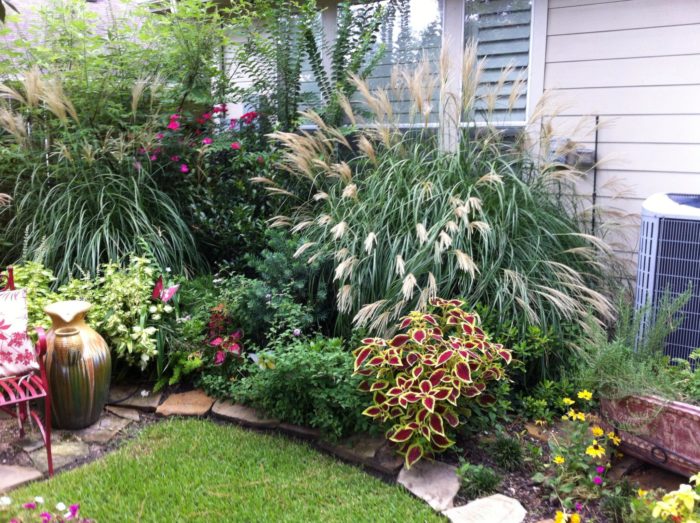 Today's photos are from Sue DeRoche in The Woodlands, Texas. She says, "My sweet friend Jerry & I went on a vacation up the East Coast & into Canada for 3 months in 2011 to escape the hot summer here. When we returned I was sooo glad to be home & the following morning I told Jerry that I have been everywhere and seen everything and I just don't want to go anymore.
I informed him that I was going to expand the patio and add an outdoor kitchen and fire pit, and have a garden retreat built with fountains, large boulders, and tons of plants and trees that bloom. I proceeded with the project starting in November 2011 and completed everything in March 2012.
The very first year, in June 2012, we won 1st place in the Home & Garden show in our area. I am so amazed and thankful for what I see, feel, and smell every morning as I head outside with my cup of hot tea into the beauty in our private paradise. I have loved flowers and plants my entire life and can't imagine life without them. We have birds, bees, and butterflies enjoying this with us also.
The plants in our gardens are just about everything. We have dwarf gardenias, dwarf bottlebrushes, pittosporums, agapanthus, bird of paradise, irises, society garlic, daisies, dianthus, colossus, impatiens, lantana, foxtail ferns, many Knockout roses, decorative grasses, red sisters, petunias, snapdragons, pansies, alyssum, two crape myrtle trees, two Bradford pear trees, one redbud tree, one Japanese blueberry tree, one holly tree, one purple plum, and two vitex trees, one 'Little Gem' magnolia, sweet olive bush, butterfly bushes, honeysuckle vines, jasmine vines, Texas deep throat vine, and many more that I simply cannot put a name to.
If there is an opening in any bed, then I add a flower. Almost everything blooms at some time of the year so I always have the beauty of flowers."
Wow, Sue, you've done a LOT in 3 years!! What a flower-packed, personal garden! It's true that making your home and garden your personal haven makes coming home even sweeter. Thanks for sharing!
Help me keep kicking out posts all winter long–send me photos of your gardens NOW! Email me at [email protected] Thanks! –Michelle
Want us to feature YOUR garden, or a garden you've recently visited, in the Garden Photo of the Day? CLICK HERE!
Want to see every post ever published? CLICK HERE!
Want to search the GPOD by STATE? CLICK HERE!
And last but not least, Check out the GPOD Pinterest page, where you can browse all the post in categories…fun! CLICK HERE!