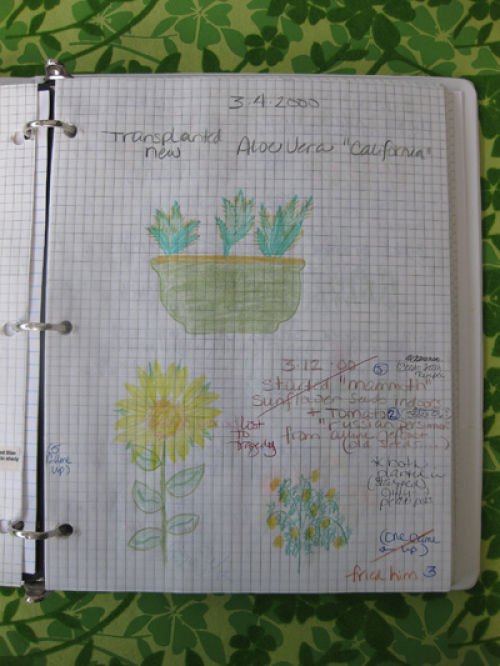 I think any day is a good day to start a garden journal. Still, deep winter is perfect because you can start at the very beginning of the growing season and warm up to keeping record of your gardening experiences.
Most places in the winter are barren enough to let you see the bones of the garden, which gives your mind a clean slate to play with. This shows you what areas may need more plants, or better design. For me, it shows any possible area that I can squeeze in one more vegetable bed or another flower variety to attract pollinators.
A garden journal isn't just about the plants in your yard or garden; far from it. It's a memory book of you and what's in your life at this time. Looking back at it years from now will bring back what was in your life (and on your mind) at that time. I found one of my garden journals from the year 2000 the other day and cracked myself up.
There's one place where I documented in brown pencil that I planted "Mammoth" sunflowers. A few months later in red ink the section is crossed out with one line and it reads, "lost to tragedy". Right below that, I tried planting a tomato called "Russian Persimmon" from seeds I'd collected four years earlier. One came up. But even that one ended up being crossed out with the words, "fried him". Seriously entertaining.
Don't let me give you the wrong idea; there are many successes in there, too. And although I haven't missed any ethereal calling as an artist – I can recognize all the plants from my drawings.
What You'll Need:
Binder – I like the kind with the clear window slip on the front for decorating purposes.
Lined paper
Graph paper
Blank paper
Lots of colored pencils – every color you can find
Paper pockets – could be the pocket dividers or whatever is available.
Inside the Garden Journal
Some things you'll keep track of naturally in the journal like the species you plant and their varieties. Where you plant them may also seem an obvious note. But here are some other specifics to think about.
Frost dates for your specific zone.
Pictures of your garden or plants.
Pests you've found hanging around.
Pollinators that are around, as well.
Notes on other wildlife you may spot in your yard or garden.
The day you divided perennials
Describe the soil. Good loamy stuff? Or is it a work in progress? Raised beds or posts?
How each plant did in your yard. If you had crops – did they taste good and perform well? If you had flowers – did you like the blooms and were they long lasting?
Don't forget to have a page in there for a Garden Wish List!
How to Keep a Garden Journal
You'll need the biggest assortment of colored pencils that you can find, because you'll be drawing. Oh, yes you will – it's one of the rules of garden journal keeping. You don't have to know "how" to draw – we're not looking for Monet, here. No one will be looking in your journal but you. The idea is to give your memory as many reminders as possible about what you loved and grew. So, draw your Heavenly Blue morning glories the best you can and use your colored pencils to make them a rich, vivid blue. Draw what's in your garden anywhere and everywhere in your journal.
The pockets come in handy for receipts on garden purchases, pictures, seed packets with seeds still inside. You can also tape seed packets inside the journal so you can refer to them during the growing season.
Use the graph paper to draw the shape of the garden or areas in your yard. Just eye it – I don't want to catch anyone out there measuring for correct scale! This is art time; there's only room for the creative mind in the garden journal.
The lined paper is to keep record of the dates and the descriptions of what was planted. Describe them in detail. How tall they'll be, what color, and so on.
The blank paper can be for free drawing, or cutting and pasting idea from magazines and other sources. I have all kinds of great snippets glued or taped inside my journals. It's also a place to tape pictures of your garden and plants; successes and failures. If you have favorite quotes or sayings…the garden journal could use a sprinkling of those throughout. I don't even have to remind you to make it yours – if you've done any of these things in your journal – it's already yours.
Throughout the months, go back and add notes about some of the things planted, or ideas you tried. Did that heirloom pumpkin do well in your garden? Did the new tomatoes taste good? Did some things bite the dust before you could enjoy them?
Over time, you'll find that your garden journal is not only a wonderful scrapbook of you and your garden, but it also becomes a valuable personalized tool for your future gardening endeavors.