Gardening can be addictive. It's not unheard of for obsessive gardeners to keep at it until they look up and realize
they may need a flashlight to find their way back to the patio. It's at this moment that we should all stop, take a deep breath, and look around at what we've accomplished. It's a time to reflect and relax, and perhaps share your space with friends and family.
 Take a break, and spend some time enjoying your garden when the sun goes down. You might notice that your garden is a different world at night, when the insects and moths come out, an occasional bat swoops low, and flowers start to emit heavenly scents. You might think that it would be hard to appreciate your garden in
the dark because most of a garden's beauty is visual. But with a few tweaks, you can make it a sensory experience that combines sight, sound, and scent. After all, when one sense is diminished, the others are heightened.
Sight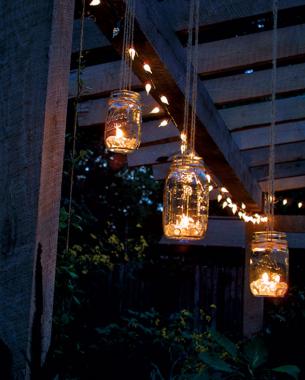 At night, it's all about amping up the ambience. Enhance the mood of mystery by playing up shadows and reflections.
 
Install romantic lighting. For a perfect glow, use low-voltage lighting to softly illuminate walkways, and add subtle uplighting to highlight bold forms of trees and shrubs. String twinkle lights on your pergola or arbor for simple charm, and light candles in weather-resistant lanterns for a gentle, flickering light show.
 
Reflect the light. A well-placed gazing ball will multiply candlelight and fairy lights for a dazzling effect. Hang a mirror on a nearby fence or wall to reflect romantic lighting. Incorporate plants with white blooms and silvery foliage in your beds; they will add depth as they glow in the moonlight.
 
Create contrast. In a dim garden, bold forms and textures stand out. Plant distinctively shaped shrubs, trees with sinuous branches, and large-leaved perennials near seating areas, and feature bold artwork within sight of your evening hangouts.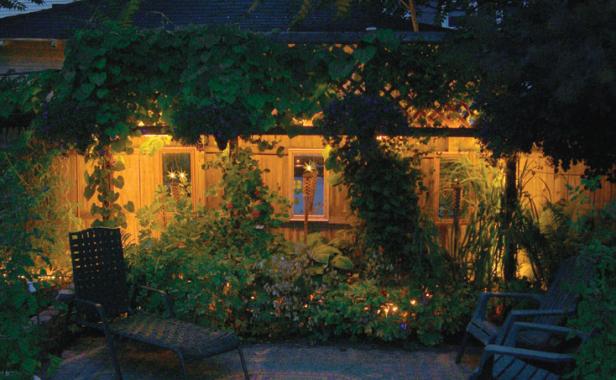 Sound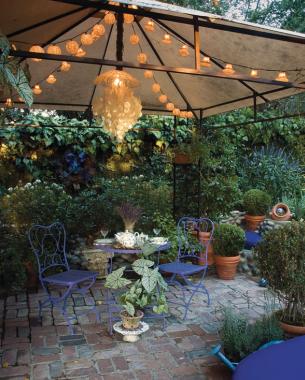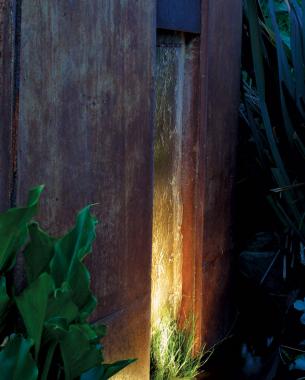 Sound can soothe or energize. It can tell a story and give a garden dimension beyond the visible size of a space.
Add a bubbling water feature. Nothing is more soothing than the sound of a gurgling fountain. It also masks the sounds you don't normally pay attention to in the daytime, such as traffic and neighbors' conversations. For added "wow" factor, incorporate a lighting element to showcase your water feature.
 
Install outdoor speakers. Background music has a place in the garden, especially when entertaining. Install speakers that are small and incon­spicuous or ones that are disguised as stones, which you can incorporate on your patio or in your garden beds.
 
Hang wind chimes. Whether big and deep toned or small and musical, wind chimes offer an ever-changing sound track on a breezy evening. This wind-chime chandelier sings and sparkles at night.
Scent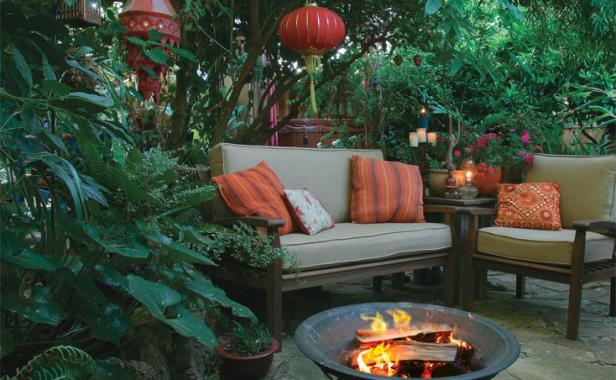 Scents can evoke memories and make new ones. Choose yours wisely because they will be even more noticeable in the dark.
 
Choose plants with fragrant blooms. There are many plants that only begin to smell intoxicating as the sun goes down (Brugmansiaspp. and cvs., Jasminumspp. and cvs., Ipomoea alba); site them near a seating area for maximum enjoyment. Or cut a bouquet of fragrant flowers from the outer regions of the garden, and display them near your evening lounging spot.
 
Cook and dine outside. The only thing that trumps the comforting aroma of apple pie baking in the oven in fall is the inviting scent of steaks cooking on the grill in summer. Preparing food outside will always draw a crowd to your outdoor space.
 
Light a fire. Nothing is as romantic as candlelight. Burn a fresh-smelling citronella candle to set the mood and keep the bugs away. For family fun, pretend you're on a camping trip, and light a fire in your fire pit; your outdoor space will flicker to life at night.