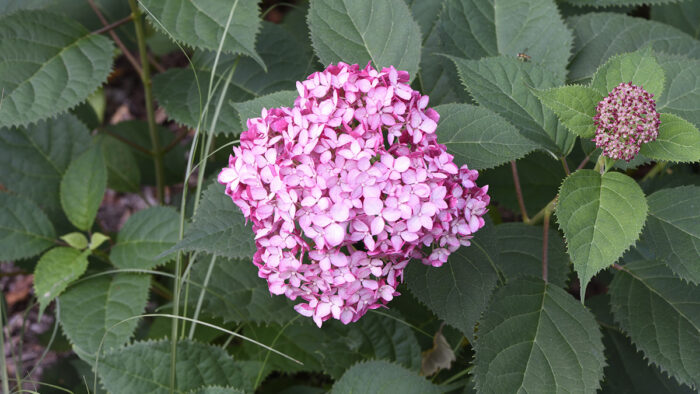 Summer in the Mid-Atlantic can be hot and somewhat devoid of flowers after spring blooms fade. However, hydrangeas (Hydrangea spp. and cvs., Zones 3–9) are just showing their bold flowers as summer begins. These ubiquitous summer-flowering shrubs can be seen in almost every garden in the region, and rightly so. With so many cultivars available, it is hard not to find the perfect selection for your Mid-Atlantic garden. While mophead hydrangeas (Hydrangea macrophylla, Zone 4–9) have always been popular, native hydrangea cultivars haven't been as prevalent, although this is beginning to change. Fortunately, with increased availability, gardeners can add a variety of tough but beautiful nativar hydrangeas to their gardens.
The two species of hydrangeas native to the Mid-Atlantic are oakleaf hydrangea (Hydrangea quercifolia, Zones 5–9) and smooth hydrangea (Hydrangea arborescens, Zones 3–9). They can be found growing naturally in woodland areas along the East Coast. In addition, there are some fantastic selections that gardeners can grow at home.
The best smooth hydrangeas for the Mid-Atlantic
Smooth hydrangeas can tolerate full sun to partial shade. If planting your smooth hydrangea in full sun, be sure to give its roots enough water, as the foliage will tend to drop with constantly dry soil. The flowers on the straight species of this hydrangea are white, but there are some stunning selections with pink or red flowers.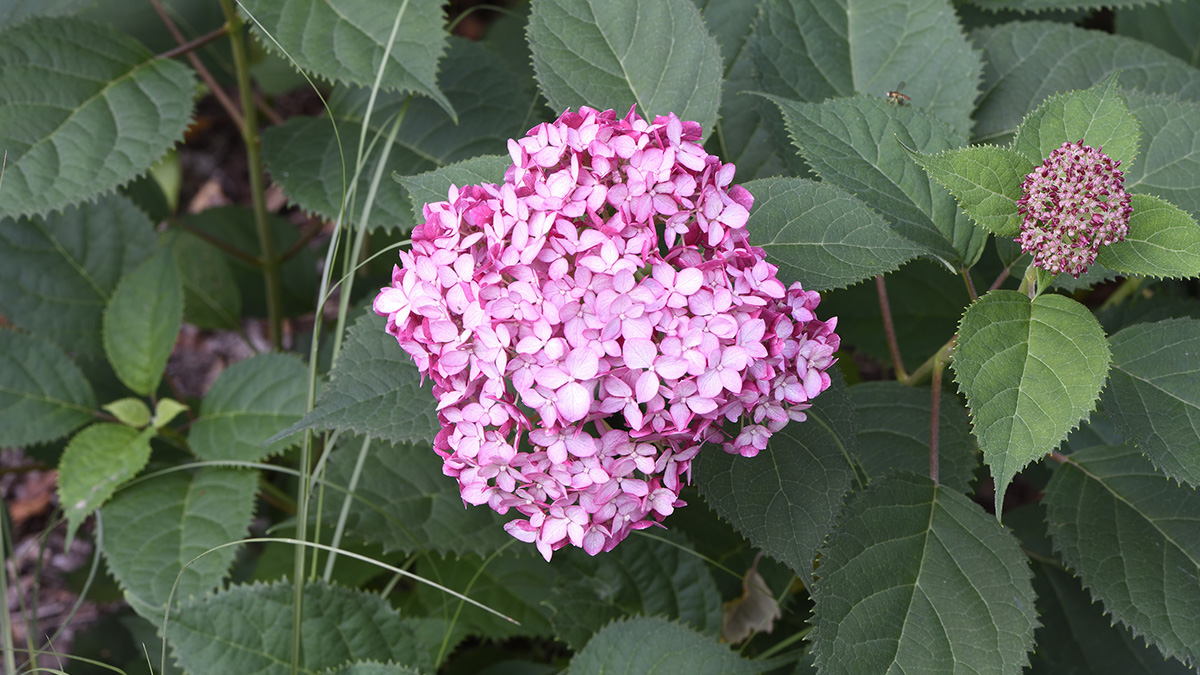 Invincibelle® Ruby smooth hydrangea
H. arborescens 'NCHA3', Zones 3–8
Instead of the common white smooth hydrangea flowers, this variety begins the season with rich maroon flower buds that open to red-tinged flowers. This cultivar reaches 3 to 4 feet tall and 2 to 3 feet wide and does best in at least six hours of sun. Be sure to add some mulch around the base to keep the moisture levels up. Prune it in spring to about one-third of its height for optimum bloom.
Invincibelle Mini Mauvette® smooth hydrangea
H. arborescens 'NCHA7', Zones 4–8
With a deep purple hue, Invincibelle Mini Mauvette® flowers are a stunning addition to the garden. A Proven Winners selection, this hydrangea boasts wonderful cold hardiness that not all smooth hydrangeas can achieve. Reaching just about 3 feet tall and wide, Invincibelle Mini Mauvette® will rebloom in the fall.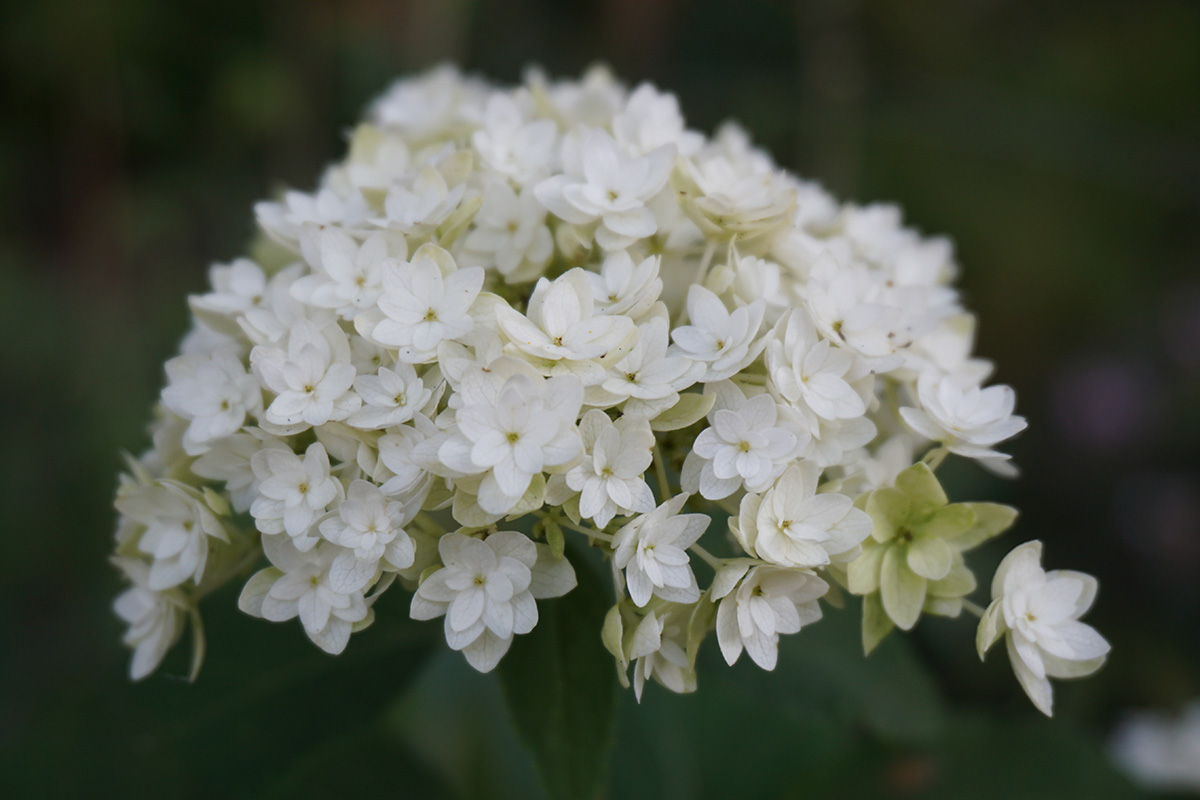 'Hayes Starburst' smooth hydrangea
H. arborescens 'Hayes Starburst', Zones 4–8
Want a classic white-flowering smooth hydrangea? 'Hayes Starburst' is a compact smooth hydrangea with the white flowers gardeners know and love. However, the flowers are dome-shaped with star-shaped florets. Growing only 2 to 4 feet tall and wide, this shrub performs best in partial shade, as it tends to defoliate in hot, dry soil. Prune any damaged or dead stems in late winter or early spring for an optimal flower display.
The best oakleaf hydrangeas for the Mid-Atlantic
Oakleaf hydrangea's unique foliage makes it a wonderful shrub. It will grow in full sun to partial shade. Blooming into the fall, the foliage tends to turn a beautiful burgundy color as the cooler temperatures arrive. As with all hydrangeas, keep its feet moist and cool, especially when it's planted in full sun.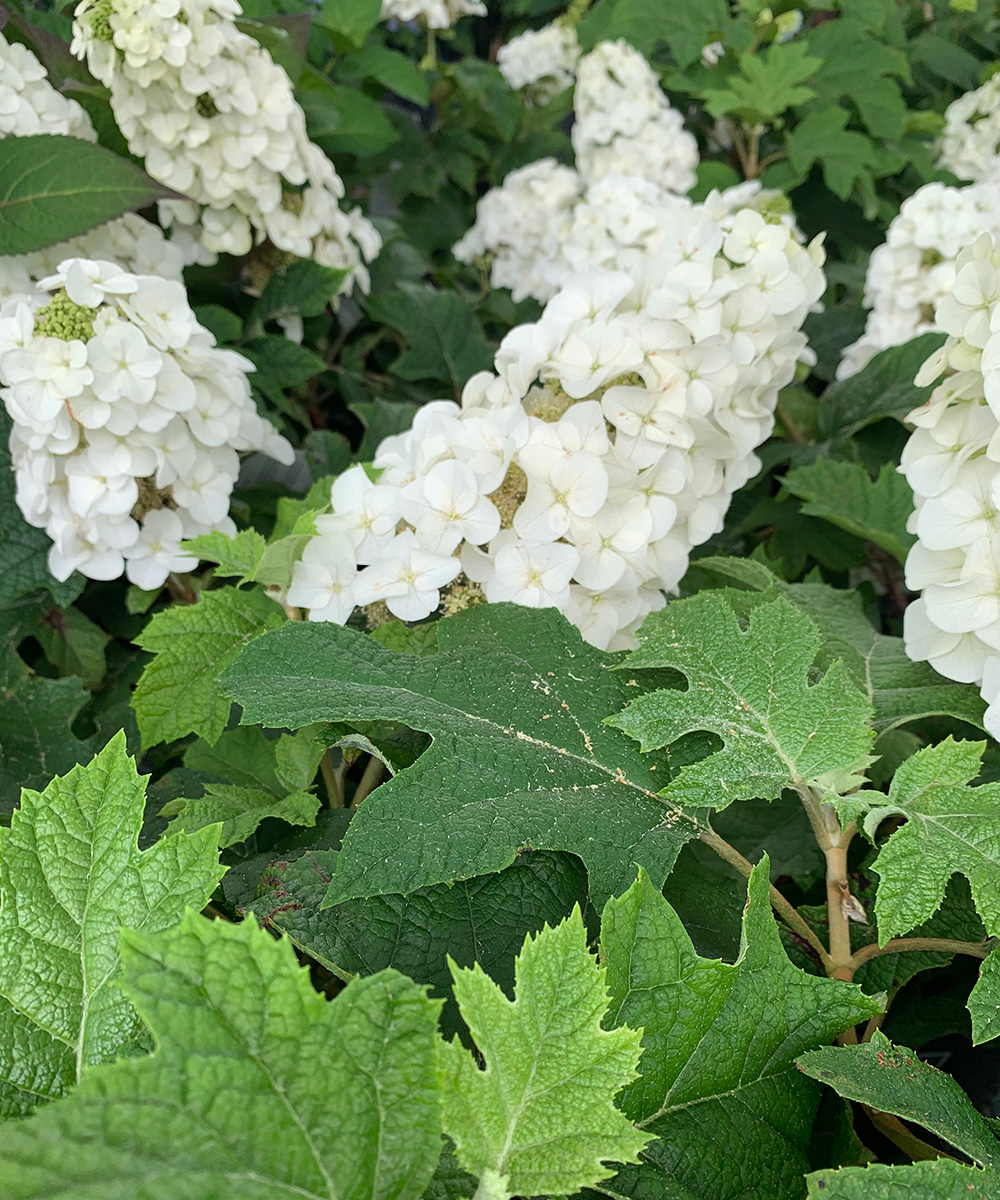 Jetstream™ oakleaf hydrangea
H. quercifolia 'PIIHQ-I', Zones 5–8
Not your typical oakleaf hydrangea, Jetstream™ reaches up to about 6 feet tall and 5 feet wide. Its white flowers gradually turn light pink; the mature flowers contrast wonderfully with dark, wine-colored autumn foliage. First Editions introduced this plant as a dense, more compact version of the straight species with resistance to leaf spot.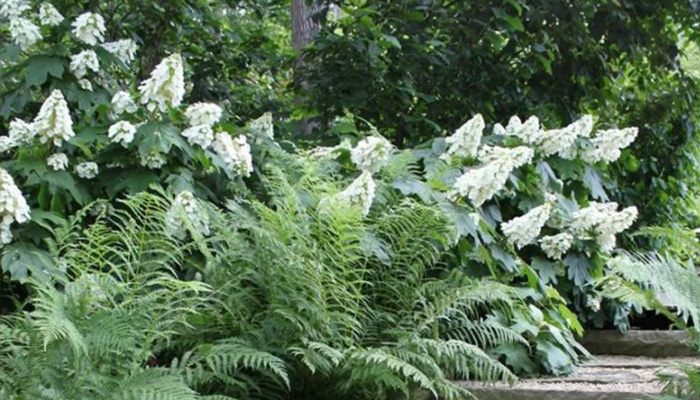 'Alice' oakleaf hydrangea
H. quercifolia 'Alice', Zones 5–9
A tried-and-true cultivar introduced by Michael Dirr through the Georgia Plant Introduction Program, this large (5 to 12 feet tall and 5 to 8 feet wide) shrub has beautifully arching panicle flowers atop deeply lobed foliage. The blooms fade to a light pink upon maturity, and the fall foliage color is spectacular. It ranges from bronze to burgundy to purple. This selection is also resistant to leaf spot and looks fabulous all season—just make sure there is room in the garden, as it gets almost as wide as it gets tall.
For more recommended varieties of smooth and oakleaf hydrangea, check out these:
—Michele Christiano has worked in public gardens for most of her career. She lives in southern Pennsylvania and currently works as an estate gardener maintaining a private garden designed by Piet Oudolf.