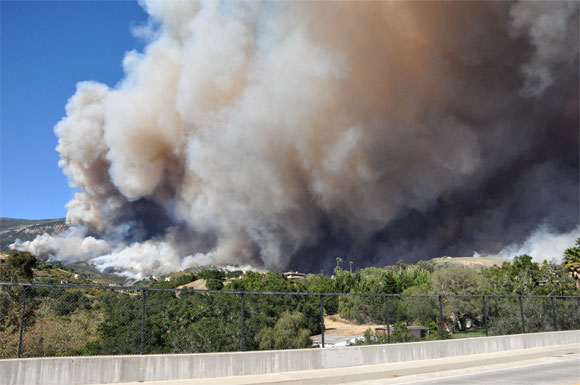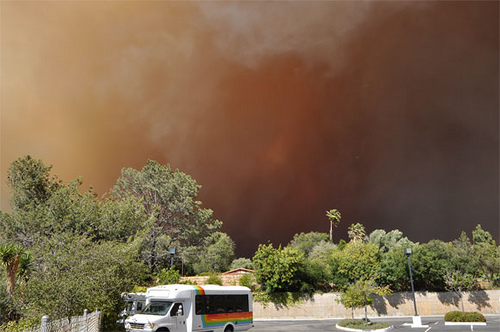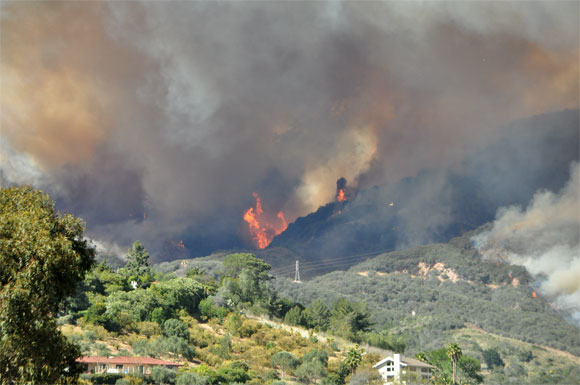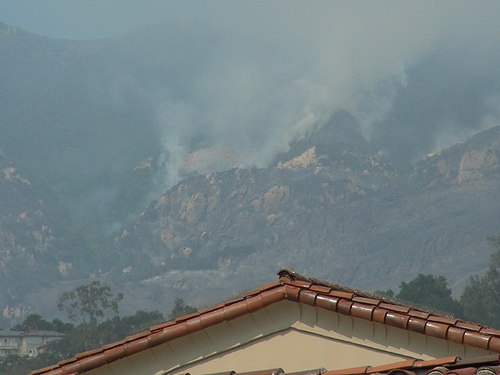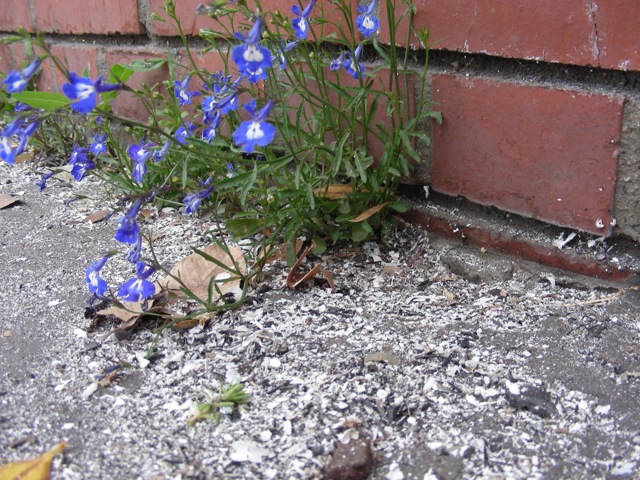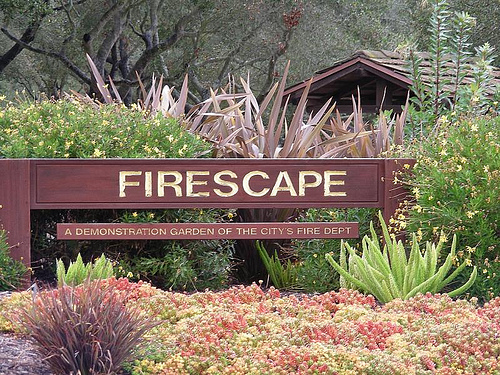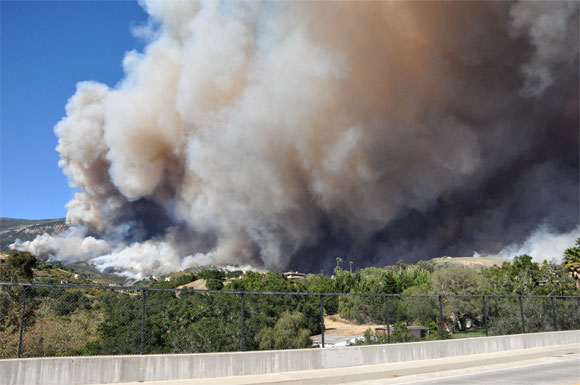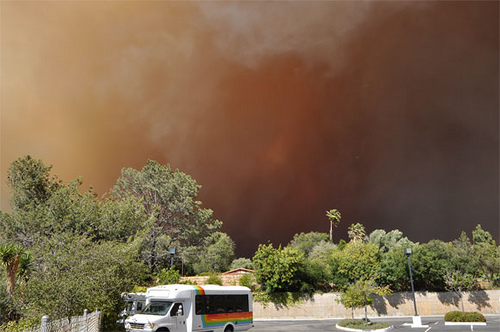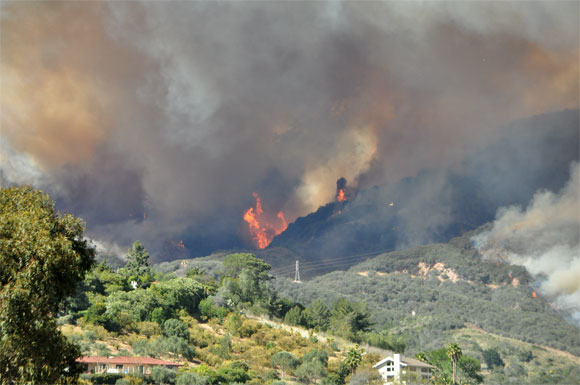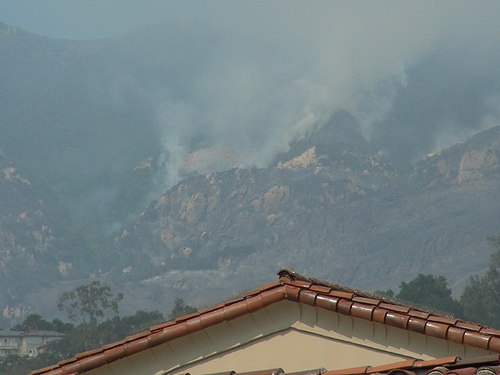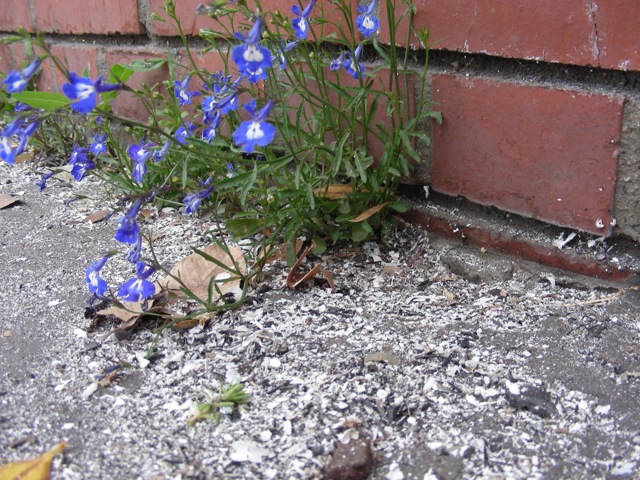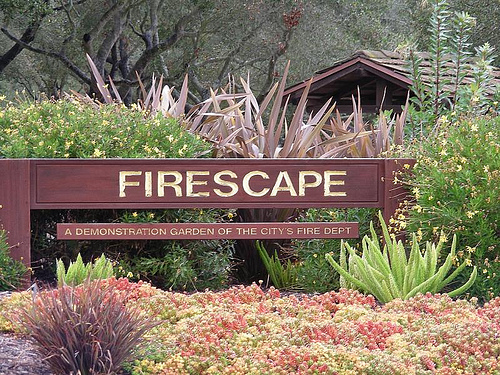 Picture an idyllic garden photograph we've seen a hundred times: An old garden bench half-obscured by rambling nasturtium, paint flaking from the bench's dry wood onto the mossy ground below.
Now imagine discovering that the white flakes–some the size of a child's hand–aren't paint chips. They are ashes, delivered by Santa Barbara's hot, dry winds screaming down from last week's Jesusita inferno.
The windblown ash infiltrated every nook and cranny in town. Delicate blue lobelia flowers were not immune.
As a Santa Barbara city employee, I get pulled in to work logistics whenever there's a major emergency. At 8 a.m. last Friday, I had returned home from a graveyard shift at the operations center. My car, driveway, porch and plants were covered with a thick, acrid layer of ash. Inside my house, brown grit infiltrated upholstery, counter tops, floors, even toothbrushes.
"I'll just sweep the front porch and keep this crap from tracking in on our shoes," I thought.
The next thing I knew, I was halfway down the driveway, sweeping as gently as I could, coaxing the mess into planter beds. There was no way I was going to start hosing down the pavement. Water was needed to fight the fire, which had consumed 75 homes and caused the evacuation of one-third of the community.
At the Firescape Demonstration Garden, Sedum rubrotinctum is a colorful groundcover. Phormium 'Jack Spratt' (front left) and Protoasparagus 'Myers' (back) add vertical accents. Behind the sign, Phormium 'Dark Delight' reinforces the strong coppery foliage while Euryops pectinatus viridis brings cheery yellow daisies to the composition.
As I swept, a wet bandanna over my smudged face, a thought came to me: The white flakes I was cursing were the remains of not only the tough chaparral that was fueling the blaze, but probably the walls, furniture, and possessions of families whose homes were now smoldering memories.
Now it's Tuesday, a week after the Jesusita fire erupted. A few statistics:
– 3,000 emergency personnel are still working the fire
– 28 firefighters have been injured
– An estimated $12.2 million dollars have been spent to protect life and property
Statistics help to quantify some aspects of the fire, but how do we absorb and process the wrenching, life changing effects?
While the fire roared across the sun-baked Santa Ynez Mountains, I thought about the City of Santa Barbara's Firescape Demonstration Garden. The twenty-five year old garden occupies 1.7 acres and is located across the street from the Stanwood Drive firehouse, which has seen a lot of action recently. The Firescape Garden was the brainchild of a few dedicated horticulturists and fire experts who wanted to teach homeowners how to create landscapes that would make homes safer in the event of wildfire. One of those people was Owen Dell, my co-host on Garden Wise Guys, an educational and quite silly regional public TV show. Owen and I write and "act" (apologies to Sir Guilgud) in the 30-minute program sponsored by local water agencies. Last year, Owen and I redesigned the garden and then used it in the show to teach locals about fire safety. Episode six is the first of four shows with segments about landscaping in high fire areas.
If you're interested in learning about creating a safer landscape around your home, click through to the next installment of this blog post. You'll learn how to create specific zones of planting that help take the energy out of an approaching fire. I've also added a few links for more detailed information.