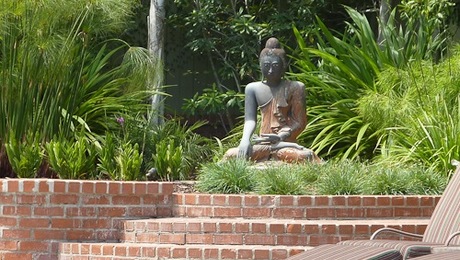 In part one of this article (read it here), I introduced you to a not uncommon situation I've encountered in my design work: the "Women Are From Venus and Men Are from Mars" dilemma that occurs when partners have differing opinions about garden styles.
My long-term Santa Barbara clients, Jessie and Tim, had recently moved into a new home with a garden that was conveniently separated into two large areas that could not be seen at the same time. And it's a good thing, because her ideal garden fell along the lines of informal "cottagey" beds of color. Working with the bone structure of the garden we inherited, I think I did a pretty good job of making Jessie a very happy lady.
And him? Let's have a look at how I met Tim's desire for a very different vibe…
…Don Draper at the Beverly Hills Hotel for Him
I'm perfectly happy designing traditional gardens, but when we got to the back yard, my pulse raced. Although the plantings they inherited from the last owner was a bit of a hodgepodge, there was also a decidedly Mediterranean plant palette that inspired me. Tim and I riffed on the idea of a bold, mid-twentieth century modern look for the area around the swimming pool, with a side order of Asian-influence to complement the Buddha statue that adorned the covered fireplace terrace of their last home.
| | |
| --- | --- |
| | |
We did another round of remorseless plant demolition while sparing the lives of various palm trees (and "borrowing" the skyline palms of the neighbors) and a striking tree aloe (Aloe barberae, formerly A. bainesii). The pool deck sits above a spacious lawn surrounded by tree ferns, large rhizomatous begonias, variegated New Zealand flax and giant New Guinea impatiens. A broad set of brick steps connects these spaces. The transition needed to be flanked with something boldly exotic – sentinel plants acting as a portal to this lounging and entertainment area.
| | |
| --- | --- |
| | |
The star players in the two matching beds (the owners think it looks like a coral reef) are felt elephant ear (Kalanchoe beharensis). The leaves give it its name – blue-grey, fuzzy undersides and cocoa-colored tops, with a crisp wavy edge that make it an otherworldly stand-out. In a few years, when the Kalanchoe spreads its canopy overhead, the bluish fan aloe (Aloe plicatilis) will be reaching chest high, along with the soft, grassy texture of chartreuse-foliage New Zealand Flax (Phormium 'Duet'). Below, chunky, succulent Aeonium canariensis amps up the visual texture.
Buddha Becomes the Focal Point
The other sweet spot adjacent to the pool is the new home for Buddha. All the brick paving was removed making space for a lush jungle of Mexican weeping bamboo (Otatea acuminata 'Chico'), papyrus (our one thirsty plant), palm grass (Setaria palmifolia), and for a splash of color, purple cane orchids (Epidendrum 'Purple')
So what's the point for my loyal readers who stuck it out and read this article to the end?
The point is, there's no rule, no committee from the Taste Police who require that once you commit to a particular style in one part of your garden, you have to expand that style to fit your entire property. If Disney can put Fantasyland shouting distance from Tomorrowland, then why can't one partner have their native woodland ferns residing on the same property as the other's Japanese-inspired gravel garden? The challenge, though, is assuring that the final outcome doesn't look like ten different committee members did their thing without talking to anyone else on the crew.
My advice? It's the same as any counselor would suggest: Set aside a quiet weekend evening, pour a glass of your favorite libation and talk it through.