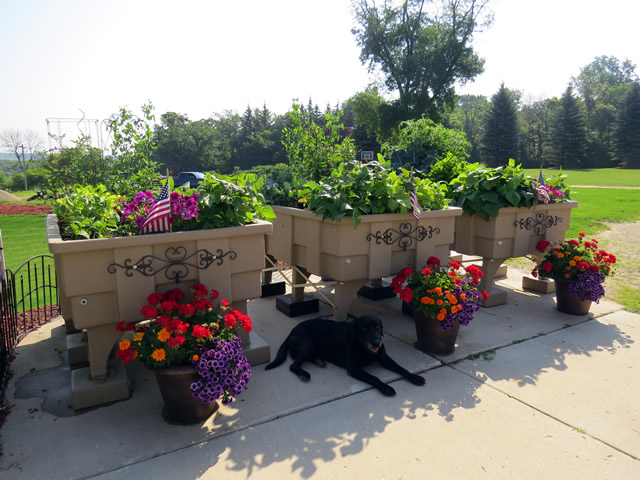 Kathy Riesterer from Wisconsin, has bridged the gap between the busy living we all experience, and vegetable gardening.
"Growing up on a family ranch in Montana gardening was a summer hobby my mother and father enjoyed. It was a large garden that had to be rototilled about every two weeks. Maintenance was key to keeping it weed free and growing beautifully. Those were the days! The lazy days of summer!
Fast forward to the now: raising my children on a small acreage in Wisconsin I thought I am going to do the same. Then came soccer practice, football camp, 4-H camp and projects, summer school and summer trips, and then on to baseball practice and teenage jobs, to "mom I need to hang with my friends," and that is just a touch of what occurred over the years.
Busy lives with active, working kids and parents that try to add a vacation or two in the mix leaves little time for weeding and maintaining a garden. This is why I garden with a unique, raised gardening system; it is a self-watering garden bed that allows me to leave it when the schedules get busy. My husband actually designed and created this system in the 90's after his grandmother stopped gardening due to the strain it caused her back, but with a raised garden bed she was able to get back to what she loved without the pain of bending over.
My children were raised with gardening and because of that they also love to garden and appreciate the opportunity our gardens give us to bond, learn and grow together. It IS the reason I garden. Love my gardens! I hope you enjoy the photos. All the amazing and delicious vegetables were grown right in my backyard."
Have a garden you'd like to share? Email 5-10 photos and a brief story about your garden to [email protected]. Please include where you are located!
Have a mobile phone? Tag your photos on Instagram or Twitter with #FineGardening!
You don't have to be a professional garden photographer – check out our garden photography tips!
Do you receive the GPOD by email yet? Sign up here.
Follow us: @finegardening on Twitter | FineGardeningMagazine on Facebook | @finegardening on Instagram