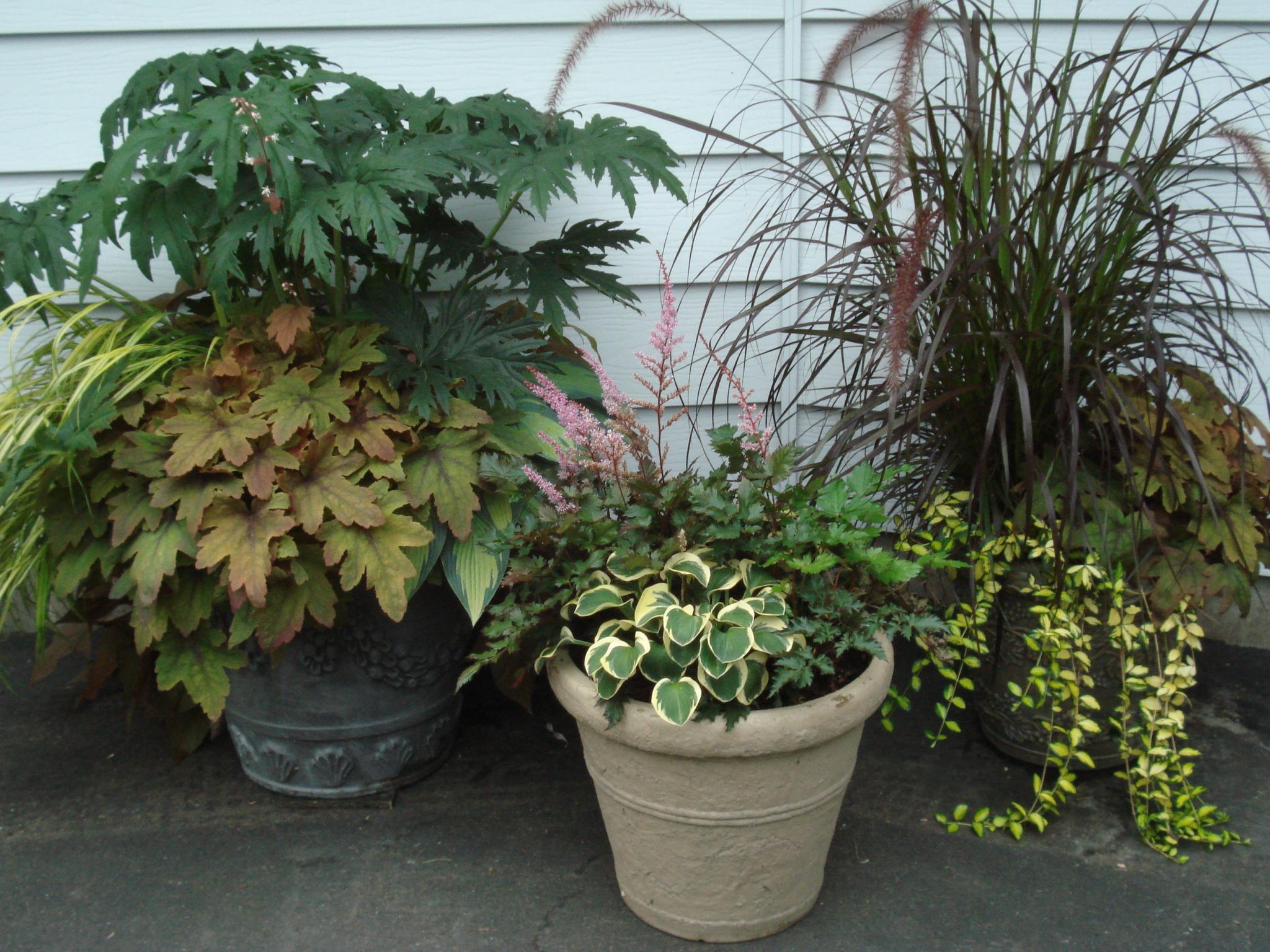 Day 2 with Lynn Nehring in Wisconsin! Today she says, "Recently I have been planting many perennials in containers, alone or with annuals. If you have an area where you can hold things over winter it can save a lot of money to use some perennials rather than all annuals in your containers. At the end of the season, I replant the perennials in a holding bed and the overflow in the black dirt pile. I would like to share some of the combinations I've used." All of those heucheras and heucherellas, Lynn–they are AMAZING in containers! I have to remember this for spring. Thanks so much for sharing with us these past two days!
Send me photos of YOUR garden! Email me at [email protected]
I'm scheduled to give another GPOD talk (A few of you will be getting emails in the next two weeks as I put together the slideshow…), and a number of people have emailed to say that they'll be at the show, and that they'd love to meet up with a bunch of fellow GPODers!
The RSVPs so far:
Glenda Curdy (Nurserynotnordstrom)
Tia Scarce
Jeanne Cronce (Greengenes)
Sheila Schultz
Nora
Shirley Graves
Chris Niblack (ChrisSeattle)
Kielian DeWitt (Annek)
Linda Skyler (Meelianthus)
Kathy Schuler
So…who else is going to be there?? Let us all know in the comments, and we can start planning an outing! Perhaps after-dinner drinks one night at the bar at the Sheraton? I'll repeat this announcement for the next week or so, at least, and keep a running list of who's coming….enticement for even more people to come. Oh, and when you comment to say you'll be there, give us your real name so that I can plan name tags that include both that and your screen name…
______________________________________________
Want to get the GPOD delivered to your inbox every morning? CLICK HERE!
Want us to feature YOUR garden, or a garden you've recently visited, in the Garden Photo of the Day? CLICK HERE!
Want to see every post ever published? CLICK HERE!
Want to search the GPOD by STATE? CLICK HERE!
And last but not least, Check out the GPOD Pinterest page, where you can browse all the post in categories…fun! CLICK HERE