1. 'Red O. D. Burke' Japanese Red Pine
Name:
Pinus densiflora
'Red O. D. Burke'
USDA Hardiness Zones: 4 to 7
Size: 12 to 15 feet tall and 6 to 8 feet wide
Conditions: Full sun; well-drained soil
Japanese red pine grows naturally across Japan, Korea, northern China, and extreme southeastern Russia. But this cultivar, 'Red O. D. Burke' (or 'Burke's Red Variegated'), stopped me in my tracks when I first saw it growing in a field at a nursery in central New Hampshire. The yellow variegation on this two-needled pine glows so strongly from a distance that I thought it must be plugged into an electrical source or was solar powered. With New England winters so long and cold, the yellow variegation is a welcome sight. Plant this as a specimen with a dark green evergreen as a contrasting backdrop. 'Oculus Draconis' might be a more popular cultivar, but 'Red O. D. Burke' is believed by those who grow it to have stronger variegation and a greater cold tolerance. The yellow needles will brown during the winter when young, but as the tree matures, they will remain yellow year-round.
2. Algerian Fir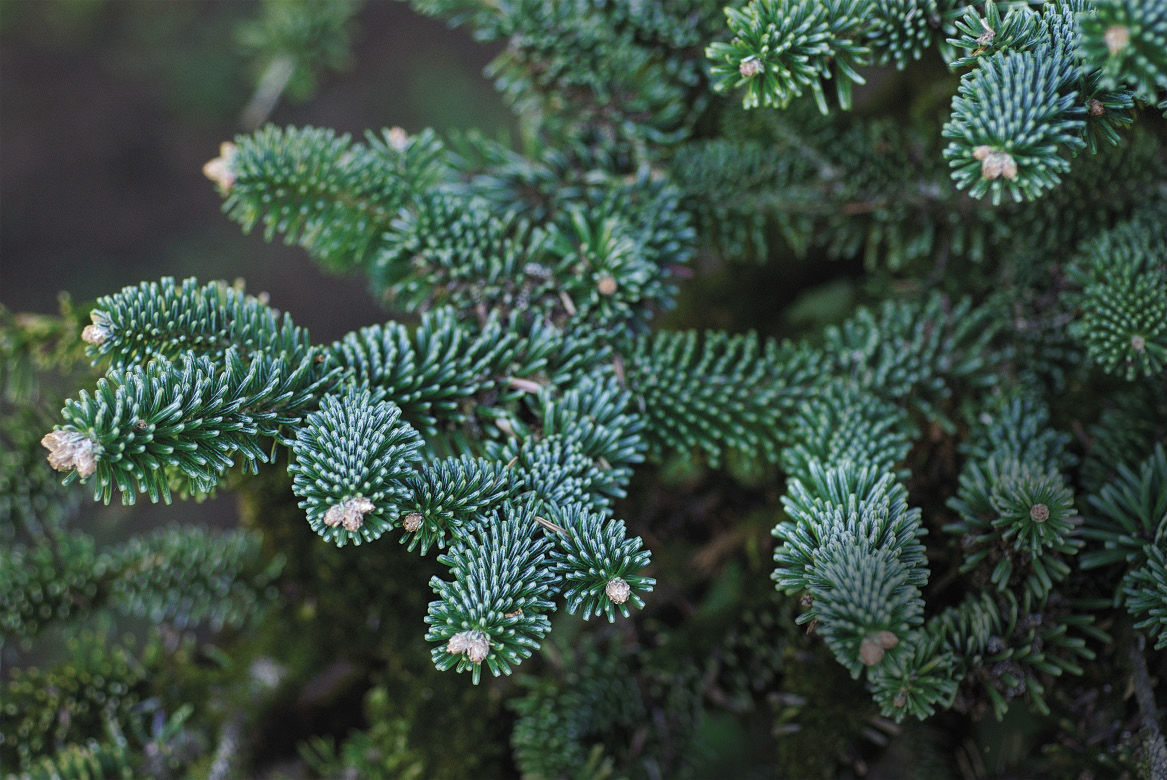 Name:
Abies numidica
Zones: 6 to 8
Size: Up to 70 feet tall and 20 feet wide
Conditions: Full sun; well-drained soil
Having long admired Spanish fir (Abies pinsapo, Zones 6–7), I was delighted to see that a close relative, Algerian fir, was an outstanding grower in New England. Algerian fir is endemic to a few small mountaintops in Algeria. Only 1 square kilometer of trees is believed to exist. The fact that a critically endangered conifer from the Mediterranean region can not only survive but also thrive in our environment is a true underdog story. The stems are circled by stiff, gray-green needles. The overall appearance is somewhat columnar yet slightly open due to its branching structure. Plant a grouping of this beautiful tree with a complementary ground cover, such as 'Angelina' sedum (Sedum rupestre 'Angelina', Zones 6–9), for a true conversation piece.
3. Japanese Mahonia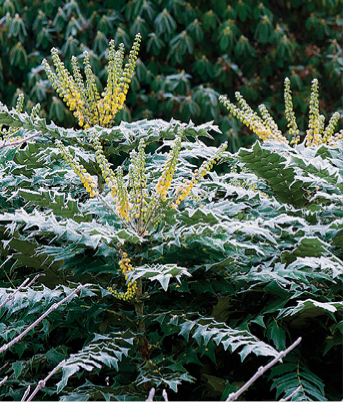 Name:
Mahonia japonica
and cvs.
Zones: 6 to 9
Size: 6 feet tall and up to 20 feet wide
Conditions: Partial shade; acidic, well-drained soil
Finding a broadleaf evergreen other than rhododendron to survive a Maine winter has become a kind of holy-grail pursuit for us at Coastal Maine Botanical Gardens. We planted 'Epstein's Form', a hardy cultivar of Japanese mahonia, in summer 2013, and much to our surprise, the plant survived the worst winter Maine had seen in a while (we recorded a low of –7°F in 2014). Japanese mahonia is generally known for its dark green compound leaves, which can grow up to 16 inches in length. The bright yellow flowers are borne on long racemes from late winter to early spring. It makes a fine addition to a winter garden and looks great with snowdrops (Galanthus spp. and cvs., Zones 3–9) and hellebores (Helleborus spp. and cvs., Zones 4–9).
4. Wheel Tree

Name:
Trochodendron aralioides
Zones: 6 to 11
Size: Up to 20 feet tall and wide
Conditions: Full sun to partial shade; moist, acidic, well-drained soil
Seeing a wheel tree in a garden is like seeing a Ferrari parked at your neighborhood grocery store: It is beautiful, it stands out, and, of course, it rarely happens. I studied this tree in college, but only after kneeling under a 25-foot-tall specimen did I become awed by its sophisticated beauty. Looking up through the canopy toward the sky is like seeing a living kaleidoscope. The whorled arrangement of the leaves along with a somewhat lateral growth provides a striking structure for all who are lucky enough to grow (or happen upon) this prized tree.
Rodney Eason is director of horticulture and the plant curator at Coastal Maine Botanical Gardens.
Photos: (1 and 2), millettephotomedia.com; (3), Heather Edwards/gapphotos.com; (4), Joshua McCullough