1. Ratstripper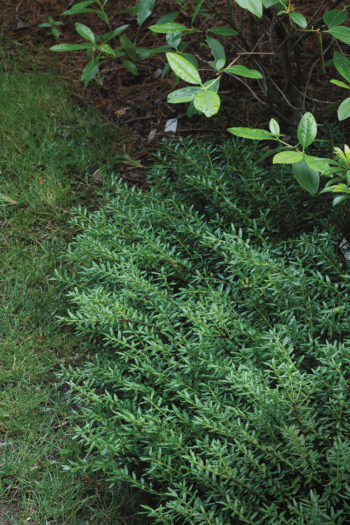 Name:
Paxistima canbyi
USDA Hardiness Zones: 3 to 7
Size: 6 to 8 inches tall and 2 to 3 feet wide
Conditions: Full sun to partial shade; moist, fertile, well-drained soil
What have you got in your shade garden? Hostas? Ferns? Maybe an astilbe? All great plants—in the summer. That is why I adore this beautiful flat little evergreen shrub. Ratstripper will take sun but is quite happy in shade, and it looks just gorgeous absolutely every day of the year. Pest- and problem-free and native to the eastern United States, this is a solid shrub that will make your garden always look its best.
2. Joint Fir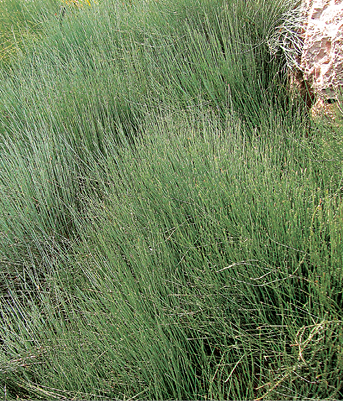 Name:
Ephedera americana
Zones: 5 to 8
Size: 3 feet tall and 2 feet wide
Conditions: Full sun; well-drained soil
Yes, some plants in the genus Ephedera are the source of ephedrine, used to make controversial diet pills. So don't eat this plant. Just enjoy its unique look in the garden. Absolutely nothing else you can grow in the Midwest is going to give you quite this unusual texture and form. And despite looking as if it should be living in a desert somewhere, joint fir is fine with a humid midwestern summer. As a plus, rabbits and deer leave it alone.
3. Lacebark Pine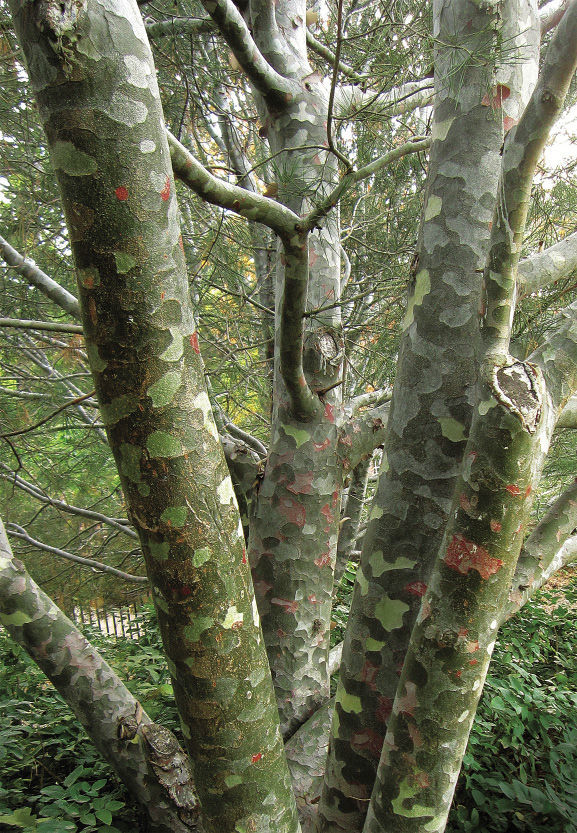 Name:
Pinus bungeana
Zones: 4 to 7
Size: Up to 50 feet tall and 20 feet wide
Conditions: Full sun; well-drained soil
This plant is all about its amazing bark. The evergreen needles of lacebark pine are pretty and useful, as well, but it's the bark that I love. It takes a few years for the tree to mature enough for the bark to get showy. So rush out today and get one so that you can watch it mature to its full glory. As an added bonus, this species of pine is notably narrow—almost fastigiate in form—so it fits well in a small garden.
4. 'Chief Joseph' Beach Pine
Name:
Pinus contorta
'Chief Joseph'
Zones: 5 to 8
Size: 6 feet tall and 3 feet wide
Conditions: Full sun; well-drained soil; it performs best with some shelter from winter sun and wind
I'm supposed to be talking evergreens here, but that doesn't really apply to 'Chief Joseph' beach pine because, well, do you see any green in those needles? That brilliant yellow color is a winter thing, fading to green over summer, but that is fine by me. That insane yellow color makes the needles more than usually prone to burning and browning in winter, so site this one where it will be sheltered from winter winds and maybe give it a little bit of winter shade.
Joseph Tychonievich is nursery manager at Arrowhead Alpines in Fowlerville, Michigan.
Photos: (1), Kerry Ann Moore; (2 and 3), courtesy of Joseph Tychonievich; (4), Richard Bloom