1. Woolly Veronica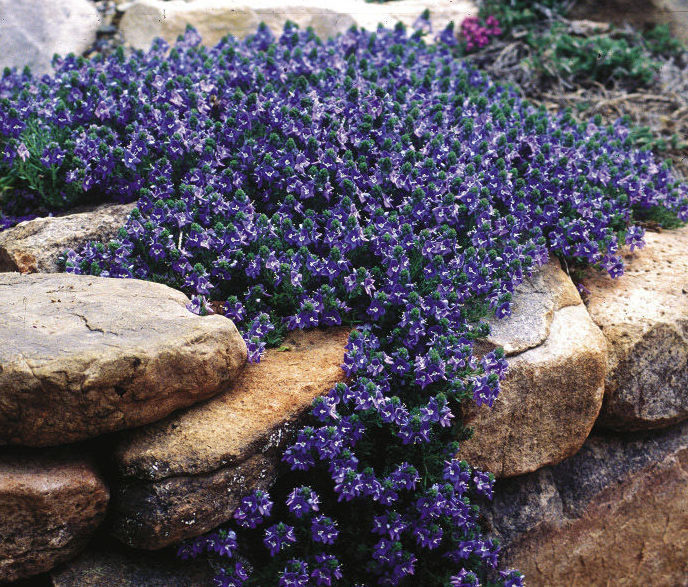 Name:
Veronica pectinata
USDA Hardiness Zones: 2 to 7
Size: 3 inches tall and 8 inches wide
Conditions: Full sun; adaptable to many soil conditions
This ground-hugging, matlike perennial can take a beating and still look great. With its mass of silvery leaves, woolly veronica can easily smother most weeds. Little violet-blue blooms with cheery white centers cover the plant midspring, then continue off and on throughout the season. Shear back the spent blooms to freshen its look around midsummer. I also like to interplant this veronica with spring- and fall-blooming bulbs.
2. Himalayan Knotweed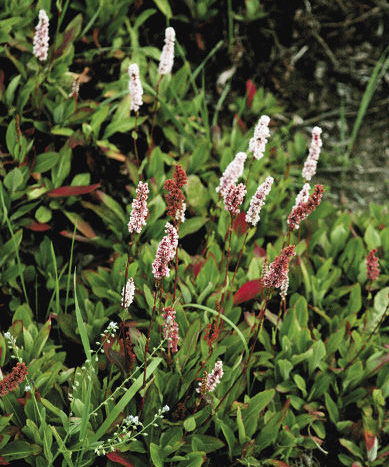 Name:
Persicaria affinis
and cvs.
Zones: 3 to 8
Size: Up to 10 inches tall and 2 feet wide
Conditions: Full sun to partial shade; moist soil
A plant with four-season interest, Himalayan knotweed is a tough ground cover with whimsical racemes of tiny, whitish pink flowers, which rise 4 to 6 inches above the red-tinged stems and dark green leaves. In winter, the foliage turns cinnamon red—a beautiful contrast against a fresh dusting of snow. Mow or weed-whack plants in midsummer to encourage fresh foliage. 'Dimity' (pictured) is a popular cultivar with rose-colored blooms.
3. Lydia Woadwaxen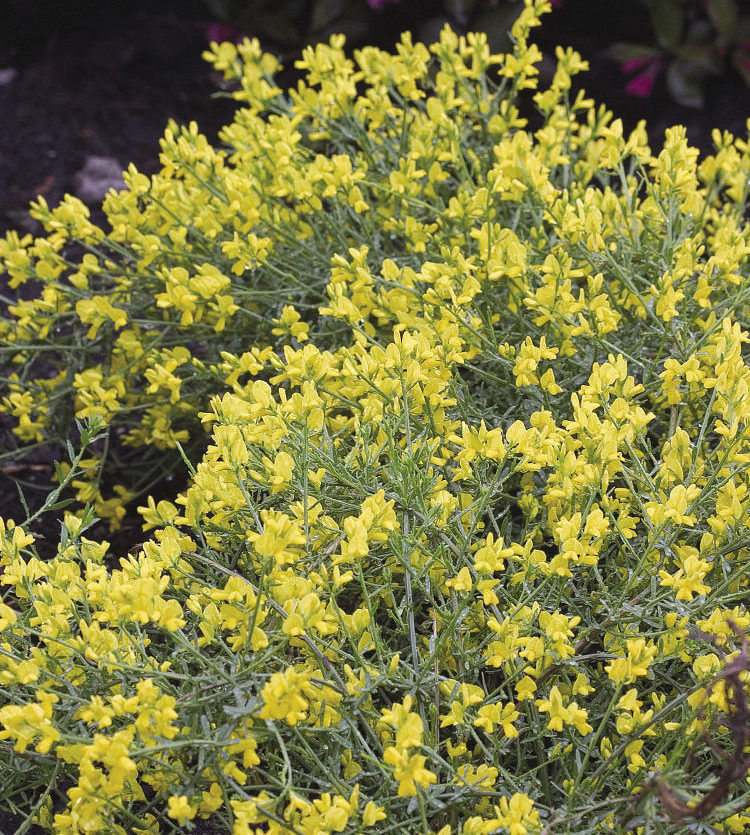 Name:
Genista Lydia
Zones: 6 to 9
Size: 2 feet tall and 3 to 4 feet wide
Conditions: Full sun; well-drained soil
This subshrub bursts into sunshine yellow blooms that smother the plant in late spring. Plant it en masse or against anything purple to make a bold statement. Lydia woadwaxen can take the hot, exposed conditions that are the hallmark of many roadways in the Mountain West, though I've found an extra squirt from the hose is needed intermittently to keep it happy.
4. Small-Leaf Pussy-Toes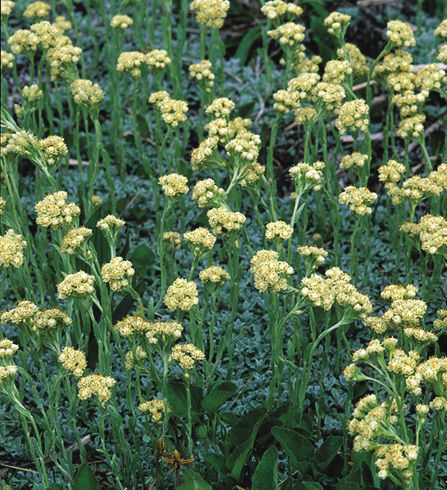 Name:
Antennaria parvifolia
Zones: 2 to 8
Size: 4 to 6 inches tall and 1 foot wide
Conditions: Full sun to partial shade; well-drained soil
Reminiscent of the toe pad on a cat's paw, the pearl-like blooms of small-leaf pussy-toes project 4 to 6 inches above a gray-green mat of leaves. While it can handle light foot traffic, you might want to provide stepping-stones in busier locations, such as curbsides. If you don't want the plant to spread, trim back the seed heads before they burst into a mass of white fuzz; otherwise, enjoy the spectacle come fall as they float along on a light breeze.
Lise Mahnke is a landscape designer and editor of the blog Dry Ideas in Denver, Colorado.
Photos: (1), courtesy of www.highcountrygardens.com; (2), Kerry Ann Moore; (3), courtesy of www.provenwinners.com; (4), courtesy of Sally and Andy Wasowski