1. Creeping Wire Vine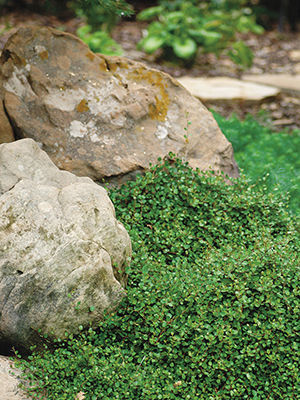 Name: Muehlenbeckia axillaris
USDA hardiness zones: 8 to 10
Size: 2 to 4 inches tall and up to 30 inches wide
Conditions: Full sun to partial shade; well-drained soil
Some references refer to this plant as deciduous, others as semievergreen, and many as evergreen. Its cold hardiness is likewise listed as anywhere from Zones 6 to 8. We have been growing creeping wire vine here for years, so I would consider it a Zone 7 plant—maybe even Zone 6. All agree, however, that it is a striking ground cover with stems twining only inches off the ground, producing a uniform blanket capable of shading out most weeds.
2. 'Countess Helen von Stein' Lambs' Ears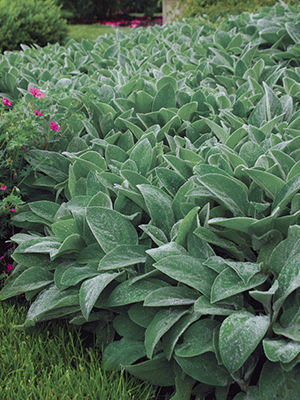 Name: Stachys byzantina
'Countess Helen von Stein'
Zones: 4 to 8
Size: 1 foot tall and up to 2 feet wide
Conditions: Full sun to partial shade; well-drained soil
Lambs' ears is great for a children's garden. Who can resist that name and the fuzzy-soft texture of the leaves? And with the cultivar 'Countess Helen von Stein', there is that much more to love. The leaves tend to be twice as large as the species. As the stems spread horizontally, they root where they hit the ground, forming a dense bed of silver foliage that works well as a ground cover or at the edge of a border. In early summer, it sends up silver spikes bearing little purple-pink flowers. Lambs' ears is easy to divide.
3. Green Santolina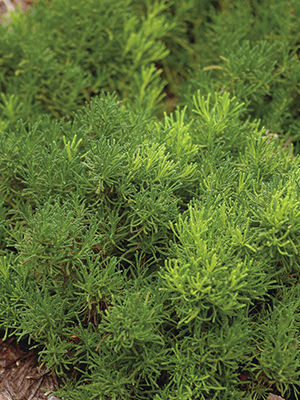 Santolina rosmarinifolia
and cvs.
Zones: 7 to 9
Size: 8 to 12 inches tall (with flower stalks 18 inches tall) and up to 3 feet wide
Conditions: Full sun; well-drained soil
Although not as cold tolerant as its more-often-used cousin, lavender cotton (S. chamaecyparissus, Zones 6–9), the aromatic foliage of green santolina is a great alternative for those who already have enough silver-foliage plants. Green santolina is also better behaved, spreading more slowly and staying more compact than lavender cotton. Yet it, too, can be topped with bright yellow floral buttons in late spring. Traditionally used in knot gardens, this plant can make an interesting ground cover of evergreen mounds, which are drought tolerant and require little care.
4. Pacific Chrysanthemum
Name: Ajania pacifica
Zones: 5 to 9
Size: 2 feet tall and up to 3 feet wide
Conditions: Full sun to partial shade; well-drained soil, especially in winter
Some plants have architectural appeal, and for Pacific chrysanthemum, it comes from the plant's silver-margined foliage that spirals up its long, arching stems. Although it may produce clusters of yellow flowers in fall, the beauty of this plant is due to its attractive foliage. It can reach 2 feet tall, but it works well as a ground cover because the plant is so uniform. It was once placed in the genus Chrysanthemum—hence, its common name—but now, it is a member of the genus Ajania, a group of plants native to rocky hillsides.
Lou Anella is a professor of horticulture at Oklahoma State University in Stillwater.
Photos: #1 and #3, courtesy of Lou Anella; #2 and #4, Michelle Gervais