1. St. John's Wort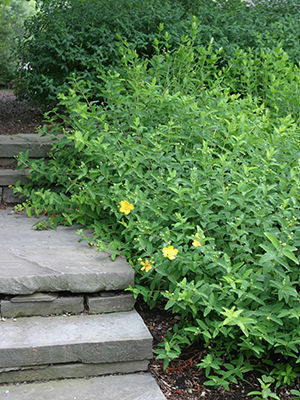 Name: Hypericum calycinum
USDA hardiness zones: 5 to 9
Size: 1 to 2 feet tall, spreading indefinitely
Conditions: Full sun to partial shade; moist, well-drained soil
A summer-flowering ground cover that thrives in any sunny spot, St. John's wort will also grow under trees in partial shade, but its flowers may be sparse. In the Southeast, it is often evergreen, but winter stress can cause leaves to dry out and turn brown. Cutting plants back every few years in early spring, before new growth appears, will keep this woody plant vigorous.
2. Ornamental Raspberry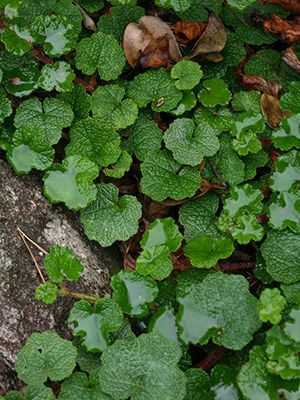 Name: Rubus pentalobus,
syn.
R.

calycinoides
Zones: 7 to 9
Size: 4 inches tall, spreading indefinitely
Conditions: Full sun to partial shade; fertile, well-drained soil
I grew this evergreen creeper for years on the strip between my sidewalk and the street, and amazingly, it thrived—despite summer heat, foot traffic, and lack of irrigation. A fast grower, ornamental raspberry is also ideal for curbing erosion on slopes and banks. Its wrinkled, dark green leaves take on shades of red and burgundy in fall and winter, adding to its ornamental appeal. Plus, it's easy to propagate because the stems put down roots wherever they touch the soil. Simply cut a section off with roots and you'll have a new plant.
3. Fleabane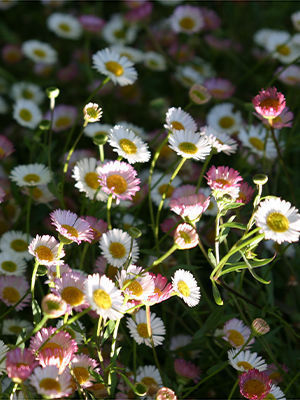 Name: Erigeron karvinskianus
Zones: 5 to 7
Size: 6 to 12 inches tall and up to 3 feet wide
Conditions: Full sun; well-drained soil
Don't be fooled by the delicate look of this fleabane, with its tiny asterlike flowers that start out white and fade to pink. It is a tough perennial that thrives in full sun and tolerates periods of drought once established. Plant it as a filler under shrubs and roses or with other ground covers, like lambs' ears (Stachys byzantina and cvs., Zones 4–8). Fleabane creates a flowering carpet that blooms from late spring until fall. Even if the plant doesn't over­winter, it reseeds freely, ensuring a source for the next growing season.
4. Chinese Sedum
Name: Sedum tetractinum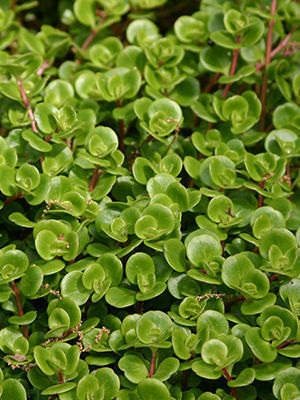 Zones: 4 to 8
Size: 4 inches tall, spreading indefinitely
Conditions: Full sun to light shade; well-drained soil
I've grown this rapid spreader with other perennials in full sun for about six years. In all that time, I've given it little to no special attention, and it's still going strong. I like the way Chinese sedum creeps over my low granite wall, and it doesn't seem to mind our Georgia clay. Its shiny evergreen foliage forms a tight carpet all spring and summer, then in autumn, it turns shades of burgundy. Its tiny yellow flowers in early summer are another bonus, and it doesn't mind being dug up and moved around, making it easy to share with friends.
Erica Glasener is a horticulturist and the author of Proven Plants: Southern Gardens. She lives in Atlanta, Georgia.
Photos: #2 and #4, Erica Glasener; #1, Jennifer Benner; #3, Michelle Gervais