1. Little Henry
®
Virginia Sweetspire
Name:

Itea virginica

'Sprich'
USDA Hardiness Zones: 5 to 9
Size: 2 to 3 feet tall and wide
Conditions: Full sun to partial shade; moist, slightly acidic soil
A dwarf version of 'Henry's Garnet', Little Henry® Virginia sweetspire is excellent for creating masses of color, from pure white blossoms that flow from late spring into early summer to rich green foliage that turns flaming red in autumn. It excels in borders, brightens woodland gardens, and adds drama to containers. It can also be massed as a tall ground cover. Compact size and drought tolerance make Little Henry® incredibly versatile. Prune after bloom because flowers form on old wood.

2. 'Cloud Nine' Switchgrass
Name:

Panicum virgatum

'Cloud Nine'
Zones: 5 to 9
Size: 6 to 7 feet tall and 2 to 3 feet wide
Conditions: Full sun; average to moist soil
'Cloud Nine' switchgrass makes a striking focal point with its superb vase shape, light metallic blue foliage, and golden plumes that emerge in summer and remain through winter. It's spectacular when illuminated by sunlight, and it dances in the slightest breeze. 'Cloud Nine' is drought tolerant and excellent for mass planting. Cut clumps back to the ground in late winter or early spring, and avoid overwatering.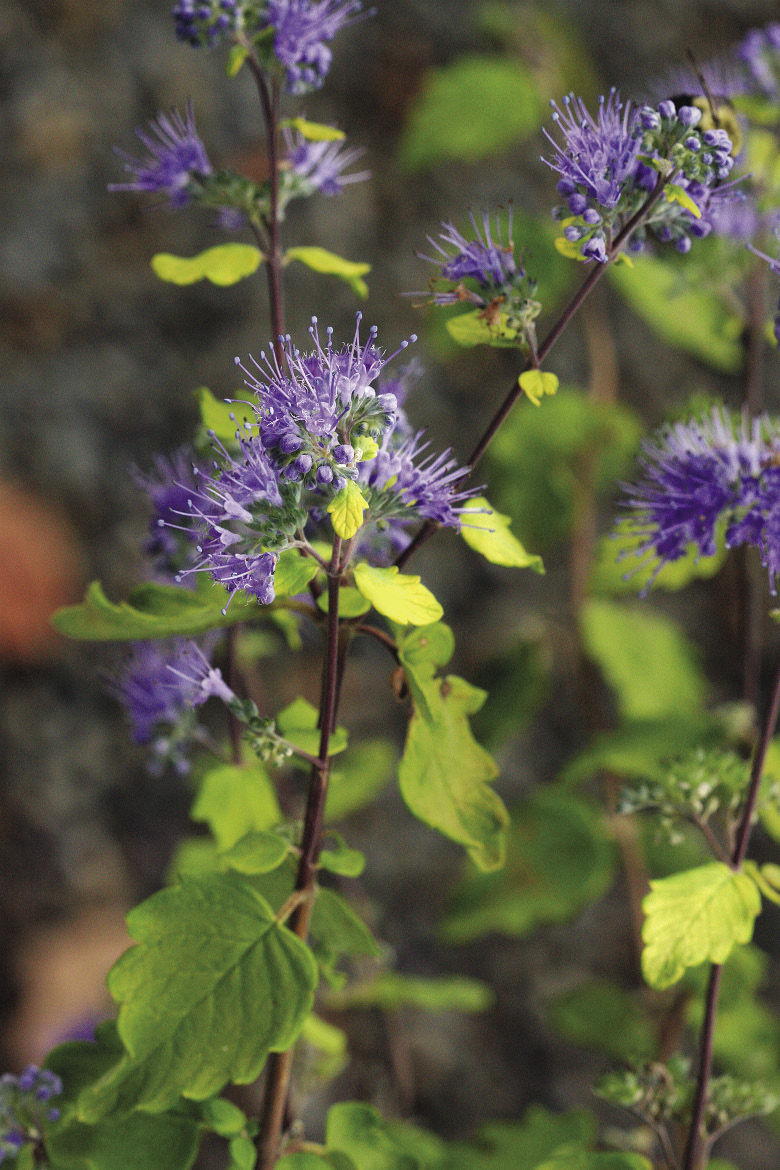 3. Sunshine Blue
®
Caryopteris
Name:

Caryopteris incana

'Jason'
Zones: 5 to 11
Size: 2 to 4 feet tall and wide
Conditions: Full sun; dry to average, well-drained soil
Vibrant and sunny, this shrub has golden foliage that holds its color throughout the summer. Vivid, ame­thyst blue flowers erupt from late summer through fall, when many other plants are past their prime. Caryopteris may die back to the ground in Zones 5 and 6 but will send up new growth in spring; dieback will not affect blooming because caryopteris flowers on new wood. Prune in early spring to remove dead wood or to maintain the plant's size in southern gardens. A useful plant in dry, sunny areas, Sunshine Blue® caryopteris adds color and contrast to any garden and is drought tolerant once established.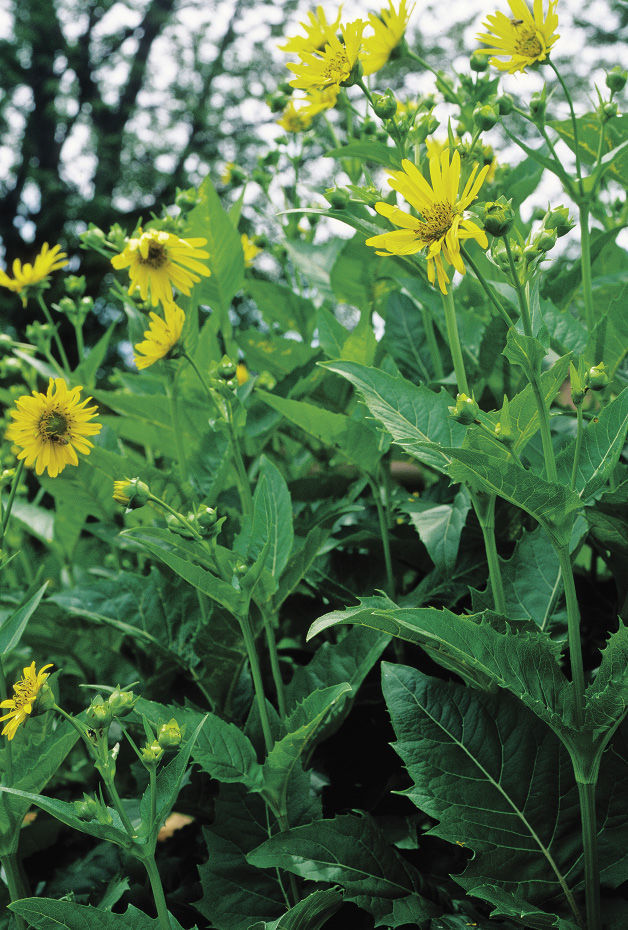 4. Cup Plant
Name:

Silphium perfoliatum
Zones: 5 to 9
Size: 6 to 10 feet tall and 3 to 6 feet wide
Conditions: Full sun; average to moist soil
This native giant demands attention. Dazzling daisylike yellow flowers stand tall above the foliage from July through October. The coarse leaves are fused in pairs along the stem to form cups that collect water. Goldfinches and other birds drink from the cups and are also fond of the plant's seeds. The mass of cup plant is impressive and limits its use to large gardens. A tough plant of the tall grass prairie, it can spread by rhizome or seed. Allow cup plant plenty of room, and divide it in spring as needed.
Kimberly Toscano is consumer horticulturist at Oklahoma State University in Stillwater, and host of the television program Oklahoma Gardening.
Photos: Bill Johnson, Steve Aitken, Jerry Pavia