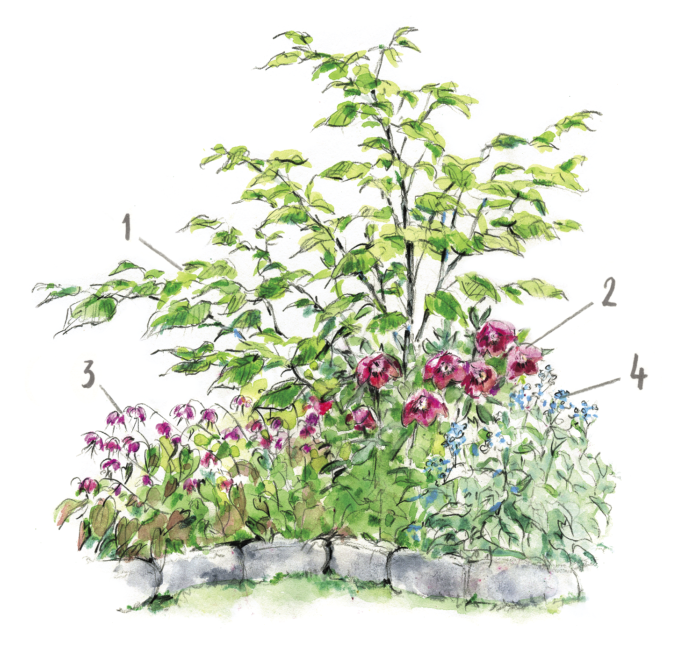 1. Golden winter hazel

Name:

Corylopsis spicata

'Aurea'
USDA Hardiness Zones: 5–8
Size: 6 feet tall and up to 8 feet wide; slower growing than the species
Conditions: Bright shade (too much sun, especially if soil is dry, might bleach leaves); moisture-retentive soil
Forsythia is a familiar face of spring, but winter hazel has more to offer. Sheaves of papery, lemon-toned petals appear at each bend of the naked zigzagging stems in early spring. As the dangling racemes fade, they give way to handsome, pleated, blue-green leaves, which remain attractive until autumn. The shrub is shapely left as is or can be easily pruned to express a lovely architecture. Golden winter hazel is especially enthralling; its pleasing burgundy-blushed yellow-to-soft-chartreuse foliage glows in bright shade.
2. Winter Thriller

™

Red Racer hellebore 
Name:

Helleborus

'Red Racer'
Zones: 4–9
Size: 18 inches tall and 2 feet wide
Conditions: Bright to full shade; moist, well-drained soil with plenty of organic matter
Winter Thriller™ Red Racer hellebore is a recent introduction. Its rich claret flowers face outward rather than nod, as most hellebores do, and I find its dusky tones mesmerizing. Snip off the persistent leathery leaves as it comes into flower in early spring; new ones follow in robust clumps. The blooms remain colorful for at least eight weeks: first, against the soft yellow flowers of the golden winter hazel, then against its transmuted foliage, which is demurely blushed in return.
3. Red epimedium
Name:

Epimedium

×

rubrum
Zones: 4–8
Size: 15 inches tall and 2 feet wide
Conditions: Partial to full shade; moist to dry soil (once established)
Hybridizers and plant explorers have produced a bounty of new epimediums in recent years, yet I still rely on this older hybrid, which has proven itself as a durable and long-lived perennial. Though the arching sprays of cherry-red-and-white flowers from April into May are charming, the foliage of red epimedium is equally valued. The new growth is mottled blood red, echoing the color of the hellebore. The leaves flush red again in the coolness of fall and persist through winter. Remove them in early spring to make way for the emerging flower stalks. Red epimedium is rhizomatous, becoming an effective yet nonaggressive ground cover.
4. Brunnera
Name:
Brunnera macrophylla
Zones: 3–7
Size: 12 to 15 inches tall and 2 feet wide
Conditions: Bright to full shade; moist, well-drained soil
Golden winter hazel requires bold, contrasting foliage to stand against it, and brunnera has what it takes: large heart-shaped leaves in weed-smothering mounds from spring until hard frost. For several weeks in spring, its airy clusters of sky blue flowers float above the leafy clumps; if left to ripen, resultant seedlings will fill in any planting gaps. Many variegated forms exist, but their preferred role is that of leading actor rather than as a member of the supporting cast; give them their own play elsewhere.
---
Doug Gagne, APLD, is the co-owner of The Mixed Border Nursery and Gardens in Hollis, New Hampshire.
Photos, except where noted: Jennifer Benner; #1, Dave Zubraski/gapphotos.com; #2, courtesy of Chris Hansen. Illustration: Elara Tanguy.