'Little Joe' Joe Pye Weed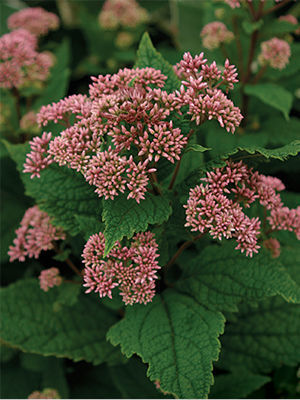 Name:

Eutrochium dubium
'Little Joe'
USDA hardiness zones: 3 to 9
Size: 3 to 4 feet tall and 2 to 3 feet wide
Conditions: Full sun to partial shade; rich, moist, well-drained soil
If you are looking for a native plant that's a butterfly magnet but you don't have room for the tall species of Joe Pye weed, try this dwarf selection. 'Little Joe' is still a tall accent in a small naturalized or cottage garden, but it doesn't take up space like its 7-foot-tall cousin. Although smaller, 'Little Joe' is a sturdy presence with its strong stems and 6-inch-long, whorled, dark green leaves. Mauve or light purple blossoms begin in midsummer and continue blooming for the rest of the season. 'Little Joe' is a nectar source beloved by butterflies and other pollinators. 'Little Joe' can also be grown as the centerpiece of a large container.
2. Perennial Hibiscus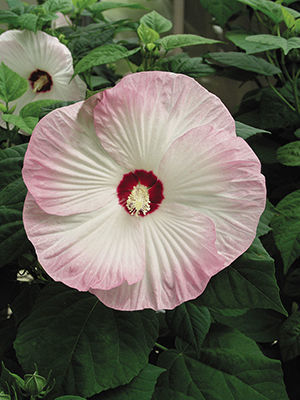 Name:

Hibiscus moscheutos
and cvs.
Zones: 5 to 10
Size: 3 to 6 feet tall and 3 to 4 feet wide
Conditions: Full sun; moist to wet soil
This group of plants in the mallow family is happy in moist, boggy soil but will tolerate dry soil as long as each plant has supplemental irrigation. There is a flower color for every garden—from white to dark red. New hybrids of perennial hibiscus are also available in a range of foliage colors, bloom shapes, and plant sizes. Leaves can grow up to 10 inches long. The plants attract hummingbirds and bumblebees—the latter of which sleep in their large blooms, so be careful when removing spent flowers in the early morning. Hardy hibiscus (like 'Luna Pink Swirl', pictured) die back to the ground each year, so cut back dead stems and wait for the new growth to emerge in warm weather. These plants have few pests, but grasshoppers can be a nuisance. Leaf scorch is possible in dry winds. To prevent leaf spot or rust, plant in full sun.
3. Giant Ligularia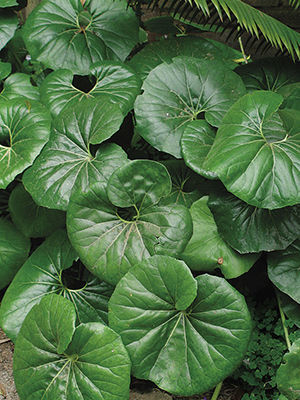 Name:

Farfugium japonicum
'Giganteum'
Zones: 7 to 10
Size: 1 to 3 feet tall and wide
Conditions: Partial to full shade; fertile, moist, well-drained soil
Giant ligularia, native to Japan and eastern Asia, is true to its name, having leaves of 5 to 18 inches across. Because of these large shiny leaves, the plant is a prominent fixture in a shade garden. In late summer to early autumn, tall branched stems feature small daisylike yellow flowers. It spreads by rhizomes and will form clumps if happy. Unlike other ligularias, giant ligularia tolerates soils with less moisture, but it requires shade or dappled early-morning sun.
4. Canna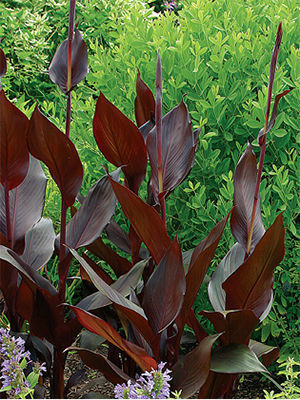 Name:

Canna

spp. and cvs.
Zones: 8 to 11
Size: 4 to 6 feet tall and 1 to 4 feet wide
Conditions: Full sun; moist, well-drained soil
Cannas are grown mostly for their showy leaves. Although there are nonhardy tropical cannas, subtropical ones are grown throughout the South as colonizing perennials. With their large smooth leaves, cannas provide a great backdrop for other plants. Some of the dark-leaved cultivars, like 'Australia' (pictured), 'Blueberry Sparkler', or the striped 'Bengal Tiger', are beautiful in their own right and make great focal points in borders. Cannas are an easy-care plant that offer so much for so little effort. They have few pests other than grasshoppers and Japanese beetles, and are extremely easy to grow given the right conditions.
Dee Nash, of Guthrie, Oklahoma, is the author of The 20–30 Something Garden Guide. Her garden is filled with prairie-loving plants and is a certified wildlife habitat.
Photos: #1, Jennifer Benner; #2, millettephotomedia.com; #3, Steve Aitken; #4, Michelle Gervais