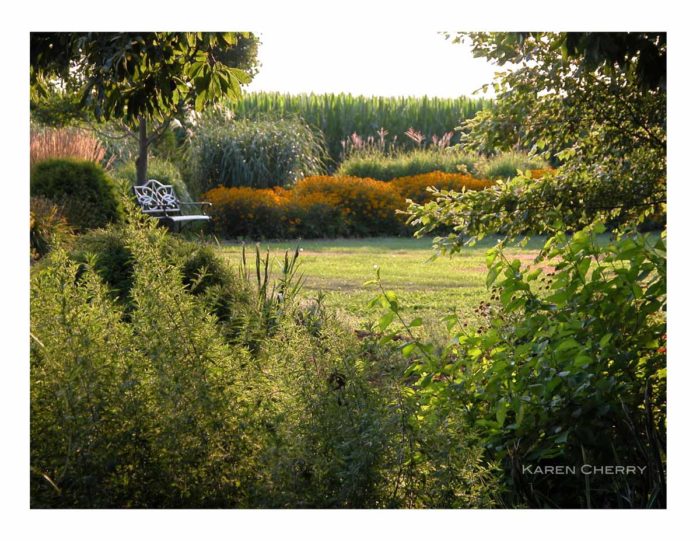 Today's photos are from Karen Cherry in Illinois. She says, "I grew up on a farm with a pragmatic father, who's mantra was "if you can't eat it, why grow it?" Yet he indulged my appetite for beauty by building me a flower bed. Even though my early endeavors were not very successful (those pesky weeds were my demise), it was an intoxicating experience.
Life went on, I married and acquired my own plot of land, and in this whole process of learning to grow I picked up a book titled "The Ruth Stout No Work Garden Book" and learned of the miracle of mulch. So began my search for an affordable supply to feed my now insatiable appetite for beauty. Thirty plus years later I have a two acre trial and display garden I use in conjunction with a design business. The garden is located in central Illinois, prairie parkland, embraced by second growth woodland, opening on to fields toward the west. These pictures are from the prairie portion.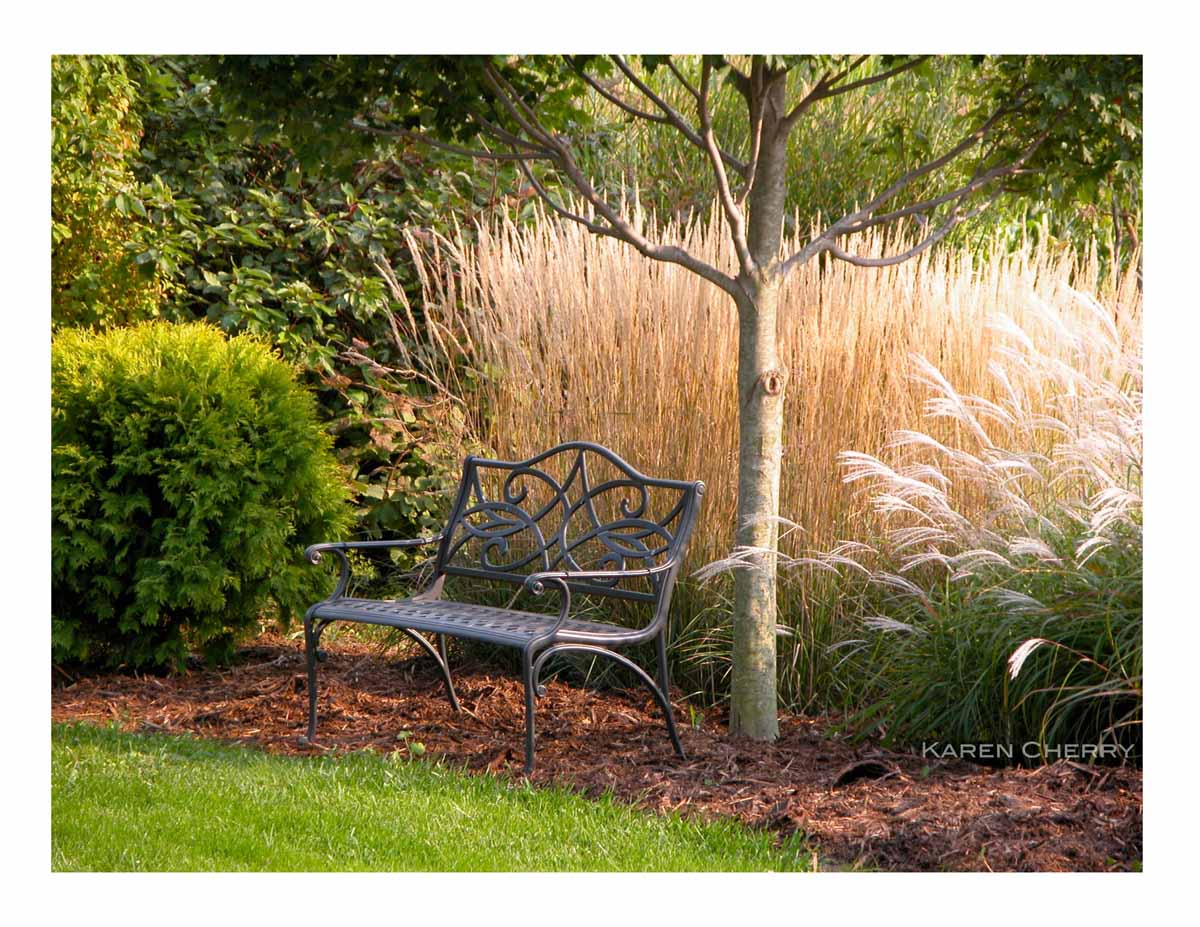 I believe every area needs a focal point. A bench is a restful option here, an invitation made even more pleasant, especially on a summer day, by the shade cast by a red maple to the southwest and more colorful by the long lasting easy care 'Goldsturm' black-eyed Susan (Rudbeckia fulgida var. sullivantii 'Goldsturm', Zones 4-9) and the season extending appeal of ornamental grasses like 'Karl Foerster' feather reed grass (Calamagrostis X acutiflora 'Karl Foerster', Zones 5-9) and miscanthus (Miscanthus sinensis var. purpurascens, Zones 4-9), all tried and true, undemanding plants for busy gardeners.  This mixed border is used to mediate between the landscape and the field beyond. Because we are dealing with wide open spaces, great numbers of plants are needed to keep things in scale–another reason to use reliable, readily available plant material.
This creation could not have been possible without my husband, whose support and ceaseless assistance spurred me on through all the agonizing trials as well as the adorable triumphs of gardening, even though he considers himself a confirmed non-plant person."
Beautiful, Karen, and so great to see it in multiple seasons! Thanks for sharing.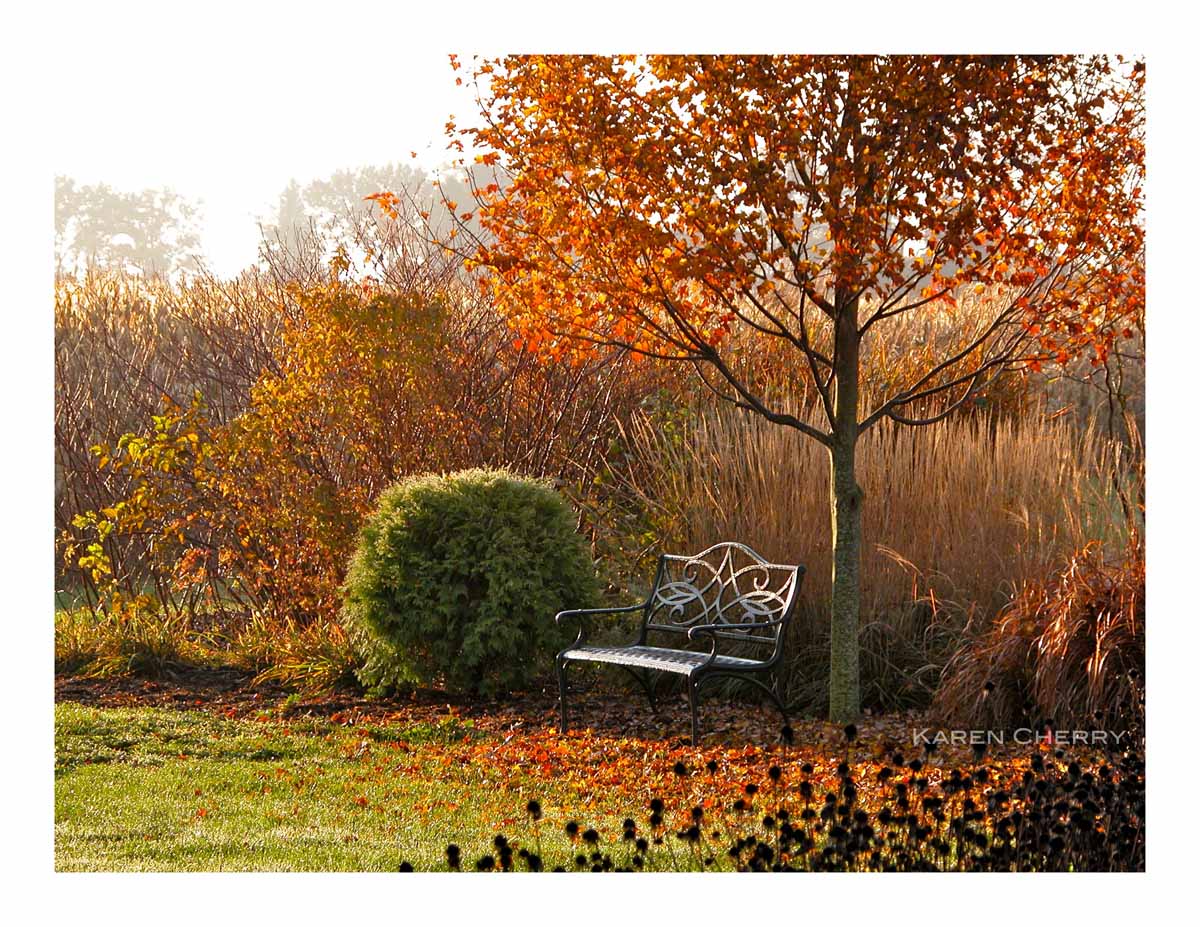 Want us to feature YOUR garden in the Garden Photo of the Day? CLICK HERE!
Want to see every post ever published? CLICK HERE!

**Check out the GPOD Pinterest page, where you can browse all the post in categories…fun! CLICK HERE!**