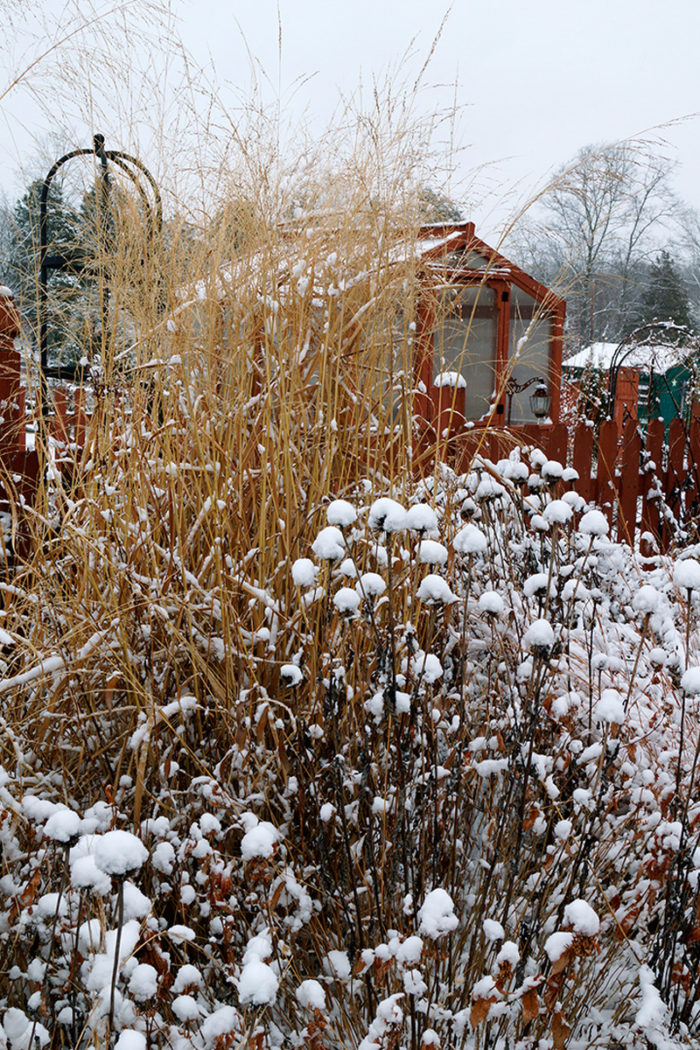 Here in the Mid-Atlantic, planting for winter interest in a perennial garden or mixed border is a bit of a gamble. Perennials with persistent foliage such as heucheras (Heuchera spp. and cvs., Zones 4–9) and hellebores (Helleborus spp. and cvs., Zones 4–9) can provide an abundance of color and texture through a mild winter with minimal amounts of the white stuff. However, a single snowfall can cover them up for weeks or months. For a more dependable presence, we need to think above ground level too, with perennial stems and seed heads. Developing an appreciation for perennial "skeletons"—their winter stems, lingering leaves, and dried seed heads—gives you many ways to enjoy your garden long after the last flowers fade.
It's easy to find lists and photos of perennials that have a reputation for winter interest, but keep in mind that they're not all tough enough to stand up to our Mid-Atlantic conditions. If we have a mild, wet November, for instance, or gusty winds, lesser stems can break or crumble by the time December arrives. And December itself can be unpredictable, with alternating warm and cold days and downpours that turn into a coating of ice or snow overnight.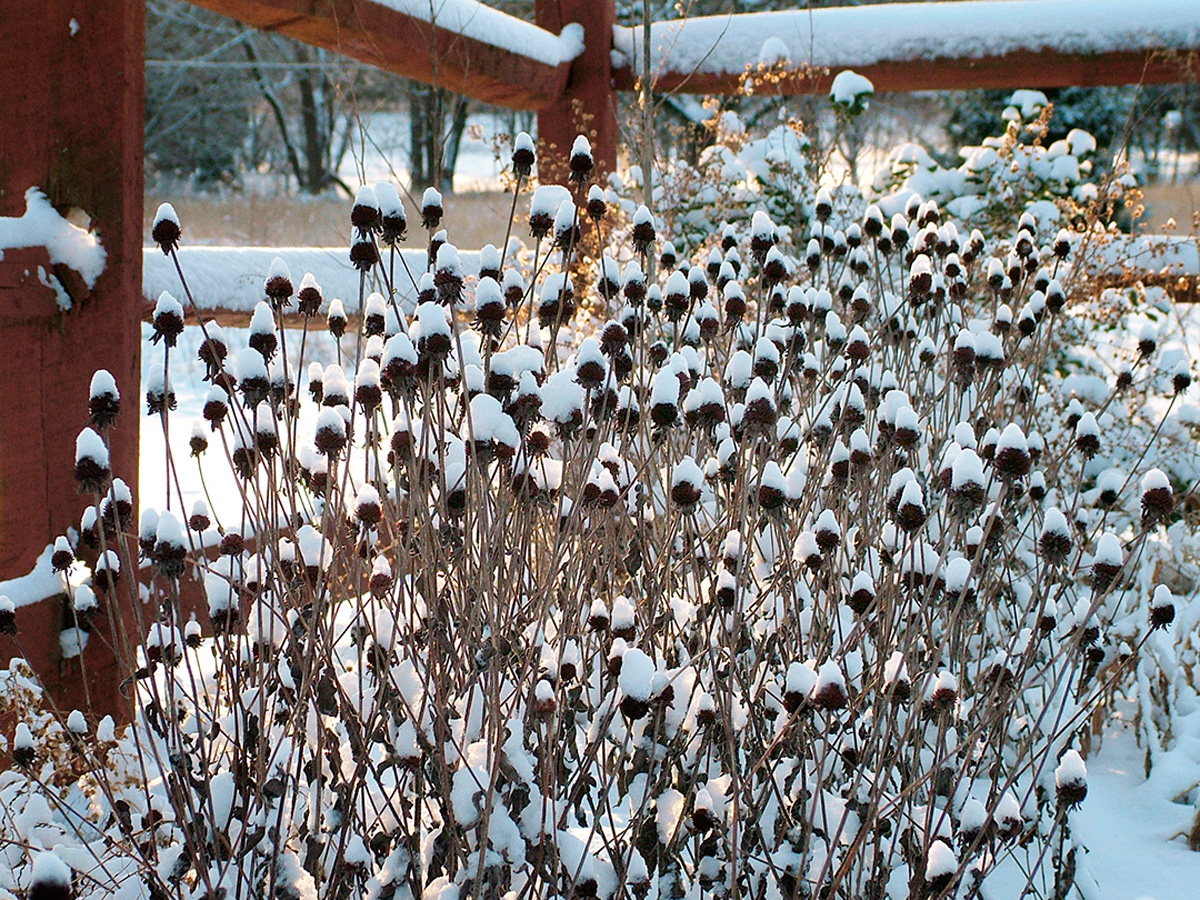 For structure that will make an impact into the new year—if not all the way through winter—we need perennials proven to be super-sturdy whatever the weather brings. Fortunately, we have many tough plants to choose from. Because our winter color palette is rather limited—many shades of brown, copper, blond, and black, to be sure, but not the rainbow of summer colors—strong forms are what catch the eye now. Bee balms (Monarda spp. and cvs., Zones 4–8), coneflowers (Echinacea spp. and cvs. and Rudbeckia spp. and cvs., Zones 3–9), and rattlesnake master (Eryngium yuccifolium, Zones 4–9), for instance, are invaluable for lots of dots above the landscape. Set against or among the finer forms of dormant grasses along the length of a border, or in front of a pale wall or fence, they serve as dramatic punctuation.
Umbels and other forms of branching seed heads offer another set of interesting shapes. Some, like those of golden lace (Patrinia scabiosifolia, Zones 5–8) and Joe Pye weed (Eutrochium spp. and cvs., Zones 4–8), provide fine-textured but surprisingly resilient silhouettes. Others, like the broad, dense heads of upright sedums (Hylotelephium spp. and cvs., Zones 3–9) and yarrows (Achillea spp. and cvs., Zones 3–8), are sure to catch the eye for months. Both rounded and domed seed heads provide welcome contrast to the strong verticality of persistent stems, as do spiky seed heads, such as those of Culver's root (Veronicastrum virginicum, Zones 3–8) and Carolina lupine (Thermopsis villosa, Zones 4–9).
You can't think about planting for off-season interest in Mid-Atlantic perennial gardens and ignore the value of warm-season grasses, because most offer a variety of persistent features through the coldest months. If you have space for only one grass for winter interest, you can't lose with any form of switchgrass (Panicum virgatum, Zones 3–9). 'Karl Foerster' feather reed grass (Calamagrostis × acutiflora 'Karl Foerster', Zones 5–9), with slender stems that sway gracefully in winter winds but still provide a strong vertical accent, is also an excellent choice. The dried leaves, stems, and seed heads of warm-season grasses, along with their overall upright, arching, or vase-shaped forms, are invaluable for interest above all but our deepest snows.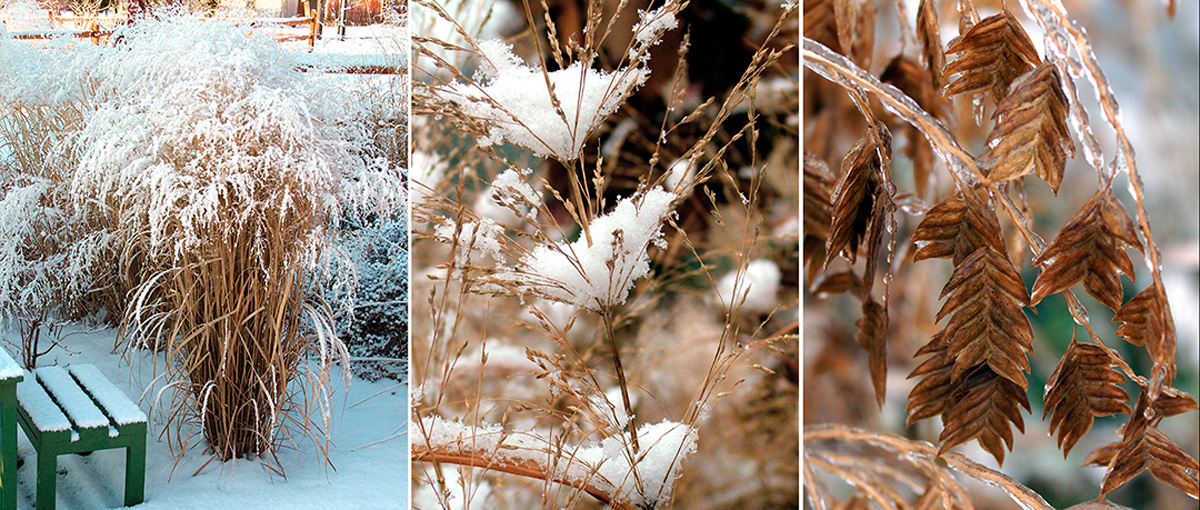 There are many more durable perennials for our December-through-February gardens, from the persistent pods of false indigos (Baptisia spp. and cvs., Zones 3–9) to the slender, branching skeletons of mountain mints (Pycnanthemum spp. and cvs., Zones 4–8) to the short, dense spikes of turtleheads (Chelone spp. and cvs., Zones 3–8).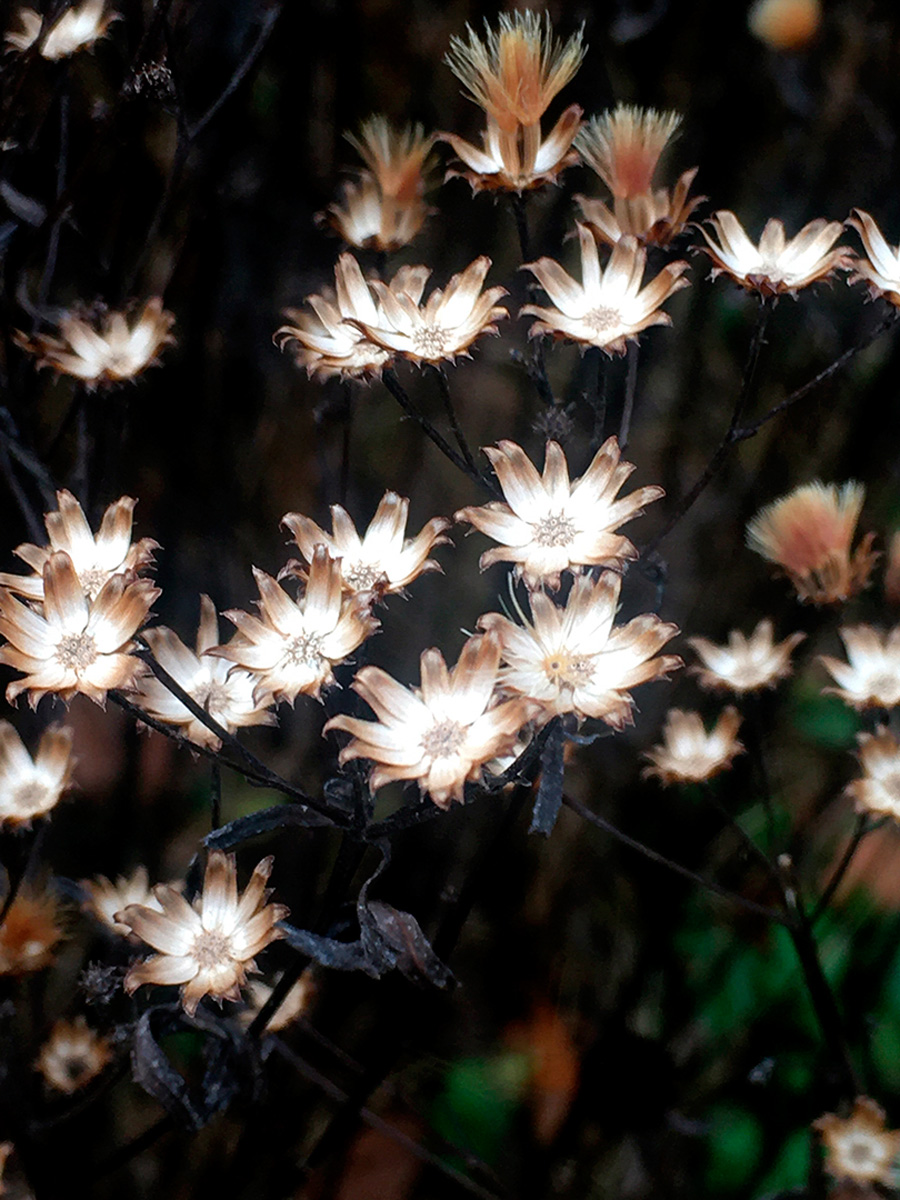 One thing so many winter-wonderful perennials have in common is that they are native to our region—built to last through whatever our climate can throw at them. Take a winter walk through a Mid-Atlantic meadow and see what's still standing, and you're sure to find an abundance of ideas and inspiration for plants and combinations to incorporate in your own garden.
—Nancy J. Ondra is the author of over fifteen books, including Grasses, The Perennial Care Manual, and The Perennial Matchmaker.